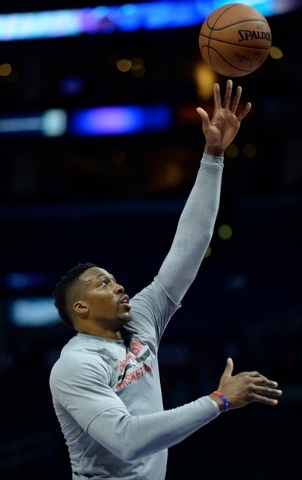 After missing 26 games with knee issues, Houston Rockets center Dwight Howard is expected back for Wednesday night's road game against the New Orleans Pelicans.
Rockets coach Kevin McHale said, barring any setbacks, that he planned to use the big center for the first time since Jan. 23. Howard is listed as questionable on the team's injury report.
McHale wants to limit Howard to 20 minutes per game initially. He is averaging 16.3 points, 11 rebounds and 1.4 blocked shots in 32 games this season.
In Howard absence, guard James Harden has carried the Rockets to a 17-9 record during the past two months. Houston is in fourth place in the Western Conference, trailing third-place Memphis by 2 1/2 games.
Howard said he experienced no knee issues after a workout on Tuesday.
"We plan to play him unless what we did today bothers him," McHale said.
Harden told USA Today that Howard encouraged him not to change his game when the center returns.
"He said, 'I don't want you to do anything different. Just go out there and do what you do, and do it at a high level every single night.'" Harden said. "He said, 'I'll adjust to you,' and that right there gave me confidence to just play, and play my game and not worry about anything else. Once you hear that from your other leader, then you know you can just go out there and play the way that I've been playing."