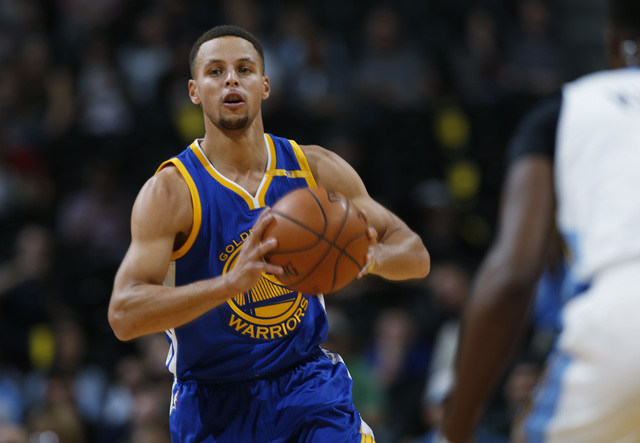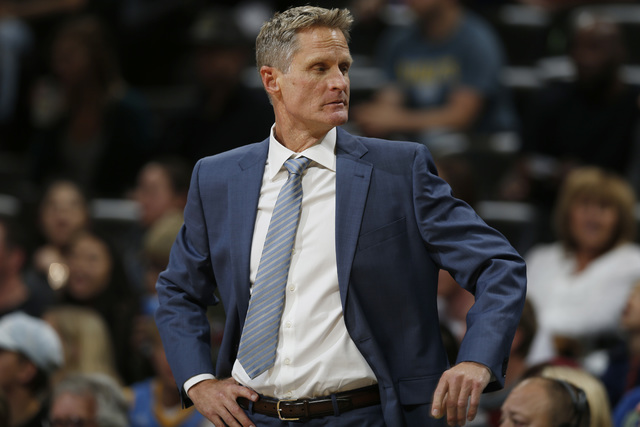 Stephen Curry maintained it's going to take some time for Golden State to develop cohesion. Through the preseason, for sure, and maybe even into the regular season.
The Warriors looked in-season sharp at times during a 129-128 overtime victory at the Denver Nuggets on Friday night. Curry had 22 points in 27 minutes, while new addition Kevin Durant added 19 points. Patrick McCaw hit a game-winning floater at the buzzer.
So, just how long will it take the Warriors to all get on the same page?
"It's hard to say," said Curry, whose team won 73 games last season before losing to the Cleveland Cavaliers in Game 7 of the NBA Finals. "We have the same system, the same identity as a team when it comes to how we play. (Durant) fits right into that. But there's a transition period and a learning curve of terminology and different principles."
The Nuggets were led by Danilo Gallinari, who finished with 19 points. Rookie Jamal Murray hit a go-ahead, step-back 3-pointer with 11.5 seconds left in regulation, only to have McCaw tie the game with 1.1 seconds remaining.
Jarnell Stokes scored on a layup with 3.5 seconds left in OT to give the Nuggets the lead. That set the stage for McCaw.
Point guard Emmanuel Mudiay sprained his right ankle in the third quarter and didn't return.
Warriors coach Steve Kerr played his starters a fair amount even though they have a game Saturday in Las Vegas against the Los Angeles Lakers. He took heat from Denver fans from holding out top players in March 2015.
"I had emails from people who had bought tickets and drove 100 miles to come here," Kerr said. "If we can try to accomplish both, keep our health and keep people happy who bought tickets, we'll do it. But it's a hard balance."