Findlay Prep alumnus Rodney Haddix invigorates program as coach
Updated November 21, 2018 - 4:21 pm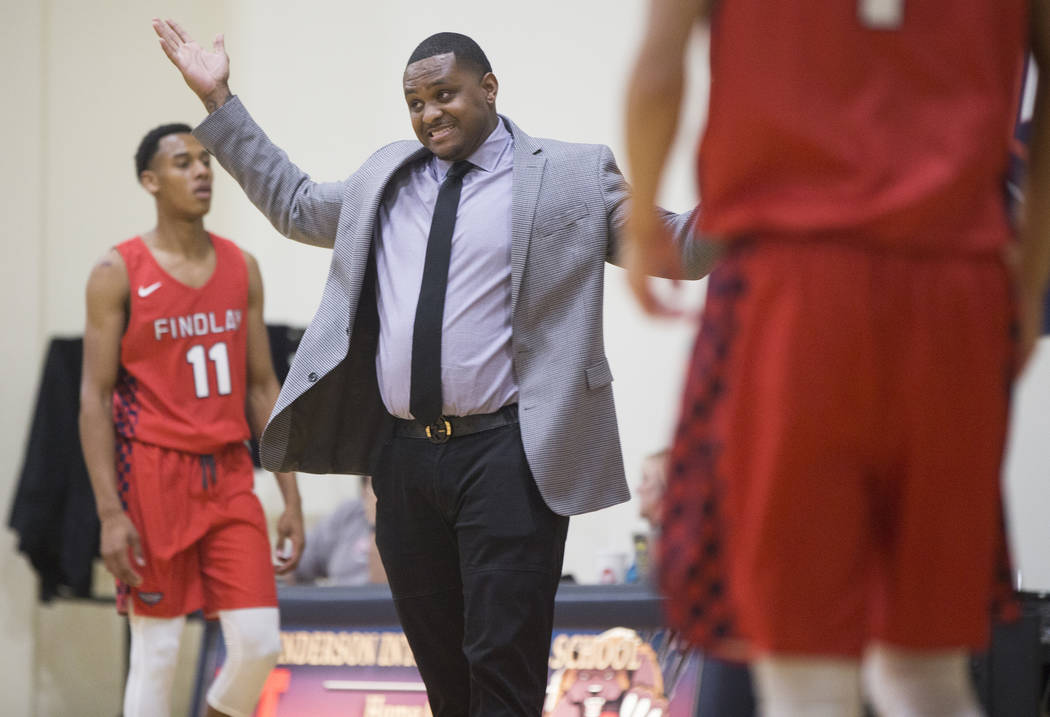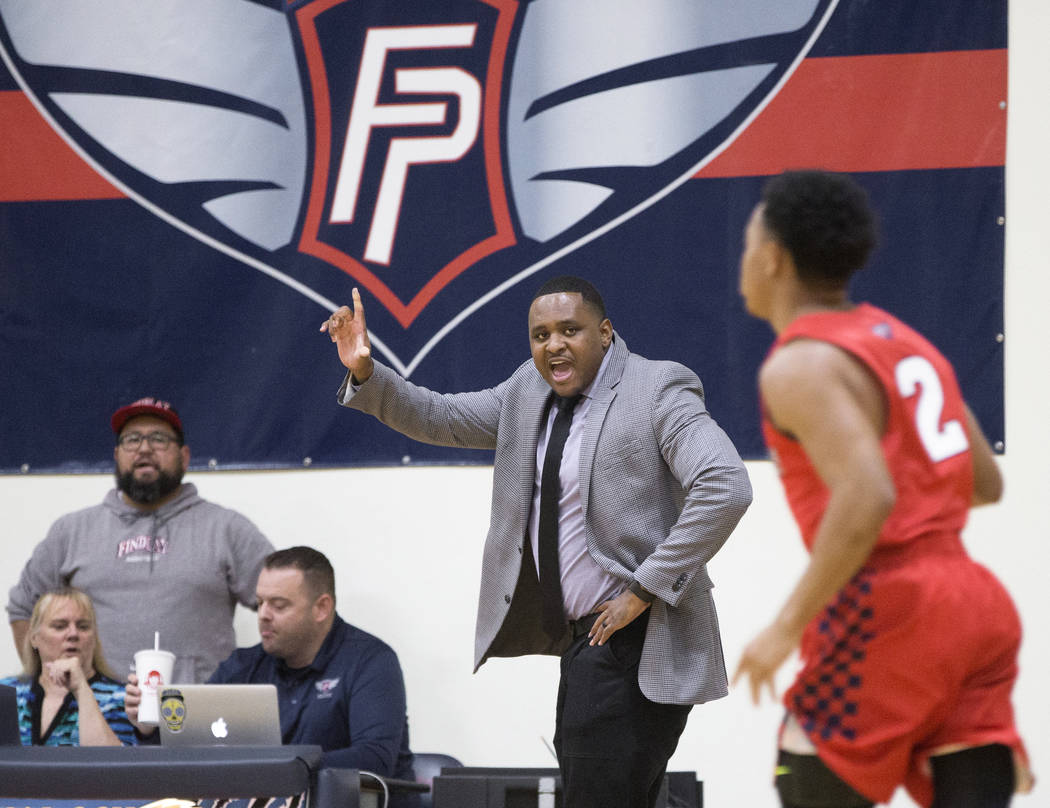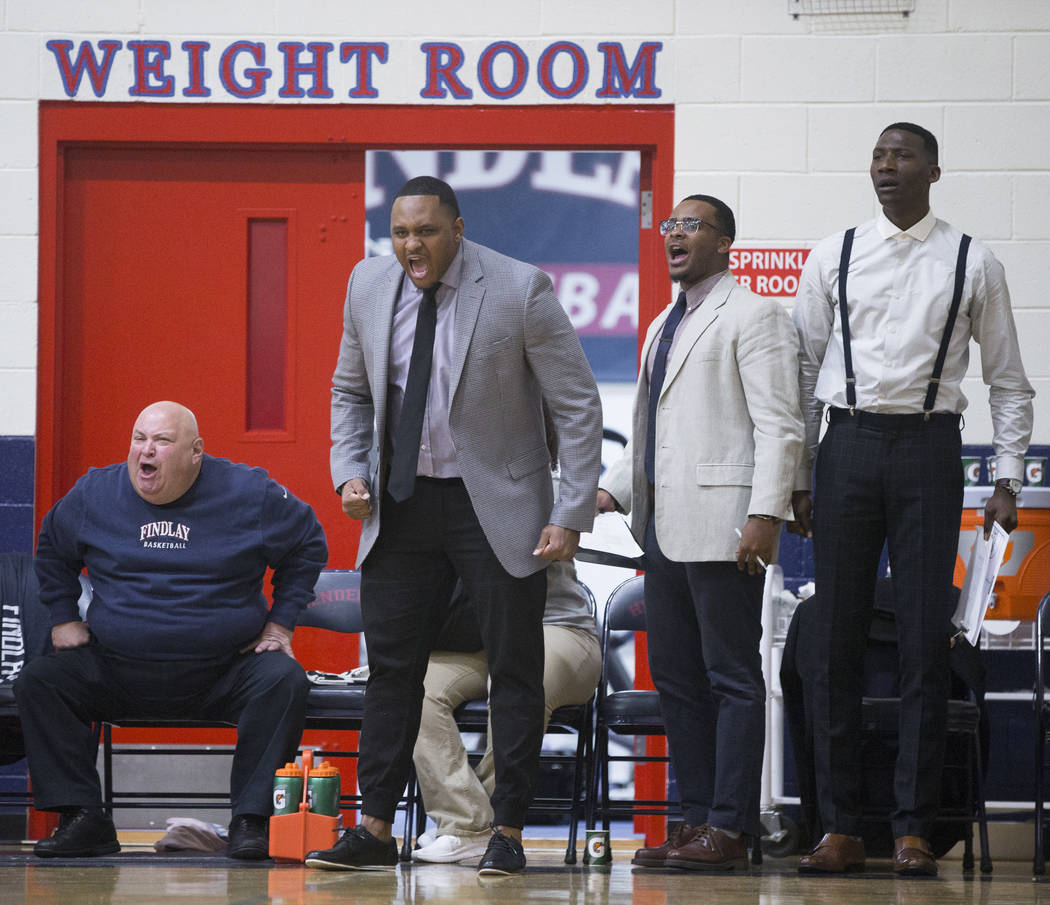 The coach's office at Findlay Prep is spacious and comfortable — equipped with a couch, cooler and big-screen TV that airs basketball, basketball and more basketball.
Its walls are lined with framed McDonald's All-American jerseys, trophies and tributary photos that encapsulate the program's storied 12-year history.
And after an arduous evening practice, its newest tenant, 30-year-old Rodney Haddix, retreated to its cozy quarters for some refuge and relaxation.
Yes, he's comfortable in his new position as the Pilots' coach. But he's not comfortable with the state of one of the nation's most prestigious basketball programs. He insists the four- and five-star recruits aren't enough. Neither is losing in the national semifinals.
Especially at the expense of Findlay Prep's ethos. The ethos he worked so diligently to create.
Haddix is striving to restore the blue-collar culture he helped instill as a player on the program's inaugural team in 2006-07 — before there were any sponsorships, shoe deals or national acclaim.
From 2007 to 2012, the Pilots won three national championships under coach Michael Peck, now an assistant at Texas-San Antonio. But they've struggled — by their standards — since he left, becoming increasingly reliant on talent instead of the togetherness and toughness that helped them reach their zenith.
"He's the perfect guy for trying to get it back to where it's been," Peck said. "He's going to do it the right way, and I think it won't be long before they're back."
Laying the foundation
Haddix didn't know anything about Findlay Prep before arriving in 2006.
Then again, neither did anybody else.
He grew up playing basketball in Georgetown, Kentucky, and was in a "bit of a situation" that disallowed him from competing for his hometown high school. A mutual friend connected him with the coaching staff at Findlay Prep, and he moved to Henderson to play guard for the upstart Pilots.
"Their big thing was, they wanted to be the Oak Hill of the West," said Haddix, referring to the Virginia boarding school that has produced more than 30 NBA players. "(Findlay wanted to be) a powerhouse on the West Coast."
The Pilots weren't a powerhouse in Haddix's one season, finishing 14-9. But he learned how to live away from home, practice and prepare, and secured a basketball scholarship to Miami University in Ohio.
While in college, Haddix watched from afar as Peck guided the Pilots to prominence with future NBA players such as Avery Bradley, Cory Joseph and Tristan Thompson.
Peck said he was almost militant in his approach early in his tenure, and predicated the program on what he referred to as "non-negotiables": conditioning and defense.
"We did not compromise the integrity of the program for anyone, ever," said Peck, now an assistant coach at the University of Texas at San Antonio. "The minute you stepped on campus, you threw 'I, me and my' out. It's about 'we, our and us.' And that was a big part (in our success) — the selflessness, leaving the egos."
Haddix concluded his playing career in 2012 and had no intentions to coach, working instead as a broker for a trucking company in Cincinnati. But he missed basketball and reached out to then-Pilots coach Todd Simon about an assistant coaching position — one he held for five years under three head coaches.
As an assistant, Haddix focused on sharing his experiences with players and served as a live-in mentor at the school's off-campus housing complex. He'd drive them around town. He'd rebound for them late at night.
He'd do whatever he could to maximize their experience, because he knew what they were going through. He'd been through it himself.
"I started to notice that my voice was being heard by the kids, that they started to flock to me," he said. "It made me want to do this. I just kept pushing forward. I just kept being a great assistant, making sure guys were doing well."
Executing a vision
Haddix started to sense that the Pilots were straying from their foundational values as their profile ascended. Sure, they were perennially stocked with four- and five-star talent. But he thought they were relying too much on that talent instead of teamwork and execution.
"We started depending on the fact that we could get high level guys," he said. "We just let them play instead of demanding them to do what's right."
Findlay Prep went 153-19 while Haddix was an assistant, but the Pilots haven't won a national championship since 2012 and morale plummeted in February when then-coach Paul Washington was placed on administrative leave amid an internal investigation into player complaints.
Washington was cleared, and the Pilots reached the semifinals of the Geico High School Nationals tournament in March, losing to eventual champion Monteverde Academy, signaling the end of Washington's two-year tenure.
Haddix learned he would replace Washington in the spring and spent the bulk of the summer targeting players he thinks were underrated. Four-star guard and Texas Christian recruit PJ Fuller headlined his first recruiting class, but there aren't any surefire All-Americans playing for the Pilots (4-0) this season.
And that's by design.
"(Haddix) brought a new energy to the team that we needed," said Tennessee native Ashton Smith, the lone returning player. "He's confident in every player he's brought here. He teaches us to play your game, be confident in your game and not be down on yourself."
Haddix and his coaches demand players be accountable, and it's reflected in their attitude toward the program and each another. They arrive early. They stay late. They play a selfless brand of basketball predicated on ball movement and spacing, key teaching points for Haddix, who studies other high school, college and professional coaches.
Yes, he's comfortable. But he's not comfortable with the program. Not yet, anyway.
"Being around the program the last six years, he's seen the things that have helped derail and then have helped make the program better," Findlay Prep assistant coach Keith Owens said. "He's done a great job of taking the things that have helped and then actually also giving his own twist and his own spin."
Contact reporter Sam Gordon at sgordon@reviewjournal.com. Follow @BySamGordon on Twitter.
Findlay Prep coaching history
Rodney Haddix (2018-): 4-0, 1 season
Paul Washington (2016-18): 60-9, 2 seasons
Andy Johnson (2014-16): 55-5, 2 seasons
Jerome Williams (2013-14): 31-5, 1 season
Todd Simon (2012-13): 35-1, 1 season
Michael Peck (2007-12): 157-7, 5 seasons
Scott Beeten (2006-07): 14-9, 1 season