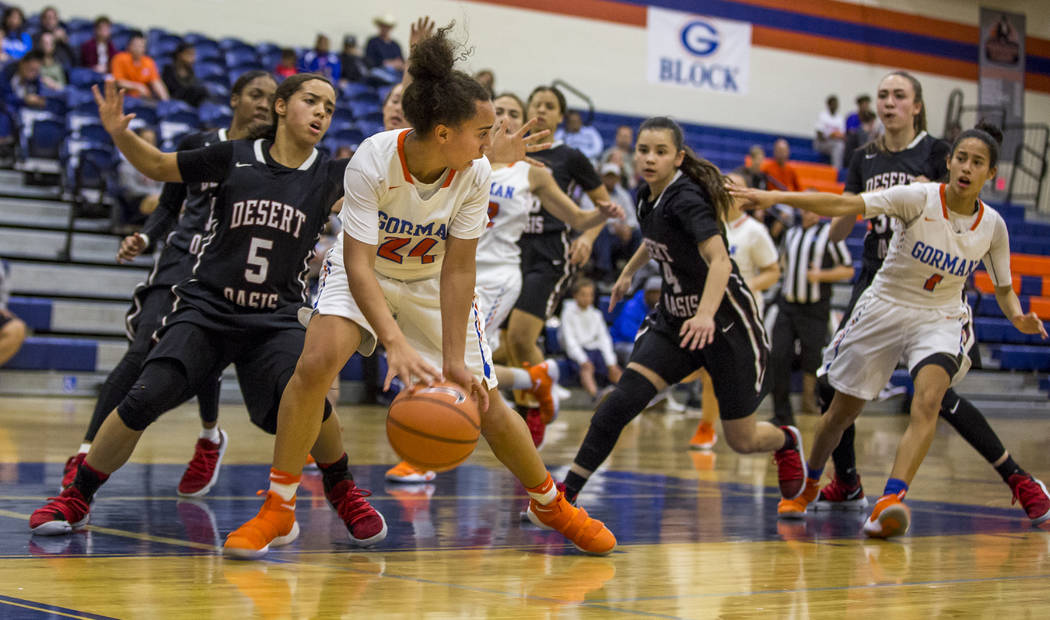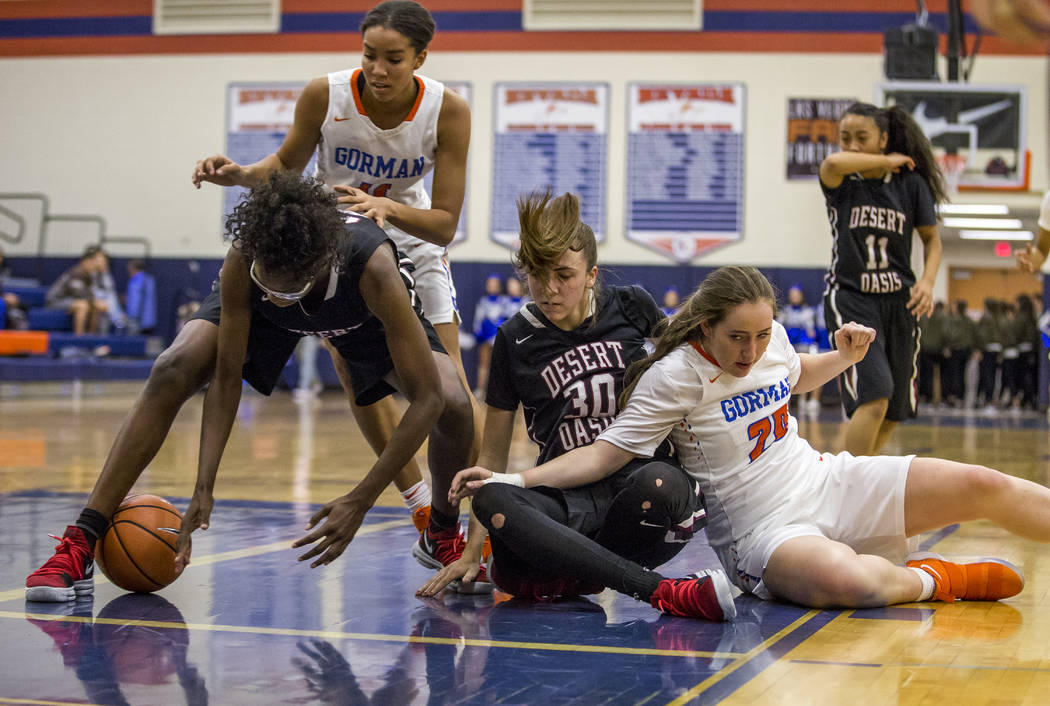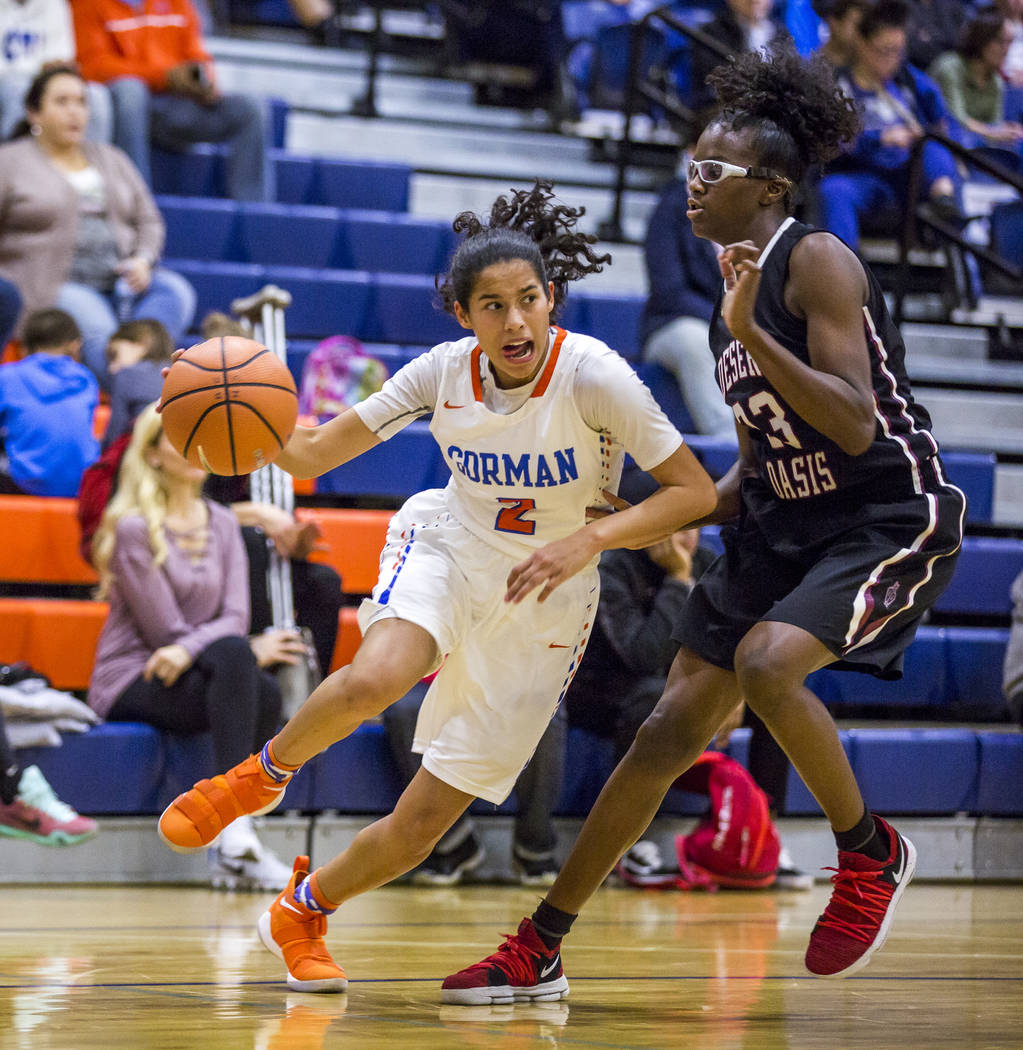 Desi-Rae Young could hardly speak after Desert Oasis' road victory Friday night because of her impassioned screaming for four quarters.
"She's the best teammate you could ever ask for," Diamondbacks coach Laurie Evans said. "Very coachable and everybody's biggest fan."
The heart and soul of Southern Nevada's fourth-ranked team was also its best player in a pivotal Southwest League game.
Young scored a game-high 17 points and took a momentum-swinging charge late in the fourth quarter to stave off a rally in a 69-61 win over No. 5 Bishop Gorman.
With Division-I bound teammate Dajaah Lightfoot (Tennessee State) out most of the second half with foul trouble, the 6-foot sophomore acted as the firecracker off the bench. Young started the third quarter in place of Lightfoot, who had three fouls at halftime and picked up a fourth with 1:28 left in the third.
"I'm D.J.'s No. 1 fan," Young said through her raspy voice. "I'm going to play just like her. I look up to D.J. She's somebody that's really important to me. She's going to a (Division) I, so I want to be just like her."
Gorman clawed within three points twice in the fourth quarter, once with 2:46 remaining, before Young drew a charge against Gaels junior Georgia Ohiaeri, who had been torching the Diamondbacks in the second half.
The charge, and resulting possession change, sparked a 9-4 run to close the game.
Free throws sealed the win and kept Desert Oasis (15-2, 6-0) in a first-place tie with Spring Valley (16-2, 5-0) in the Southwest.
The Diamondbacks made 27 of 31 free throws, including 9-for-11 in the fourth quarter.
Caira Young led Gorman (5-11, 2-2) with 16 points.
Friday's highlights
Boys
— Canyon Springs' Kevin Legardy had 40 points in a 78-74 win over visiting Eldorado.
— Bishop Gorman's Isaiah Cottrell had 31 points and 13 rebounds in an 84-67 home win against Desert Oasis.
— Bonanza's Chase Hafen scored a game-high 29 points in a 77-61 triumph at Pahrump Valley.
Girls
— Justice Ethridge had 25 points to help carry Centennial to an 86-62 road victory over Sacramento (California).
— Shania Harper had 23 points and 15 rebounds as host Sierra Vista topped Clark 43-35.
— Pahrump Valley's Kathryn Daffer had 11 points and 11 rebounds in a 39-23 home victory over Bonanza.