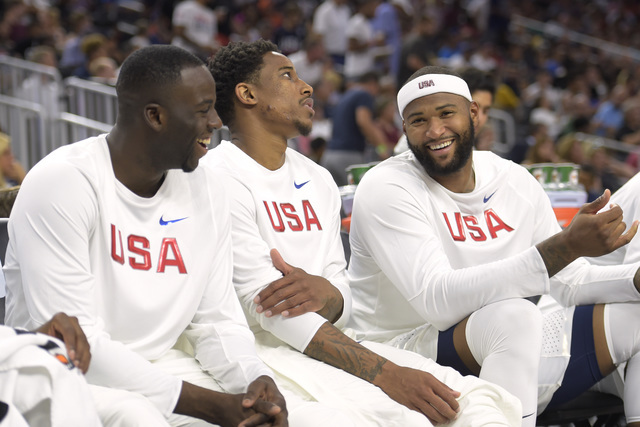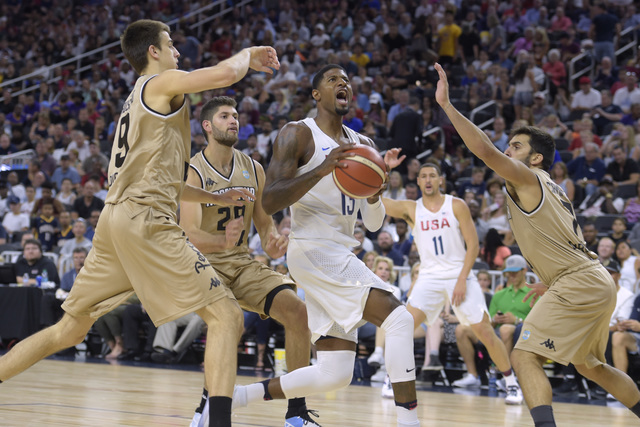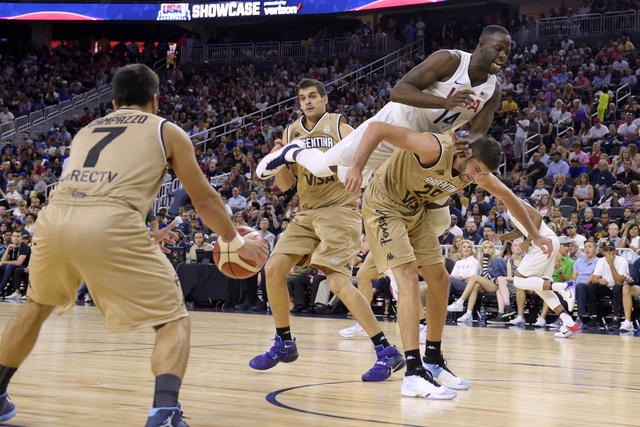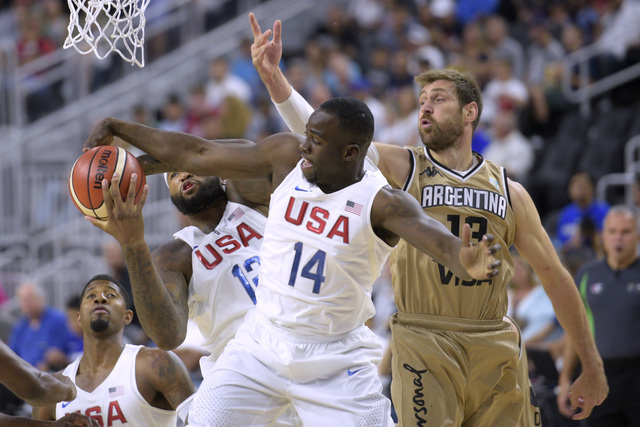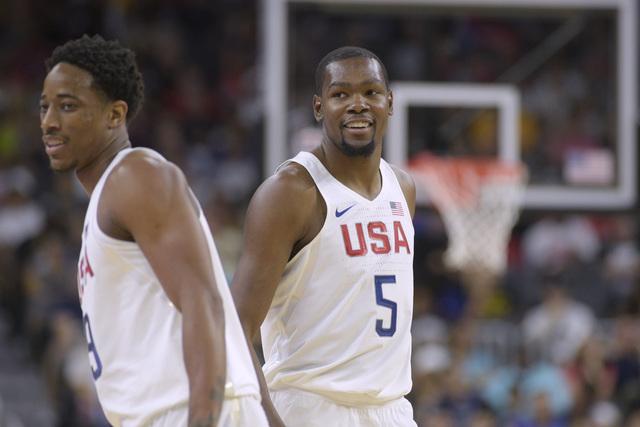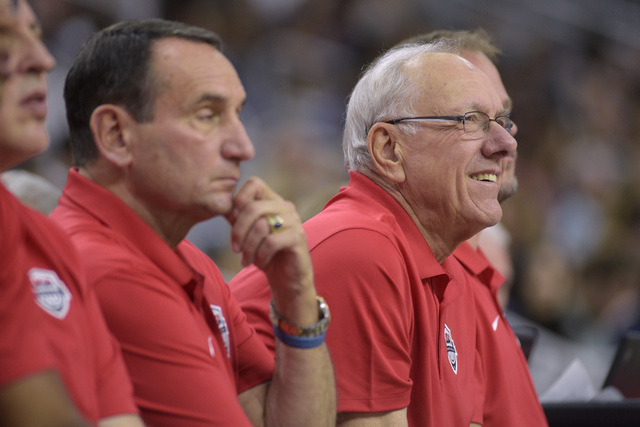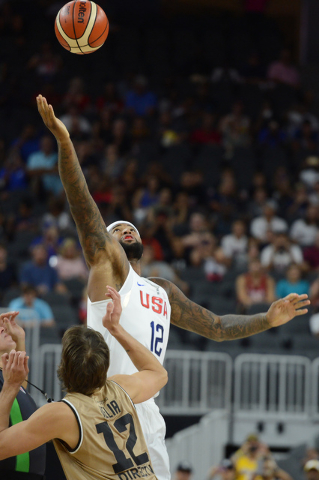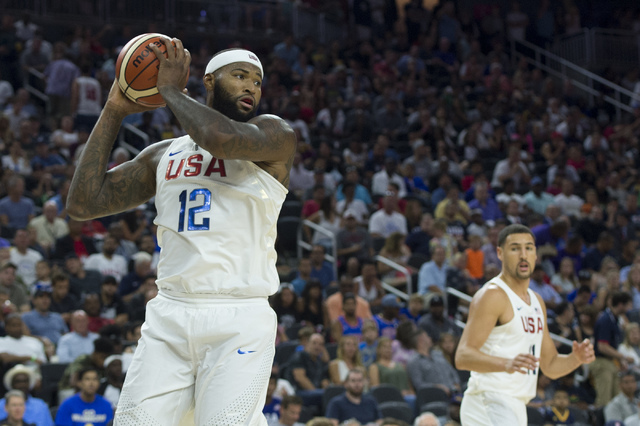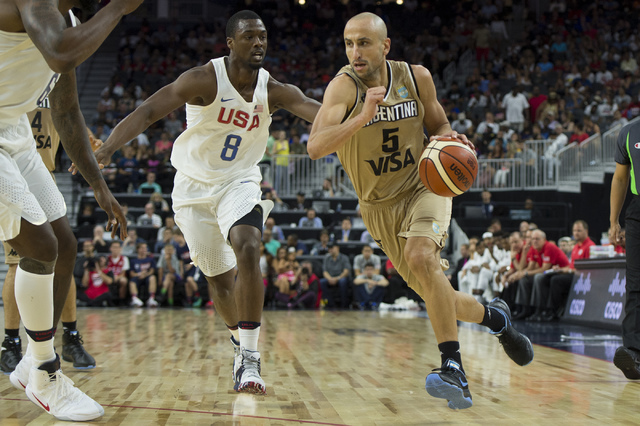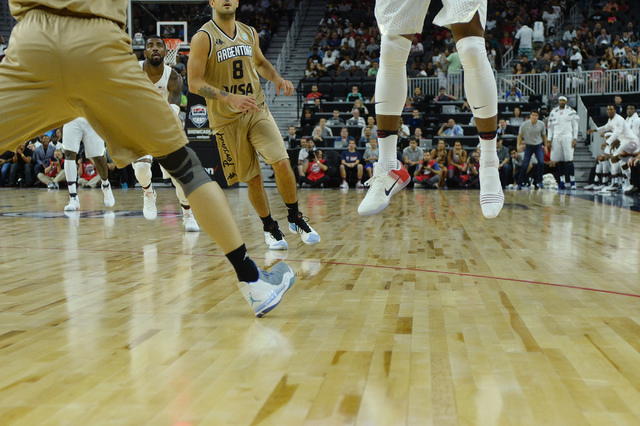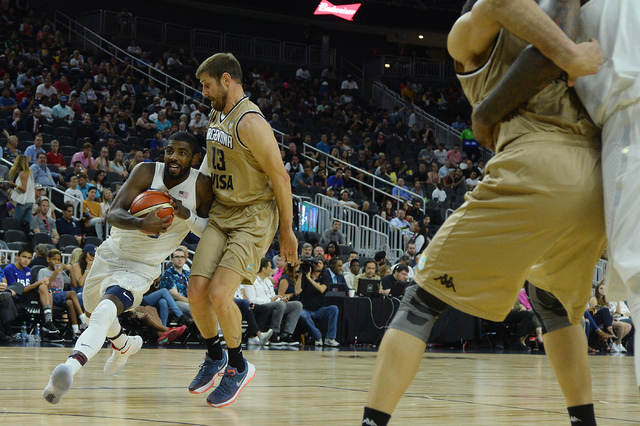 Paul George was glad to be back and his coach and teammates were glad to see him.
The Indiana Pacers' All-Star forward who broke his right leg two years ago in a USA Basketball scrimmage at the Thomas & Mack Center looked as good as ever Friday in Team USA's 111-74 exhibition win over Argentina in front of an announced crowd of 16,861 at T-Mobile Arena.
"It was great to back out there and play with some amazing talent," said George, who scored 18 points in 16 minutes off the bench. "It was good to get my feet wet again."
Coach Mike Krzyzewski said to see George out there playing at a high level gave him a good feeling inside.
"Obviously it didn't bother him," Krzyzewski said of George's leg. "I think he's playing the best basketball of his life. He's in great shape."
George said his role is fine and his teammates noticed the difference he can make in a game.
"He gives us a lot of firepower when he comes off the bench," said Kevin Durant, who led all scorers Friday with 23 points. "It's great to have him back with us."
The one disappointment was many fans missed most if not all of the game as the T-Mobile box office was overwhelmed by fans taking advantage of a 2-for-1 Groupon ticket offer and both the will call and the box office were unable to keep up with demand as the lines grew as it got closer to the 6 p.m. tipoff.
The arena issued an apology during the game and promised full refunds to anyone who did not get in.
Those who did get in were treated to a dominating performance by the U.S. Team USA outrebounded Argentina 53-30 and had a lopsided 22-5 edge on the offensive glass. The Americans had 26 second-chance points and added 36 points off 22 turnovers in a game they led by as many as 41 points in the fourth quarter.
"Obviously they have more size and athleticism than we do," said Argentina and Brooklyn Nets forward Luis Scola. "They are the best team in the world for a reason.
"We can be a competitive team in the Olympics, but we have some work to do."
While the shooting percentages need to pick up, one thing was clearly evident that will be noticed throughout the Olympics: the Americans are so athletic, they'll be able to extend possessions even when they're tossing up bricks. There were a lot of tipped balls that fell into U.S. hands and the U.S. big men, DeMarcus Cousins and DeAndre Jordan, did a nice job staying active on the glass at both ends.
"We really have an inside presence with both those guys," Krzyzewski said of Cousins, who finished with 14 points and 15 rebounds, and Jordan, who had six points and six rebounds.
Like George, Cousins said he's fine with his job description with this team.
"I know my role on this team and I just go out there and do it to the best of my abilities," Cousins said. "I came out and had a good night on the boards, but like I said, I was just doing my role.
"I'm the defensive guy. I try to be the anchor on the boards, run the floor, defend and communicate. All those roles."
Contact Steve Carp at scarp@reviewjournal.com or 702-387-2913. Follow on Twitter: @stevecarprj.