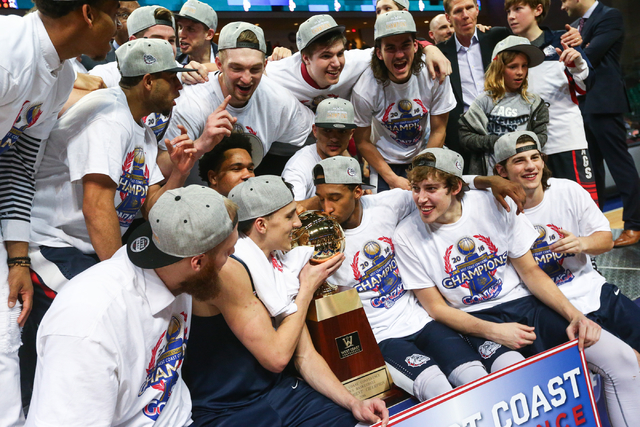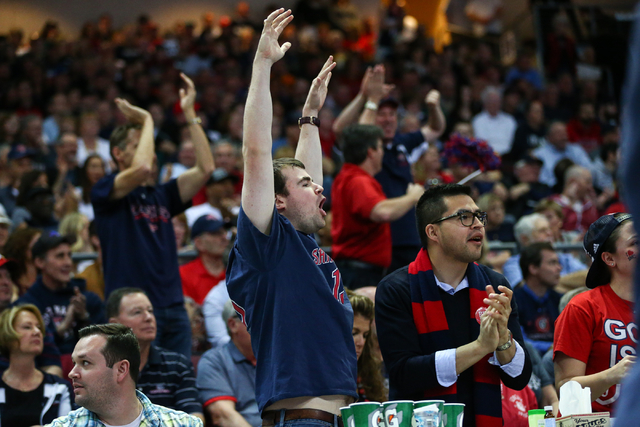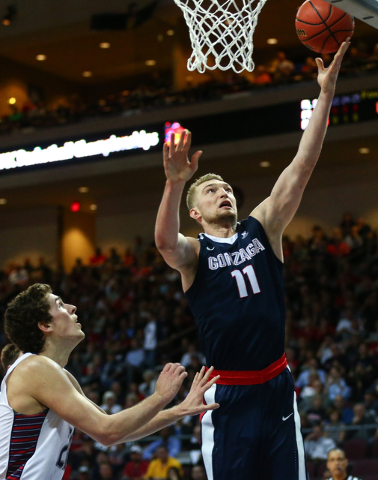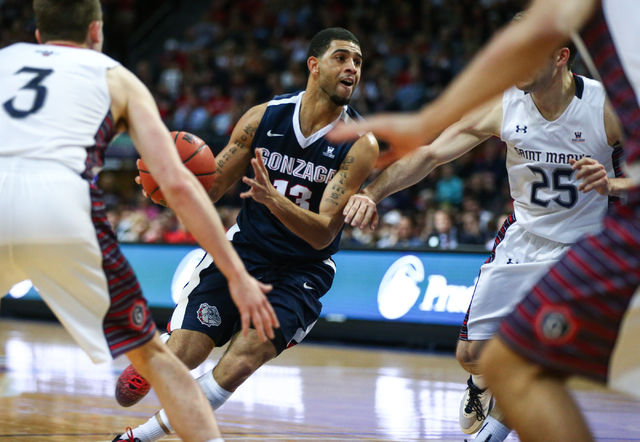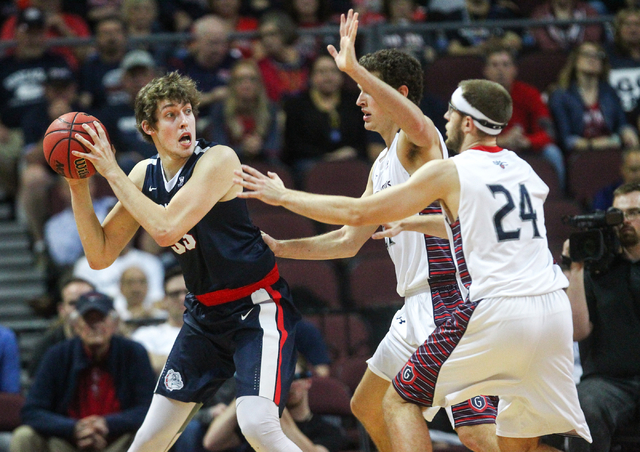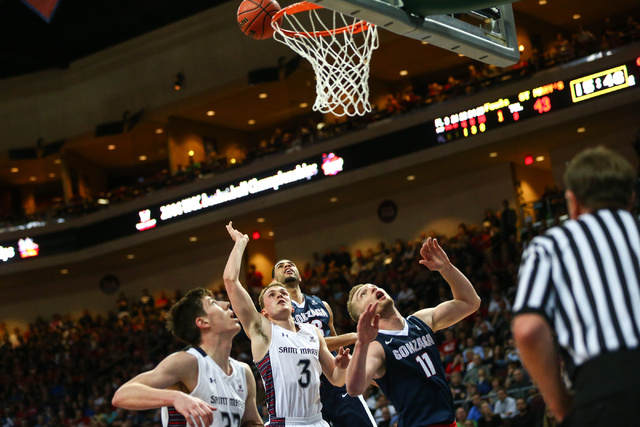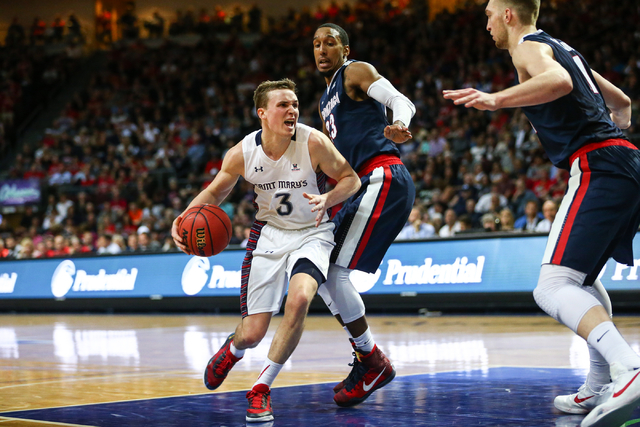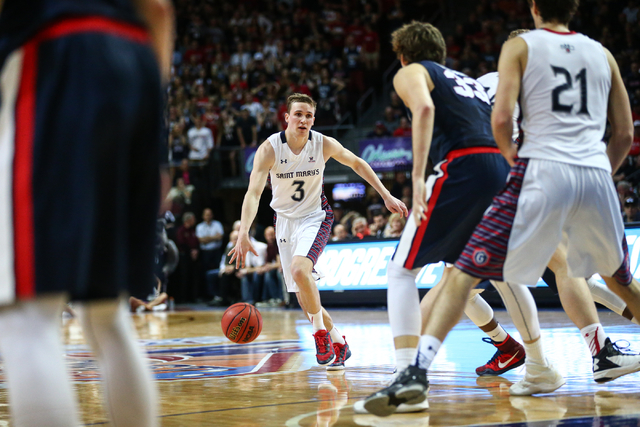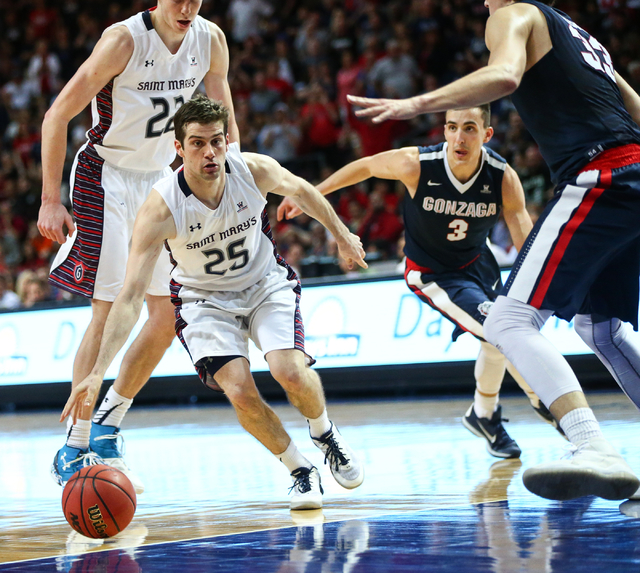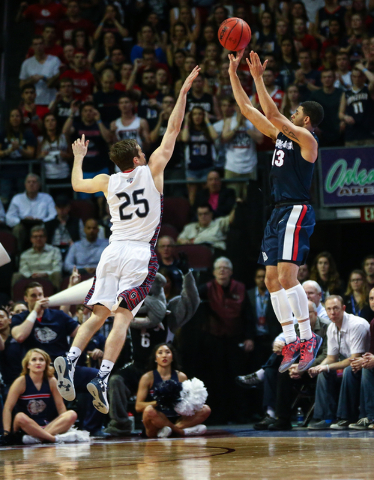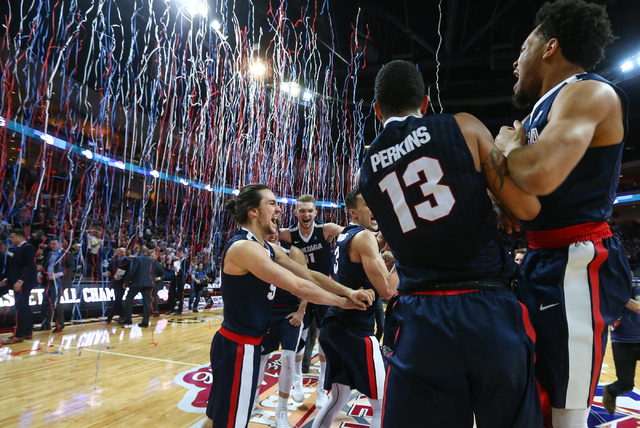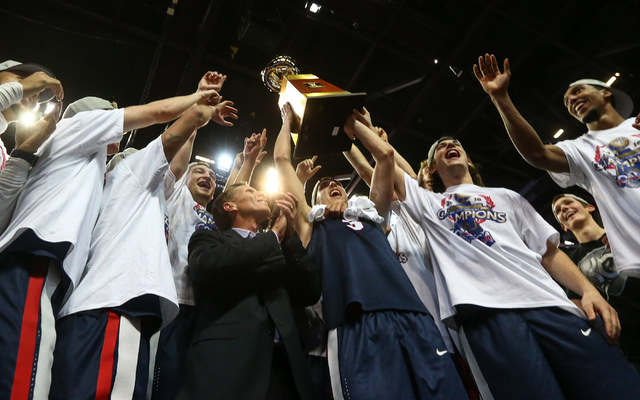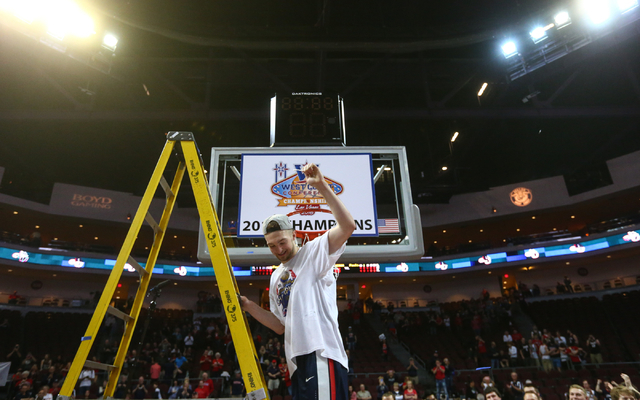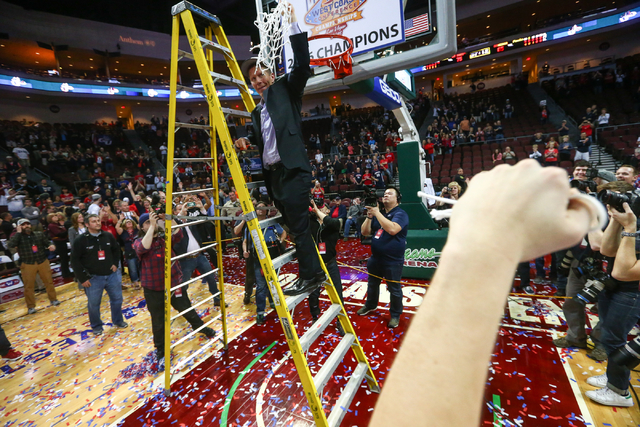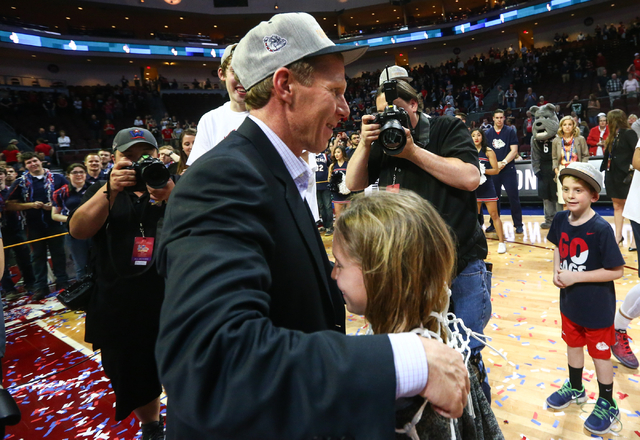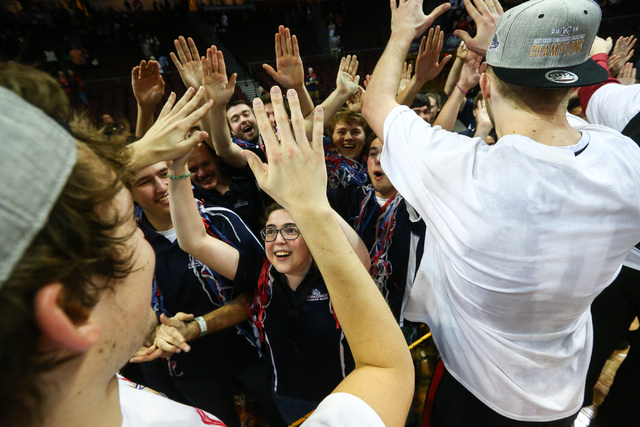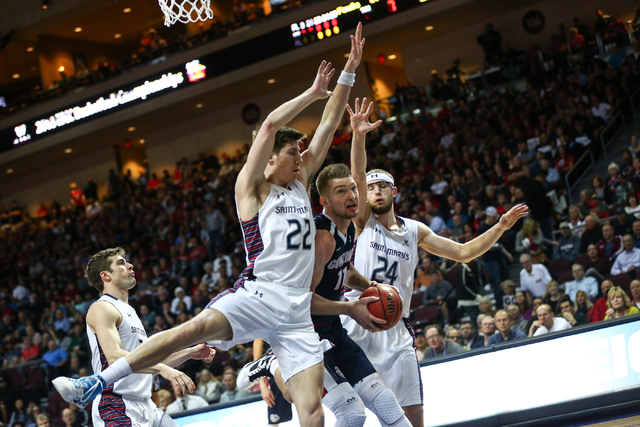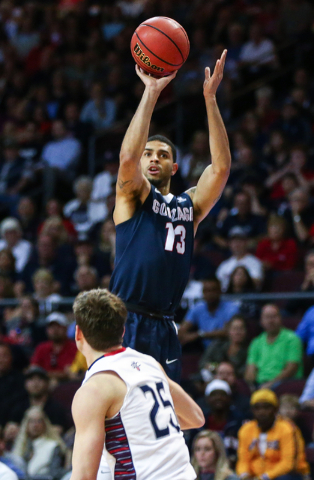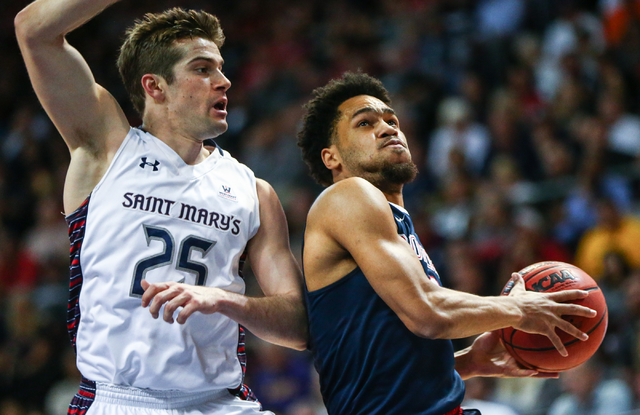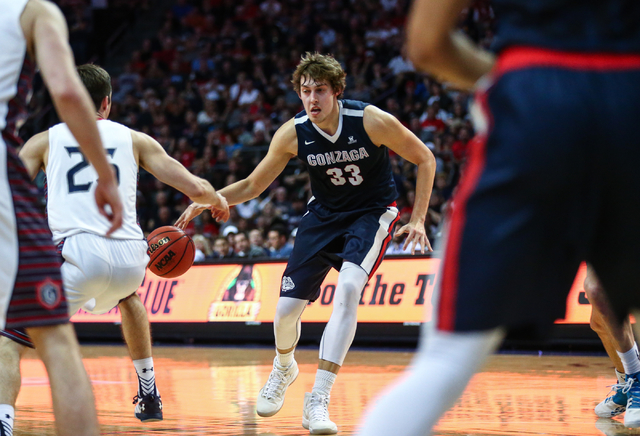 You just knew when it came down to it, Gonzaga and Saint Mary's would be facing each other in the West Coast Conference men's basketball tournament championship.
Some said this was Brigham Young's year. Some even suggested Pepperdine or San Francisco were capable of upsetting the natural order of things in the WCC.
Not a chance. It can only be one way — this way.
Gonzaga, the No. 2 seed, was in the title game for the 19th consecutive year, a stat that even blew away longtime coach Mark Few, who said, "That's amazing." Top-seeded Saint Mary's was playing in the WCC title game for the 15th time and the seventh time in eight years.
On Tuesday, one more chapter in the blood feud that is Gonzaga-Saint Mary's played out in front of an announced crowd of 7,418 at Orleans Arena, and it was the Bulldogs who prevailed, 85-75, to win the title and grab the WCC's automatic bid to the NCAA Tournament next week.
"All's well in Zagville," Few said as his program is headed to the NCAAs for the 18th consecutive year. "It's no longer Armageddon. The sky isn't falling."
It was a not-so-subtle shot at the program's detractors who had written the Zags off a few weeks ago. Not only did Gonzaga (26-7) get to the NCAAs at its rival's expense, it also got revenge for earlier in the season when Saint Mary's swept the season series. But with Few's team shooting the lights out Tuesday, there was no way the Gaels could win the third and most important meeting.
Gonzaga shot video-game numbers: 62 percent overall from the floor, and 69 percent in the first half as it led 43-35 at the break. The Zags were a respectable 6 of 13 from the 3-point line overall, but it was at the free-throw line where Gonzaga did itself proud. The Bulldogs were 21 of 22 and made their final 14 from the line, which helped keep Saint Mary's at bay.
And it was a balanced effort. All five starters were in double figures, led by Eric McClellan's 20 points. Kyle Wiltjer, the tournament's Most Valuable Player, added 17, while Josh Perkins had 16. Domantas Sabonis and Kyle Dranginis finished with 15 and 13 points, respectively.
"I'm so proud of the way all the guys responded," Wiltjer said. "We didn't want to be on the outside looking in on Selection Sunday."
That fate belongs to the Gaels. Saint Mary's (27-5) was unable to match that kind of firepower. The Gaels got a great first half from guard Joe Rahon, who had 13 of his 16 points in the opening 20 minutes, and his backcourt mate Emmett Naar picked him up in the second half with 15 points and would finish with 25.
"We played well enough offensively to win," Saint Mary's coach Randy Bennett said. "But they played at a high level and they just kept coming."
A telling stat was that Saint Mary's had eight turnovers, which in of itself wasn't a bad number. But Gonzaga managed 20 points off the eight miscues.
"Twenty points off eight turnovers is a ridiculous number," Rahon said.
Saint Mary's was well within striking distance, trailing 66-65 with 6:32 to play. But Gonzaga started its parade to the foul line and never missed, and now the Gaels will have to see what their postseason fate is — NCAA or NIT — come Sunday.
"We've done all we can do," Bennett said. "We won our league. We beat Gonzaga twice. The only thing we didn't do is beat them three times."
Contact reporter Steve Carp at scarp @reviewjournal.com or 702-387-2913. Follow him on twitter: @stevecarprj