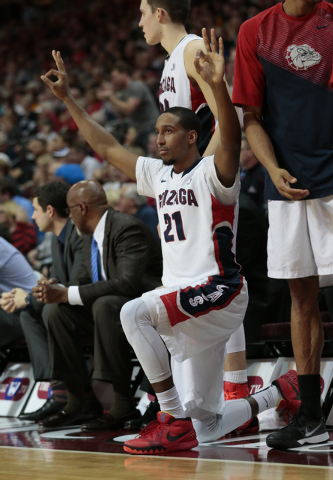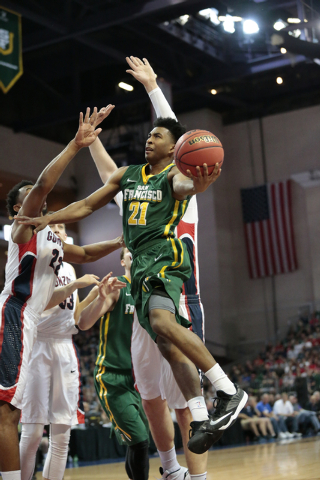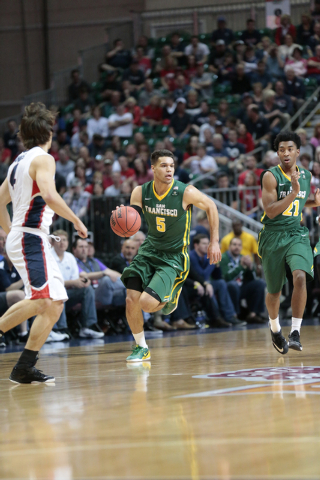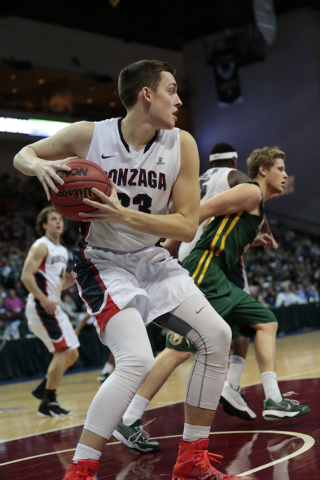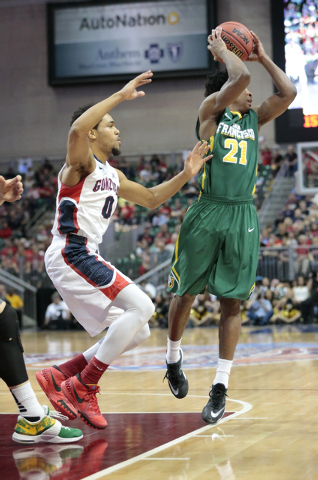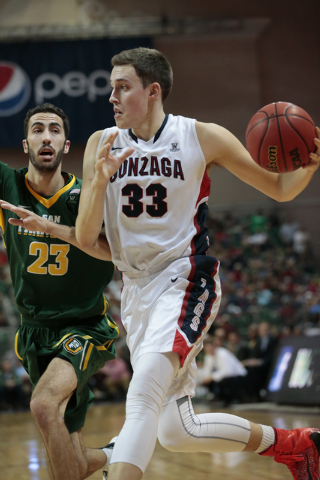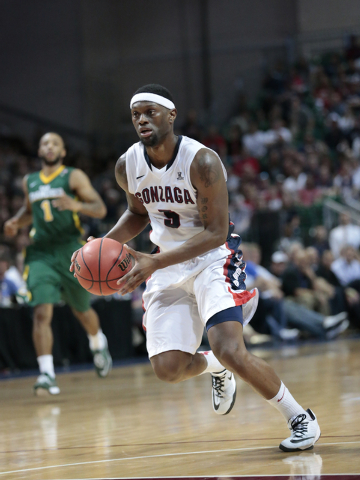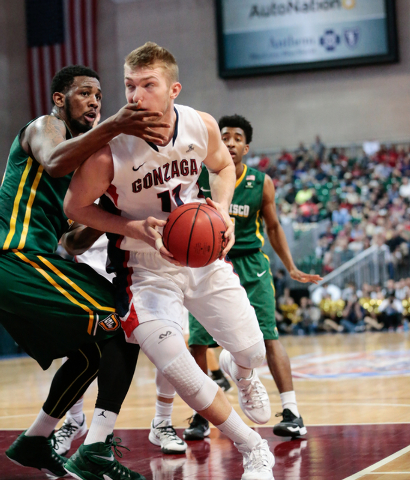 Facing the proposition of a second consecutive loss before the NCAA Tournament, it was only a matter of time before Gonzaga responded in a big way.
Huge, actually.
The Bulldogs rode 7-foot-1-inch, 290-pound center Przemek Karnowski to an 81-72 win over San Francisco in a West Coast Conference basketball tournament quarterfinal Saturday night at Orleans Arena.
Karnowski, a junior from Poland, kept his team in the game until a big run put it out of reach. He finished with 24 points on 10-of-14 shooting.
"They didn't double me for most of the game," Karnowski said. "I thought that gave me some space to operate and score easy baskets."
No. 7 Gonzaga (30-2) will play Pepperdine (18-12) in a semifinal game at 6 p.m. Monday. The Waves advanced with a 50-47 win over San Diego (15-16).
Stacy Davis scored 19 points, and Pepperdine survived two shot attempts that would have given the Toreros the lead in the final five seconds.
Brigham Young (24-8) will play Portland (17-14) in the other semifinal at 8:30 p.m. on Monday.
Tyler Haws scored 30 points, including a game-winning jumper from just beyond the free-throw line with 2.5 seconds remaining, and had nine rebounds for the Cougars in a 78-76 win over Santa Clara (14-18).
Jared Brownridge scored 29 points for the Broncos.
The Pilots pulled away for a 69-52 upset over Saint Mary's (21-9). Portland, led by Kevin Bailey's 16 points, made 23 of 46 from the field and held the Gaels to 30 percent shooting. Brad Waldow scored 25 points for Saint Mary's, but none of his teammates scored more than eight.
Gonzaga looked for much of the night as if it could be another upset victim. The Bulldogs entered the tournament off a loss to BYU on Feb. 28, their first loss since an overtime defeat Dec. 6 at Arizona.
It looked as if the Bulldogs were having a tough time shaking off the loss, though Gonzaga coach Mark Few attributed the slow start to a combination of a tough opponent and the fact San Francisco had an opening-round game while the Bulldogs were getting their first taste of postseason play.
Regardless, Karnowski made sure the game didn't get out of hand. He had 13 points at halftime as the Dons took a 29-27 lead into the break.
The junior was particularly important after San Francisco built a 29-22 lead with less than two minutes to play in the half. Karnowski was fouled on a dunk and completed the three-point play. On the next possession, he threw a perfect pass from the high post for a Domantas Sabonis layup.
"Karnowski was huge, but that's the beauty of this team," Few said. "Depending on what the other guys want to take away, we can usually go to some particular aspect or player and count on them. They were hugging our shooters pretty tight out there on the 3-point line and not leaving them, so Przemek's really done that a lot for us this year. I think he's an entity that doesn't really exist out there in college basketball, maybe with the exception of (Duke's Jahlil) Okafor, that's big and can get position and deliver down low. You play him one-on-one, he's going to hit the shot.
"He's done a great job of becoming more efficient with those shots."
Karnowski's efforts kept the game close until Gonzaga started to play like the top-10 team it has been all season.
The Bulldogs put together a 19-1 run that included eight straight made field goals to grab a 58-44 lead with 9:09 left.
"I think we were not just getting stops at that point but forcing turnovers," guard Kevin Pangos said. "That's always good for us to be able to transition into our offense and help get going. That really helped us flip the switch."
Pangos, Gary Bell Jr. and Kyle Dranginis each hit a 3-pointer during the run.
"There was that span where we couldn't seem to hit a shot, couldn't seem to get a call, and they made shots. They took advantage of it," San Francisco coach Rex Walters said. "They busted out and got to that lead."
The Dons (14-18) fought back to within 66-59 with 3:27 remaining but couldn't get any closer.
Kyle Wiltjer scored 19 points for the Bulldogs before leaving the game late in the second half with an apparent hip injury. Wiltjer slipped and ended up in an awkward position.
Few said Wiltjer was "very sore" and was unsure of his status for the rest of the tournament.
Contact reporter Adam Hill at ahill@reviewjournal.com or 702-224-5509. Follow him on Twitter: @adamhilllvrj.