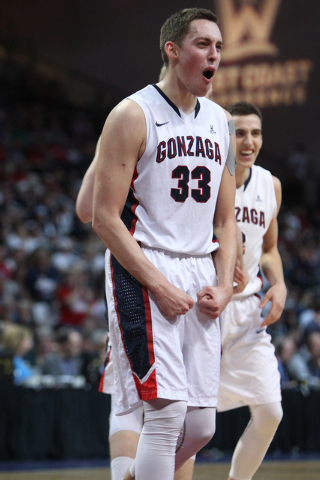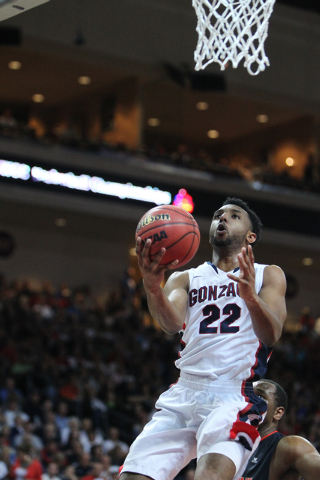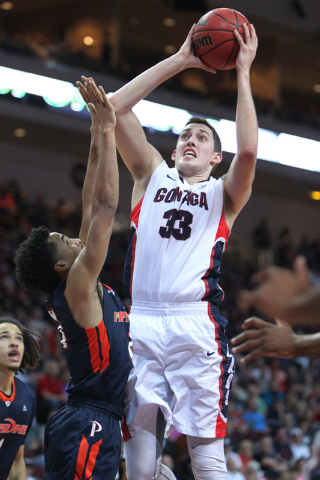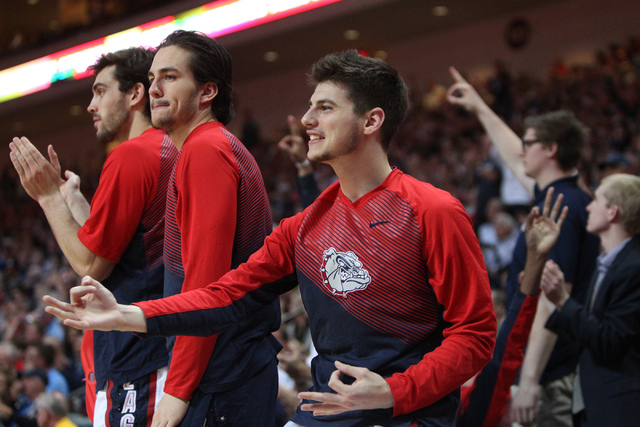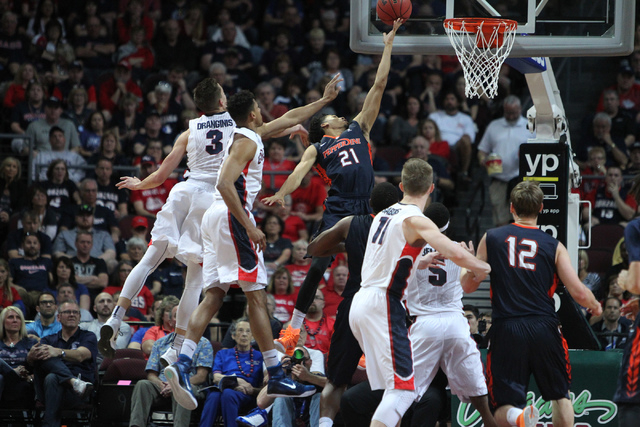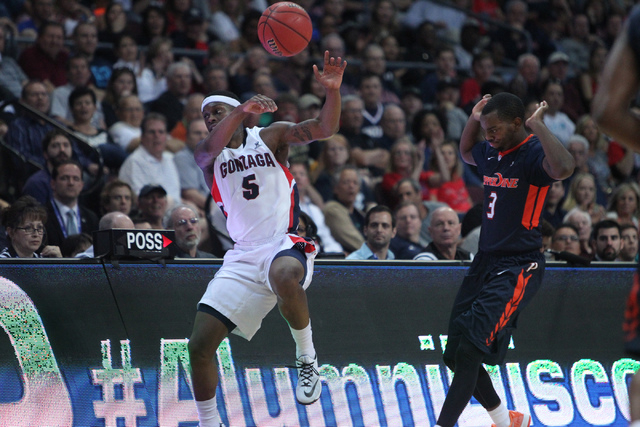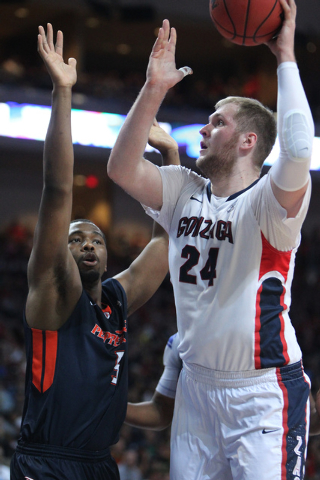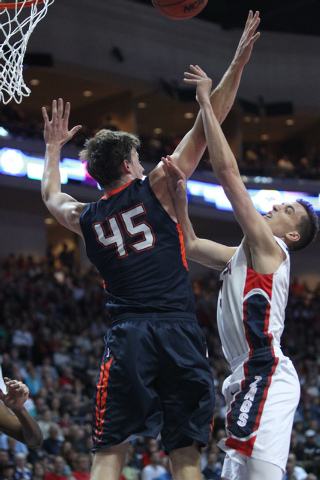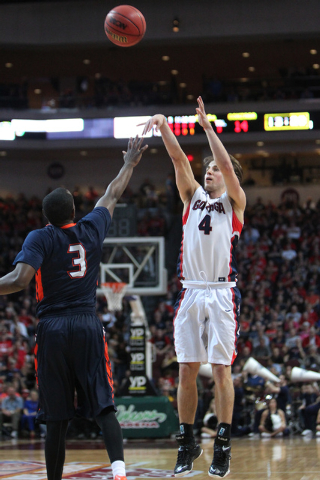 There was a time not so long ago when the West Coast Conference basketball tournament bracket could pretty much be filled out in pen with Gonzaga playing Saint Mary's in the championship game.
The seventh-ranked Bulldogs appear to have a new foil.
Gonzaga will meet Brigham Young for the tournament title for the second straight year at 6 p.m. tonight at Orleans Arena on ESPN (30). It will mark the 18th consecutive year the Bulldogs will play in the championship game.
Gonzaga (31-2) advanced with another explosive second-half rally in a 79-61 semifinal win over Pepperdine on Monday night. The Cougars won their eighth straight game, easily dispatching of Portland, 84-70.
Kyle Collinsworth had 13 points, 14 rebounds and 11 assists for BYU (25-8) to tie the NCAA career record with six triple-doubles. The junior has recorded all six this season. Thomas Van Der Mars had 14 points for the Pilots (17-15).
Bulldogs coach Mark Few admitted he was taken aback momentarily when the moderator at the post-game news conference announced how many straight conference championship games his team had played in.
"That's something we probably don't get as much credit for as our teams are due. This is going to be 16 or 17 straight (appearances) in the NCAA Tournament, as well. That's just an incredible streak that shows sustained excellence," he said. "Hand in hand with that goes championship game appearances. Eighteen straight is a pretty amazing streak and what we're facing there is we know we're playing on, but the other teams are often playing to keep their seasons alive, and you've got to match that desperation.
"Our guys through the years have done a great job."
Gonzaga is 12-5 in the previous 17 title games. The Bulldogs played Saint Mary's in the championship game five straight times, ending in 2013. They defeated BYU 75-64 in last year's final, but Few stopped short of saying the Cougars have established themselves as his team's chief rival since joining the league four years ago.
"We don't get too caught up in that," he said. "Everyone wants a piece of us in our league. Every team is a storm-the-floor moment for us. These guys understand that and have done a great job over the years of bringing it so they can't storm the floor very often on us, and I think that's something we're also proud of."
His players weren't quite as diplomatic. Senior guard Byron Wesley, who scored 25 points on 10-of-13 shooting Monday, said he was cheering for BYU in the second semifinal.
"We're definitely looking forward to that matchup so we can redeem ourselves for what they did to us on senior night," Wesley said of BYU's 73-70 win Feb. 28 at Gonzaga. "But at the end of the day, we just have to focus on ourselves and continuing to get better and just coming out and playing hard every game."
The Bulldogs appear to be doing just that. After a somewhat lethargic stretch of games to close the regular season, Gonzaga appears to be hitting its stride in Las Vegas.
After a 19-1 second-half run propelled the Bulldogs to a quarterfinal win Saturday, Gonzaga put together a 30-10 stretch early in the second half Monday night to put away the Waves.
"That was easily the most fun we've had in a game this year. Just the energy we had was really good," Wesley said. "The crowd was great, and all the players were really engaged. I think it's good we're starting to find ourselves again and get back to playing the game how we know how to play it."
Gonzaga shot 58 percent from the field after halftime to blow open what was a 35-33 game at the break, but guard Kyle Dranginis said it was the defense that once again led to the team's success.
"We just didn't get as many stops as we wanted in the first half. We finally got some, and it led to easy buckets," he said. "Mainly it's just energy and hustle. You've got to want it more than the other team, and I think we did tonight."
The Bulldogs continue to set the standard for the league. Pepperdine (18-13) coach Marty Wilson expressed his excitement for his team's 18-win season and said his program continues to strive for what Gonzaga has achieved.
"They've laid down the blueprint for everyone else in our league to look at and try to climb the ladder. That's something we've looked at as a staff, as a team and as a department. That's our goal. We want to get there," he said. "We're headed in the right direction. They're the standard of our league. Our mindset is to consistently be up in the upper echelon of our league and to compete for championships year in and year out."
Gonzaga will play for one more tonight.
Contact reporter Adam Hill at ahill@reviewjournal.com or 702-224-5509. Follow him on Twitter: @adamhilllvrj.