Gregg Popovich relishes role as Team USA's new coach
Updated July 26, 2018 - 10:03 pm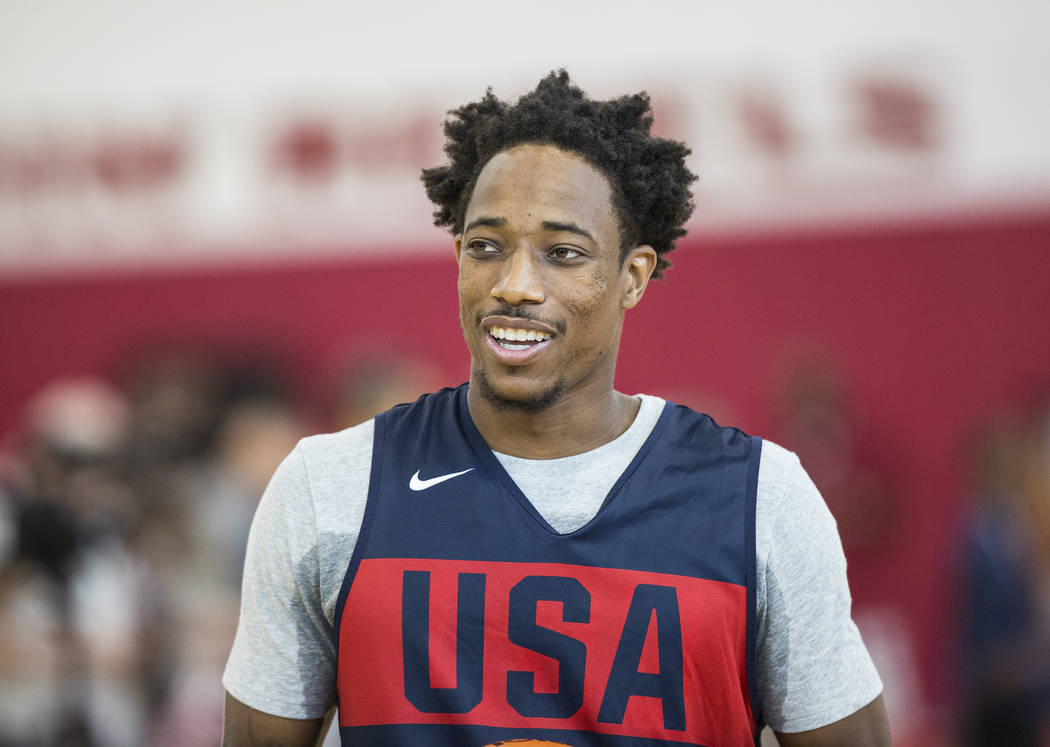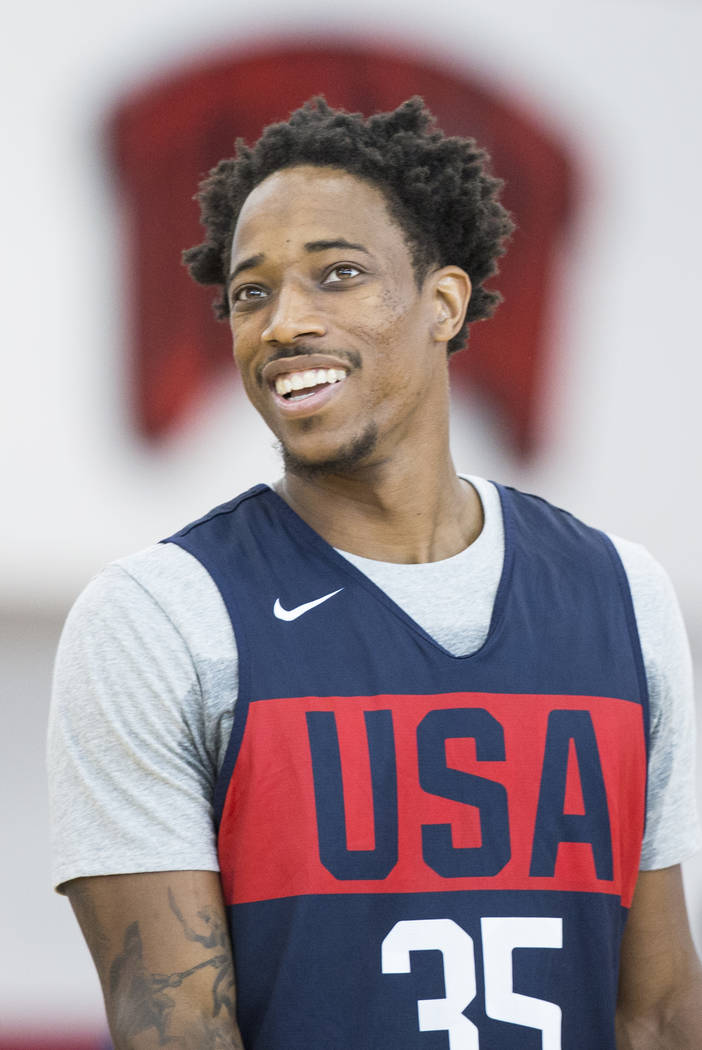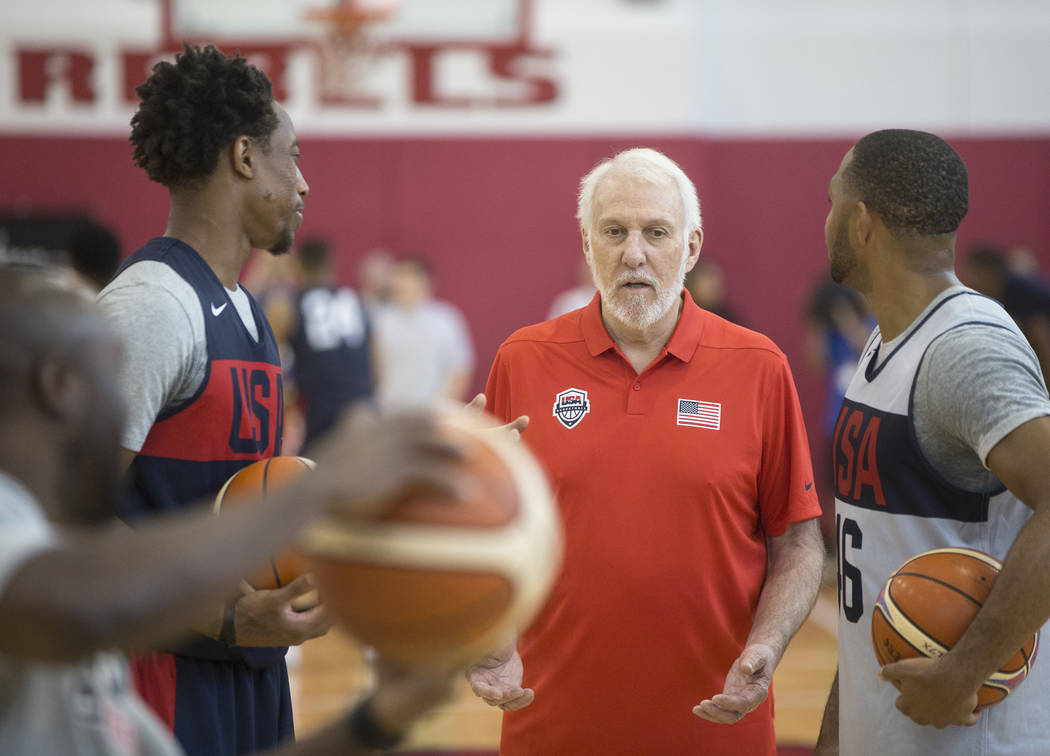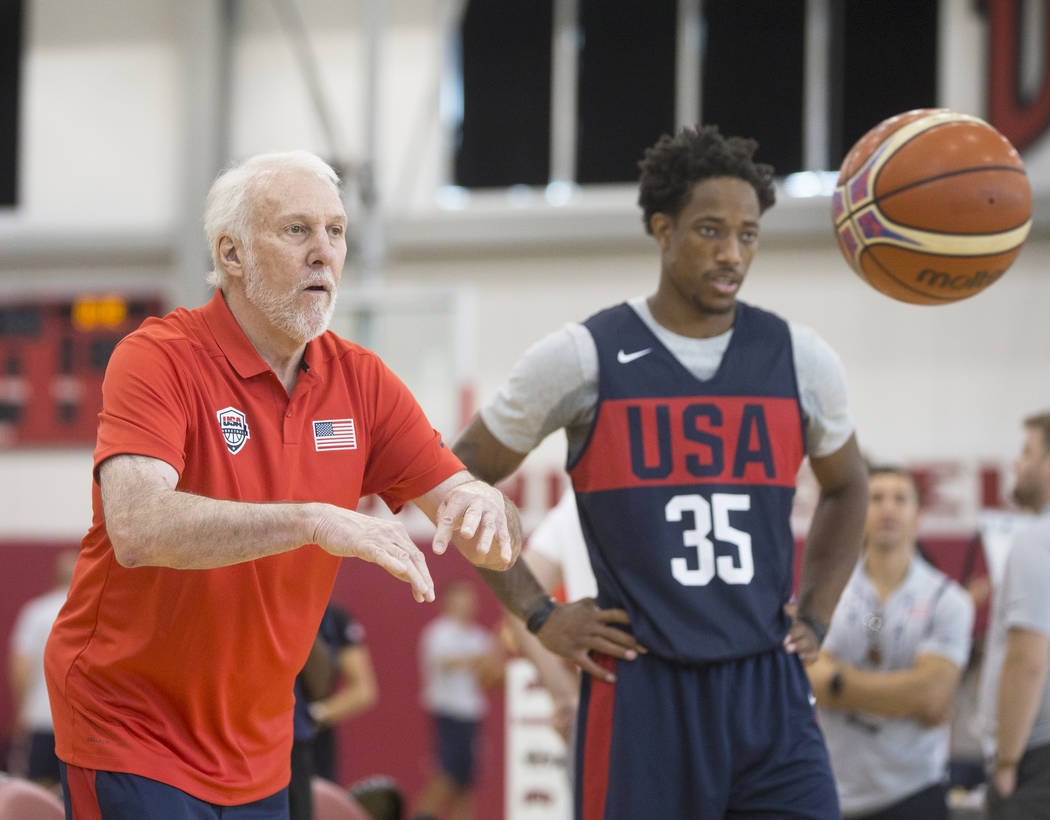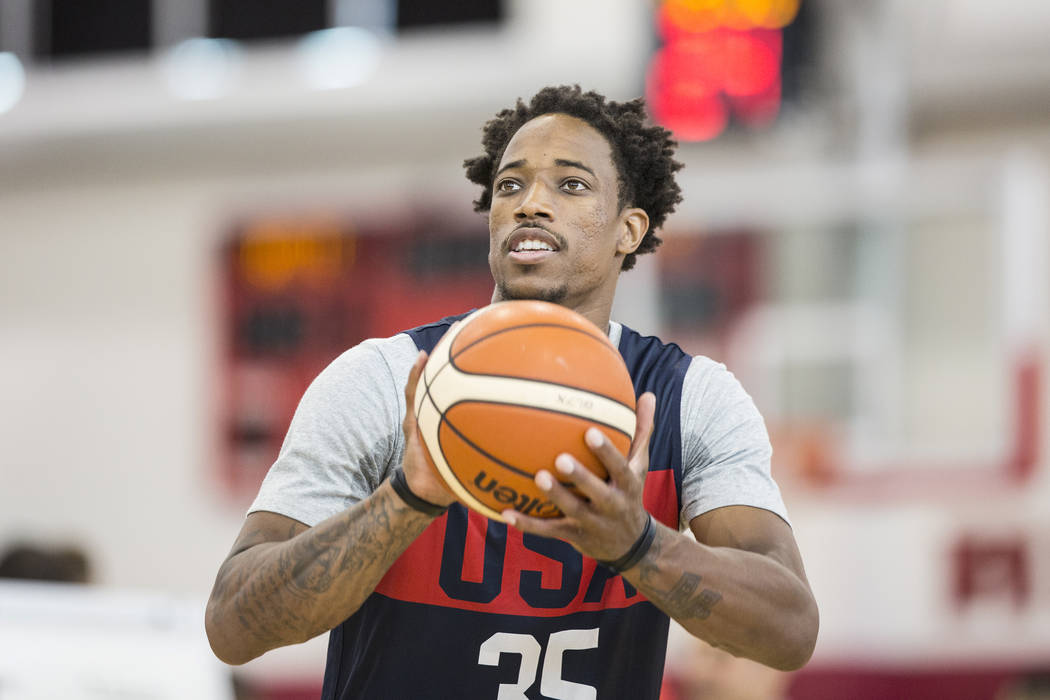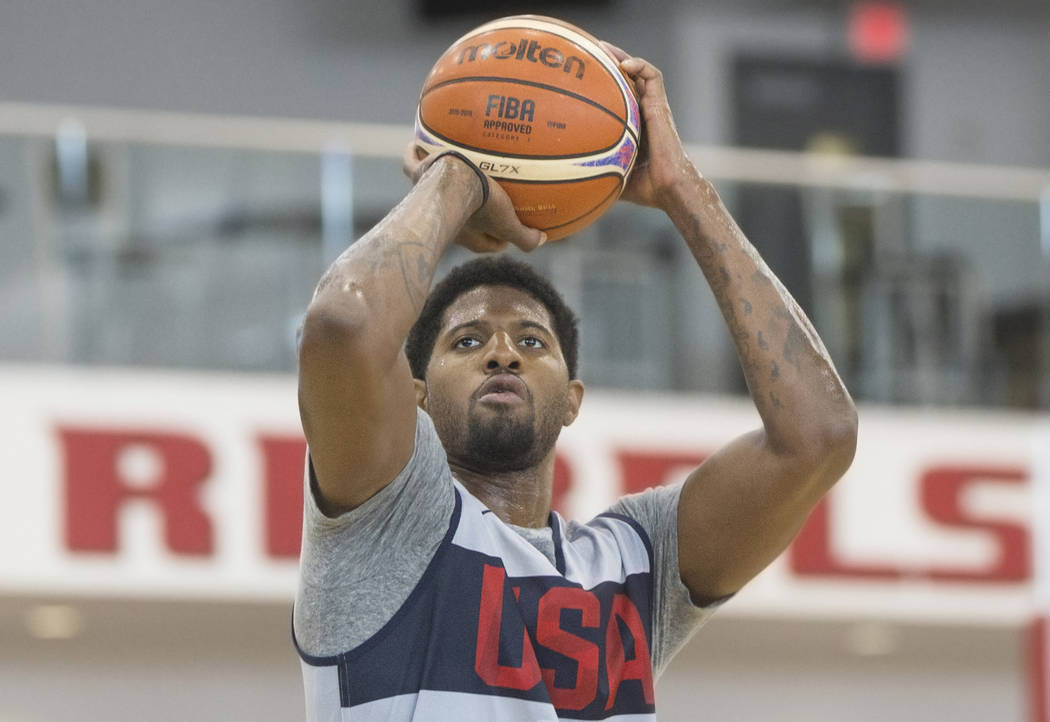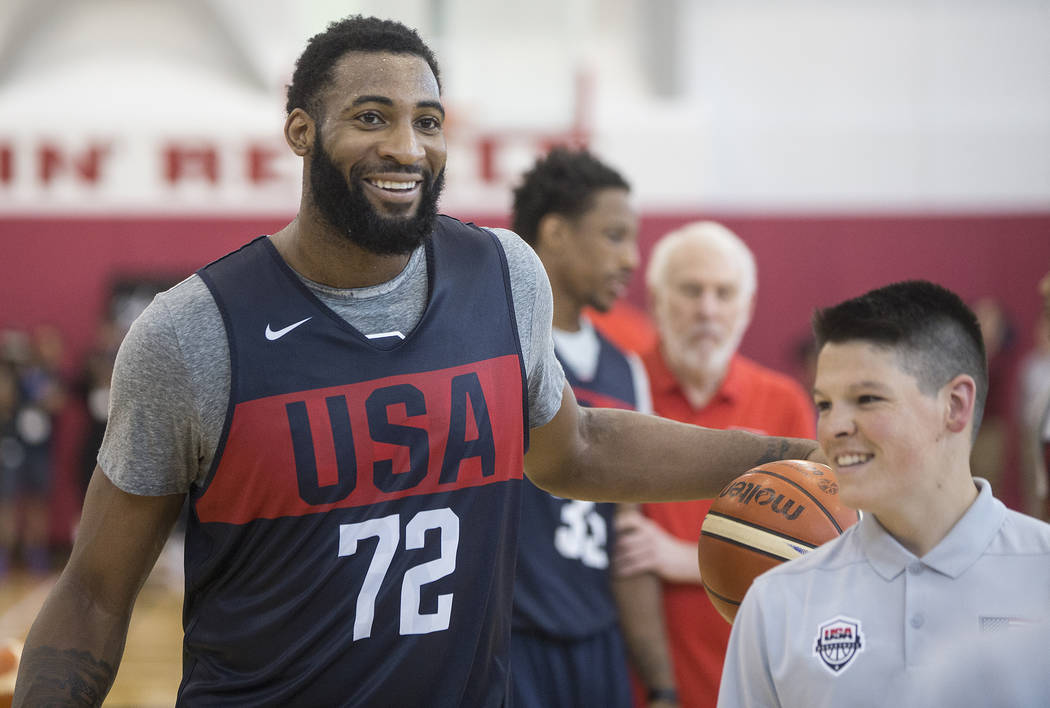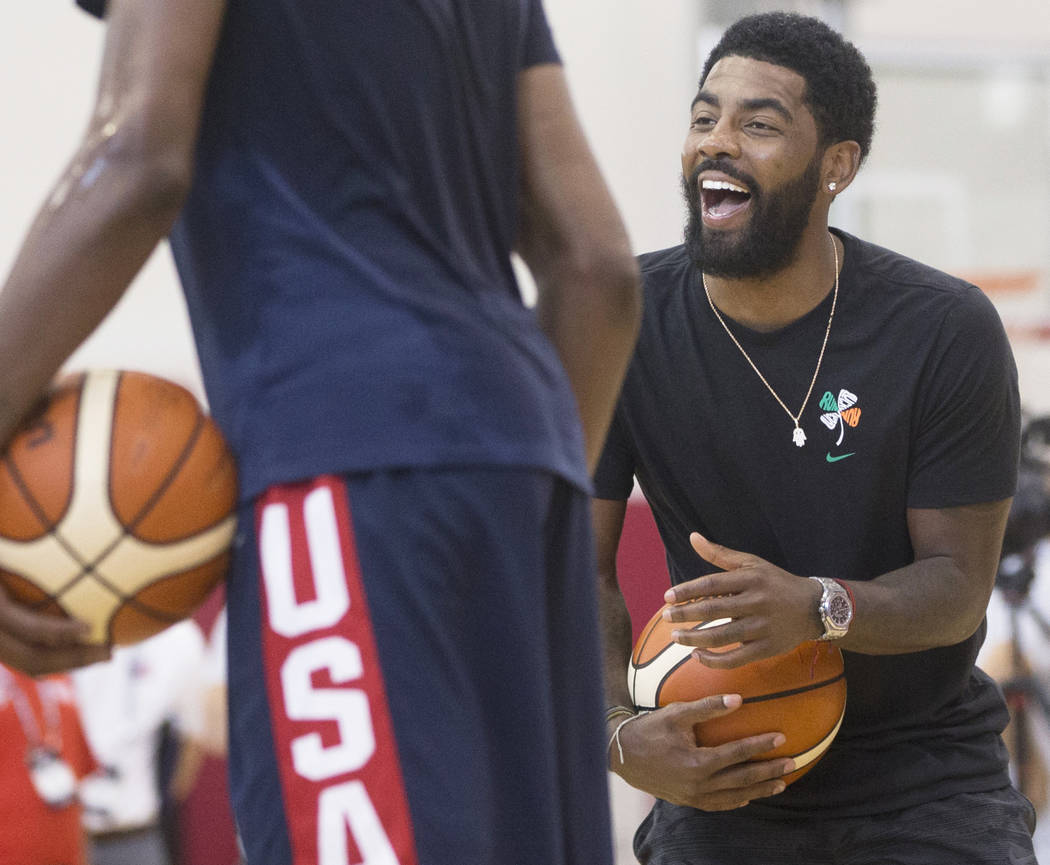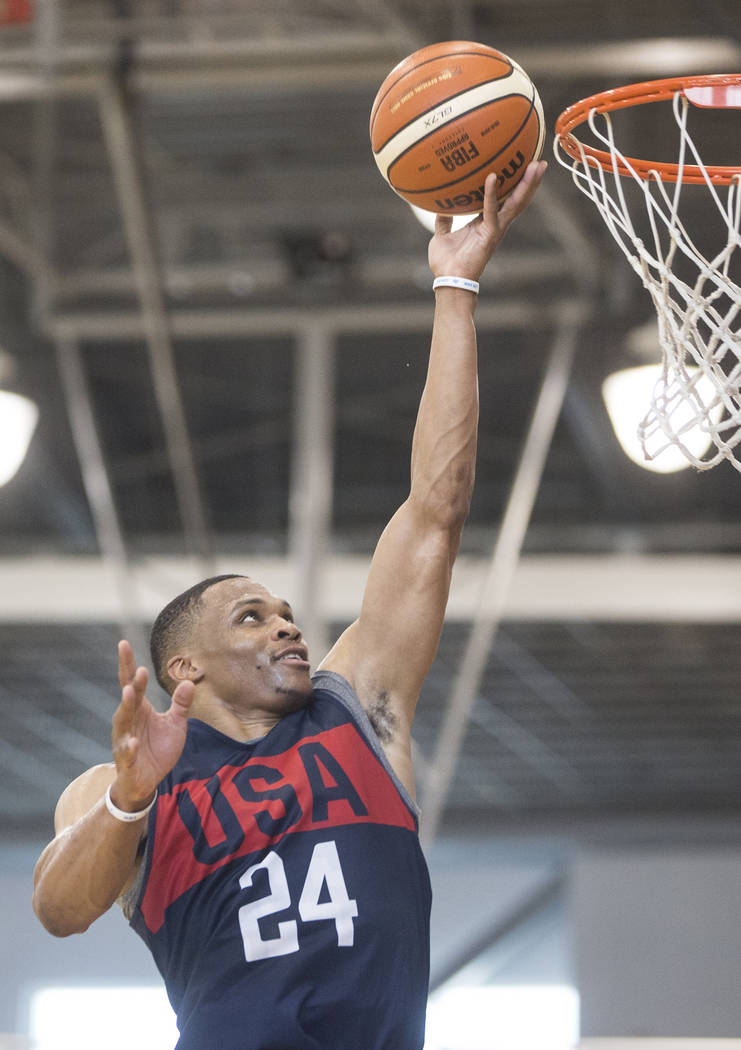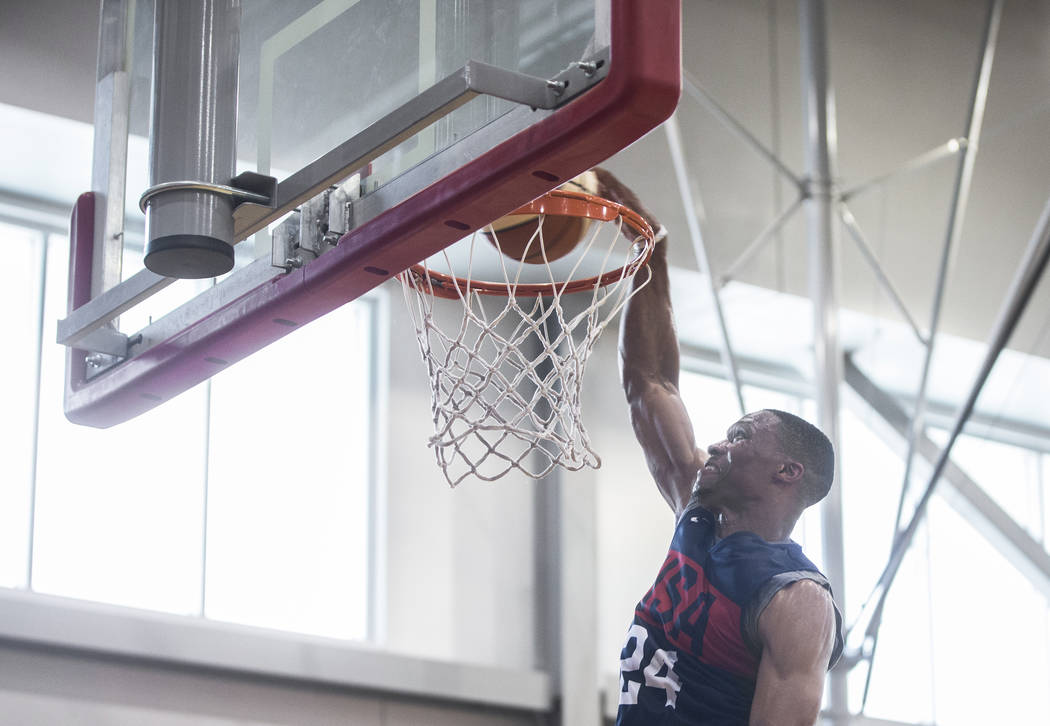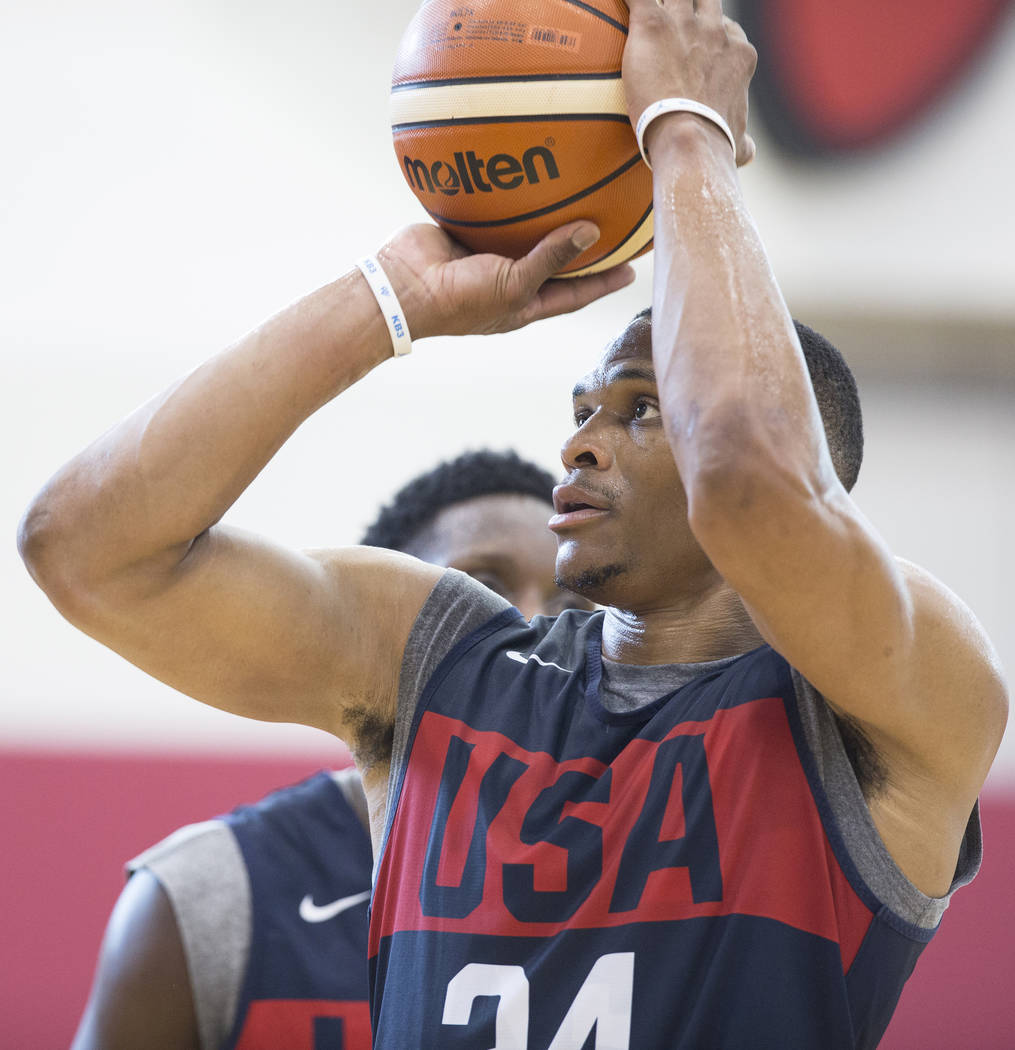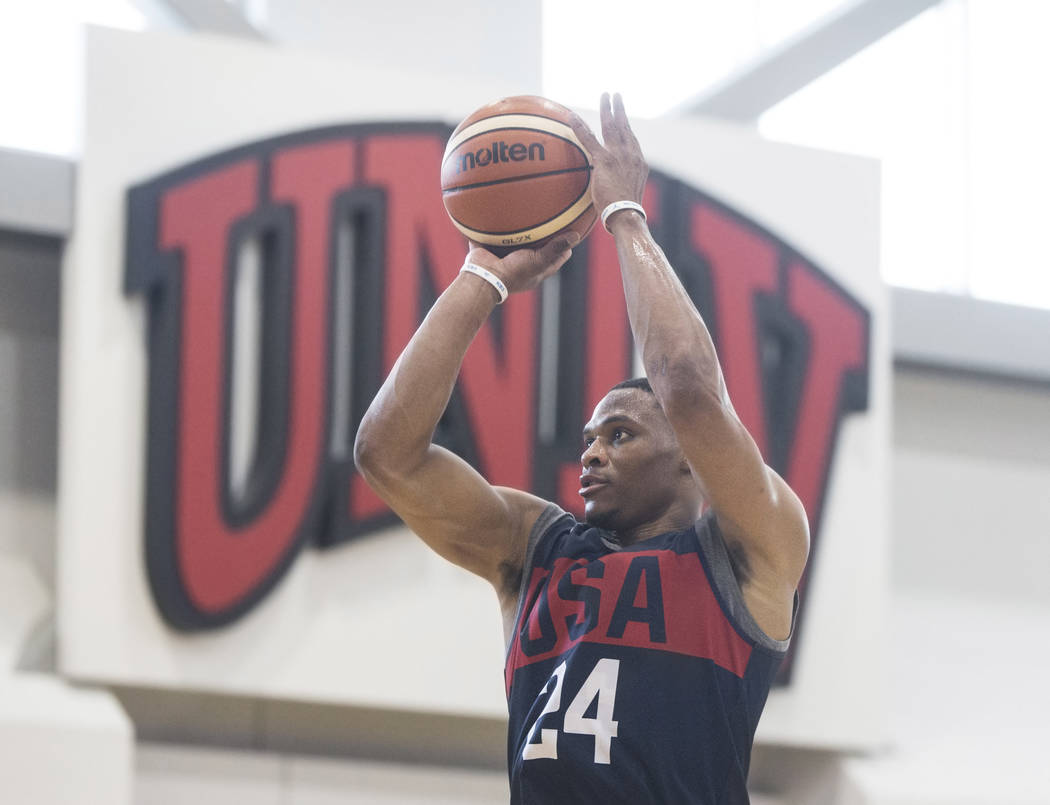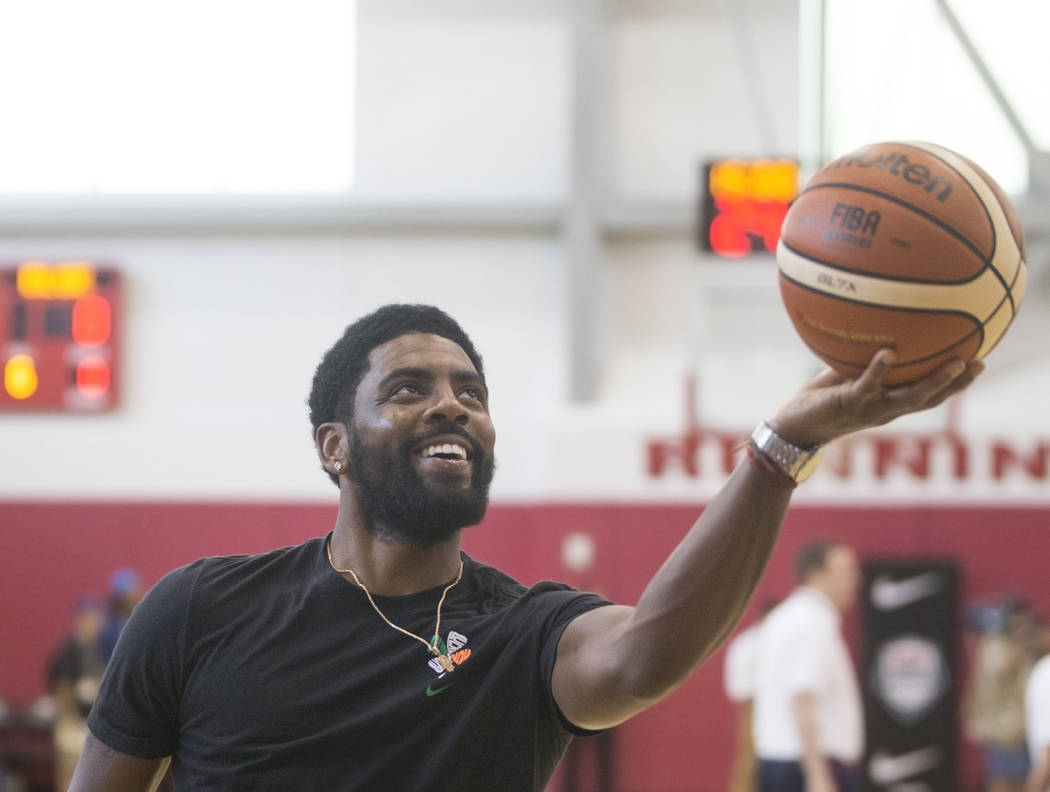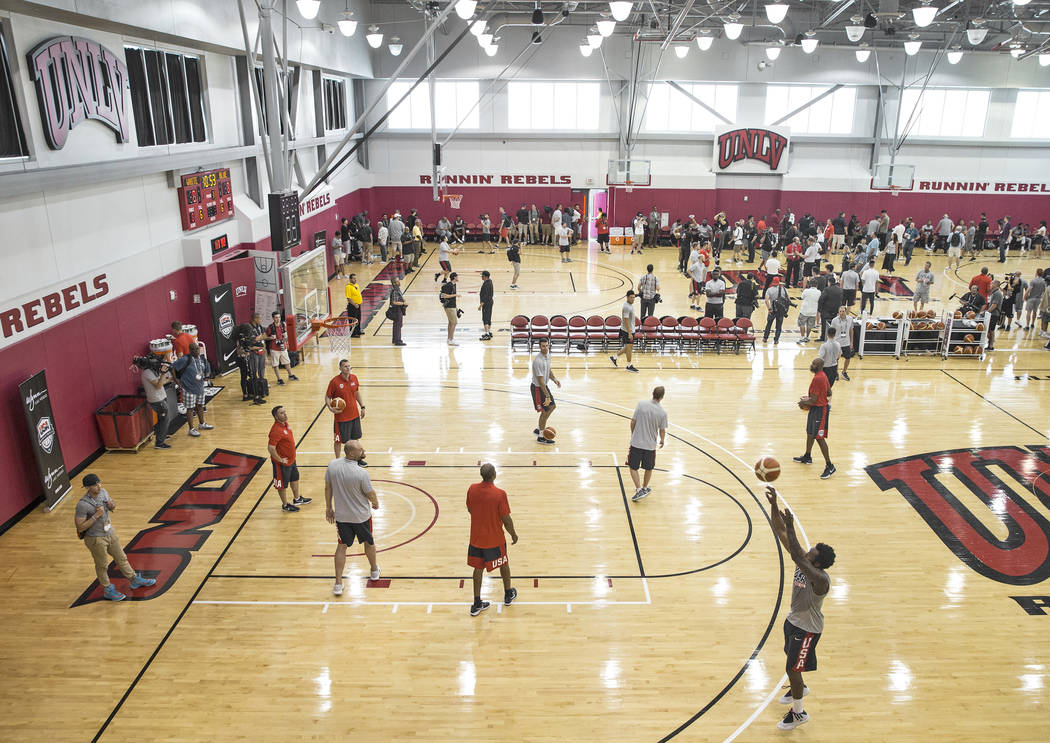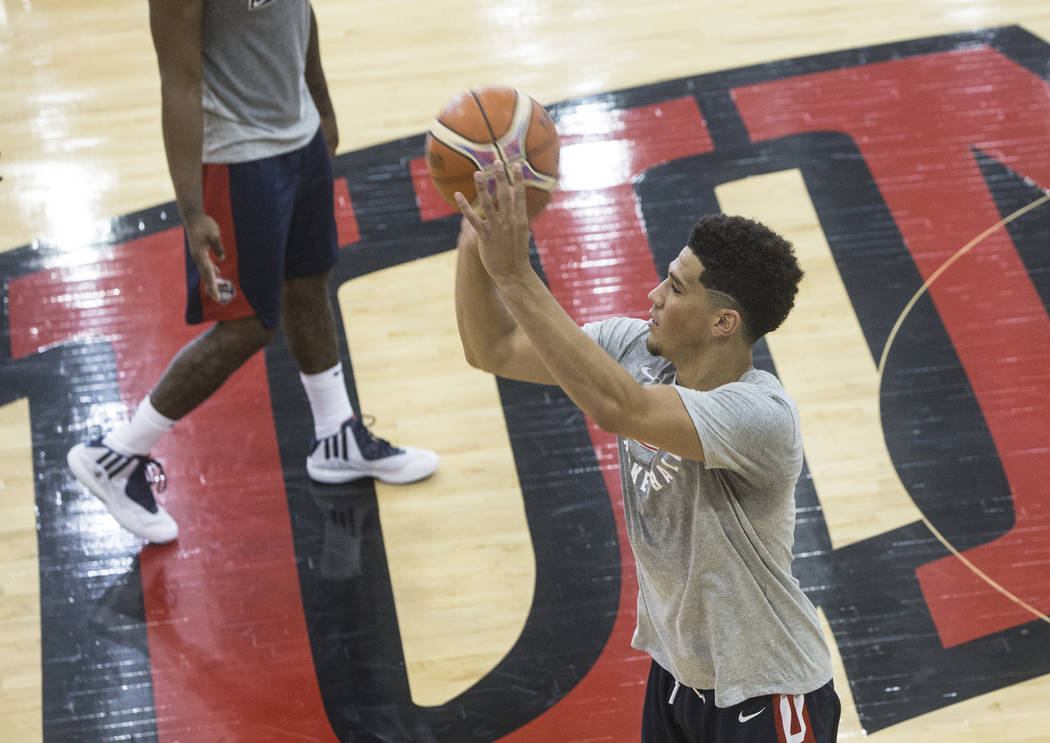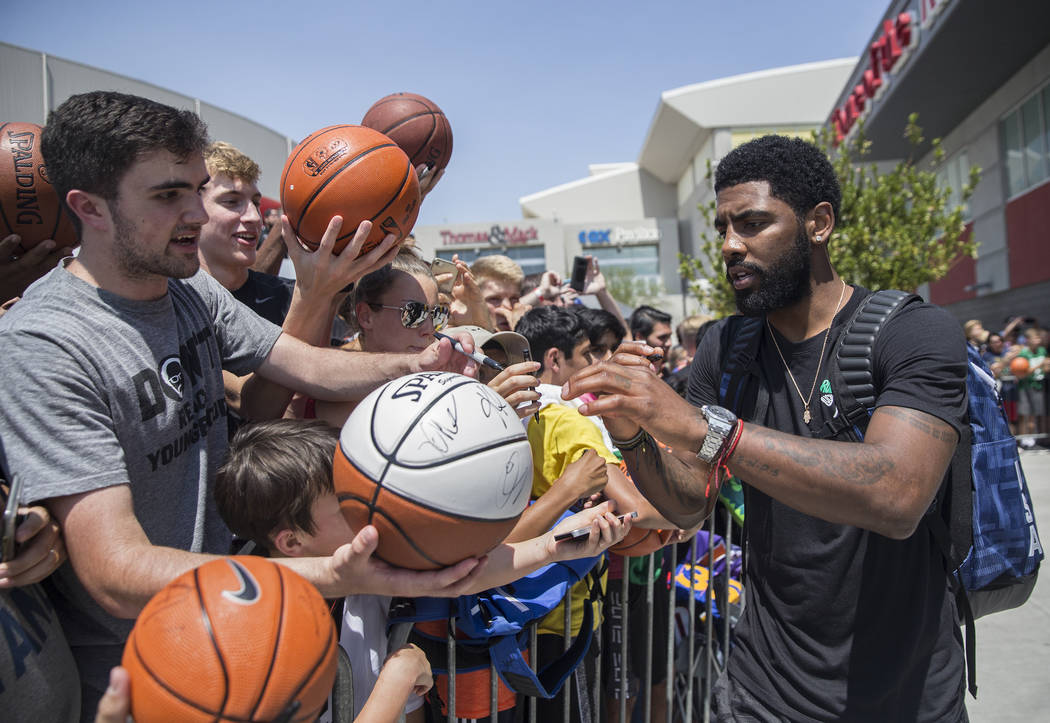 The whistle blew and players huddled around Gregg Popovich, concluding his first practice as coach of the U.S. men's basketball team.
Popovich is taking over for Duke's Mike Krzyzewski, who went 60-1 in FIBA competition and won three Olympic gold medals.
There could be pressure on Popovich, 69, who has led the San Antonio Spurs to five NBA championships, to duplicate Krzyzewski's success. But so far he has been soaking in the experience of directing players who so often are opponents.
"You do that at the All-Star Game and everybody enjoys it, but this is above the NBA," Popovich said. "This is a more lofty goal, and this is creating a new team, a new country, so to speak. These guys have to form that brotherhood the way the teams they compete against have, because those guys have played together for a long time.
"We've got to try to mirror that sort of camaraderie and love and responsibility toward each other. They've done a darn good job of that for 12 years, so we need to keep it going."
Team USA concludes its two-day minicamp Friday at Mendenhall Center.
Another version of the team, made up mostly of G League players, will play Uruguay on Sept. 14 at Cox Pavilion in a FIBA World Cup qualifier. The World Cup is in the summer of 2019 in China. After that, the U.S. will try to successfully defend its title in the Olympic Games in 2020 in Tokyo.
Popovich went around both Mendenhall Center courts Thursday instructing the players, including his newest Spur, DeMar DeRozan. Pop was in his element, and no doubt this experience is a needed distraction as he copes with losing his wife of four decades. Erin Popovich, 67, died April 19 after a lengthy illness.
Though Popovich hasn't spoken directly of his wife's death, he acknowledged coaching the U.S. team meant a lot to him from a personal standpoint.
"Just to be part of such a successful program that's been run so well is an honor and a privilege," Popovich said. "I'm going to enjoy it and try to honor that every day."
Part of that is honoring the legacy started by Krzyzewski in 2005 when he took over as coach.
Both men graduated from military academies — Popovich from Air Force and Krzyzewski from the U.S. Military Academy at West Point — and they possess similar coaching philosophies.
"The level of care and dedication and discipline to the game doesn't change," said the Golden State Warriors' Kevin Durant, the two-time NBA Finals MVP. "I think that's what us players need is structure and discipline, and they both provide that. The details are small — different drills, different schemes — but the same message rings true in the USA Basketball family. You're fighting for one goal, and it's a great opportunity to represent your country."
Paul George of the Oklahoma City Thunder said he was still learning Popovich's coaching style but came away impressed after one practice.
"I love him," George said. "A great communicator. So much charisma. Just a fun, open, loving guy, very interactive, and he's just a great leader, a great teacher."
Popovich faces tough decisions regarding the roster as the World Cup nears, but it's clear he's enjoying his new role as the U.S. coach. He especially enjoyed Thursday's practice.
"I thought (the players) were spectacular," Popovich said. "They were energetic from the beginning and competitive, more competitive than I thought they wanted to be for this time in the summer. It's only two practices, today and tomorrow, so we wanted to read it and see what we were going to find, and we found people who wanted to knock heads, wanted to compete and wanted to get up and down, so we did."
Contact Mark Anderson at manderson@reviewjournal.com. Follow @markanderson65 on Twitter.
Team USA roster
Harrison Barnes, Dallas Mavericks
Bradley Beal, Washington Wizards
Devin Booker, Phoenix Suns
Jimmy Butler, Minnesota Timberwolves
Mike Conley Jr., Memphis Grizzlies
DeMarcus Cousins, Golden State Warriors
Stephen Curry, Golden State Warriors
Anthony Davis, New Orleans Pelicans
DeMar DeRozan, San Antonio Spurs
Andre Drummond, Detroit Pistons
Kevin Durant, Golden State Warriors
Paul George, Oklahoma City Thunder
Eric Gordon, Houston Rockets
Draymond Green, Golden State Warriors
Blake Griffin, Detroit Pistons
James Harden, Houston Rockets
Tobias Harris, Los Angeles Clippers
Gordon Hayward, Boston Celtics
Kyrie Irving, Boston Celtics
LeBron James, Los Angeles Lakers
DeAndre Jordan, Dallas Mavericks
Kawhi Leonard, Toronto Raptors
Damian Lillard, Portland Trail Blazers
Kevin Love, Cleveland Cavaliers
Kyle Lowry, Toronto Raptors
CJ McCollum, Portland Trail Blazers
Khris Middleton, Milwaukee Bucks
Victor Oladipo, Indiana Pacers
Chris Paul, Houston Rockets
Isaiah Thomas, Denver Nuggets
Klay Thompson, Golden State Warriors
Myles Turner, Indiana Pacers
Kemba Walker, Charlotte Hornets
John Wall, Washington Wizards
Russell Westbrook, Oklahoma City Thunder