Harden scores 45 as Rockets avoid sweep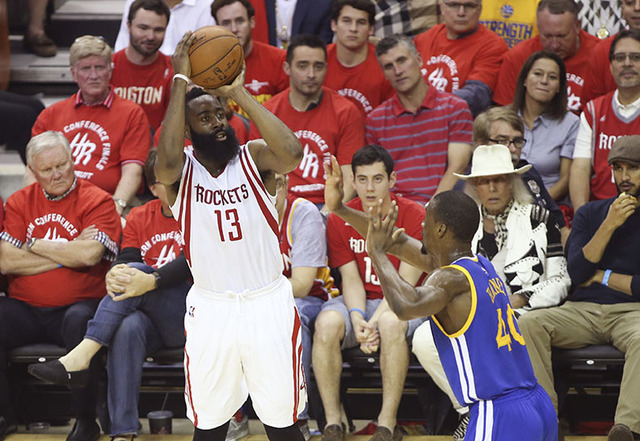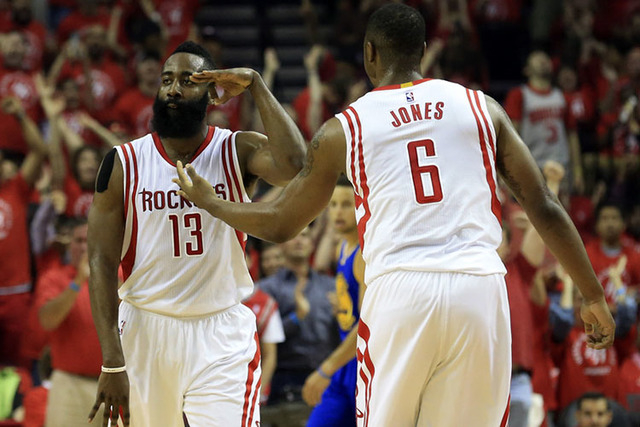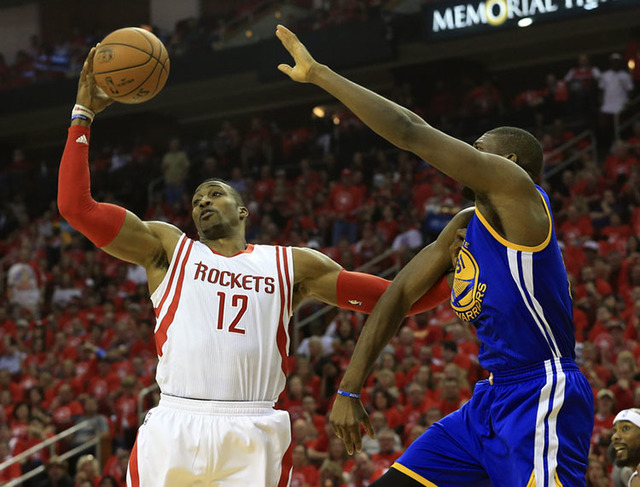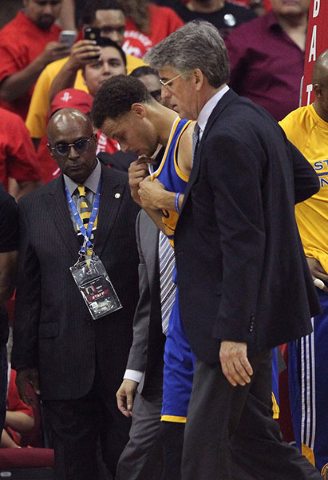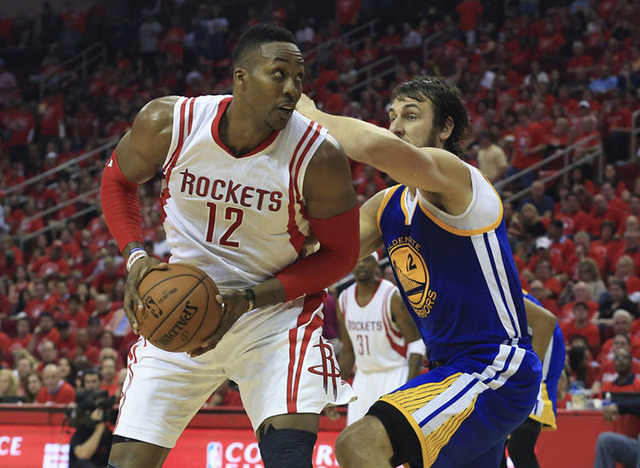 HOUSTON — James Harden scored 16 of his game-high 45 points in the third quarter as the Houston Rockets staved off several furious runs by the Golden State Warriors and averted a sweep in the Western Conference finals with a 128-115 win Monday night at Toyota Center.
The Warriors, who will host Game 5 in Oakland on Wednesday night, clawed back from a 25-point deficit and trailed 104-98 with 8:24 left when guard Stephen Curry drilled a 3-pointer. But Harden scored seven consecutive points as Houston ultimately stretched its lead to 114-98.
All five Houston starters scored in double figures, with forward Josh Smith posting 13 of his 20 points in the runaway first quarter while forward Trevor Ariza added 17 points and five rebounds. Center Dwight Howard had 14 points and 12 rebounds. The Rockets led wire-to-wire.
Curry, who returned from injury with 5:58 left in the third quarter, scored 23 points while his backcourt mate Klay Thompson tallied 24. Both shot 6-for-13 from behind the arc as Golden State made 20 of 46 3s.
Warriors forward Draymond Green had 21 points and 15 rebounds before fouling out late in the fourth quarter.
Unsurprisingly, the Rockets opened the first quarter like their postseason lives depended upon a sterling performance, dashing to a 19-3 lead with a dizzying series of transition baskets and three 3-pointers. Even after Curry helped the Warriors find their legs with eight consecutive points that cut the deficit to a dozen points, the Rockets kept firing away, extending to an 18-point lead when Harden nailed a 3 with 3:26 remaining in the period.
Harden added a step-back jumper with 1.3 seconds left and Houston led 45-22 entering the second, matching the NBA record for postseason scoring in the first quarter.
The Rockets led by as many as 25 points in the first half, but momentum swung the Warriors' way on a play that should have spelled their demise. With 5:52 left in the half, Curry took a spill attempting to block a transition layup attempt by Ariza. Curry flipped over Ariza and landed on his shoulders and the back of his head, and he remained on the floor for several minutes before slowly sitting up and then staggering to his feet. Curry departed for the locker room with a head contusion, Ariza hit a pair of free throws, and the Rockets led 57-36.
Thompson sparked a furious rally with Curry sidelined, nailing four 3-pointers and scoring 12 points during a 21-9 run that cut the deficit to 66-57. It took a Jason Terry 3 with 8.4 seconds left in the half for the Rockets to reestablish their double-digit lead entering the intermission.
NOTES: The Rockets entered Game 4 with a 3-0 record under coach Kevin McHale when facing elimination for the first time in a series, having staved off elimination temporarily against Oklahoma City in 2013 and Portland last postseason before rallying from a 3-1 deficit to stun the Clippers last round. … After turning up their defensive intensity in Game 4 against Memphis and riding that momentum to three consecutive wins, the Warriors are looking for more of the same after their defense stifled Houston in Game 3. "We got a grasp of what we needed to do, and you hope that's the case each series and that it carries forward," Warriors coach Steve Kerr said. "But … things change." … Rockets coach Kevin McHale altered his rotation, bringing F Terrence Jones off the bench to sub for C Dwight Howard.