Howard's James Daniel beats odds, becomes nation's leading scorer
November 24, 2015 - 2:13 pm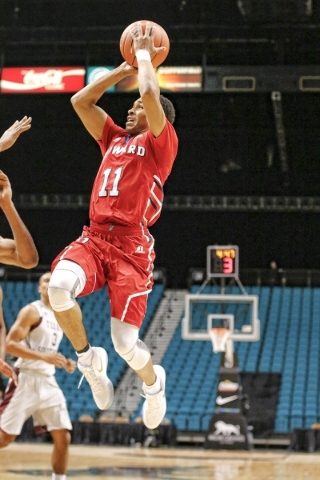 Not many things seem to bother James Daniel. But ask him about being the nation's leading scorer in Division I men's basketball and he gets a little uncomfortable.
"It's nice I guess," Daniel said. "But I don't think too much about it. I'm just trying to help this team win games."
It's early in the season but the nation's top scorer resides in Washington, D.C., not at Georgetown, but at Howard University, an historically black college that has historically underachieved on the court. There are signs that is changing thanks to Daniel, a 5-foot-11-inch junior shooting guard from Hampton, Va. Daniel is averaging 29 points, and his talents will be on display at 3 p.m. today at the MGM Grand Garden as the Bison face Central Arkansas for the Middleweight Division title of the Men Who Speak Up Main Event.
In the Heavyweight Division final, Massachusetts and Creighton meet at 6:30 p.m.
If this were the pros, Daniel would be a franchise player, someone you build around. For a college program that has struggled to change its losing image for the better part of two decades, it's no different. Daniel is a player who helps attract similar talents to play alongside, a player the student body and alumni can get energized about, a player the administration can market in trying to lure corporate sponsors and donors.
"He's a game-changer for our university," Howard athletic director Kery Davis said. "He's a great representative of our university and he's exciting to watch. Having James in our program has been nothing but positive for us."
For a guy who scores a lot of points, Daniel isn't a volume shooter. He's not going to put up 40 shots to get 30 points. He tries not to force things offensively while also playing the other end of the floor. He has 16 steals in four games for the Bison (2-2).
"I take a lot of pride in my defense," said Daniel, who Monday was named Mid-Eastern Athletic Conference player of the week. "I want to be known as a complete player, not just a scorer."
Daniel scored 30 points Monday in an 87-81 win over Texas Southern. He shot 6 of 17 from the field, 2 of 7 on 3-pointers, but made 16 of 19 free throws.
"I just try to stay patient and pick my spots," he said. "With the new rules, I know I can get to the basket."
Daniel has been a beneficiary of NCAA legislation to crack down on physical play. He also knows teams are building their game plans around stopping him. But in this game of basketball chess, Daniel is not anyone's pawn.
"Coach Nick comes up with all these plays to free me up," he said. "We watch a lot of tape and I can see what the defense is trying to do and I just adjust and try and stay a step ahead of them."
Coach Nick is Kevin Nickelberry, in his sixth season at Howard and who had known Daniel from watching him grow up in Hampton. He was fortunate he was able to jump to the front of the line while Daniel was being underrecruited at Phoebus High School.
"He had a few guys in front of him who were D-I players, so everyone was focused on recruiting them," Nickelberry said. "But I had known James since he was a kid and I knew the kind of player and person he was. He was exactly what we were looking for to help change our program."
Daniel no longer was a secret by senior season at Phoebus. He was the Virginia Tri-State Player of the Year in 2013 and offers were pouring in. Yet he remained firm to his commitment to Howard, which had offered a scholarship early.
"It's a great school," said Daniel, who is majoring in sociology and carrying a grade-point average of 3.25. "I have no regrets at all. I know I made the right choice."
Howard was 8-25 in Daniel's freshman season, but went 16-16 last season for its first nonlosing record in 13 years. Now the Bison are setting their sights on competing for the MEAC title and an NCAA Tournament berth. Howard last appeared in the NCAAs in 1992.
Daniel was the first male player at the school to score more than 1,000 points in his first two seasons. With 1,203 points, he's on track this season to break Aaron Shingler's career scoring record of 1,724 points set in 1967. But Daniel's foremost goal isn't to set records. It's to change the progam's losing culture and lay a foundation for success long after he's gone and playing professionally.
"We're trying to build something that's going to last for a long time," Daniel said. "Nobody likes to lose. But we've got a group of guys who really get along and care about each other. We all want to make this team successful and that's more important to me than leading the country in scoring.
"I mean, that would be nice. It would be a real positive thing for the program if I could do it all season. But I really don't think about it. Honestly I'm just thinking about trying to beat Central Arkansas."
He'll let his coach and athletic director dote on his scoring. Daniel will focus on winning.
Contact reporter Steve Carp at scarp@reviewjournal.com or 702-387-2913. Follow him: @stevecarprj