Jamal Bey leads Gorman to victory over No. 24 Sierra Canyon
January 15, 2018 - 11:32 pm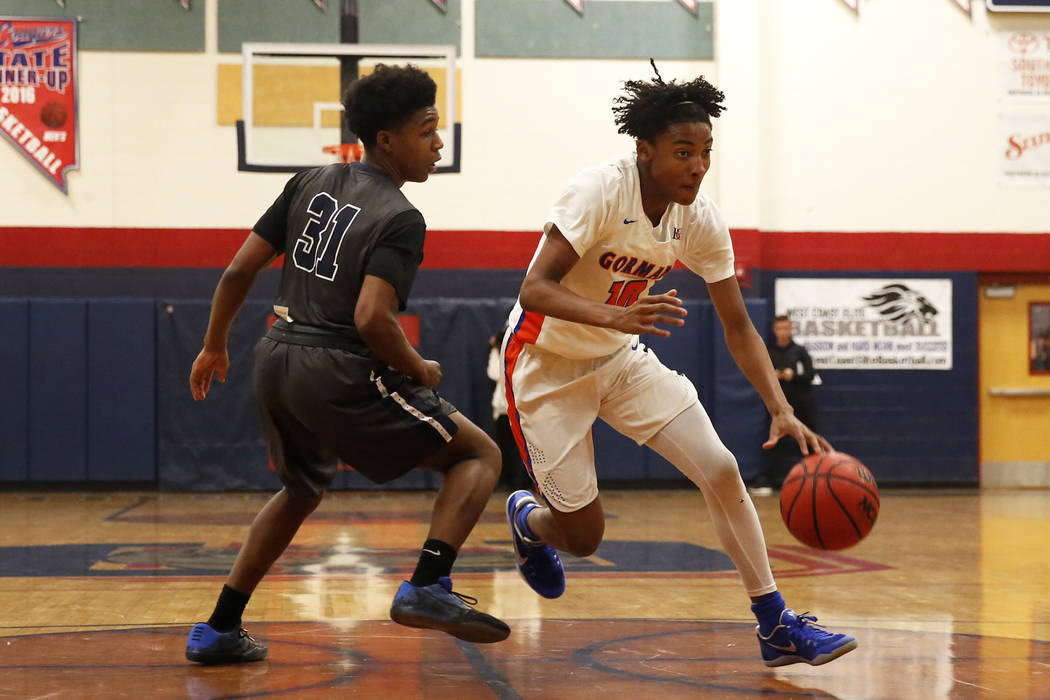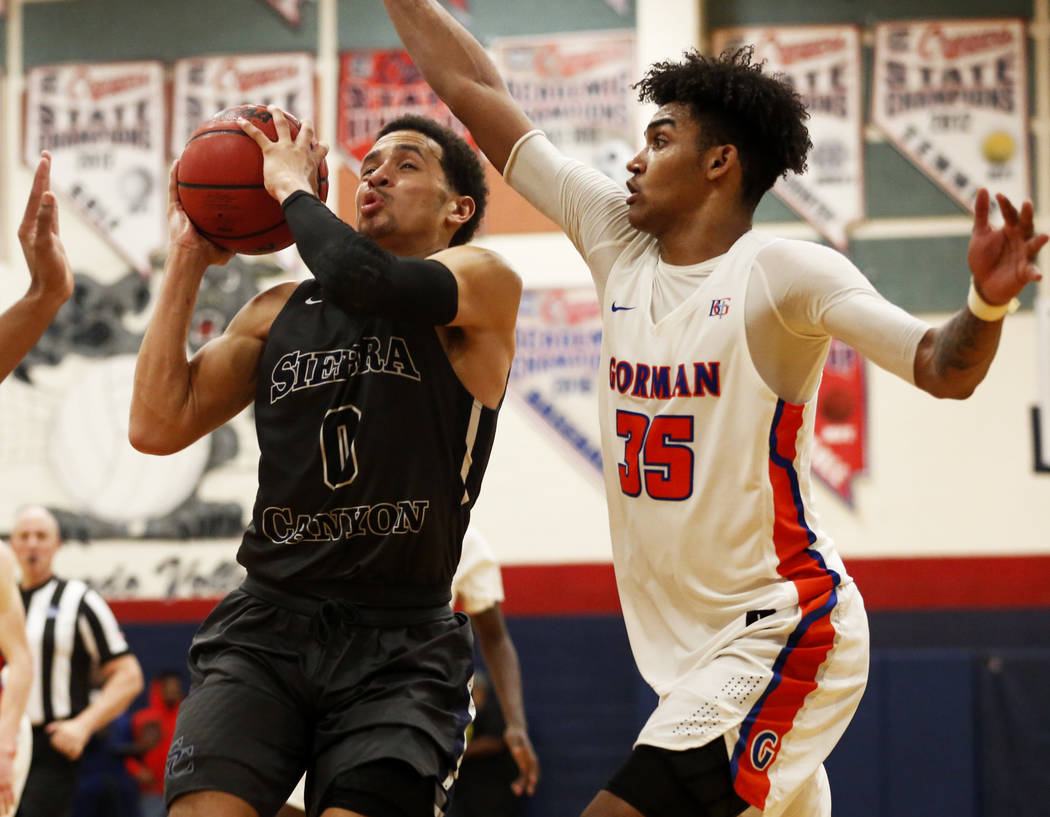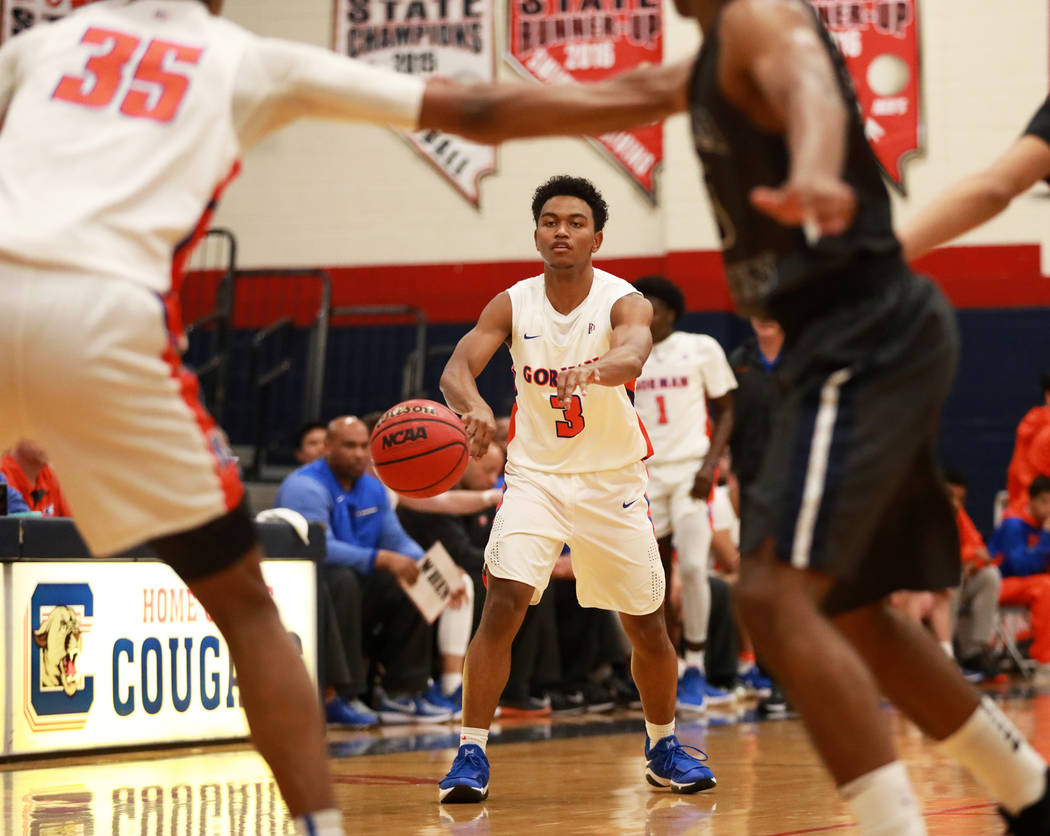 College assistants, former NBA players and the who's who of Southern Nevada basketball convened at Coronado High on Monday to watch the current and future stars of West Coast basketball.
Bishop Gorman, representing the Las Vegas Valley, faced Sierra Canyon (California), the nation's 24th-ranked team by USA Today that features the sons of former NBA All-Stars Scottie Pippen and Kenyon Martin and also the top shooting guard in the junior class.
The Gaels didn't disappoint their home crowd.
Jamal Bey scored 26 points and converted the go-ahead layup with 2.5 seconds remaining in overtime to rally Gorman from a 15-point second-half deficit and top the Trailblazers 82-80 in the nightcap of the Las Vegas Invitational.
"I just felt like we had to defend our home," said Gaels star freshman Will McClendon, who scored 18 points off the bench. "(Sierra Canyon) coming from L.A., they say L.A. teams are better. And we had to prove that Vegas has some tough competition."
Gorman (14-3) did so behind McClendon and Bey, its Washington-bound senior.
Bey scored 22 of his 26 points in the second half, finished 10-for-14 from the field and had six rebounds and six assists in front of Martin, former UNLV lottery pick Marcus Banks and college assistant coaches Kevin Kruger (Oklahoma) and Eric Brown and Rob Jeter (UNLV).
"I don't know how I get into that mode — it just happens," Bey said of his second half. "Once I learn to start like that, it'll be a problem."
After his slow start, the 6-foot-6-inch Bey helped Gorman dig out of a 42-27 deficit in the third quarter and made the play of the game out of a timeout with 13.5 seconds.
McClendon inbounded the ball to fellow freshman Zaon Collins, who dished to Bey at the top of the key. Bey quickly jabbed right, blew by defender Duane Washington Jr. to the left and finished a layup through contact over Kenyon Martin Jr. for the go-ahead score.
Martin missed the potential game-winning 3-pointer from halfcourt as the buzzer sounded.
"Did we really win that game?" Gorman coach Grant Rice asked his statisticians at the scorer's table.
Noah Taitz scored 22 points, and Isaiah Cottrell had eight points and six rebounds for the Gaels.
"It was an emotional game," Rice said. "They jumped on us early. They are talented. They've got a lot of Divison-I talent out there — probably some future pros out there. They kind of jumped on us in the first quarter and kind of out-athleted us and we had to make some adjustments. …
"I heard the crowd. It was great. It's kind of a California versus Vegas. We always want to defend Las Vegas, without a doubt. When we play someone from out of town, it's always nice to defend home court."
Martin Jr. led Sierra Canyon (12-3) with 26 points, nine rebounds, four assists and three blocks.
Scotty Pippen Jr. added 17 points and seven assists, and Cassius Stanley — the nation's top-ranked shooting guard in the Class of 2019 — was held to 11 points and seven rebounds for the Trailblazers.
Contact reporter Ashton Ferguson at aferguson@reviewjournal.com or 702-383-0430. Follow @af_ferguson on Twitter.
Monday's highlights
Boys
— Marvin Coleman poured in a game-high 26 points to help Foothill take down Rancho Solano Prep (Arizona) 86-80 in overtime at the Las Vegas High School Invitational at Coronado.
— Donovan Joyner scored 25 points to lead Las Vegas over Executive Prep (California) 72-59 in the Las Vegas High School Invitational at Coronado.
— Clark's James Bridges led three double-figure scorers with 21 points as the Chargers routed Culver City (California) in the Las Vegas Invitational at Coronado 86-52.
Girls
— Justice Ethridge scored 18 points, and Centennial outscored Harvard-Westlake (California) 33-23 in the second half to secure a 59-49 victory over the Wolverines in Stockton, California.
— Essence Booker had 16 points, eight rebounds, five steals and four assists as Spring Valley ran away from Agoura (California) in Sun Valley, California 72-21.
— Tia Thornton scored a game-high 14 points to propel Coronado past Chaparral 46-43 at home in the Las Vegas High School Invitational.