Las Vegas native Zach Collins gives back to hometown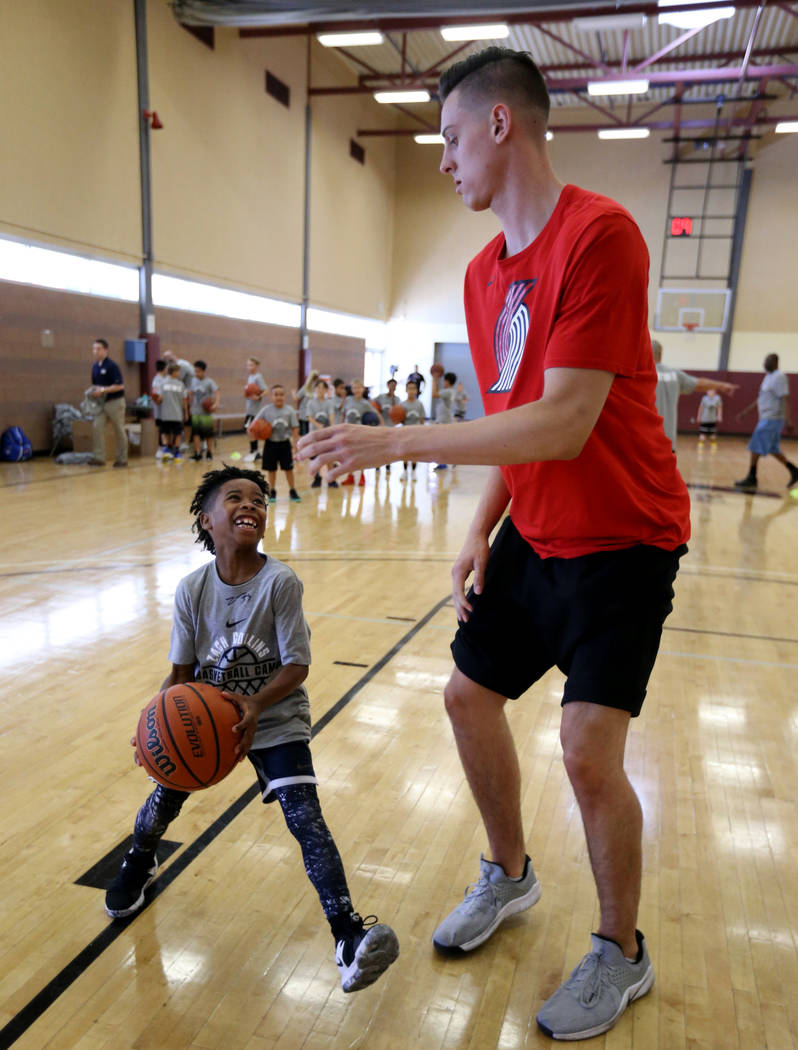 Las Vegas native Zach Collins spent countless hours honing his craft and preparing for a professional basketball career at Bill and Lillie Heinrich YMCA.
What's a few more.
Collins, a 7-foot center who recently finished his rookie season with the Portland Trail Blazers, returned home Tuesday to join his former AAU program, Vegas Elite, in hosting his first basketball camp at the YMCA, where he flourished as a teenager while starring at Bishop Gorman.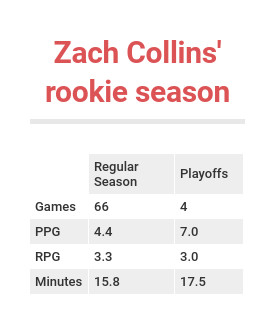 Dozens of awestruck kids ranging from 6 to 14 participated in a series of drills under the instruction of several coaches and Collins, who played almost 16 minutes per game this past season and earned crunch-time minutes during Portland's first-round playoff series.
"This is where I started to get that competitive drive," Collins said. "I guess you can say this is where I started wanting to be an NBA player. To see these kids and have my name on their shirts, it's unreal."
Collins, 20, promised Vegas Elite program director Brian Sitter that he would return to Las Vegas and use whatever platform he had to give back to the community.
It took all of one year to make that happen.
Collins, drafted No. 10 overall in 2017, spent the fall and winter navigating the ups and downs of the NBA and acclimating to life as a professional.
He was thrilled to play meaningful minutes for a playoff team. But he needs to get stronger to maximize his potential as an inside-out big man.
"If it's one thing I want to work on next year, it's being more consistent with my habits," he said. "That was probably the hardest part for me, adjusting to so many games and having to get up for every game. But at the same time, it's good, because if you have a bad game, you know you've got 50 left … It's definitely a grind."
Collins took a break from that grind Tuesday to enjoy the beauty of basketball at the most holistic of levels. He contested shots around the rim and playfully blocked a few as campers giggled in approval.
He had fun, like seemingly everyone else in attendance.
"It's almost surreal," Sitter said. "For him to reach out and to want to give back from the place that he started from is just awesome. He always said he would, before he even knew (he would play in the NBA)."
Former pro basketball player Dwayne Price brought his nephew, Jackson, and his grandson, Domarious, to the camp and watched in approval from the sidelines.
Representing Las Vegas is fantastic.
Giving back to Las Vegas is even better.
"That's the best thing they can do as a pro player," Price said. "He started right here like everybody else does. Worked up his way. I hope that they take this as a learning experience and hopefully they'll give back one day just like he's doing."
Contact reporter Sam Gordon at sgordon@reviewjournal.com. Follow @BySamGordon on Twitter.