Lebron James to opt out with Cavs, become free agent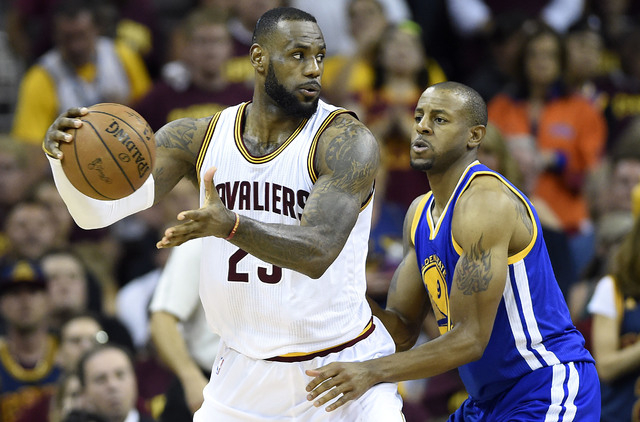 LeBron James, as expected, will bypass his $21.6 million player option with the Cleveland Cavaliers and become a free agent on Wednesday.
ESPN.com reported Sunday that the four-time NBA Most Valuable Player has elected to decline the player option he holds for the 2015-16 season and re-enter unrestricted free agency that starts on July 1.
But most everyone in Cleveland and around the NBA believes James isn't going anywhere as this is just a formality. James intends to re-sign with his current team, according to multiple reports.
The opt-out move is the third time in the past six years that James will be an unrestricted free agent.
Cavs general manager David Griffin said last week the team had been in regular contact with James since the end of the NBA Finals.
James returned to Northeast Ohio in July 2014, leaving the Miami Heat four years — and two NBA championships — after bolting Cleveland in an excruciating public departure aired by ESPN and titled "The Decision."
The level of fear that James might take his talents elsewhere is minimized this time by the passionate letter in Sports Illustrated that trumpeted a triumphant comeback to Cleveland last summer.
James addressed Cavaliers fans one week ago in a video posted for Bleacher Report. There was no indication of his desire to leave Cleveland.
"Hopefully I was an inspiration, being back to you guys for this first year," James said in the video. "Hopefully I can continue that in the near future. And I just thank you guys — I thank the fans, I thank everybody for the support that y'all gave us all year, the support that you gave me by welcoming me back.
"And hopefully I made you guys proud in Year 1. Like I said, I'm not satisfied, I'm not happy with the way things turned out. I'm bummed about it for sure. But hopefully I can put our team in position once again to try to compete for a championship next year and year-in and year-out. That's my goal, and my inspiration hasn't changed. So I appreciate everything. I thank you guys, I love you guys and I'll see y'all soon."
The Cavaliers lost to the Golden State Warriors 105-97 in Game 6 of the NBA Finals without All-Stars Kyrie Irving and Kevin Love due to injuries, and James was "not happy with the way it closed out."
"It hurt to lose, and I'm still in a little funk right now, but I'm trying to work my way out of it," James said in the video to Cavs fans. "You know, for a team that's first getting together, in our first year to be able to reach the Finals — not saying I'm happy with the results, but I'm proud of our guys. Just the growth that they had from the first day we walked in the gym to the other day, us losing, I'm proud of the guys and what they was able to accomplish."
James had a historic Finals performance — averaging 35.8 points, 13.3 rebounds and 8.8 assists while playing 45.8 minutes per game.
Love reportedly also plans to opt out of the final year of his contract and become a free agent.
ESPN.com reported last week that Love notified the Cavaliers that he is opting out of his contract, worth $16.7 million next season.