LeBron, Kyrie Irving lead Cavs to Game 3 blowout win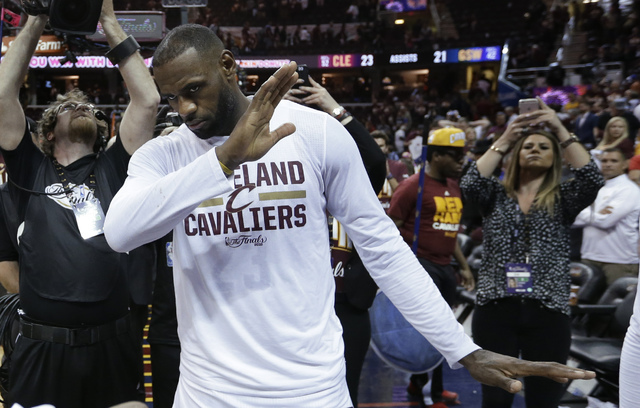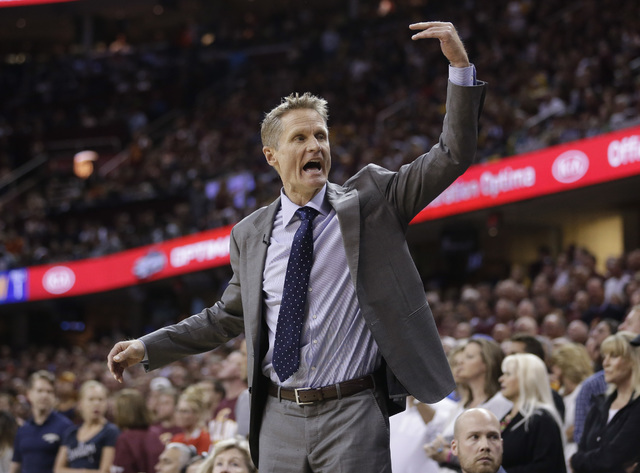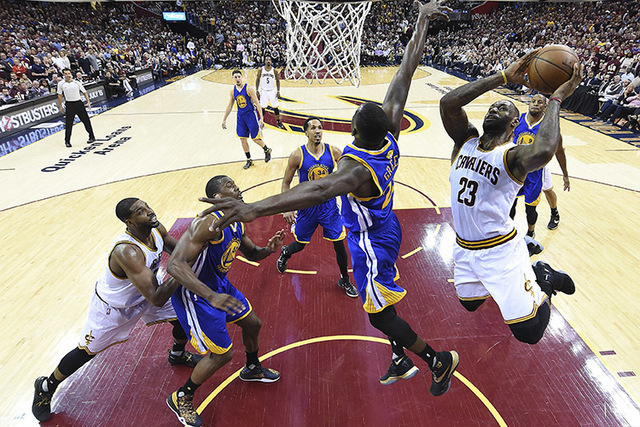 CLEVELAND — Crawling on the floor after a loose ball, LeBron James gathered himself and quickly got to his feet.
He stood tall, and so did the Cavaliers.
James had 32 points and 11 rebounds, Kyrie Irving added 30 points and Cleveland, pushed for 48 minutes by a delirious, championship-starved crowd, hammered the Golden State Warriors 120-90 in Game 3 on Wednesday night to pull within 2-1 in the NBA Finals.
On their home floor, where they have been dominant all postseason, the Cavs yanked their season from the brink of disaster following back-to-back blowout losses in the Bay Area.
"Coaching staff gave us a great game plan and we executed it," said James, whose energy from the start electrified 20,000 fans, and most importantly his teammates.
They Cavs did it without starting forward Kevin Love, with little help from their bench and by keeping Stephen Curry penned in.
The league's MVP was mostly MIA, scoring 19 points — two in the first half — on 6-of-13 shooting. Harrison Barnes scored 18 and Klay Thompson 10 for the Warriors, who had won seven straight over Cleveland — the first two finals games by a combined 48 points — and came back to the birthplace of rock and roll looking to party like they did after winning the title in Quicken Loans Arena last year.
The Cavs, though, have made this a series after it appeared the Warriors were on the fast track to another crown.
James had called it "do or die" for Cleveland.
Well, done and living.
"We've got to give the same effort on Friday," James said. "It started defensively and it trickled down to the offensive side."
The Warriors didn't look anything like the team that won a record 73 games during the regular season or the one that overcame a 3-1 deficit in the Western Conference finals.
"We were soft," said coach Steve Kerr. "When you're soft, you get beat on the glass and turn the ball over."
Curry didn't offer any excuses.
"I've got to play 100 times better than this," he said, dismissing any notion he's slowed by injuries. "I'm fine. Not the way we wanted the night to go."
Irving bounced back from two rough games out West, J.R. Smith made five 3-pointers and Tristan Thompson did the dirty work inside, getting 13 rebounds for the Cavs, who improved to 8-0 at home and can even the series with a win in Game 4 on Friday night.
The Cavs hardly missed Love, still suffering from a concussion sustained in Game 2. He wanted to play, but is still in the NBA's concussion protocol and has not yet been cleared to return by league and team doctors.
Coach Tyronn Lue started veteran Richard Jefferson and moved James into Love's power forward spot, giving the Cavs a smaller lineup better equipped to run with the Warriors.
The 35-year-old Jefferson gave the Cavs a huge boost in 33 minutes, scoring nine points with eight rebounds.
Leading by eight at halftime, Cleveland took control in the third quarter when James and Irving combined on a play that symbolized the Cavs' resurrection.
Scrambling on his hands and knees after a loose ball near midcourt, James got to his feet and whipped a pass to Irving on the left side. Irving returned a lob to James, who leaped high and flushed it with his right hand, a basket that seemed to erase all that went wrong for the Cavs in California.
Before taking the floor, James and the Cavs huddled in the hallway outside their locker room and prayed.
James then gave his teammates some instructions.
"Follow my lead from the beginning!" he screamed. "And do your job!"
The Cavs listened, scoring the game's first nine points and opening a 20-point lead in the first quarter, rattling the Warriors.
PICKED OFF
Klay Thompson left briefly in the first quarter with a thigh bruise after he crashed into Cleveland's Timofey Mozgov trying to set a screen.
"It seemed kind of dirty to me," Thompson said. "He stuck his knee out, too."
SIT DOWN
Curry was beaten on two back cuts early in the game and was benched by Kerr.
"I would have done the same thing," Curry said. "He's trying to figure out a way to get me going."
SAY WHAT?
Kerr was startled when the opening question in his postgame news conference was whether he's considering changes.
"We just lost one game," Kerr said. "Change the starting lineup?"
TIP-INS
Warriors: Shot just 9 of 33 on 3-pointers. … Kerr became emotional before the game when paying his respects to Sean Rooks, his former Arizona teammate who died Tuesday at the age of 46. … Green has become Public Enemy No. 1 in Cleveland — and elsewhere. He smiled while being booed during pregame warmups.
Cavaliers: James has 82 career 30-point games in the playoffs, third most all-time. Only Michael Jordan (109) and Kobe Bryant (88) have more. … Smith nailed a shot from halfcourt at the end of the second quarter, but the shot came after the horn and was waved off. … Lue said he doesn't pay any attention to the all the outside second-guessing about his lineups. "I don't care," he said. "They (critics) should be coaches." … Legendary Browns running back Jim Brown sat courtside and gave the crowd a thumbs-up when he was shown on the giant scoreboard.