Little-known company supplies hardwood for NBA Summer League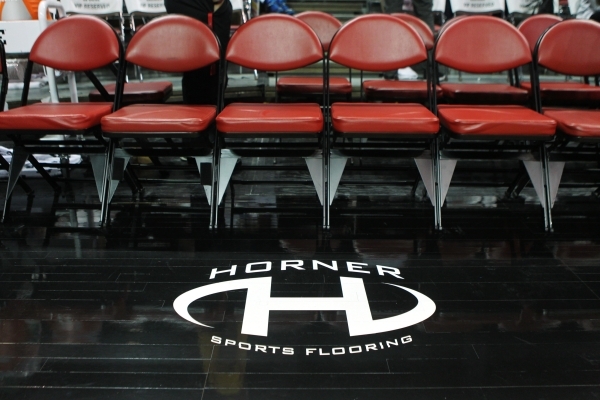 Amid the hoopla of NBA celebrities strolling the Thomas & Mack Center concourse and big-name corporate sponsors such as adidas is a little-known family-owned Michigan company that adds the literal foundation to the NBA Summer League.
Horner Flooring Co. trucked in two basketball court surfaces valued at $120,000 each to Thomas & Mack and Cox Pavilion, where about 10,000 roundball fans are visiting daily to watch young pros trying to make names for themselves from 23 NBA teams and a Developmental League squad.
"€œThe floors make a huge difference. They help the product, from an aesthetic standpoint, from an injury standpoint and from a durability standpoint,"€ said Albert Hall, NBA Summer League co-organizer.
Horner, based in Dollar Bay, Mich., uses the July 10-20 basketball event to pitch its maple floors to teams and practice facilities, said Eddie Doucette, a basketball Hall of Famer who works as Horner'€™s relations manager.
"€œIt's about being seen and being available to talk about the product,"€ said Doucette, the original radio play-by-play voice of the Milwaukee Bucks with a broadcast resume that includes stints with other NBA and Major League Baseball teams. "A presence at this event is important."
Doucette advised Hall five years ago that if he wants to increase the Vegas Summer League'€™s profile, he should start with new maple floors to spruce up the event. Now, young stars are playing on new glistening floors with the Summer League logo on it.
Horner takes away the new floors and polishes them for future use, sometimes selling them to other events that need a portable basketball surface. The company has supplied the court for the past 31 NBA All-Star games.
As an NBA Summer League sponsor and the event's court supplier, Horner is now in its third year as a partner for the 11-day event at the Thomas & Mack. Horner supplies floors for about a dozen NBA arenas and sells hundreds of portable and permanent sports floors to facilities around the world, said Doug Hamar, Horner CEO and president.
The dense maple wood used for the basketball floors is harvested from Michigan, northern Wisconsin and Canada, Hamar said.
The court consists of 215 4-foot-by-4-foot and 4-foot-by-8-foot panels that are assembled in jigsaw fashion, he said.
Sales are up over last year, but Hamar declined to disclose other financials.