Lowry guns down Moapa Valley in Class 3A girls semifinals
February 24, 2017 - 8:48 pm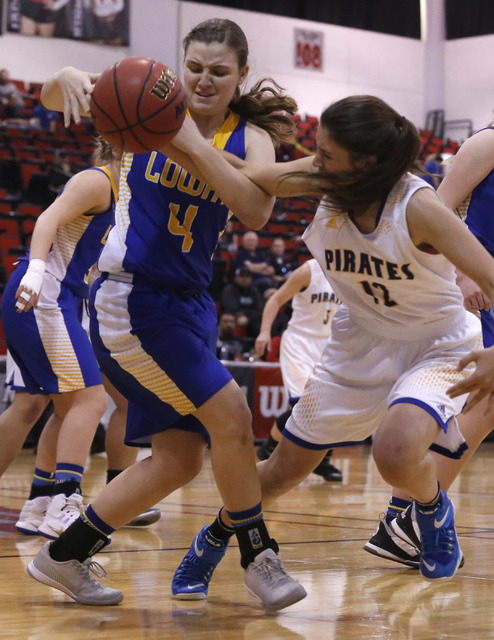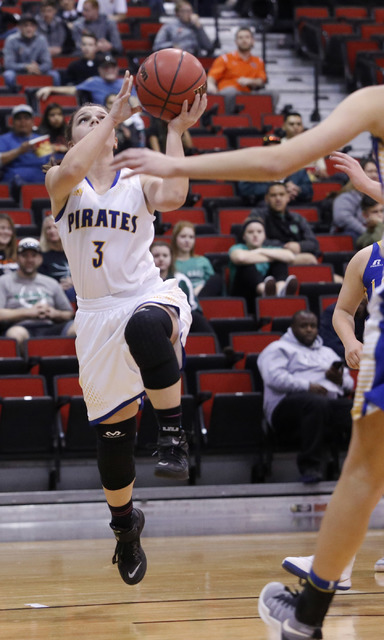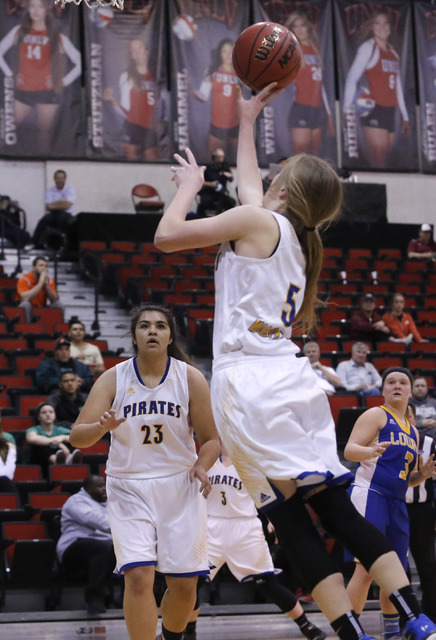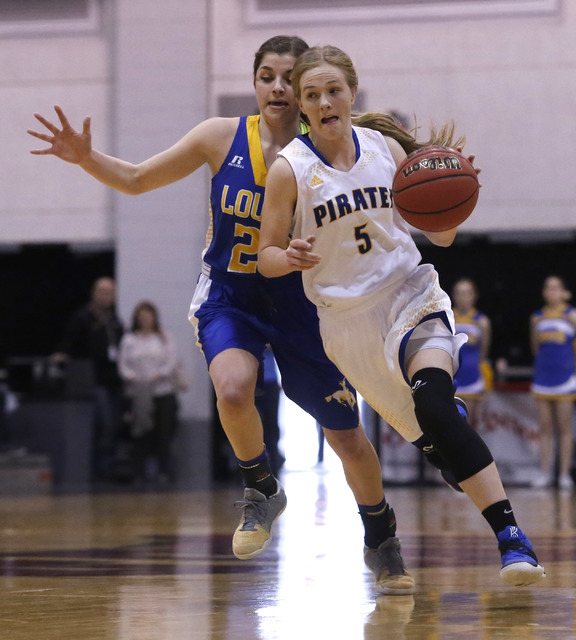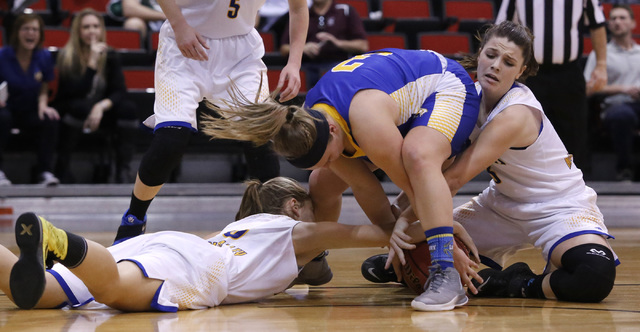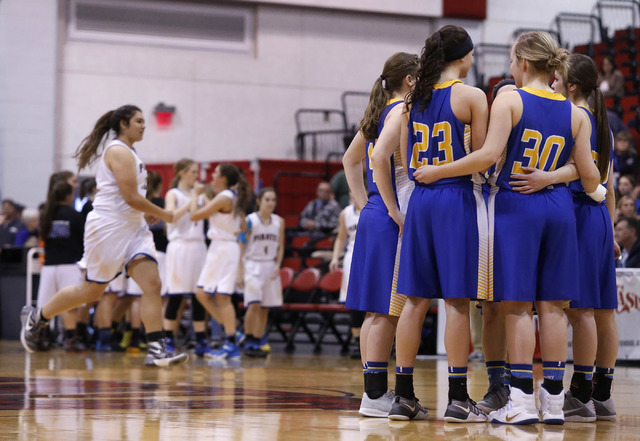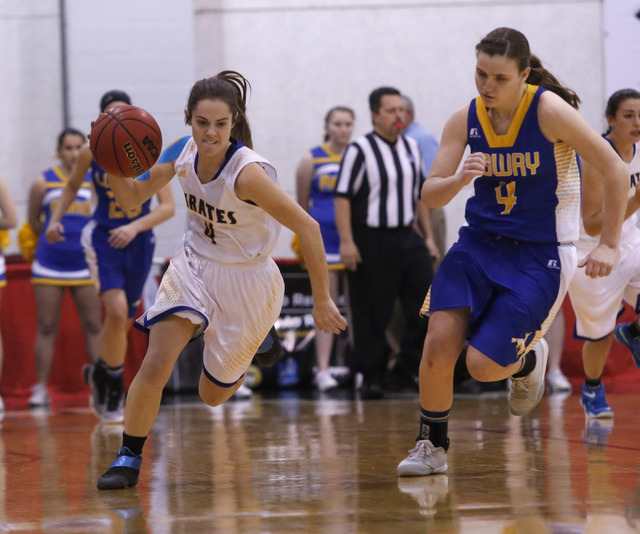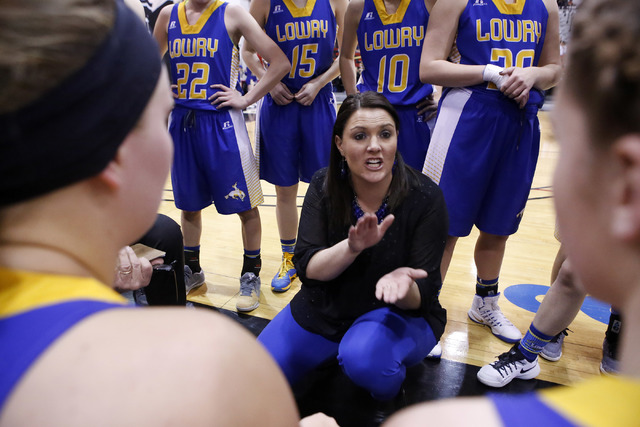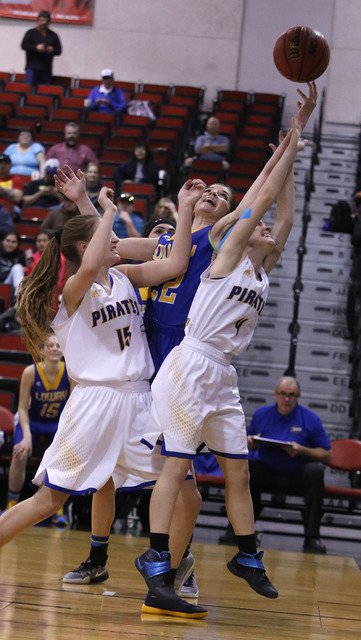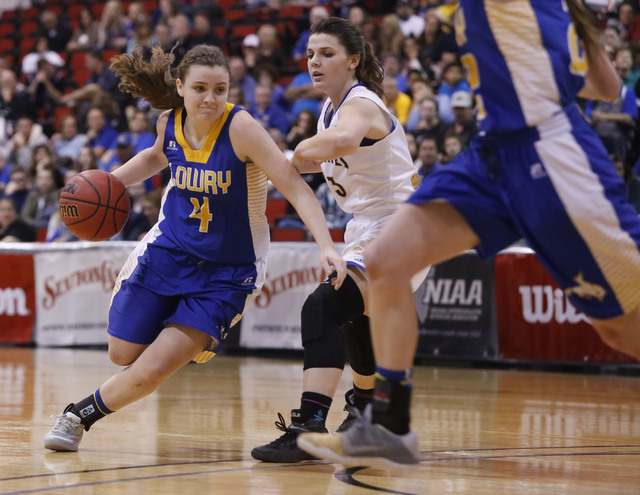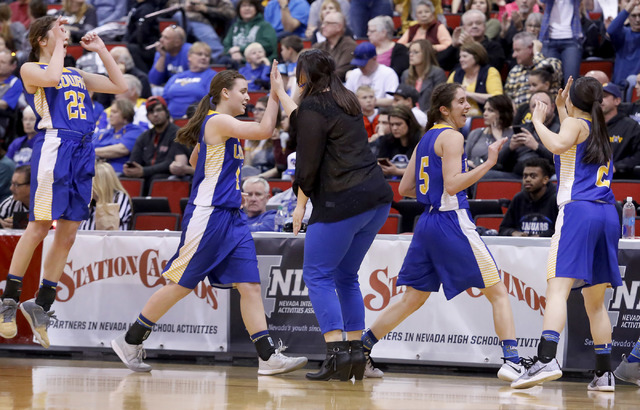 The girls basketball teams from Moapa Valley and Lowry share the same uniform colors (blue and gold) and play a similar style.
The most glaring difference between them Friday was 3-point shooting.
The Pirates were unable to cool off Lowry's outside shooters and dropped a 61-42 decision in the semifinals of the Class 3A girls basketball state tournament at Cox Pavilion.
Lowry (24-4) takes on Churchill County (25-3) in the final at 11 a.m. Saturday at Cox. The Greenwave defeated Virgin Valley 52-40.
"I was very impressed with their execution, their willingness to find the open girl. We're very similar," Moapa Valley coach Stuart Humes said. "I just felt like they made a few more shots than we did down the stretch, and we just had a hard time recovering."
The Buckaroos went 10-for-15 from 3-point range, including 7 of 9 in the second half. Moapa Valley was 6-for-27 on 3s.
Sydney Connors hit five 3-pointers and led Lowry with 21 points, and teammate Broklyn Waller hit three 3s and scored 15.
Moapa Valley (26-6) trailed 40-29 after three quarters before making three straight 3-pointers. Kinlee Marshall drove the baseline and scored to cut Moapa Valley's deficit to 49-41 with 3:40 remaining.
But Connors hit a 3-pointer, one of three she made in the fourth quarter, to ignite a 12-0 run that put the Buckaroos ahead by 20.
Lainey Cornwall finished with 14 points for Moapa Valley. Reserve Shelbi Walker scored 11, and Marshall had 10 points and seven rebounds.
Churchill County 52, Virgin Valley 40 — Virgin Valley's Bernice Fiso finished with 15 points, seven rebounds and two blocks, but the Bulldogs couldn't overcome 34 turnovers.
The Bulldogs (22-5) trailed 19-16 in the second quarter after a 3-pointer by Briana Todd, but Churchill County took advantage of several miscues to close on a 10-2 run and lead 29-18 at halftime.
Leta Otuafi had 13 points and eight rebounds for the Greenwave, who led by double digits the entire second half and by as many as 19 before Virgin Valley ended the game on a 7-0 run.
Todd had eight points and five rebounds, and Nathalie Lagamayo added eight points for the Bulldogs.
BOYS
Cheyenne was 9-for-11 from the field in the third quarter to take control en route to a 53-47 win over Elko in the Class 3A state semifinals at Cox Pavilion.
"We started pressing the issue a little bit more as far as attacking the basket," Cheyenne coach Teral Fair said. "That's when those kind of opportunities kind of open up for us."
Cheyenne (19-6) plays Desert Pines (19-11) in the state final at 12:50 p.m. Saturday at Cox.
Kavon Williams scored with 1:33 left in the third quarter to put the Desert Shields up 35-33, and they didn't trail again.
Williams scored 12 of his game-high 19 points in the second half. He also finished with 10 rebounds and four assists.
"I love him," Fair said. "He is a go hard, no nonsense, very aggressive kind of basketball player. Even though he may make some mistakes from time to time, he doesn't get down on himself. He's ready to step up to the challenge and make up for the wrong he's committed. His aggressiveness was huge for us."
Cheyenne led by as many as 13 points, but turned the ball over 10 times in the fourth quarter. Elko (25-3) cut the lead to 49-47 on a drive by Alex Klekas with 35 seconds to play, but Williams hit two free throws with 20.5 seconds left.
Freshman Ke'Shawn Hall scored 14 points for Cheyenne, hitting 6-for-6 from the field in the second half. But more important was the job he did defensively on Elko's Eric Klekas.
Klekas scored 17 points and was 5-for-11 on 3-pointers, but Hall hounded him all over the court and Klekas was clearly worn out at the end of the game. He finished 6-for-18 from the field.
Desert Pines 49, Fernley 35 — Trevon Abdullah-Booker had 17 points and nine rebounds as the Jaguars defeated the Vaqueros.
Abdullah-Booker scored 11 in the fourth quarter to help Desert Pines put the game away.
Both teams got off to an atrocious start shooting, as they combined to make 4 of 35 to start the game. Fernley finished 12-for-52 (23.1 percent) from the field, and Desert Pines was 17-for-54 (31.5 percent).
Capri Uzan had nine points, seven rebounds, four assists and three steals for the Jaguars, but was 1-for-16 from the field and 0-for-8 on 3-pointers. Jordan Simon had 13 rebounds.
Zach Burns had 12 points and seven rebounds for Fernley (20-9).