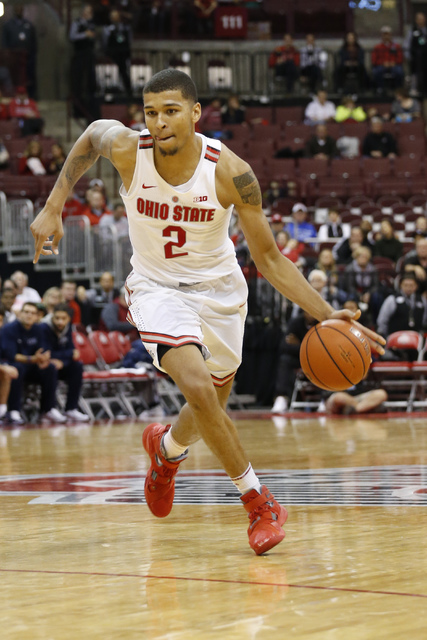 Ohio State's Marc Loving isn't looking for accolades. He's just looking to win.
Along the way, as the team strives for those wins, Loving's season has included guidance for the young Buckeyes, who will play second-ranked UCLA (10-0) at noon Saturday at T-Mobile Arena as part of the CBS Sports Classic. Sixth-ranked Kentucky (9-1) and No. 7 North Carolina (10-1) will meet in the second game at 2:45 p.m.
Loving, a 6-foot-8-inch forward, is the only senior on the team. He's provided a steady presence with 11.5 points and 5.1 rebounds per game.
"I've picked up different schemes and different ways to approach different teammates," Loving said, "so I try to implement those things around practice or in the games or get the team going if I feel like the other team might be on a run and we need to get a stop or just in a different scenario to try to help us win."
That includes making sure the team's practice preparation is on point, everyone brings energy and their plans are run with perfect execution. The Buckeyes are 8-2 this season and have flashed their potential throughout the season.
They hung around with then-No. 6 Virginia in late November before losing 63-61. But they also suffered a stunning home loss to Florida Atlantic, a game in which they were heavily favored.
"We had the lead in both of those games, a double-digit lead at that to where it could have been extended, or when a team does go on a run," Loving said, "we get the lead back and hopefully extend it from there, so just being able to really maintain our lead and not beat ourselves (is important)."
Loving said the Buckeyes had mental lapses in both losses to the point that they didn't connect or read the same thing, perhaps a sign of an inexperienced team.
But the experience, especially playing Virginia, should help them against UCLA.
"At the time, Virginia was a top 10 team," Loving said, "and just having that mindset that we had before that game and knowing the little things that (we) did to get yourself prepared (helps) prepare for our game against UCLA."
The experience of playing UCLA, in turn, will help them learn more about themselves as a team as they move into Big Ten play next month.
And Loving will be there to lead the way, lending his voice when it's needed, depending on how the situation is playing out.
"Being in a neutral environment, I mean there's no home-court advantage at that point," he said. "But as far as playing a team of that caliber, just being able to measure yourself up and playing the top talent in the country, some of the better teams in the country, it sets a pretty high standard where you want to bring your A game."
Contact Betsy Helfand at bhelfand@reviewjournal.com. Follow @BetsyHelfand on Twitter.
CBS SPORTS CLASSIC
Who: Ohio State vs. UCLA
Where: T-Mobile Arena
When: Noon Saturday
Tickets: Tickets available at TMA's website starting at $40