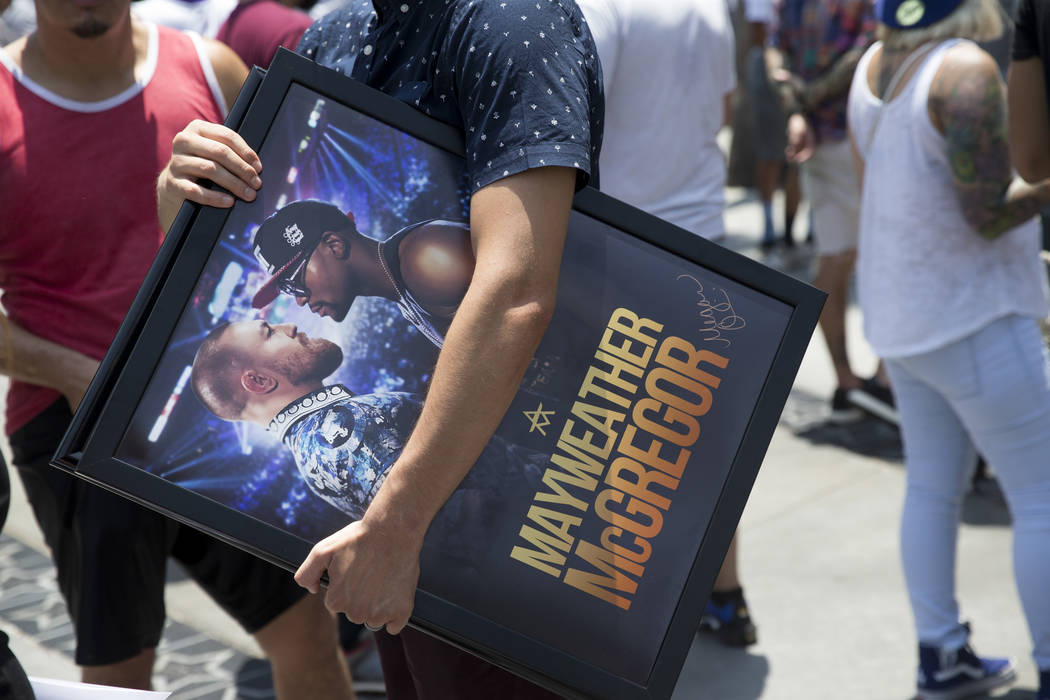 LOS ANGELES — Richard Sturm, the president of entertainment and sports for MGM Resorts International, was booed heavily Tuesday by the 11,000 people inside the Staples Center who came to witness the first ever face-off between Floyd Mayweather and Conor McGregor.
The Los Angeles crowd didn't want to hear what Sturm had to say, but Las Vegas might need to give him a standing ovation for bringing two of the biggest fights of the last decade to the city.
Mayweather and McGregor will have their cross-sport bout at T-Mobile Arena on Aug. 26. Three weeks later, Saul "Canelo" Alvarez will clash with Gennady Golovkin at the same venue on Sept. 16.
"As I was trying to say earlier in my speech that no one ways paying attention to," Sturm said with a chuckle. "This is a very exciting time, and how they were reacting to this, it's going to be a tremendous event for the city (Las Vegas), and the MGM and for the T-Mobile Arena. I expect the same reaction for Canelo and Triple G.
"I never thought in my lifetime that we would put on two tremendous shows like these in the span of three weeks at the same venue."
Sturm did have some obstacles before delivering both fights to the year-old arena.
On Tuesday, MGM officials announced that they came to an agreement with the Big3 basketball league to move its championship game to the MGM Grand Garden on Aug. 26, clearing the bigger venue for Mayweather and McGregor.
The Big3, which was founded by rapper Ice Cube, booked the T-Mobile Arena before the combat stars announced their blockbuster bout last month.
"We tried to meet everyone's needs, and at the end of the day everyone understood what we were trying to do," said Sturm when asked why it took almost a month for the two sides to come to an agreement. "It ended up working out fine, and we'll have a big day planned."
Terms between the Big3 and the MGM weren't disclosed, with Big3 co-founders Jeff Kwatinetz and Ice Cube simply calling it a "generous offer that we could not refuse."
"We are happy we could work together to create an opportunity for our fans to experience both events, making Aug. 26 the most exciting day in sports and entertainment Las Vegas has ever seen," they said in a statement.
Tickets for Mayweather-McGregor go on sale July 24.
Contact Gilbert Manzano at gmanzano@reviewjournal.com. Follow @GManzano24 on Twitter.
Big3 championship game
When: Aug. 26, 1:30 p.m.
Where: MGM Grand Garden Arena
TV: FOX
Tickets: Fans who purchased tickets to T-Mobile Arena will get priority seating at the MGM Grand. Updated ticket information will be released soon.