Michigan State pulls away from Texas in Las Vegas Invitational final
Updated November 23, 2018 - 7:54 pm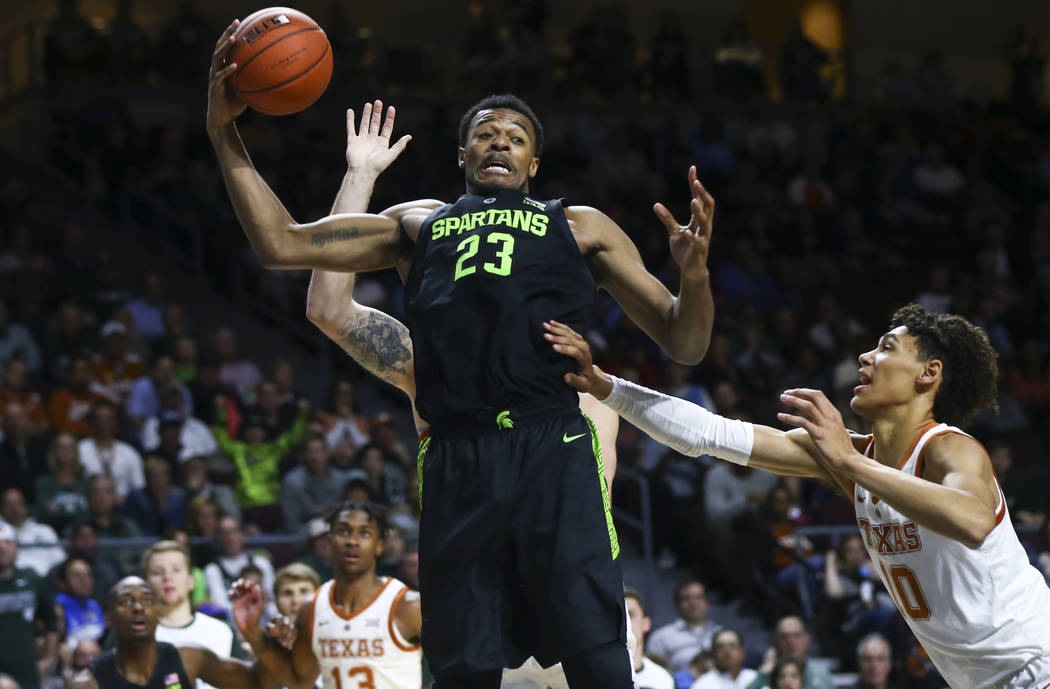 Michigan State played as poorly as it has all season to start the Las Vegas Invitational championship game.
The Spartans were careless with the ball. They couldn't make a shot. And they weren't playing with nearly the intensity required to deal with Texas' pressuring defense.
Then the green-and-white wave hit.
Michigan State exploded late in the first half and carried the momentum over to the second to defeat the Longhorns 78-68 at Orleans Arena on Friday. With wins over Texas and No. 17 UCLA at the Las Vegas event, the No. 11 Spartans should be staring at a top-10 ranking next week.
"I wouldn't say it's a statement for us," junior forward Nick Ward said. "It's just something that we do here. Spartans, we win championships."
Sloppy mistakes put Michigan State (5-1) into a large early hole that required some divine intervention to get out of. The Spartans had 10 turnovers in the game's first eight minutes and trailed 34-16 with 5:52 left in the first half.
The rest of the game felt like one long Michigan State run. The Spartans made 19 of their final 31 shots while holding the Longhorns (5-1) to just 8-of-40 shooting over the same stretch.
Junior guard Joshua Langford led Michigan State's surge with a game-high 29 points, a performance that included 5-of-6 shooting on 3s.
"I was just talking to God the whole time," Langford said. "Me and Him was having a conversation. When I do that, I'm not going to miss."
Junior guard Cassius Winston, who had 20 points and 10 assists, was named the tournament's MVP, but he admitted his backcourt mate deserved it more.
"You seen tonight, right?" Winston said. "You seen that game? He won us that game. He put the team on his back tonight."
In truth both guards did, as spurred on by a largely pro-Spartan crowd the juniors scored 24 straight points for Michigan State after halftime to turn a 44-36 deficit into a 60-54 lead. The Spartans didn't trail again after that run and held on to add a strong nonconference win to their resume.
"It means a lot to me because I think you have to learn how to win championships," coach Tom Izzo said. "I think this game, you had to play at a championship-level. It was a fistfight. I thought the UCLA game was, too. Those were more than Big Ten games as far as how physical they were, and we hung in there."
Contact Ben Gotz at bgotz@reviewjournal.com. Follow @BenSGotz on Twitter.
Consolation game
No. 7 North Carolina 94, No. 17 UCLA 78 — Freshman Coby White had 19 points and eight assists and the Tarheels (6-1) responded to their first loss of the season by beating the Bruins (4-2). White was one of five players to score in double figures for North Carolina, which outscored UCLA 53-32 in the second half.
All-Tournament Team
*Cassius Winston, G, Michigan State*
*Joshua Langford, G, Michigan State
*Nick Ward, F, Michigan State
*MVP