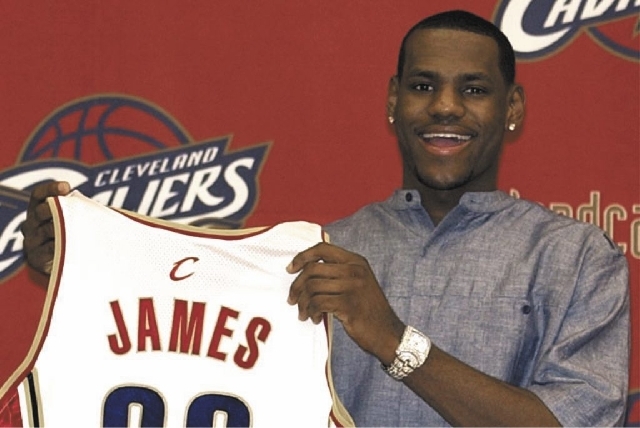 In honor of Thursday night's NBA draft, The Associated Press takes a look at the best and worst all-time picks for each of the league's 30 franchises.
The starting point for this exercise was 1966, when the territorial pick system went away and the draft began to look more like it does today. We're judging picks not on how sensible they seemed at the time, but on how much they ended up being worth to the selecting team – taking into account where each pick was in the draft and who else was available.
When it came to trades, we tried to use common sense, crediting whichever team was actually making the selection.
—
ATLANTA HAWKS
Best Value: Doc Rivers, No. 31 pick, 1983. Plenty of teams passed on Rivers, who was part of a draft that also included talented point guards Derek Harper and Darrell Walker. Rivers played eight solid seasons in Atlanta.
Worst Value: DerMarr Johnson, No. 6, 2000. The second Cincinnati product to go in the top six that year behind No. 1 pick Kenyon Martin, Johnson played two seasons with Atlanta before breaking his neck in a car crash. After missing the entire 2002-03 season, he was able to play again in the NBA – but his career with the Hawks was over.
—
BOSTON CELTICS
Best Value: Larry Bird, No. 6, 1978. Red Auerbach drafted Bird in the first round even though it would be another year before the Indiana State star became a professional. Worth the wait, to say the least.
Worst Value: Chauncey Billups, No. 3, 1997. The most tragic pick for the Celtics was Len Bias, whose death shortly after the 1986 draft transcended the game, but in terms of mismanagement, Boston's handling of the third pick in '97 probably still stings a bit. Billups was a perfectly reasonable pick, but he had not even played a full season before the Celtics traded the future Finals MVP for Kenny Anderson.
—
BROOKLYN NETS
Best Value: Buck Williams, No. 3, 1981. Williams is still the franchise's career scoring leader thanks to an impressive eight-year run in New Jersey.
Worst Value: Dennis Hopson, No. 3, 1987. The No. 3 pick wasn't as kind a few years later. Hopson played only five seasons in the NBA, three with the Nets.
—
CHARLOTTE BOBCATS
Best Value: Emeka Okafor, No. 2, 2004. This young franchise has never picked No. 1 overall. Okafor gave Charlotte five solid seasons before being traded to New Orleans.
Worst Value: Adam Morrison, No. 3, 2006. Morrison averaged 11.8 points as a rookie, but a knee injury cost him the whole 2007-08 season and he was traded in 2009.
—
CHICAGO BULLS
Best Value: Michael Jordan, No. 3, 1984. No surprise here – and we'll have plenty more on the `84 draft a little later.
Worst Value: Jay Williams, No. 2, 2002. The Bulls were already running in place a bit after drafting Marcus Fizer in 2000 and Eddy Curry in 2001. Williams, the charismatic point guard from Duke, played only one season in the NBA before a career-ending motorcycle accident.
—
CLEVELAND CAVALIERS
Best Value: LeBron James, No. 1, 2003. The Cavs won the NBA draft lottery, parlaying that good fortune into the selection of James, who single-handedly resurrected a flopping franchise. James led the Cavs on their most successful run – five straight playoff appearances and a Finals trip in 2007. Obviously, this story took a dramatic, disappointing turn for Cleveland, but his seven years there will never be forgotten.
Worst Value: Dajuan Wagner, No. 6, 2002. One year before taking James, the Cavs went out on a limb and took the 19-year-old Wagner. It broke. He had a solid rookie season (13.4 ppg) but couldn't stay healthy and was released after three years.
—
DALLAS MAVERICKS
Best Value: Dirk Nowitzki, No. 9, 1998. Milwaukee technically drafted Nowitzki, but that was part of a prearranged deal with Dallas. It was viewed as a risk because of the possibility Nowitzki might stay in Europe for a couple years, but he came to Dallas for that first season and quickly emerged as a star for the Mavs.
Worst Value: Bill Garnett, No. 4, 1982. Garnett averaged only 5.5 points and 4.3 rebounds in four seasons – two with Dallas and two with Indiana. The first three picks in `82 were James Worthy, Terry Cummings and Dominique Wilkins.
—
DENVER NUGGETS
Best Value: Carmelo Anthony, No. 3, 2003. The Nuggets had eight straight losing seasons before Anthony came on board. They went 43-39 in his first season, with Anthony averaging 21 points as a rookie. Denver made the playoffs seven straight seasons with Anthony leading the team before he was traded to the New York Knicks in a blockbuster 2011 deal.
Worst Value: Nikoloz Tskitishvili, No. 5, 2002. The 7-footer from the Republic of Georgia never blossomed in Denver. He averaged 3.2 points in three seasons with the Nuggets and was traded to Golden State in 2005.
—
DETROIT PISTONS
Best Value: Joe Dumars, No. 18, 1985. In a draft heavy on big men, the Pistons were able to land Dumars late in the first round, and he would team up with Isiah Thomas to form a championship-winning backcourt. In 1986, the Pistons came up with another steal when they took Dennis Rodman in the second round, but Dumars played with Detroit his entire career and is now the team's president.
Worst Value: Darko Milicic, No. 2, 2003. Milicic was the man picked between LeBron James and Carmelo Anthony. The Pistons won the NBA title in 2004 – but this choice still haunts them.
—
GOLDEN STATE WARRIORS
Best Value: Chris Mullin, No. 7, 1985. Included in Mullin's terrific run with the Warriors was a five-year stretch in which he averaged at least 25 points every season.
Worst Value: Joe Smith, No. 1, 1995. Smith had a perfectly decent career, playing over 1,000 games in the pros, but he was with the Warriors for less than three seasons, and it was clear pretty early that he wasn't the type of franchise player you'd hope to draft at No. 1. Chris Washburn, who Golden State picked at No. 3 in 1986, played even fewer games for the Warriors, but that was a disappointing draft in general. Smith was taken ahead of Rasheed Wallace and Kevin Garnett.
—
HOUSTON ROCKETS
Best Value: Hakeem Olajuwon, No. 1, 1984. Olajuwon's career was so transcendent that the Rockets have drawn little criticism for passing on Michael Jordan. An honorable mention goes to Calvin Murphy, a second-round pick by the Rockets in 1970.
Worst Value: Lee Johnson, No. 17, 1979. Johnson did not play in the NBA at all in the 1979-80 season. He appeared in 10 games for the Rockets the following season, scoring 17 points – and that was pretty much that.
—
INDIANA PACERS
Best Value: Reggie Miller, No. 11, 1987. The selection of Miller – over the objections of Pacers fans who wanted Indiana to take hometown favorite Steve Alford – changed the direction of the franchise. Miller turned the fans' draft-night boos into cheers by helping the Pacers become perennial contenders from the mid-1990s until his retirement in 2005.
Worst Value: Rick Robey, No. 3, 1978. Larry Bird was eligible for this draft, but the Pacers decided not to wait a year for the Indiana native, who was headed back to college for his senior season. Bird was taken by Boston at No. 6. The Pacers actually had the top pick, but traded down to No. 3 to acquire Johnny Davis. Davis played fine for Indiana. Robey played only half a season for the Pacers – although he later won a title alongside Bird in Boston.
—
LOS ANGELES CLIPPERS
Best Value: Blake Griffin, No. 1, 2009. Let's be honest: There's not a lot of competition for this honor. Griffin missed the whole 2009-10 season because of a broken kneecap, but he's now one of several reasons this downtrodden franchise is finally enjoying some buzz. Danny Manning put up good numbers for the Clippers after they took him with the top pick in 1988, but the team remained largely irrelevant.
Worst Value: Michael Olowokandi, No. 1, 1998. Olowokandi was picked ahead of Mike Bibby, Antawn Jamison, Vince Carter, Dirk Nowitzki and Paul Pierce. Ouch.
—
LOS ANGELES LAKERS
Best Value: Kobe Bryant, No. 13, 1996. Charlotte drafted Bryant but immediately announced that his rights would be traded. He ended up in Los Angeles in exchange for Vlade Divac. Details have always been sketchy, but years later, Bill Branch – a scout for the Hornets in `96 – told the Winston-Salem Journal that the deal was already in place, and the Lakers had told Charlotte whom to pick. If you don't want to count Bryant as a Los Angeles pick, Magic Johnson at No. 1 in 1979 worked out OK, too.
Worst Value: Kenny Carr, No. 6, 1977. The Lakers haven't had too many significant whiffs. Carr averaged 11.6 points per game in his NBA career but spent just over two seasons with the Lakers. He was taken one spot ahead of Bernard King.
—
MEMPHIS GRIZZLIES
Best Value: Pau Gasol, No. 3, 2001. Atlanta took the 7-footer from Spain, but the Hawks were picking for the Grizzlies as part of a trade. Gasol's impact was immediate, and he may have been the best player taken in that draft.
Worst Value: Steve Francis, No. 2, 1999. Francis made little attempt to hide his displeasure when picked by the Grizzlies, who played in Vancouver back then. He was traded to Houston before his rookie season, and the team would spend only two more seasons in Canada before moving to Memphis. In 2009, the Grizzlies took Hasheem Thabeet at No. 2. He struggled so much he was assigned to the D-League during his rookie season.
—
MIAMI HEAT
Best Value: Dwyane Wade, No. 5, 2003. The Heat, of course, now have three of the top five picks from 2003 in their starting lineup, but before teaming up with LeBron James and Chris Bosh, Wade led Miami to its first NBA title in 2006.
Worst Value: Harold Miner, No. 12, 1992. A college star at Southern California, Miner was one of a handful of young, athletic players who at one point or another drew comparisons to Michael Jordan. He did follow Jordan's footsteps in one respect – by winning multiple titles in the dunk contest.
—
MILWAUKEE BUCKS
Best Value: Kareem Abdul-Jabbar, No. 1, 1969. This was back when the league would determine the top pick with a coin flip. The Bucks got to draft Abdul-Jabbar despite winning 11 more games than the Phoenix Suns in 1968-69.
Worst Value: Joe Alexander, No. 8, 2008. Alexander never started a game for the Bucks, and Milwaukee eventually traded him and his expiring contract to Chicago in 2010.
—
MINNESOTA TIMBERWOLVES
Best Value: Kevin Garnett, No. 5, 1995. Drafting players straight from high school wasn't common in 1995, when the Timberwolves took the skinny Garnett out of Chicago's Farragut Academy. All he did was become the best player in franchise history and one of the best power forwards in league history.
Worst Value: Jonny Flynn, No. 6, 2009. Flynn was chosen right after the Wolves took another point guard, Ricky Rubio, as part of then-president David Kahn's ill-fated scheme to have the two play in the backcourt together like Isiah Thomas and Joe Dumars did in Detroit. Then Kahn hired a coach, Kurt Rambis, who employed a system that did not suit Flynn's ball-dominant style of play, and the league quickly overwhelmed him. Oh, and the Wolves passed on Stephen Curry to take him.
—
NEW ORLEANS PELICANS
Best Value: Chris Paul, No. 4, 2005. Paul was taken between Deron Williams and Raymond Felton – a nice little run of excellent college point guards. Paul is the shortest of the three, but his game translated just fine to the pros, and he spent six terrific seasons with New Orleans.
Worst Value: J.R. Reid, No. 5, 1989. This was a rough year for highly touted big men – Reid, Stacey King and Pervis Ellison never developed into NBA stars.
—
NEW YORK KNICKS
Best Value: Patrick Ewing, No. 1, 1985. There's a reason the Knicks were so thrilled when they won the first draft lottery for the right to take Ewing. New York was a 24-win team the previous season and desperately needed a franchise player to build around.
Worst Value: Frederic Weis, No. 15, 1999. Let's get one thing straight: There's no shame in being dunked on by Vince Carter. The bigger problem for New York was that Weis didn't play a game for the Knicks. They held onto the Frenchman's draft rights all the way until 2008, when they swapped them for … Patrick Ewing Jr.
—
OKLAHOMA CITY THUNDER
Best Value: Gary Payton, No. 2, 1990. Kevin Durant might eventually hold this title, but Payton still stands out, especially since other teams struggled to find impact players in the draft that year.
Worst Value: Mouhamed Sene, No. 10, 2006. Sene scored exactly 100 points in 46 games for the Seattle-Oklahoma City franchise.
—
ORLANDO MAGIC
Best Value: Dwight Howard, No. 1, 2004. This is where longevity factors in. Were Howard's eight seasons in Orlando more valuable than Shaquille O'Neal's four? Howard is first on Orlando's career scoring list. Shaq is fourth.
Worst Value: Fran Vazquez, No. 11, 2005. Vazquez surprised the Magic by staying in Europe, leaving Orlando with nothing to show for that first-round pick. Danny Granger was taken six spots later.
—
PHILADELPHIA 76ERS
Best Value: Maurice Cheeks, No. 36, 1978. Talk about a diamond in the rough – Cheeks gave Philadelphia a decade of solid point guard play, and the team won an NBA title in 1983. Charles Barkley (No. 5 in 1984) could have been the pick here, but he played only half his career in Philly.
Worst Value: Marvin Barnes, No. 2, 1974. Barnes signed with the Spirits of St. Louis of the ABA and never played for the 76ers. Jamaal Wilkes was among the players available when Philadelphia picked Barnes.
—
PHOENIX SUNS
Best Value: Amare Stoudemire, No. 9, 2002. Stoudemire won rookie of the year honors to begin a fine eight-year run in Phoenix. The Suns also drafted Steve Nash at No. 15 in 1996, although his best seasons in Phoenix were during his second stint there, which came about via free agency.
Worst Value: William Bedford, No. 6, 1986. Bedford averaged 6.7 points as a rookie in his only season with the Suns.
—
PORTLAND TRAIL BLAZERS
Best Value: Clyde Drexler, No. 14, 1983. In addition to Drexler, the Blazers also nabbed Terry Porter late in the first round in 1985 and Jerome Kersey with the 46th overall pick in 1984.
Worst Value: Sam Bowie, No. 2, 1984. Not even Kersey could make up for the fact that Portland infamously passed up Michael Jordan in `84. Bowie could never stay healthy enough to live up to his potential, and the Blazers have been re-living that misfortune recently with Greg Oden. Portland also took LaRue Martin over Bob McAdoo with the top pick in 1972.
—
SACRAMENTO KINGS
Best Value: Peja Stojakovic, No. 14, 1996. In a testament to how deep that `96 draft was, the Kings ended up with a quality player one spot after Kobe Bryant was taken.
Worst Value: Joe Kleine, No. 6, 1985. The pick itself wasn't as bad as the opportunity cost. Chris Mullin went next, followed by Detlef Schrempf and Charles Oakley. Karl Malone was picked at No. 13.
—
SAN ANTONIO SPURS
Best Value: Tim Duncan, No. 1, 1997. Duncan has been nothing less than one of the best No. 1 draft choices in any sport. Of course, the Spurs were able to build around him by adding Manu Ginobili late in the second round in 1999 and Tony Parker late in the first in 2001.
Worst Value: Alfredrick Hughes, No. 14, 1985. Hughes played only one season in the NBA, averaging 5.2 points per game.
—
TORONTO RAPTORS
Best Value: Chris Bosh, No. 4, 2003. Bosh, Toronto's career leader in scoring and rebounding, gets the nod for a franchise that has won only one playoff series.
Worst Value: Aleksandar Radojevic, No. 12, 1999. The 7-foot-3 Radojevic played all of three games for the Raptors. He was limited by back problems, and they traded him to Denver in 2001.
—
UTAH JAZZ
Best Value: John Stockton, No. 16, 1984, and Karl Malone, No. 13, 1985. These two seemed joined at the hip during their playing days, so why not keep them together? What Utah pulled off with a pair of mid-first round picks was remarkable.
Worst Value: Kris Humphries, No. 14, 2004. Picked before Al Jefferson and Josh Smith, Humphries played a couple nondescript seasons in Utah before the Jazz traded him to Toronto for Rafael Araujo – another first-round pick who hadn't panned out. Humphries has produced more for the Nets in recent years, but that doesn't do Utah much good.
—
WASHINGTON WIZARDS
Best Value: Wes Unseld, No. 2, 1968. Unseld pulled off a rare double by winning rookie of the year and MVP honors in 1968-69. He later helped Washington to the 1978 championship.
Worst Value: Kwame Brown, No. 1, 2001. A missed opportunity. Taken ahead of Tyson Chandler, Pau Gasol and Joe Johnson, Brown has posted a double-figure scoring average only once in his career.