'Anything to win': Ex-Liberty star out to earn role with NBA champs
Updated July 15, 2023 - 7:17 pm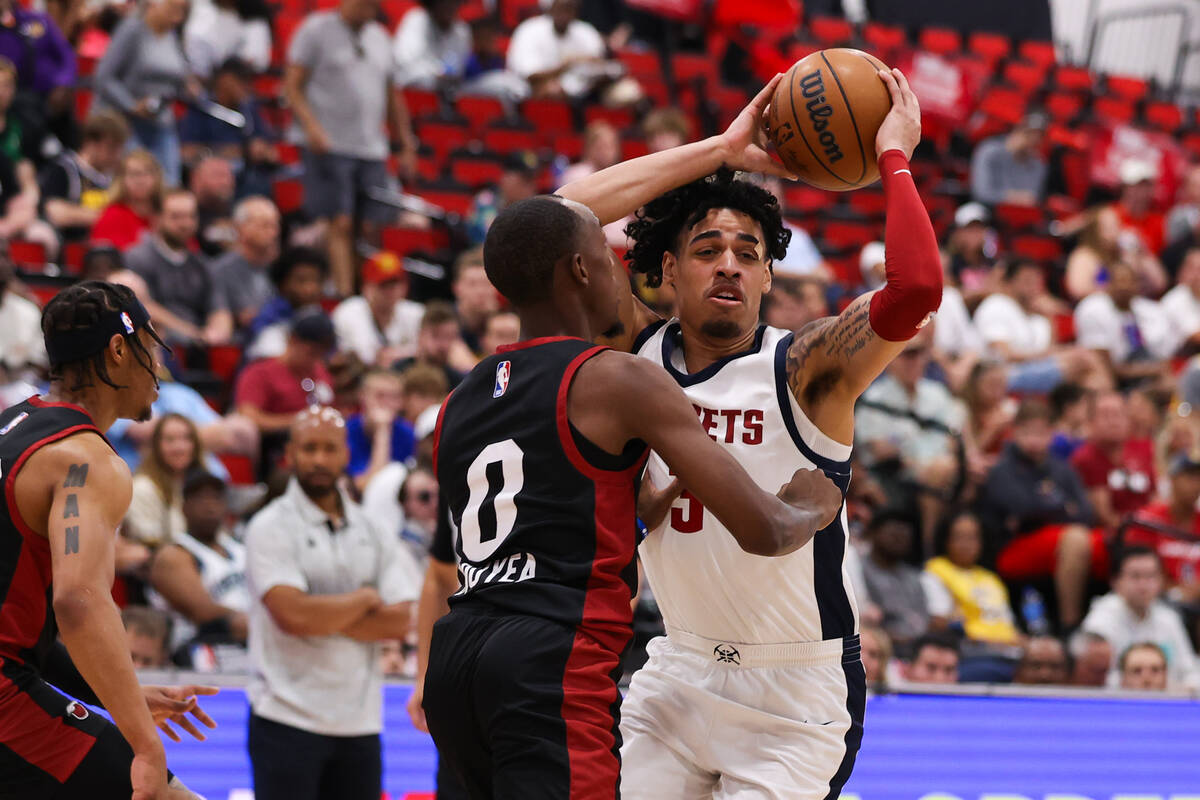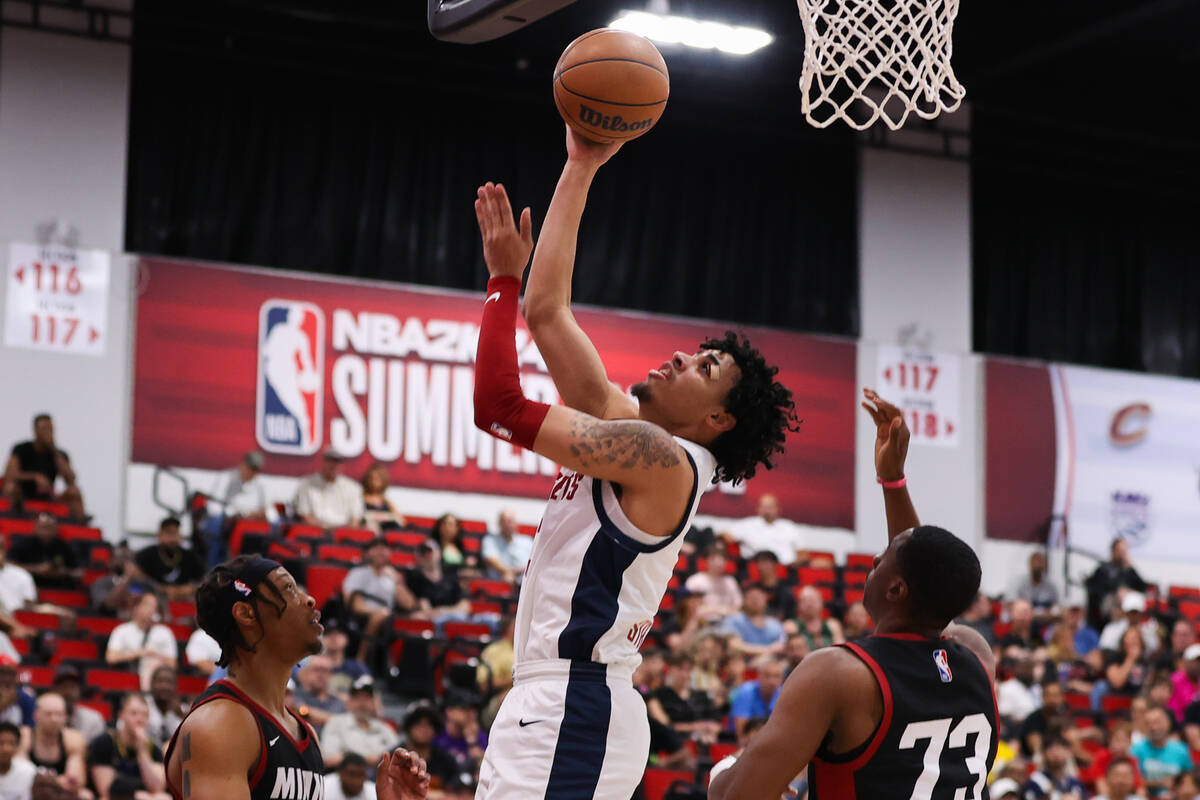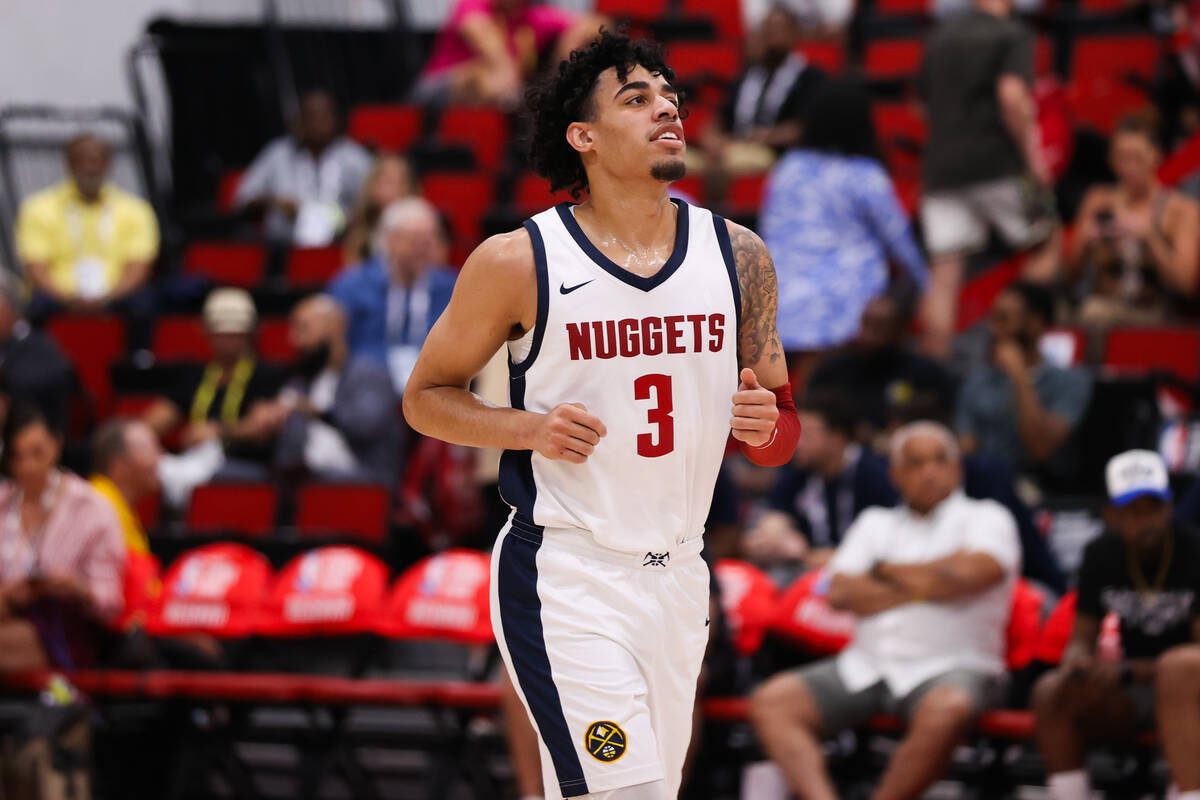 The bandage above Julian Strawther's left eye is evidence of his mentality as he begins his NBA journey.
By fighting for rebounds against bigger bodies in the paint and sacrificing his body by diving on the floor for loose balls, the former Liberty High standout is focused on establishing his role on the reigning NBA champion Denver Nuggets' roster at this year's Summer League.
"Whatever is asked of me to help my team win, it's something I'll do," Strawther said after a 23-point effort in the Nuggets' first win at Summer League on Friday against Miami. "It's not even about toughness, it's about doing anything to win."
A highly touted scorer and shooter coming out of Gonzaga, the 6-foot-7-inch forward was selected by the Nuggets in the first round with the No. 29 overall pick in last month's draft. He became the seventh Las Vegas native to be a first-round NBA draft pick.
Strawther tested the NBA draft waters following the 2021-22 college season but ultimately decided to return to Gonzaga for his junior season. In his return to Spokane, Strawther averaged 15.2 points and was a 40.8 percent shooter from 3-point range, earning first-team All-West Coast Conference honors.
"Playing at Gonzaga, (Strawther)'s been in the (NCAA) tournament. He's played in huge games," Nuggets Summer League coach John Beckett said. "He's not fazed by anything he's seeing out here."
His play last season saw his name rise on NBA draft boards as a potential first-round pick. After saying there was some "uneasiness" about deciding to go pro after his sophomore season, Strawther said he was confident in his decision this year.
"I just felt ready," Strawther said. "Whatever it was, that was my gut feeling that I was ready to play in the pros. Thankfully, Denver believed in me. They selected me, and I've been able to come out here and feel the game out in Summer League."
Strawther scored 25 points in the Nuggets' Summer League finale Saturday, an 89-86 win over New York. He averaged 18.2 points per game for the event, finding his shot as he played more and got acclimated to the NBA game.
He finished with three straight games scoring 20 points or more.
Strawther said when his shots weren't falling earlier in Summer League, he looked for other ways to impact the game. His ability to put the ball on the floor and drive to the basket has stood out to Nuggets coaches.
"Coming in, all you heard was, 'He's a really good shooter,'" Beckett said. "(Against Miami) he made shots, but in the Utah game, he didn't but was able to still be effective scoring the ball because he put it on the ground and had a lot of tough finishes that game."
In addition to displaying his variety of abilities as a scorer, Strawther said he's focused on expanding his game as a defender.
"What's going to get you on the floor is your defense," Strawther said. "That's going to keep you on the floor. I need to be able to grow as a defender. I wasn't really known as a defensive guy, but I feel like I've come out where and opened a few eyes on how I can compete on the end of the floor and make an impact."
Strawther said he's looking to expand his game, but he doesn't want to spread himself "too thin." He's focused on taking whatever role is asked of him in Denver.
He called the opportunity to play with star point guard Jamal Murray and two-time MVP Nikola Jokic a "match made in heaven." With the selfless nature on display by Jokic and the Nuggets on their title run, Strawther said he's ready to contribute however he can with Denver.
"I'm super excited," Strawther said. "(Jokic) is the best player in the world right now. Having that opportunity to share the floor with him is a blessing. The things he does, the way he sees the game and can manipulate defenses, it's amazing as a shooter. It's a dream come true to play for someone like that."
Contact Alex Wright at awright@reviewjournal.com. Follow @AlexWright1028 on Twitter.