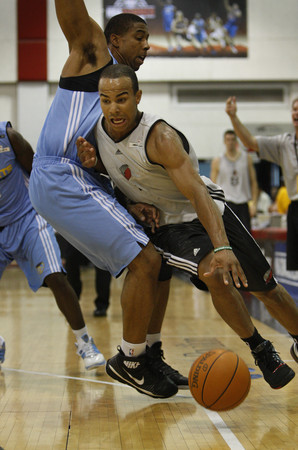 Jerryd Bayless dominated the NBA Summer League last year as a rookie.
The Portland Trail Blazers' 6-foot-3-inch guard averaged almost 30 points a game and was an easy choice for the league's Most Valuable Player award.
But just because a player rules in the summer doesn't necessarily mean he's going to do the same in the real NBA season. Bayless found that out the hard way, as he languished on coach Nate McMillan's bench, playing 12 minutes a game and averaging 4.3 points.
But there is an explanation for Bayless' lack of minutes and production. He was being prepped for a position change from scoring guard to point guard.
"Truthfully, it probably wasn't good for me to come in and play the two like that," Bayless said of his summer league exploits last year. "I realize what summer league is about now — it's about getting better, working on your game and learning how to do things right."
Bayless has returned to Las Vegas a different player. Yes, he still knows how to score. He's averaging 18 points for the Trail Blazers. But he's doing things that won't show up on a stat sheet.
He's trying to run the offense. He's being asked to be a vocal leader. He's guarding the ball rather than the other team's shooter. It's a completely different set of responsibilities, but the Blazers think Bayless is their starting point guard of the future.
"I came here with a completely different mindset," Bayless said. "I'm not trying to score 30 points. I'm trying to learn the position and run the team.
"It's a difficult transition because the responsibilities are so different. I thought I did some good things last year when I was running the point, but I didn't know anything close to what I know now. So I'm putting that knowledge to use here in the summer league because I know what their plan is for me."
The plan is for Bayless to stay in Portland for a long time. When teams talked trade with the Blazers and Bayless' name came up, general manager Kevin Pritchard cut the conversation short.
"As a 19-year-old kid trying to learn to play the point, it doesn't happen overnight," Pritchard said. "We're fortunate in that we can afford to develop him slowly. We know he has talent as a scorer, and we're OK with that. We want him to make plays, and if you can make plays in this league, you can have a long career."
Bayless said when he looks back on his summer league success, it was a classic case of fool's gold.
"I had a lot of fun, but I don't think I got better," he said. "No disrespect to the summer league; there's a lot of good players out here. But it's not the same as the regular NBA season. You're not going up against LeBron (James), Kobe (Bryant), Chris Paul and Deron Williams in the summer league. So it's a much different game in the real NBA, and that was a lesson I had to learn."
Bayless' education will get a boost this week when he participates in USA Basketball's minicamp at Valley High School. He is one of 25 young players invited, and he hopes it will lead to a callback in 2010 and a chance to compete for a spot on the FIBA World Basketball Championships roster.
"It should help me a lot," he said. "Playing with all those great players will force me to raise my level of play, and Coach Mac (McMillan) is on the staff, so he'll have me in the right spot and look after me."
Bayless probably isn't going to repeat as the summer league's MVP when the circuit's sixth season concludes tonight with the Blazers facing the Dsa-League Select squad at 7 p.m. at Cox Pavilion, so he doesn't have to worry about lugging any trophies back to Oregon.
"I'm fine with that," he said. "I don't need to be MVP. I just need to get better."