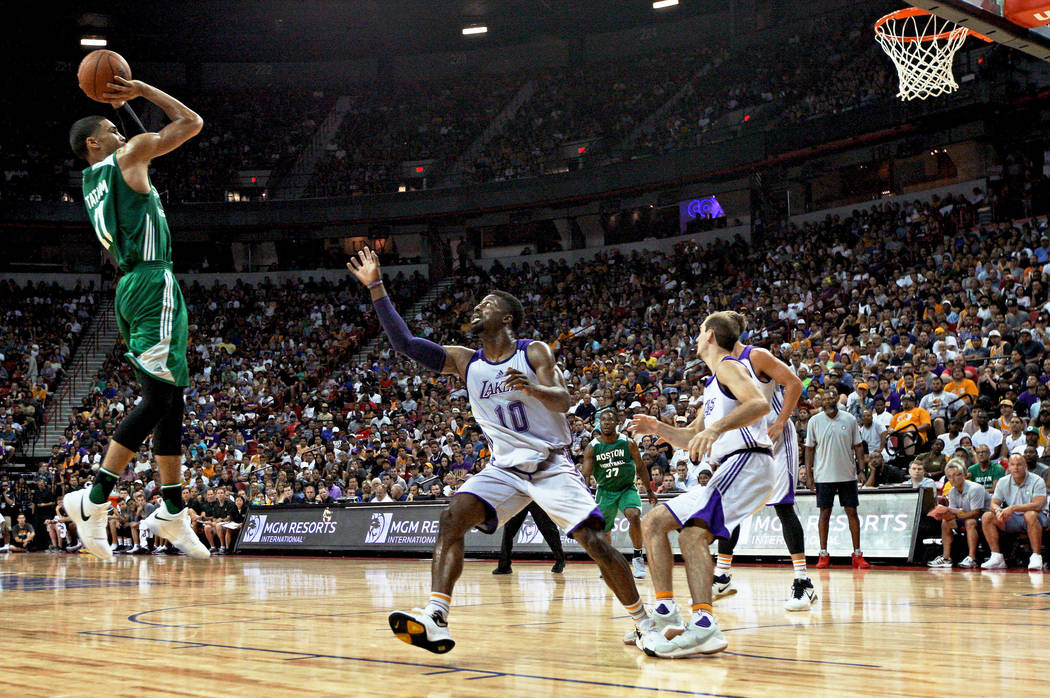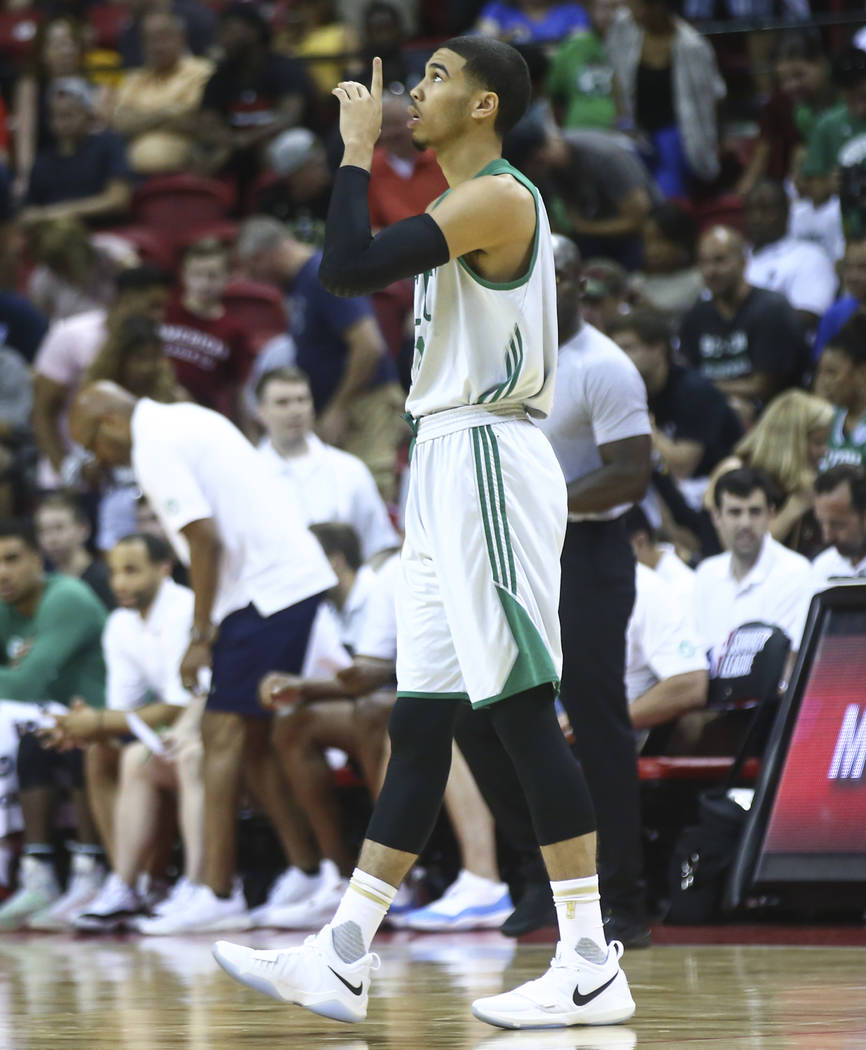 The shot from 30 feet banked in at the third quarter buzzer, and Jayson Tatum quickly turned to his right and pointed at boxing champion Floyd Mayweather Jr.
Tatum, the rookie the Boston Celtics are pinning so many hopes on, clearly savors the big moment.
He did it in Salt Lake City when the NBA Summer League stopped there. And now he's doing the same in Las Vegas.
Take that game, for example, in which Tatum knocked down the long 3-pointer. That play occurred on Saturday in a sold-out Thomas & Mack Center before a hostile pro-Los Angeles Lakers crowd that wanted nothing more than to see Lonzo Ball and their team school the Celtics.
Tatum scored 21 of his 27 points in the second half as the Celtics came back to win 86-81.
"Jayson's been great," Celtics summer league coach Walter McCarty said. "I did a bad job the first half of not giving him a lot of touches. I told him at halftime, 'Jayson, be ready, I'm going to get you a lot of touches.'
"He's got a special talent and a special gift. He put us on his back and did what he did."
Tatum joins the Celtics at a time they're trying to narrow the gap in the Eastern Conference with the three-time NBA finalists Cleveland Cavaliers. The Celtics traded down two spots from the No. 1 overall pick to take Tatum, a 6-foot-8-inch forward out of Duke.
With Tatum and recently signed Gordon Hayward, an All-Star with the Utah Jazz, the Celtics are trying to position themselves as a serious title contender to the Cavs and Golden State Warriors.
Tatum, of course, has to prove he can make it through an NBA season.
"There are parts of his game that he's really getting pushed and stretched," Celtics coach Brad Stevens said. "He's going to learn a lot about himself and figure out where he can best impact our team because it's a different game once September and October start."
'A quiet swag'
Tatum averaged 18.7 points, 9.7 rebounds and 2.3 steals while making 46.8 percent of his shots in three games in Salt Lake.
In Las Vegas, Tatum followed that performance against the Lakers by scoring 11 points and grabbing seven rebounds a day later against the Portland Trail Blazers.
Tuesday, he scored 15 points against the Philadelphia 76ers, coming up big down the stretch of the Celtics' 88-83 victory. Tatum answered a double team with a behind-the-head pass for an assist to give Boston the lead for good at 79-77 with 1:58 left. As the shot clock neared zero about a minute later, Tatum drove the lane for a layup and a four-point lead.
McCarty compared Tatum to former Celtics star Paul Pierce.
"He's got a quiet swag about him," McCarty said. "It's really fun to watch him. I get excited just watching him. We've got to keep building on that."
Tatum said Pierce was a player he has long admired.
"He's not the most athletic guy and neither am I," Tatum said. "The way he found ways to score at a high level and consistently — that's the thing I looked at."
Pierce loved the big moment and often came through in clutch situations.
Tatum hasn't yet been faced with a truly big NBA moment, and just because he delivered in the summer league against the Lakers doesn't mean he would thrive in pressure-packed moments.
But Tatum's early play bodes well for himself and the Celtics.
"I think it's just a mindset," Tatum said. "It's only two hours out of your day that you've really got to compete and go hard. The rest of the day you can relax, so for those two hours, you've got to suck it up."
More NBA Summer League: Follow all of our NBA Summer League coverage online at reviewjournal.com/summerleague and @RJ_Sports on Twitter.
Contact Mark Anderson at manderson@reviewjournal.com. Follow @markanderson65 on Twitter.
Jayson Tatum file
Team: Boston Celtics
Draft pick: No. 3 overall
Position: Forward
Size: 6-8
Duke date: Averaged 16.8 points and 7.3 rebounds last season and was third-team All-Atlantic Coast Conference