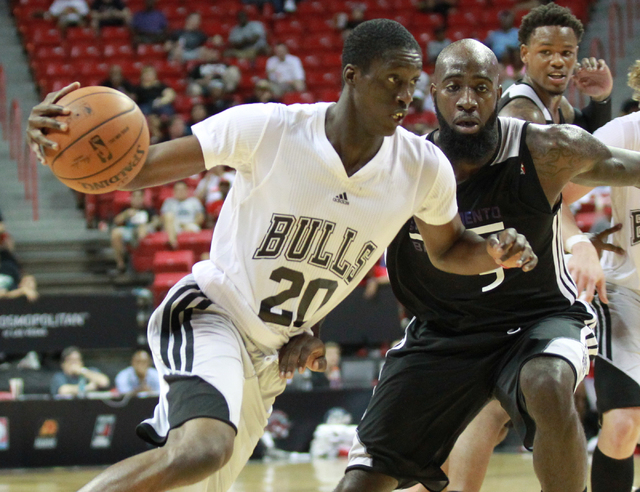 Tony Snell could have stayed in college. But that wouldn't have necessarily made him any smarter.
The former New Mexico star guard who left school early a year ago after being Most Valuable Player of the 2013 Mountain West Tournament and was drafted in the first round by the Chicago Bulls, looked back on his NBA rookie season and came to the realization that if he was going to stay in the league long-term, he would have to get better.
"It was totally different, especially the pace," Snell said. "That was the biggest adjustment."
Yes, he had to make improvement going into his second year in Chicago. And not just numbers-wise. His 4.5 points and 1.6 rebounds were downright pedestrian. And his 38 percent shooting from the floor and his 3-point field goal percentage of 32 percent were nothing to brag about.
Snell knew he had to get stronger and quicker to compete night after night. So he spent most of the spring at the Bulls' practice facility and worked on his shooting, worked in the weight room and came to the NBA Summer League a changed man, a man on a mission.
The Bulls had a strong week in Las Vegas, starting 4-0 before sitting out top draft pick Doug McDermott with a sore foot and falling to Sacramento, 80-61, in Saturday's playoff quarterfinals at the Thomas &Mack Center. Before Saturday, they had lost just one quarter of the 16 they had played. A big part of that was thanks to Snell, who averaged 20 points over five games the Bulls played and was the unquestioned on-court leader for Chicago.
"It was nice to see all the hard work I put in pay off this week," Snell said. "I wanted to get more consistent with my shooting and I wanted to be stronger physically and defend better and I thought I did all those things here (in Las Vegas)."
Perhaps Snell felt a certain comfort level this week reuniting with former New Mexico teammates Cameron Bairstow and Kendall Williams. Bairstow, a second-round pick by Chicago this year, has gotten better with each game and figures to be with the team when training camp begins in October. Williams, a free agent, has not seen a lot of action though he started Saturday against the Kings. He's a long shot to be invited to fall camp.
For Snell, it was fun to see some familiar faces on the floor with him.
"It was like old times playing with those guys," he said. "We had so much fun at New Mexico, and I'm glad we got a chance to play together again."
Snell's former New Mexico teammates noticed a difference in his game this week. They both saw a new-found confidence.
"He's always had the skill and the talent," Bairstow said of Snell. "But now he's showing the ability to go out there and lead and he believed in himself."
Williams said: "His confidence level is definitely up. He's more decisive on the floor. At New Mexico, sometimes he would hesitate. Not anymore. He trusts his game and himself."
Snell said the key now is to have his summer performance carry over to training camp. The Bulls are going to have a different look with Derrick Rose back after missing the better part of the last two seasons after knee surgery. There's no more Carlos Boozer. Instead, Pau Gasol will team with Joakim Noah. And there's McDermott, this year's John Wooden Award winner as college basketball's best player, stretching defenses with his long-range shooting.
"I believe we can take the next step," Snell said of competing for the East title. "We'll have D-Rose back. We got Pau. We've got a really good team."
And the Bulls hopefully have an improved Snell who can give them more offense, better defense and show coach Tom Thibodeau he's worthy of staying on the floor longer.
"I'm going to take a couple of weeks off, regroup and get back in the gym and get ready," Snell said. "I want to keep moving in the right direction."
Contact reporter Steve Carp at scarp@reviewjournal.com or 702-387-2913. Follow him on Twitter: @stevecarprj.