Cavaliers cap perfect tournament with NBA Summer League title
Updated July 18, 2023 - 7:33 am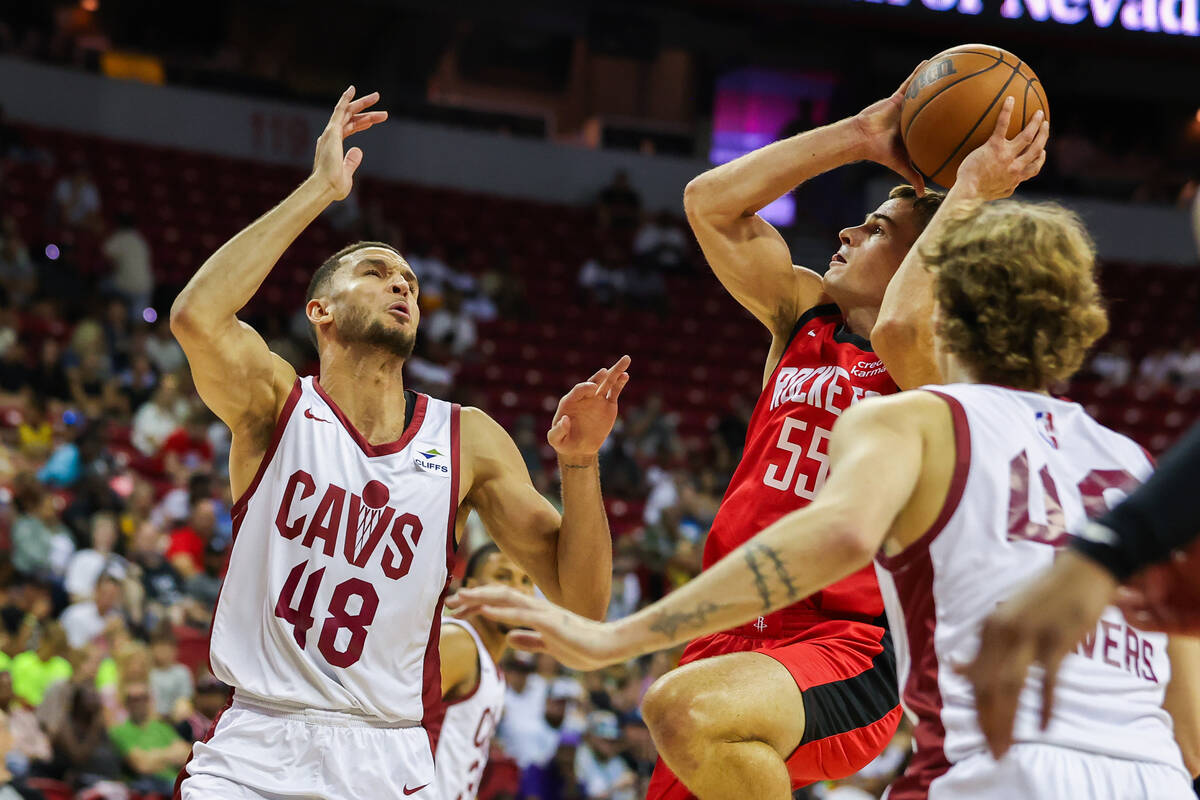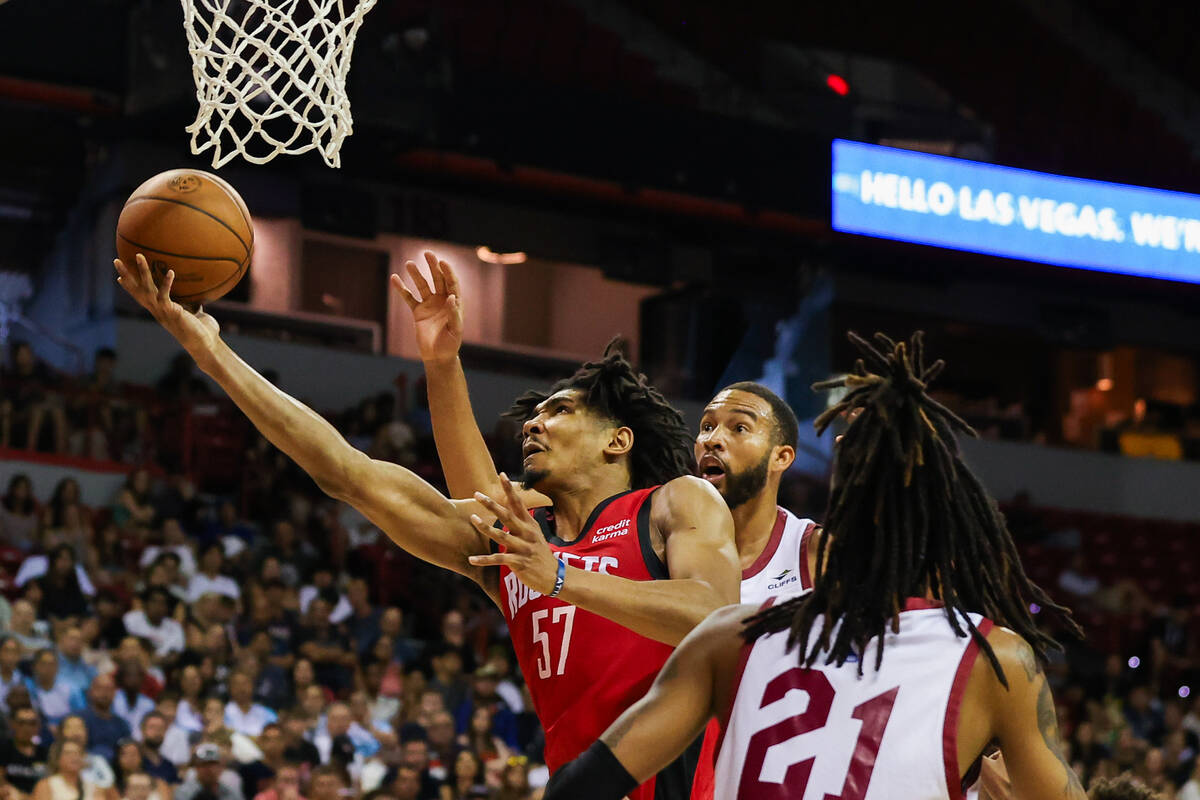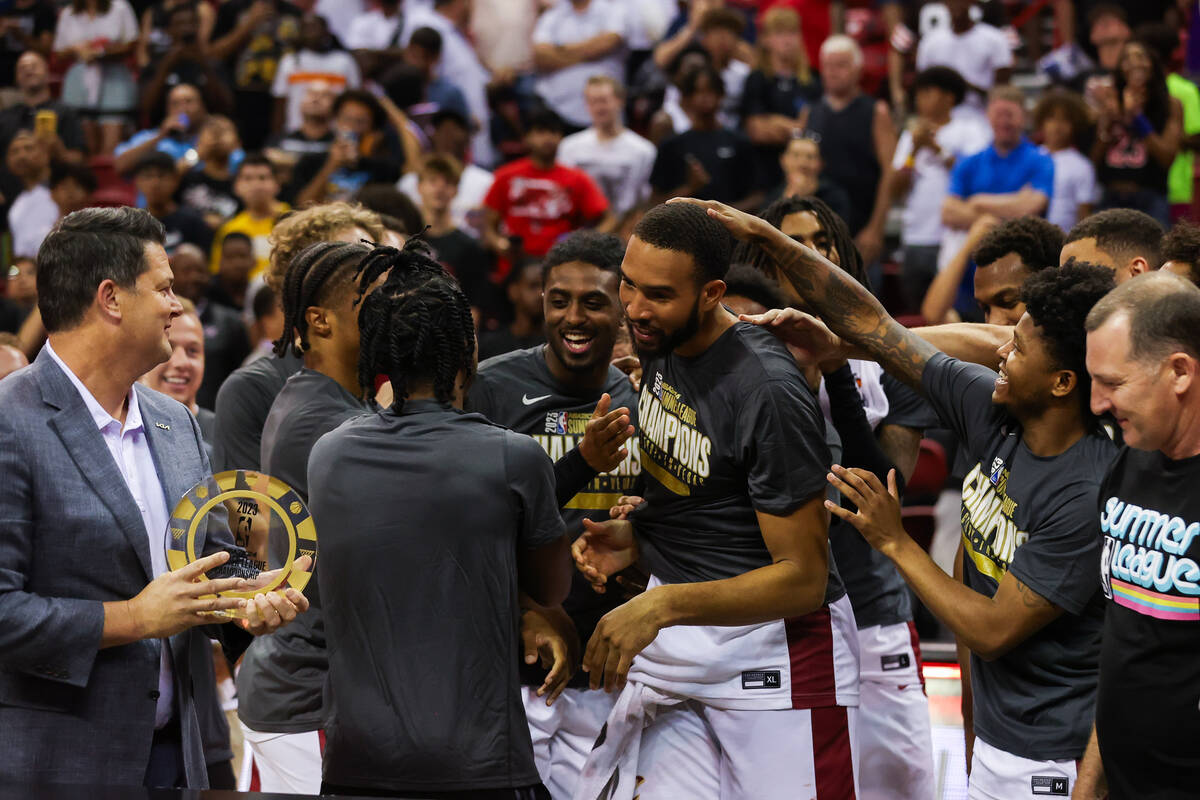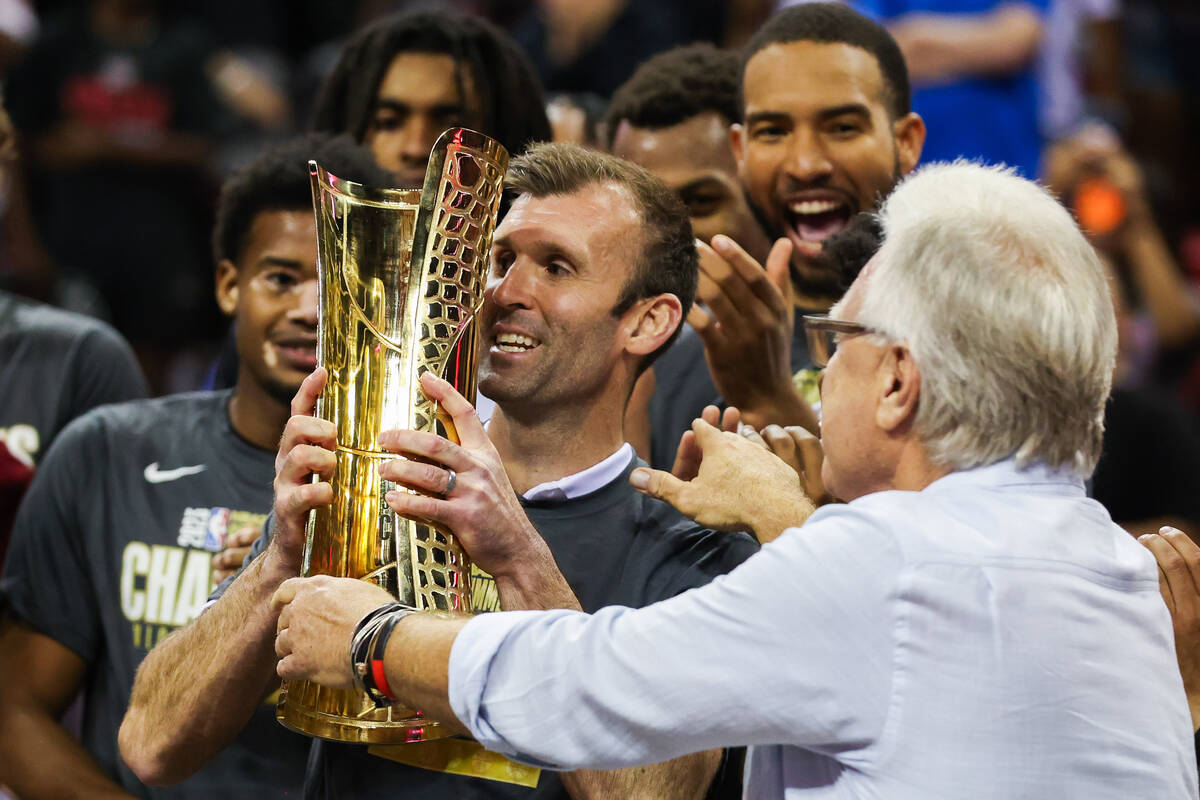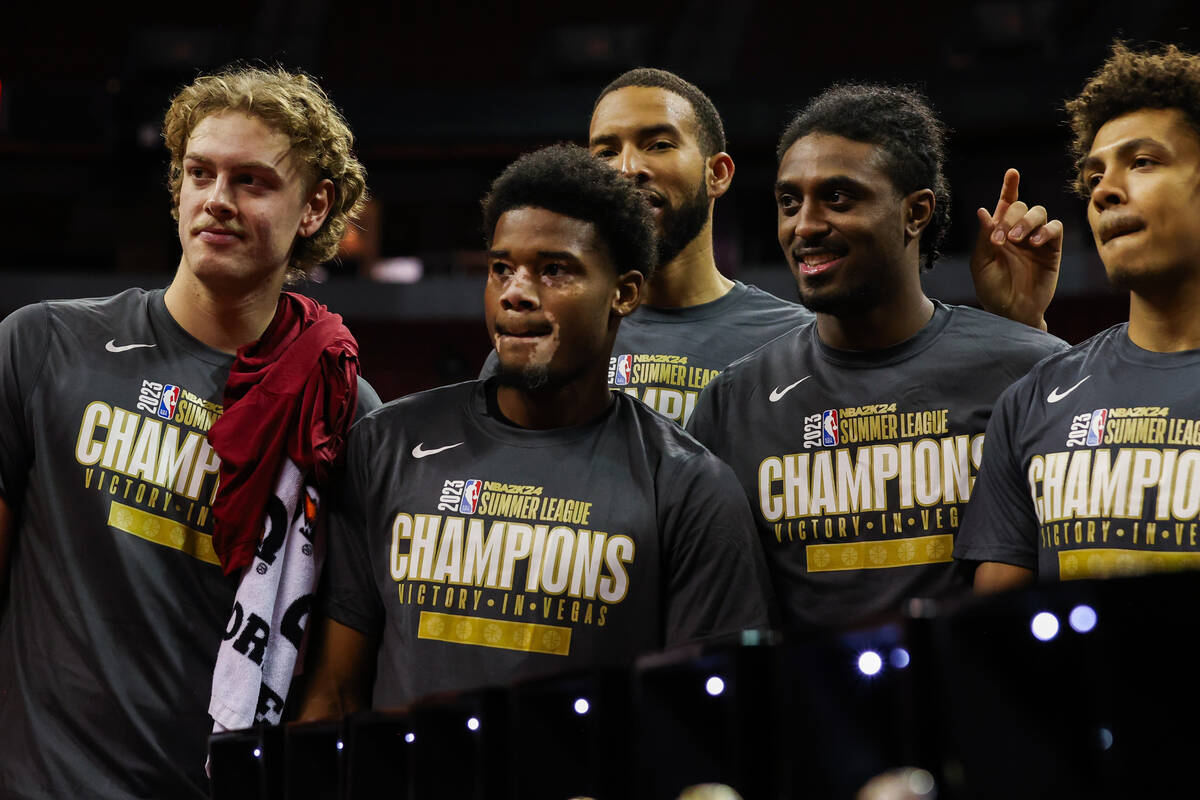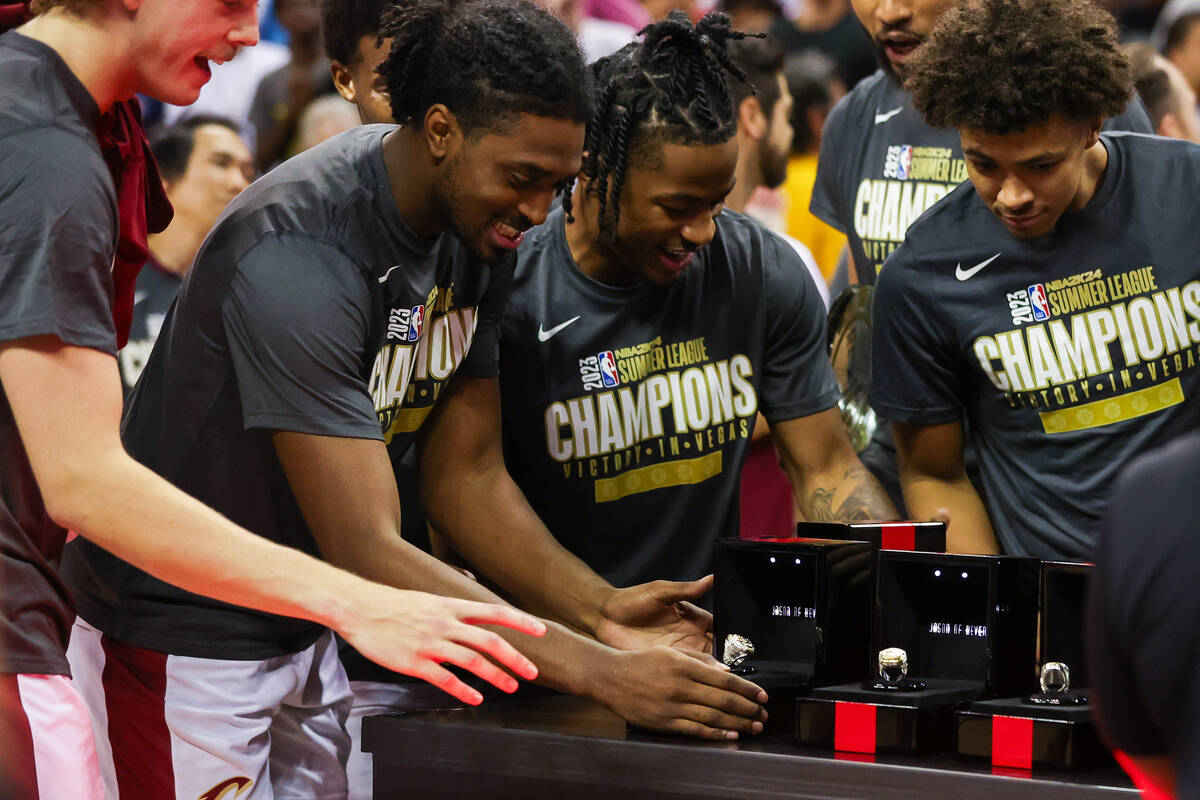 The only things inside Thomas &Mack Center that sparkled like the smile Emoni Bates wore on his way off the basketball court Monday were the NBA Summer League championship trophy he hoisted with his Cleveland Cavaliers teammates — and the championship rings they wore around their fingers afterward.
Spoils for their Summer League success.
"Just being out there with my teammates, everybody got to eat and we came out with the victory," the former five-star recruit said, ring already in hand. "It felt real good. Just going in there with the mindset that we've been prepared all week.
"Coming out victorious means a lot."
The Cavaliers secured their first NBA Summer League title with a 99-78 victory over the Houston Rockets in the championship game and ended the 11-day extravaganza with an unbeaten record.
Second-year forward Isaiah Mobley totaled 28 points and 11 rebounds en route to championship MVP honors.
Fourth-year guard Sam Merrill supplied 27 points and Bates, a rookie wing, added 19 points, five rebounds and four assists.
"Without them, we wouldn't have been here," Mobley said, explaining that Summer League reminded him not to take "opportunities for granted."
"I told (coach Mike Gerrity) from the jump that I think we have a good enough team to win," Mobley added. "Last year we didn't do as well, but I'm like 'This year, I feel like we could really have a chance (to win) after our mini-camp.' I felt like we went out and we did that, so that's exciting."
The Cavaliers constructed their roster for Summer League sans a first-round draft pick, making their run to the championship Monday all the more impressive. Mobley and Merrill are former second-round picks who played minimal roles in the NBA last season. Bates was picked No. 49 overall in the draft last month after two less-than-stellar seasons at Memphis and Eastern Michigan.
But the trio gelled with the rest of the team throughout its tenure in Las Vegas following a week of bonding at a preparatory mini-camp.
Merrill was selected to the All-Summer League first team while Bates earned second-team honors. Mobley manned the middle, two-way signee Craig Porter Jr. ran the point and former second-round pick Luke Travers ran the wing to fill out Cleveland's starting five.
The group opened the game with a 19-6 run that its counterpart from Houston couldn't overcome, building a 20-point lead in the third quarter after the Rockets pulled within four points in the second. Rockets wing and Summer League MVP Cam Whitmore capped a stellar summer with 14 points on 6-of-17 shooting. Whitmore was the 20th pick last month.
Undrafted fourth-year guard Nate Hinton led the Rockets with 18 points, adding 10 rebounds.
The championship for Cleveland represents an extension for their culture, Mobley said, defined by him as one in which "we play together, it's about all of us, not just one single person and one star."
The Cavaliers finished fourth in the East last season with a 51-31 record and feature All-Star guards Donovan Mitchell and Darius Garland, along with standout center Jarrett Allen and Mobley's younger brother, Evan, a rising star foward-center who earned All-Defensive first-team honors last season.
"That culture carries over in to how we played (this summer). I think we've got a real chance to make some noise this season," the older Mobley said. "For it to end like this for me, as a team, it's wonderful. You can't ask for more."
Briefly
Joining Merrill and Whitmore on the Summer League first team were Miami Heat center and Centennial alum Orlando Robinson, Utah Jazz guard Keyonte George and Denver Nuggets forward Hunter Tyson.
Bates formed the second team with guards Max Christie (Los Angeles Lakers), Javon Freeman-Liberty (Chicago Bulls), Xavier Moon (Los Angeles Clippers) and forwards Jabari Smith Jr. (Rockets) and Jalen Wilson (Brooklyn Nets).
Contact Sam Gordon at sgordon@reviewjournal.com. Follow @BySamGordon on Twitter.