Custom sneaker company brings style to NBA Summer League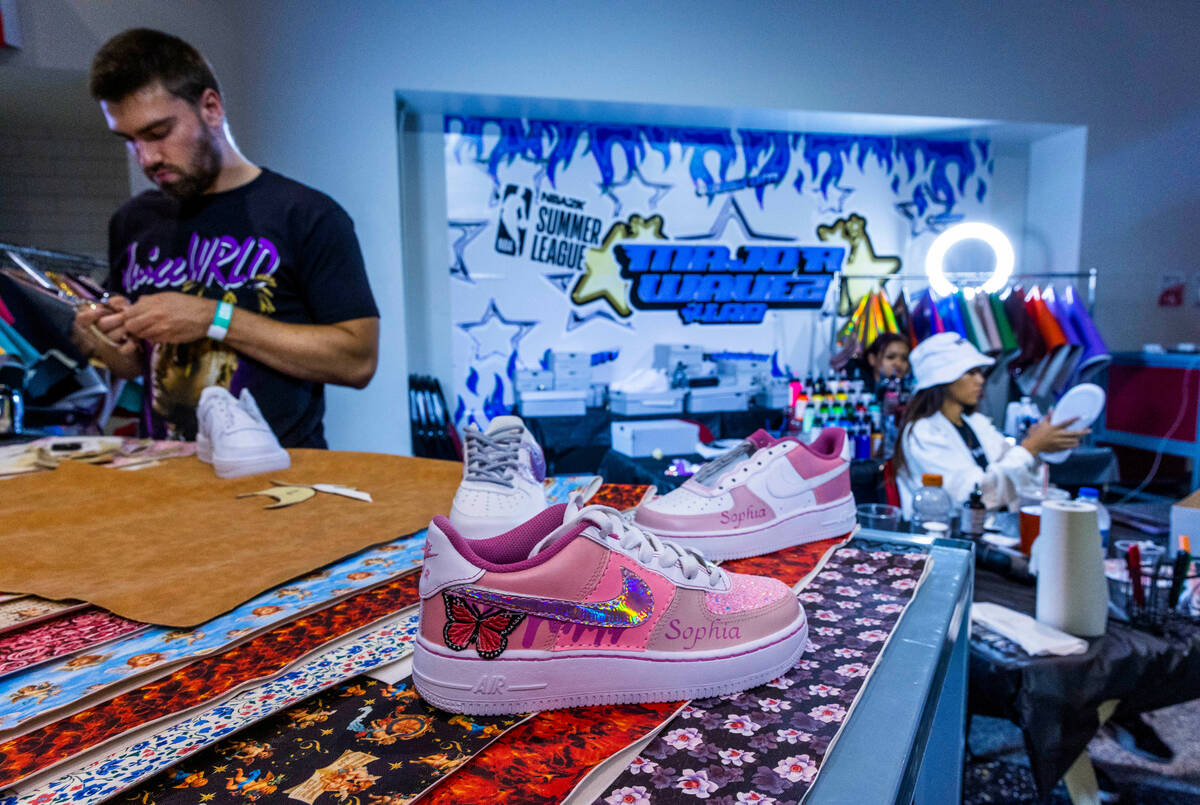 The paneling is perfect. The paint, impeccable. The hustle and bustle of NBA Summer League at Thomas & Mack Center but white noise when the artists are hard at creating.
"It's relaxing," said Colin Szumski, whose spent the last week customizing sneakers in the concourse on behalf of Majorwavez Lab. "I like the process and how things come together. I like being a part of that."
Likes the finished products, too.
Szumski and several other artists and designers are working at NBA Summer League for Majorwavez Lab, a company founded by 30-year-old Ruben Barraza that customizes sneakers and teaches courses in customization.
The San Diego, California, native turned San Francisco State business management graduate launched the company at the beginning of 2021 in Los Angeles, bringing a storefront last year to Fashion Show Mall.
Summer League attendees have flocked to the pop-up he's installed, where Barraza's team of artists is stationed with sewing machines and paint to bring ideas to life.
"Fashion and basketball, they really do go together," Barraza said. "It's an easier crowd (to work with). Who doesn't like shoes that plays basketball?"
Barraza has always liked basketball — and shoes, developing a passion for customization while working for Urban Outfitters in college. He'd restored and painted shoes recreationally, catching the attention of Salehe Bembury — now the vice president of sneakers and men's footwear for Versace, with whom Barraza has interned.
Salehe enlisted Barraza to customize shoes for various celebrities, including A$AP Rocky, Playboi Carti and Kylie Jenner among others.
The money in customization exceeded what Barraza was making in retail, inspiring the genesis of Majorwavez Lab and an immersion in the industry.
His first studio in Los Angeles was originally "a creative space" in which Barraza would design.
"Before I knew it, I had these kids and artists anywhere from 19 to 22, and I was like, 'What if we did these classes?'" Barraza recalled. "By them just believing and just being a part of the team, now it's just super crazy."
With his Los Angeles lab filled on a daily basis, Barraza sought to expand the business and identified Las Vegas as the ideal market for expansion because of its turnstile of tourists.
He lives here part-time, bouncing back-and-forth from the City of Angels.
A partnership in 2021 with the Latin Grammys in Las Vegas led Barraza to a local photographer, who recommended that he vie for space in the concourse at NBA Summer League.
Majorwavez Lab also occupied real estate inside Thomas & Mack last summer.
"People are trying to find something to complete their look," said designer Nikki Roxas, who took a class with Majorwavez Lab in Los Angeles on the whim, since graduating from intern to artist to instructor.
"They want to have this experience, create their own pair of kicks because they don't have that back home. I think this is a good crowd of people to get attention from," she added.
Attention comes from elsewhere as well. Namely Nike, Under Armour, Puma, Converse, JD Sports, Foot Locker — and the rest of the companies with which Majorwavez Lab has partnered.
The brand is also backed by an Instagram account sporting nearly 170,000 followers.
Content, Roxas said, is driving the company's expansion: "People see us online, which is exactly how I found them."
Or … they found Majorwavez Lab at Summer League, where sport and style effortlessly intertwine.
"It's a cool way to express yourself and stand out," Szumski said. "Just being able to put a different logo on a show, or a name or a date, something that means something to you. It's cool to see the guys have custom shoes out on the court, too. It helps them stand out. I think it's a cool experience."
Contact Sam Gordon at sgordon@reviewjournal.com. Follow @BySamGordon on Twitter.