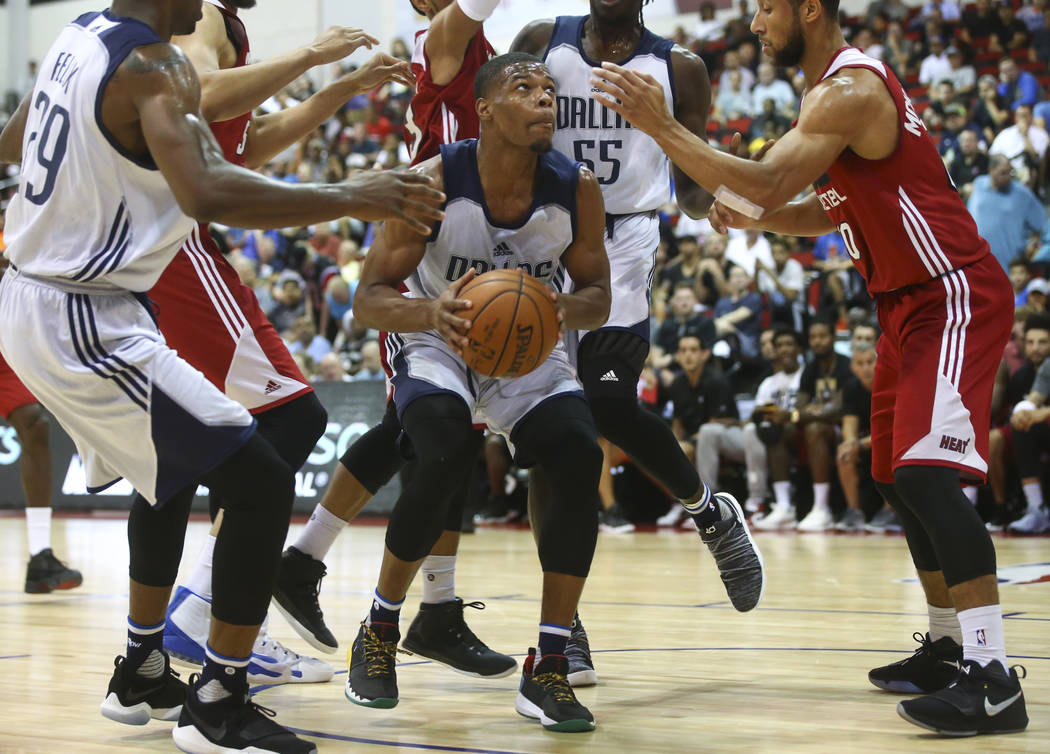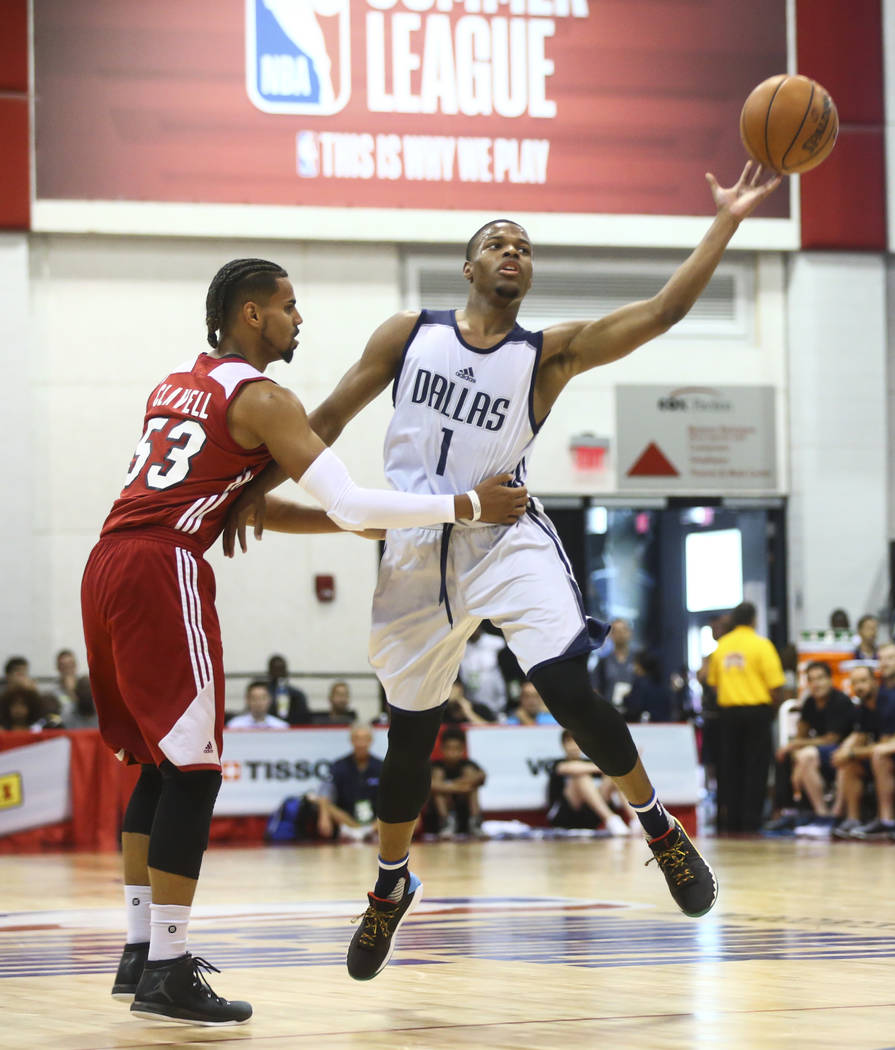 Dennis Smith Jr. had plenty of opportunities to veer over to what Fayetteville, North Carolina, residents not-so affectionately call "the other side of the tracks."
"It's a melting pot for trouble. You've got drugs. You've got guns. You've got everything you have in the super big city," said Ja-Rell Bailey, Smith's longtime trainer. "It's easy to stray away."
But Smith never did. Even if he wanted to, the lost souls in Fayetteville wouldn't have let him. They recognized he had the potential to become the role model the city is starving for.
And so did the Dallas Mavericks.
Almost two years after starring in Las Vegas AAU showcases as the No. 1 point guard in Class 0f 2016, Smith, 19, is back in Las Vegas with an NBA logo on his jersey and his native Fayetteville on his shoulders.
"Everybody is not able to make it to this point, especially where I'm from," Smith said after leading the Mavericks to a 78-73 NBA Summer League victory over the Miami Heat on Tuesday at Cox Pavilion.
"A lot of people that end up in the wrong things played basketball early or football, and they have the same aspirations that I have. And me being able to come out here and do it whenever they can't, whether it's by death or prison, I think that's a blessing."
Smith proclaimed in the second grade that he would play in the NBA and had a drive that matched his lofty ambitions.
While peers and adversaries were sidetracked by the vices in Fayetteville, Smith was training alongside men, preparing his body and mind for the rigors of the professional level.
"He knew basketball was his way out. He stayed working 24/7 and didn't hang out with the wrong people," said high school junior Zovan Lindsay, a three-star football recruit who lives in Fayetteville and is friends with Smith. "He's very humble. He's smart, and he made some good decisions."
Smith emerged as one of the country's top talents as a sophomore at Trinity Christian School in Fayetteville and was the top point guard in his class by the end of his junior season.
Residents of the city knew a possible hometown hero was in their backyard, and they were determined to help him succeed.
"The older guys really never wanted him to go down (the wrong) path," Bailey said. "I don't think he could've if he tried. He's always been so talented. You wouldn't give a kid with that type of opportunity a chance to do wrong."
College coaches were drawn to Smith's playmaking ability and breathtaking athleticism, and he received scholarship offers from every major program in the country, including Kansas and Kentucky.
But before he announced his commitment, he tore the ACL in his left knee and missed his entire senior season.
His father and AAU coach, Dennis Smith Sr., said the injury helped his son mature and ultimately turned him into a better player.
"He started the rehab as soon as it happened," Smith Sr. said. "When he couldn't even use his leg … He attacked it from the start."
"Junior" opted to stay close to Fayetteville and committed to play college basketball an hour away at North Carolina State, where he averaged 18.1 points, 4.6 rebounds and 6.2 assists in his only collegiate season.
He declared for the NBA draft and was selected No. 9 overall by the Mavericks. Three point guards — Markelle Fultz, Lonzo Ball and De'Aaron Fox — were picked ahead of him.
Smith matter-of-factly said he thinks he should have been the No. 1 pick but is thankful to be with Dallas, with whom he's averaging 20.0 points, 6.3 rebounds and 4.3 assists through four summer league games. He scored 25 points Thursday in the Mavericks' 83-76 victory over the Sacramento Kings at the Thomas & Mack Center.
"I chose the right path. Everybody wants to choose the right path," Smith said. "I feel a ton of pride representing where I'm from and everybody that can't do it."
After leading Dallas past Miami, the 6-foot-3-inch Smith stayed on the court for about 10 minutes to sign autographs and pose for pictures with kids.
He changed out of his uniform, concluded his media responsibilities and walked out of Cox Pavilion alone as the janitorial crew picked up popcorn in the bleachers.
Smith comes from humble beginnings. And he's still humble — immune to the distractions in Fayetteville and Las Vegas.
"He had plenty of opportunities to fail, but he chose to rise," Bailey said. "The city is in love with him. Everywhere he goes, he's got the city on his chest."
Contact reporter Sam Gordon at sgordon@reviewjournal.com. Follow @BySamGordon on Twitter.
The Smith file
Age: 19
Height/weight: 6-3, 195
College: North Carolina State, played freshman year before declaring for NBA draft
College stats: 18.1 points, 6.2 assists, 4.6 rebounds, 1.9 steals
NBA: Taken No. 9 overall in 2017 draft by Dallas Mavericks