Despite fears, Markelle Fultz sidelined only for NBA Summer League
Updated July 9, 2017 - 7:42 pm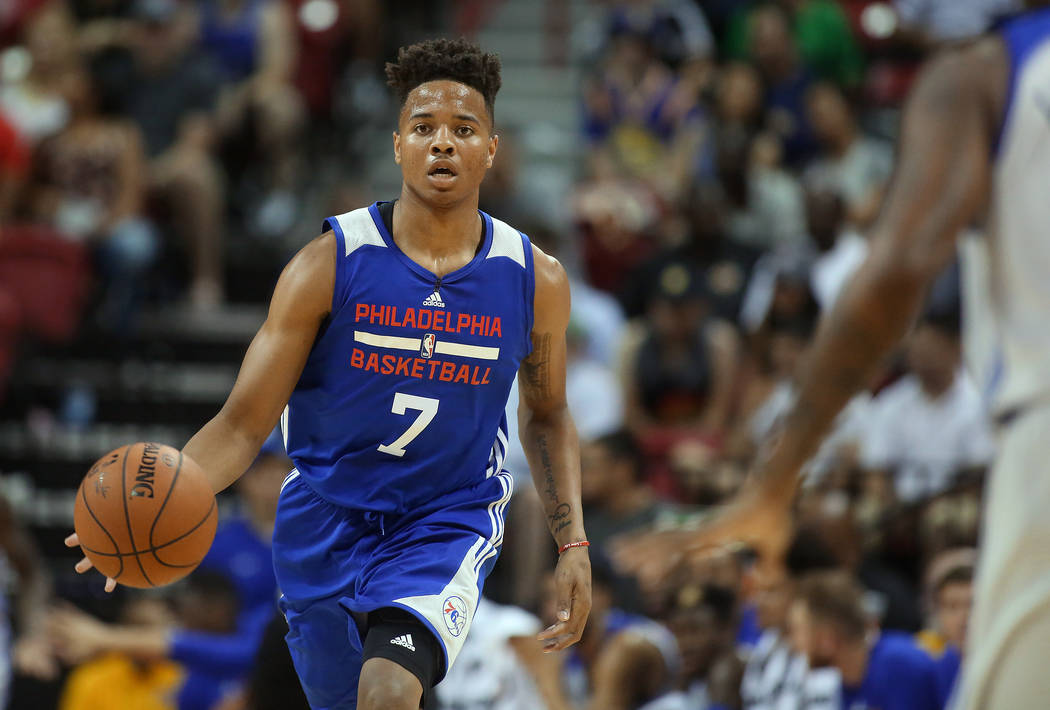 Oohs and aahs from the nearly sold-out crowd in the Thomas & Mack Center turned to gasps and groans with just over eight minutes to play in the third quarter Saturday night.
NBA top draft pick Markelle Fultz was writhing on the floor in pain and clutching his left ankle.
The Philadelphia 76ers' biggest fear — or any team's fear — was unfolding in a developmental game just a few months before the 2017-18 season.
Fortunately, it was short-lived.
Fultz was diagnosed with a lateral ankle sprain and was ruled out for the remainder of the summer league. The team said he is expected to return to normal basketball activities in one or two weeks.
"They haven't said anything to me, but of course, I want to be smart," Fultz told reporters after the team's shootaround early Sunday. "That's for the organization and myself."
Philadelphia has dealt with its share of injuries to key players, including Joel Embiid and Ben Simmons, but none were sustained in the summer league until Fultz.
"Any sport you play in in a competitive atmosphere, and you're athletic and moving around, that's just the challenge," Sixers coach Lloyd Pierce said Saturday night. "It's easy to put that on the history of what we've gone through. But, no, it's just part of the game. It's part of the sport."
And other players and coaches in Las Vegas recognize that.
Sure, a marquee player could always get hurt at any given time. But fellow lottery pick Dennis Smith Jr., a ninth overall pick who tore his anterior cruciate ligament two years ago, said he hasn't thought about injuries during summer league play.
"I'll send a prayer for Markelle," Smith Jr. said Sunday. "That's my brother. But we just go out and play."
Fultz is the only high-profile player to suffer an injury through three days of action this year. Los Angeles Lakers forward Brandon Ingram was shelved after one game as a precautionary measure after dealing with leg cramps in his debut against the Los Angeles Clippers on Friday.
Other than that, all the top players are healthy and performing.
Boston's Jayson Tatum, the No. 3 pick, has thrived. He finished with 27 points and 11 rebounds in a win over the Lakers and No. 2 pick Lonzo Ball, who had a triple-double, on Saturday.
Smith Jr. had 25 points, eight rebounds and four assists in Dallas' win over the Phoenix Suns on Sunday. This, after finishing with 14 points, seven rebounds and six assists in his debut against the Chicago Bulls on Saturday.
In past summer leagues, top players who perform well typically don't play a full five-game slate. Dallas coach Jamahl Mosley said the Mavericks are taking a wait-and-see approach with Smith Jr.
"That is to be determined," he said when asked if Smith Jr. would play out the event. "The way he's playing — his body is holding up. He's playing well. He's playing hard."
But striking the balance between player development and health can be tricky.
"The talks are behind the scenes," Mosley said.
Contact reporter Ashton Ferguson at aferguson@reviewjournal.com or 702-383-0430. Follow @af_ferguson on Twitter.