Ex-Findlay Prep, UNLV star Rashad Vaughn searches for next team
Updated July 9, 2018 - 11:45 pm
Rashad Vaughn arrived in Las Vegas during the summer of 2013 with a baby face and a pedigree as the No. 1 shooting guard recruit in the country.
He arrived in Las Vegas during the summer of 2018 with the same baby face, no guaranteed contract and an eagerness to prove he still belongs in the NBA.
Times have certainly changed. His goals haven't.
Vaughn, now 21 and formerly of Findlay Prep and UNLV, is in Las Vegas, again, with the Miami Heat and its summer league team, trying to solidify his future.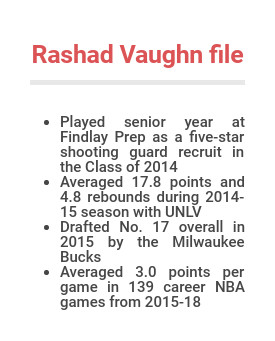 The Bucks selected him with the No. 17 overall pick in 2015, but he played sparingly during his first three seasons and was traded twice in February — first to the Brooklyn Nets, then to the New Orleans Pelicans, who waived him two days later.
He signed a 10-day contract with the Orlando Magic on March 2, but they, too, waived him after a knee injury and a mere five days, freeing him to sign with the Heat for summer league.
"You get to the league, you've got to specialize in one thing. Teams bring you there to do that one thing. I just wasn't able to do it," Vaughn said Sunday afternoon. "It's the league. It's the business that I signed up for. It's just about perseverance. Staying focused."
Vaughn grew up in Minneapolis, where he blossomed into a top prospect and outperformed the platform his high school provided.
He transferred to national power Findlay Prep before his senior season, and ultimately signed with UNLV, where he averaged 17.8 points and 4.8 rebounds in 2014-15.
With the Rebels, Vaughn was a rangy 6-foot-6-inch wing who could catch and shoot, create off the dribble and make plays for his teammates.
With the Bucks, he was relegated to the weakside of the floor and shot 33.7 percent from the field and 33.1 percent from 3-point range in 12.3 minutes per game.
Young players can't develop if they don't play. And Vaughn hardly played.
"I think I'm really good at making plays for my team, my teammates," he said. "I think when I have the ball in my hands — I can play on and off the ball —that's when I'm at my best."
Vaughn and longtime trainer Chauncee Hollingsworth have spent the spring and summer retooling his jumper and adding to his off-the-dribble package.
Miami Summer League coach Eric Glass has put the ball in his hands and given him the chance to showcase some of his improvements. Vaughn has responded with 11 and 16 points in two games thus far.
"He's really talented offensively and we're trying to make sure he's got some defensive habits that push forward," Glass said. "He's been good with us, and he's been working hard."
Vaughn still considers Las Vegas a second home, and is delighted to be back with the chance to play in Summer League. The city once represented a fortuitous future and the gateway to a long professional career.
Maybe it still does.
"The biggest thing with this going to be opportunity, what team is going to give him an opportunity," Hollingsworth said. "He wants to prove that he can play at this level. … That's something that burns within him. He's ready. He's excited. He just wants an opportunity."
More NBA Summer League: Follow all of our NBA Summer League coverage online at reviewjournal.com/summerleague and @RJ_Sports on Twitter.
Contact reporter Sam Gordon at sgordon@reviewjournal.com. Follow @BySamGordon on Twitter.