Former Gonzaga center Sacre looks to stick with Lakers despite being final pick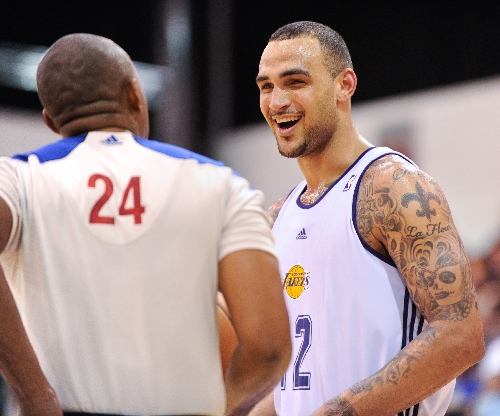 In the NBA, Mr. Irrelevant doesn't get gifts thrown his way or participate in a parade the way the NFL's final draft pick does. In the NBA, the reward is usually a trip to Las Vegas and a chance to show you actually deserve to play with the big boys come October.
Robert Sacre knows the road that lies ahead. The 7-foot center from Gonzaga was the 60th and final player taken in last month's draft by the Los Angeles Lakers. But Sacre may have recent history on his side.
A year ago, Isaiah Thomas was the final player taken in the draft by the Sacramento Kings. Not only did Thomas, a star college guard at Washington, make the team, he wound up starting 37 games and finished seventh in Rookie of the Year voting.
"What he was able to do last year was remarkable, and I'm looking to do the same," Sacre said after his first NBA Summer League game Friday at Cox Pavilion. "It's definitely something I'm aware of, and it's definitely motivating me."
Sacre wasn't sure what to expect on draft night. He was projected to go as early as the middle of the second round. But as the draft wore on, he figured he and his agent were going to be shopping around for a team to join as a free agent.
"I was thinking, 'Man this is a long night,' " Sacre said. "But everything happens for a reason."
The fact he was the final player drafted doesn't bother him.
"I've always been at the bottom, and I've always had to crawl my way to the top," Sacre said. "I'm not afraid to do it now. I'm used to it. I'm excited for this opportunity, and I'm going to seize my moment when I can."
A native of North Vancouver, British Columbia, Sacre's father, Greg LaFleur, played tight end in the NFL for six seasons and his mother, Leslie, was a basketball player at Louisiana State from 1981 to 1984. Sacre was a big Shaquille O'Neal fan because of Shaq's ties to his mom's alma mater. And when Shaq became a Laker, Sacre's allegiance to him followed.
"I was a (Vancouver) Grizzlies fan, and I used to go to all the games," he said. "But when Shaq and the Lakers came to town, I rooted for Shaq. Now, I'm in the same organization that he was, and it's such a big honor. Not many guys get drafted by the Lakers, so even if you're taken with the 60th pick, it's still the Lakers. It's a great organization with a great history of success."
Sacre struggled at times in his first summer league game, but he also showed some of the ability that made him an All-West Coast Conference player with Gonzaga. In 27 minutes against Golden State, he went 2-for-4 from the floor, grabbed five rebounds, blocked a shot, stayed out of foul trouble and finished with four points.
"He did some good things," said Chuck Person, the Lakers' summer league coach. "He guarded the post well, and he did a good job of getting position. He needs to rebound a little better, but that will come.
"We drafted him because we like his size. He's a big guy who's not afraid to get in there and mix it up. He's also a smart player, and in the short time he's been with us, I'd say he's ahead of the curve when it comes to learning what it's all about at this level."
Sacre, who scored 11 points and had a team-high 10 rebounds Saturday in an 84-72 loss to Sacramento, said: "I'm trying to know my role and figure out what my teammates need me to do. That's my main focus. Everybody's got to find their niche. We have to learn to work with one another and fit in together."
Sacre said he wouldn't be in this position if he hadn't made a critical decision five years ago to attend Gonzaga. Bulldogs coach Mark Few sold him on the idea that he could one day find himself in the pros if he was willing to work at it.
He listened, accepted Few's offer and here he is, getting his chance to fulfill his lifelong dream of playing in the NBA with another childhood hero, fellow British Columbian Steve Nash.
"Everything Coach Few said to me has come true," said Sacre, who averaged 11.7 points and 6.3 rebounds his senior season. "He said you're going to get drafted and have an opportunity to play in the NBA. You're going to be a star at Gonzaga, and you're going to graduate. That's why I love Gonzaga. They never lied to me."
But Sacre deserves the credit for taking advantage of his opportunity in college, and he said that blueprint for success hasn't changed.
"I didn't want to accept being average; I always wanted to get better," he said. "And it's the same thing here. I'm not going to settle for being where I'm at. I want to keep improving, I want to learn and I want to make the team.
"You don't get a lot of chances like this, so you might as well take advantage of it."
Contact reporter Steve Carp at scarp@reviewjournal.com or 702-387-2913. Follow him on Twitter: @stevecarprj.