Friday's NBA Summer League update
Updated July 13, 2018 - 9:30 pm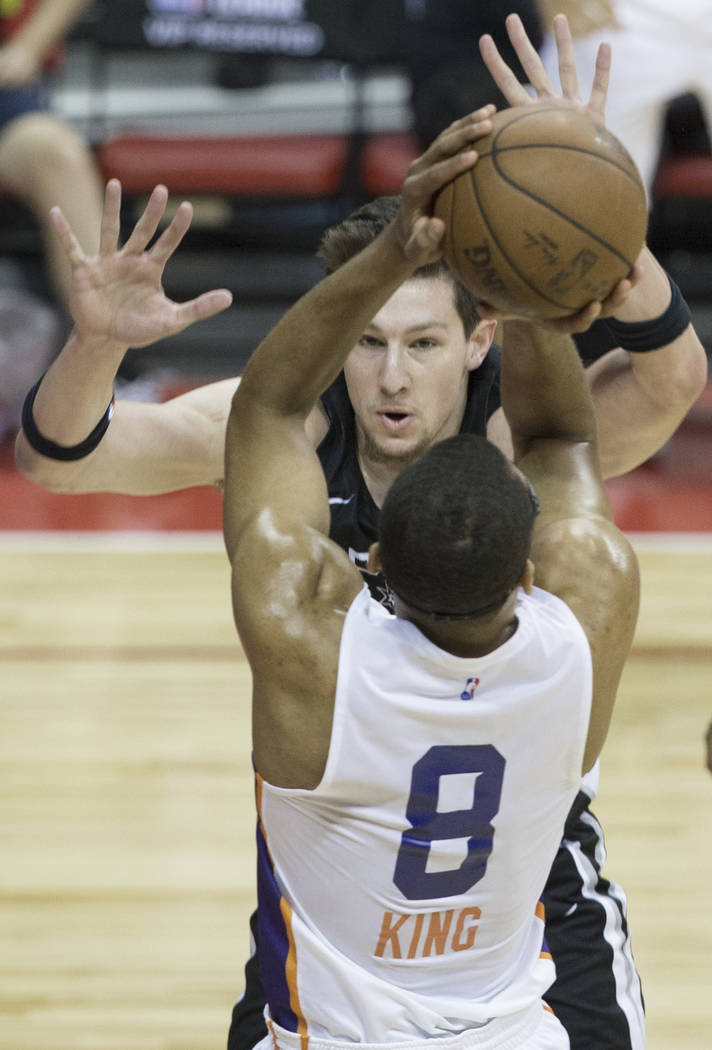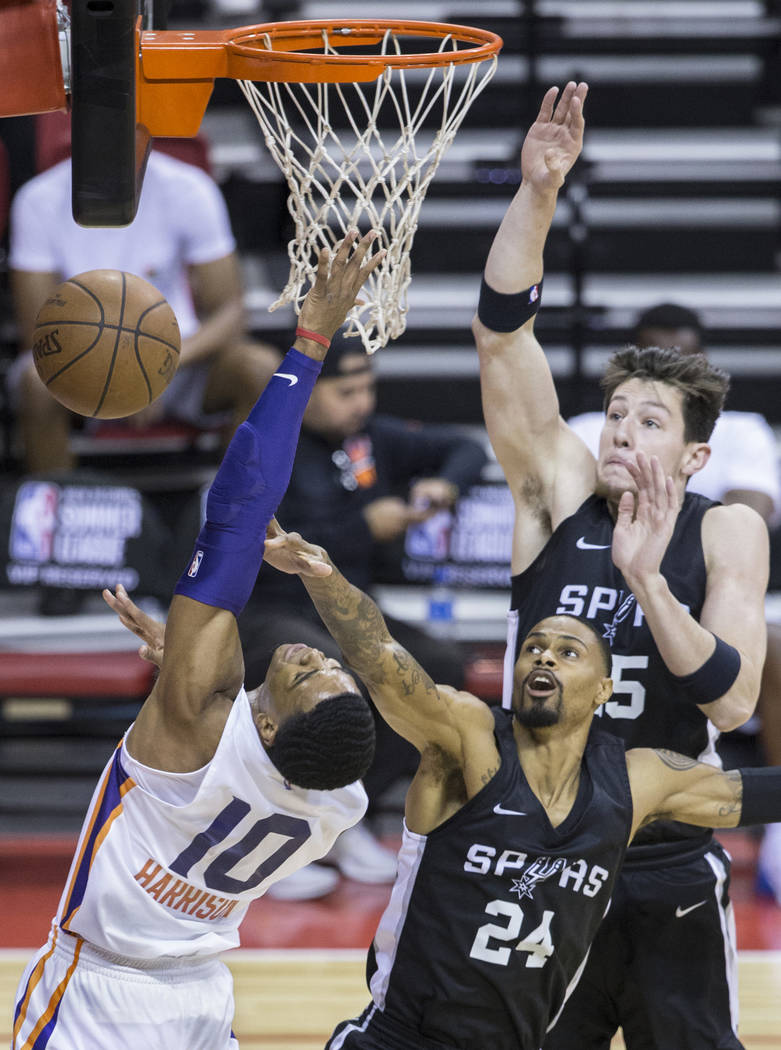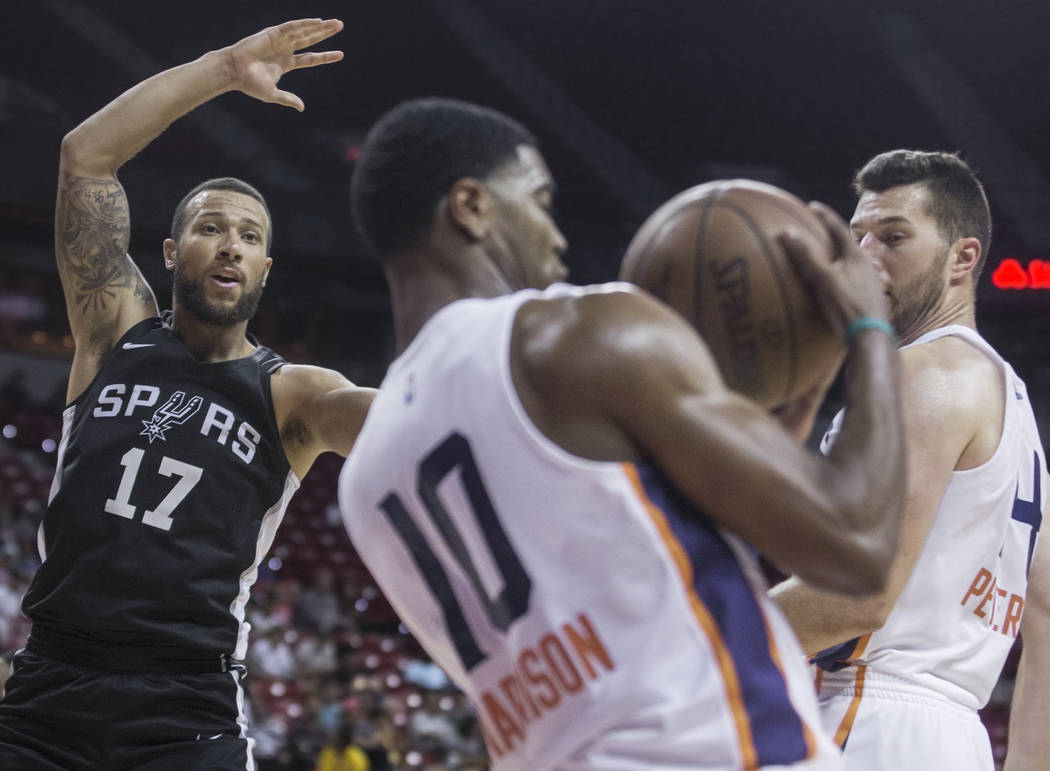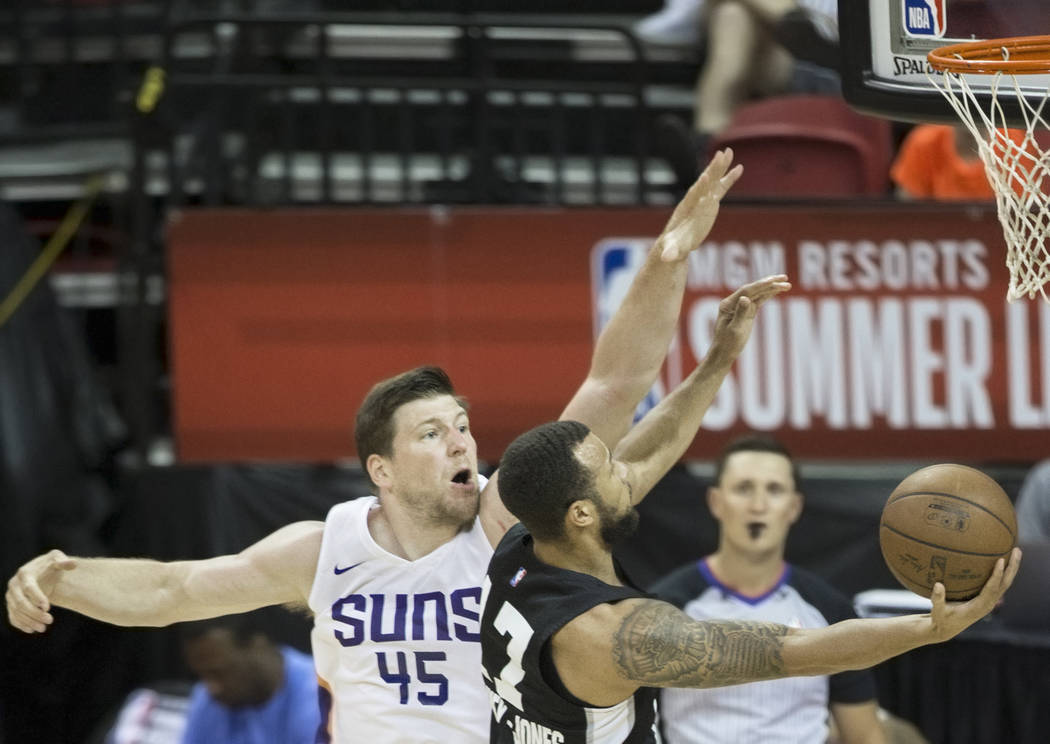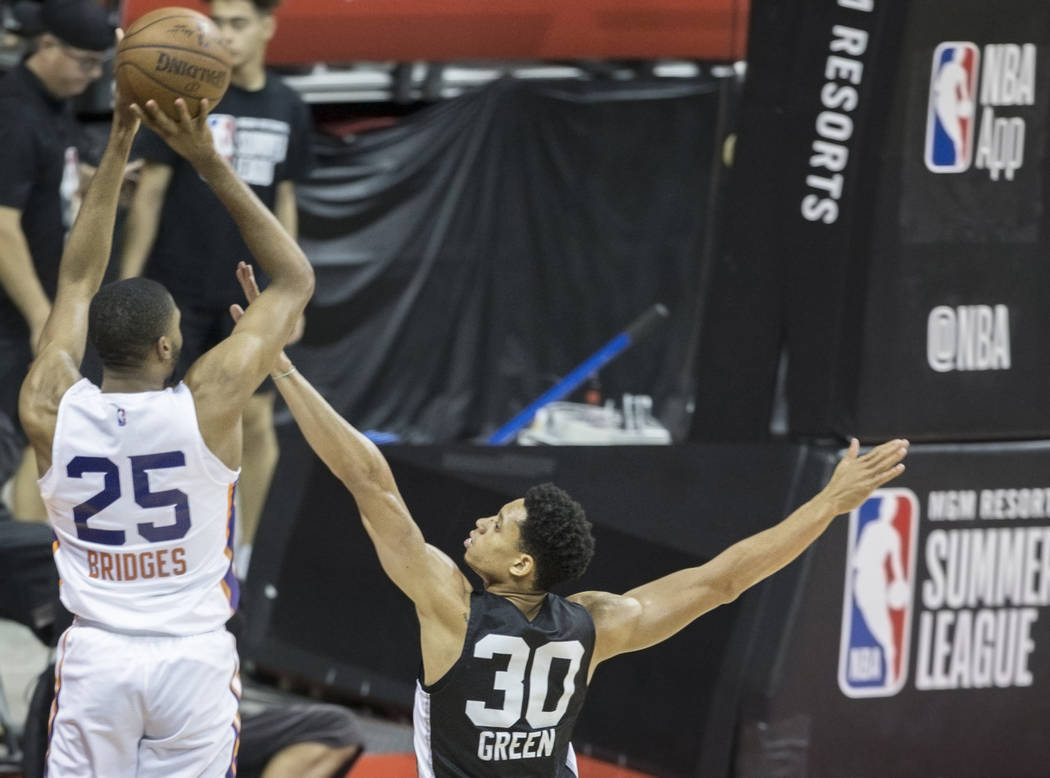 Wrapping up Day 8 of the NBA Summer League at the Thomas & Mack Center and Cox Pavilion:
Friday's results
■ Pacers 116, Nets 79 — CJ Wilcox scored 22 points, Henry Sims added 21 and Indiana dismantled Brooklyn with the biggest offensive outburst of the Summer League. The Pacers shot 48.8 percent from the field and led by as many as 41 points despite their last two first-round picks, Aaron Holiday and TJ Leaf, not playing. Center Tyler Davis had 19 points on 8-for-11 shooting and seven rebounds to lead the Nets.
■ Knicks 102, Pelicans 83 — The Knicks scored 62 points in the second half to pull away from New Orleans. Daniel Ochefu came off the bench to make 9 of 14 shots and score 22 points t0 lead the Knicks. New York as a team shot 50 percent. Garlon Green led New Orleans scorers with 23 points on 8-of-9 shooting.
■ Mavericks 96, Wizards 92 — Phil Greene made two free throws with 5.5 seconds left to help Dallas squeeze past Washington. Jalen Jones and Josh Adams each had 21 points to lead the Mavericks, who outscored the Wizards 36-30 in the fourth quarter. Las Vegas native Troy Brown Jr. had 25 points, six rebounds and three assists for Washington, and Thomas Bryant added 22 points.
■ Suns 90, Spurs 55 — Phoenix outscored the Spurs 29-9 in the second quarter to take control. Reserve Javonte Green scored 20 points for the Suns, who made 51.6 percent of their shots. Maverick Rowan, who had 11 points, was the only Spur in double figures.
■ Timberwolves 83, Nuggets 71 — Keita Bates-Diop and Josh Gray each had 14 points to help Minnesota comfortably edge Denver. Amile Jefferson added five points and nine rebounds for the Timberwolves and paid dearly for it. He took an elbow to the face in the third quarter which knocked part of his tooth to the floor. Kenrich Williams led the Nuggets with 17 points.
■ Thunder 87, Magic 85 — Deonte Burton made a 10-foot shot at the buzzer to lift the Thunder to the victory. He finished with team highs of 17 points and eight rebounds. Rodney Purvis topped all Magic scorers with 20 points. Also for Orlando, former UNLV player Khem Birch totaled four points and five rebounds.
■ Kings 69, Warriors 67 — Kendrick Nunn couldn't get a shot off for Golden State with the clock running out, and Sacramento earned a nail-biting win. Anthony Brown led the Kings with 17 points, and Zach Auguste added 13 points and 11 rebounds. Nunn led the Warriors, who shot just 29.9 percent in the game, with 14 points.
■ Hawks 97, L.A. Clippers 81 — Junior Robinson scored 20 points and Robert Johnson had 18 to lead Atlanta to the victory. Teammate Alpha Kaba finished with 14 points and 15 rebounds. Jordan Mathews' 18 points led the Clippers.
Friday's attendance
8,248 (both venues); total: 104,313
Star of the day
The Thunder's Burton not only made the game-winning shot and nearly put up a double-double, he also delivered three spectacular dunks. Burton had fans cheering whenever he touched the ball.
Three MASSIVE jams, and a game winner!

Deonte Burton showed out #NBASummer pic.twitter.com/xE5jQnIPE5

— NBA (@NBA) July 14, 2018
Local spotlight
Brown, who went to Centennial High School, continued his hot play. He now is averaging 17.8 points and 6.8 rebounds.
On scene
Milwaukee Bucks star Giannis Antetokounmpo showed up at Cox to watch his brother, Kostas, play for the Dallas Mavericks. Boxing champion Floyd Mayweather Jr. sat courtside at the Thomas & Mack.
Saturday's games
At Cox Pavilion
■ Chicago vs. Detroit, 1 p.m.
■ Toronto vs. Charlotte, 3 p.m.
At Thomas & Mack Center
■ Cleveland vs. Houston, 1:30 p.m.
■ Boston vs. Miami, 3:30 p.m.
■ Philadelphia vs. Milwaukee, 5:30 p.m.
■ Utah vs. Memphis, 7:30 p.m.
More NBA Summer League: Follow coverage online at reviewjournal.com/summerleague and @RJ_Sports on Twitter.