Hawks' Trae Young back to draining 3s to shake off critics
Updated July 12, 2018 - 12:38 pm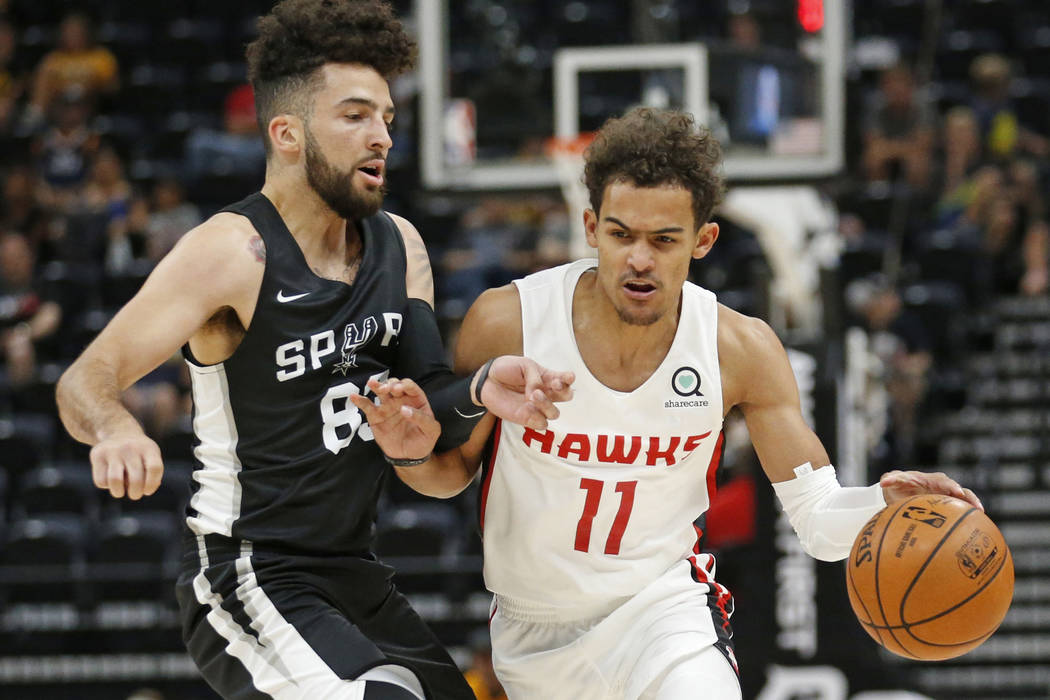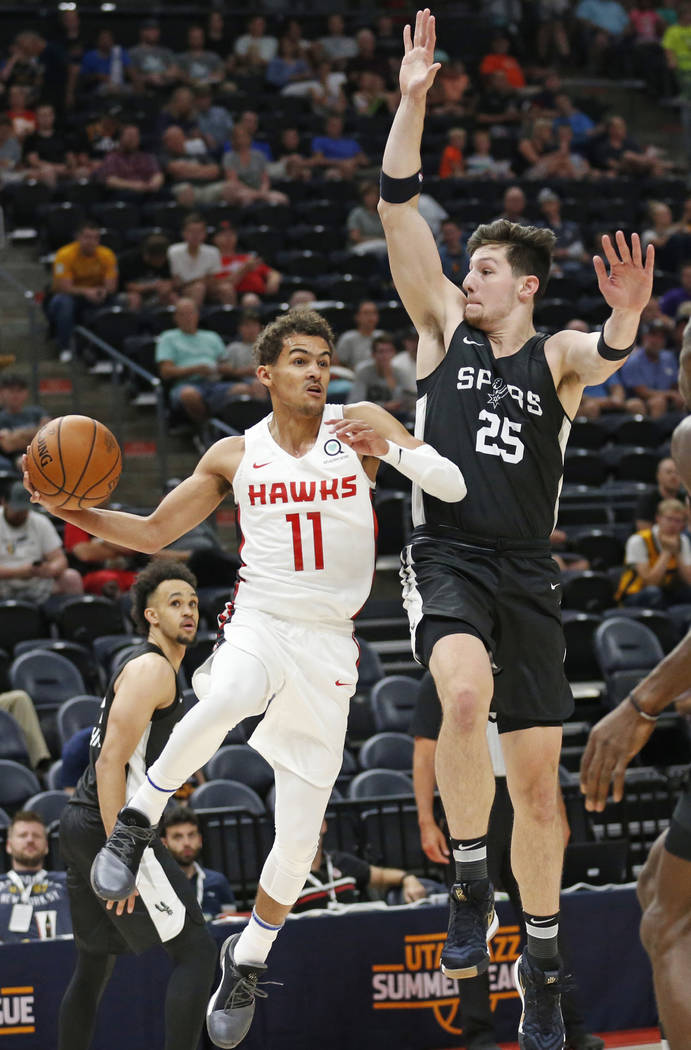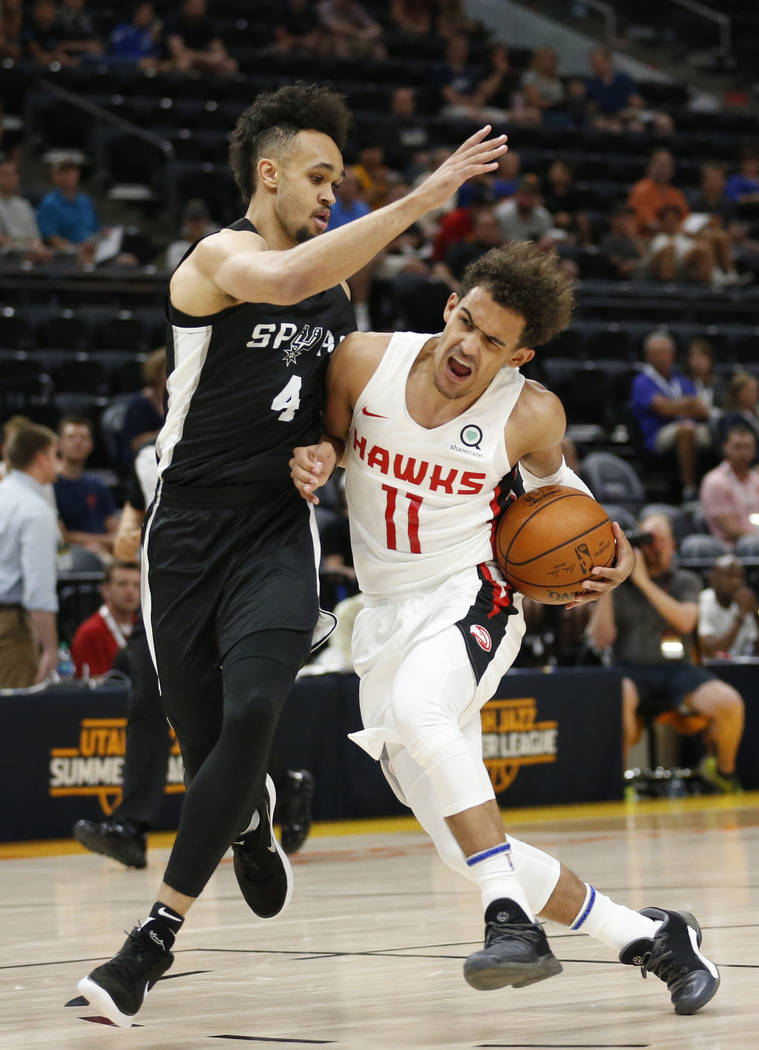 Trae Young's heels touched the NBA logo near the half-court line at Cox Pavilion when he buried a 3-pointer to seal the Atlanta Hawks' victory Tuesday against the Chicago Bulls.
Young took a quick glance at the crowd and waved his hands as to say stop the game. This one was over.
But the gesture also could have meant stop the criticism. The 19-year-old with exceptional shooting range is just getting started.
Young struggled with his shooting in three summer games in Utah and in his first two in Las Vegas. That prompted boobirds and some unkindly words in all media — social and mainstream.
But the criticism didn't seem to bother the fifth overall pick in the most recent NBA draft. Young scored a game-high 24 points versus the Bulls and followed that with a 23-point effort against the Indiana Pacers on Wednesday.
"Everything is starting to slow down for me, and I'm getting better each and every game," Young said.
It wasn't all bad for Young to begin the summer. He was piling up assists — 13 in the last two games — and showing his playmaking ability.
"I led the nation in assists," said Young, a statement he has made repeatedly at NBA Summer League as a reminder he can do more than score. In one season at Oklahoma, he averaged 8.7 assists.
There have been questions about his ability to adapt to the pro game, especially after poor 3-point shooting to start summer play — 3-for-24 in Utah followed by 3-for-11 to start in Las Vegas.
Young delivered seven 3s versus the Bulls, and none more crucial than the one from the logo. The rookie known as "Ice Trae" carried that momentum into Wednesday's 27-point comeback win against the Pacers at the Thomas & Mack Center.
The 180-pound, 6-foot-2-inch point guard upposedly was has been — called by some too frail for the NBA — got to the paint often and hit a clutch floater with 11 seconds left to ice the game.
He also was a key factor in the Hawks' 59-28 run over the last 16:15 minutes.
Oh, and that worrisome shooting percentage? He finished 7-for-14, including 2-f0r-7 on 3s, against the Pacers and dished for eight assists.
"Trae started it with his passing," Hawks guard Tyler Dorsey said after the comeback victory. "He played very composed. He made the right reads, and without him playing like that we wouldn't have gotten that win."
His play got the attention of retired boxing star Floyd Mayweather, who sat courtside Wednesday for Young's impressive showing.
Apparently @FloydMayweather liked @TheTraeYoung's game so much he invited him out to come hang after the game.
Real recognizing real. ✊🏿💯@ATLHawks @NBA @NBASummerLeague @NBAStream @ESPNNBA @NBAHistory @NBAonTNT @NBAcom pic.twitter.com/lcl56TgKbZ

— Bryan Salmond (@BSalSportsGuyRJ) July 12, 2018
"I did see (Mayweather) when I was sitting on the bench in the fourth quarter," Young said. "It was crazy."
Mayweather invited Young to sit next to him after the game. They had a lengthy conversation.
"It didn't help motivate me," Young said about seeing Mayweather. "I just play my game, but it's very cool to see him over there watching and supporting."
Fans came close to not seeing Young's latest hot streak. He hurt his quad Sunday and was held scoreless in nine minutes against the Portand Trail Blazers.
The Hawks allowed Young to find his footing. They don't plan on slowing down his work rate as a scorer and facilitator.
"He's an NBA point guard," said Chris Jen, the Hawks' summer coach. "That's your job."
More NBA Summer League: Follow all of our NBA Summer League coverage online at reviewjournal.com/summerleague and @RJ_Sports on Twitter.
Contact Gilbert Manzano at gmanzano@reviewjournal.com. Follow @GManzano24 on Twitter.