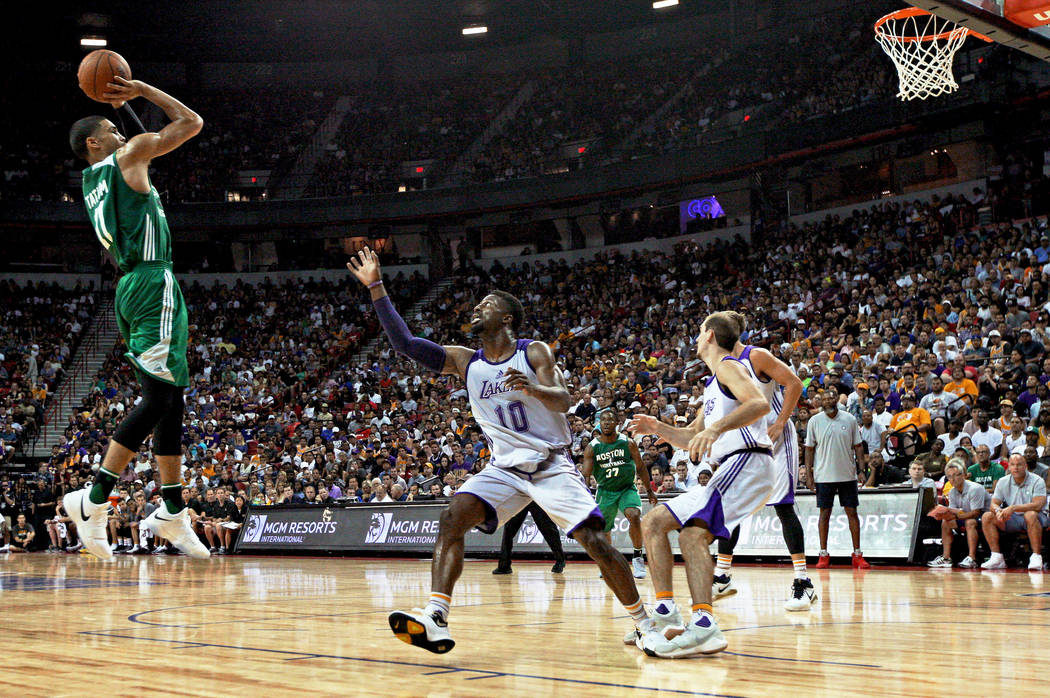 The third day of the 2017 NBA Summer League will feature eight games in total — four in the Thomas & Mack Center and four in the adjacent Cox Pavilion.
The 11-day competition will present 67 games in total. A record 24 teams will participate in the tournament-style format, which culminates with a championship game that will be televised by ESPN on July 17.
Each team will play three preliminary games before tournament play begins July 12. Each team is guaranteed at least five games during the event.
GAME OF THE DAY
Memphis Grizzlies vs. Sacramento Kings — De'Aaron Fox looked to be the real deal in his first Summer League game on Friday, as the 6-foot-5-inch Kentucky product finished with 18 points, four assists and five steals in a loss to the Phoenix Suns. What will the fifth overall pick do for an encore? He'll likely be matched up against Memphis teammates Wayne Selden (Kansas), who scored a game-high 28 points and hit a game-winning jumper with 2.3 seconds on Saturday, and Dillon Brooks (Oregon).
WHAT TO LOOK FOR
* How serious is the left ankle sprain suffered by top pick Markelle Fultz on Saturday night? Will he suit up against the San Antonio Spurs? Is he done for the Summer League? We'll likely get those answers today.
* Will Portland rookie Zach Collins, a Bishop Gorman graduate, bounce back from his underwhelming Summer League debut on Saturday afternoon? The 7-footer finished 3-for-13 shooting from the field, including 1-for-4 from the 3-point line, and had six turnovers in the Trail Blazers' 72-63 win over the Utah Jazz.
* Dallas Mavericks guard Dennis Smith Jr. showed flashes of brilliance — finishing with 14 points, seven rebounds and six assists — in his debut against the Chicago Bulls on Saturday. How will the ninth overall pick stack up against the Phoenix Suns, arguably the Summer League's top team? Will his friend and multi-platinum artist J. Cole drop by for another guest appearance?
SCHEDULE/LATEST LINES*
Today
At Cox Pavilion
Atlanta vs. New Orleans, 1 p.m. (Pelicans -1, 164)
Milwaukee vs. Brooklyn, 3 p.m. (Nets -4, 157½)
Utah vs. Los Angeles Clippers, 5 p.m. (Jazz -3, 165)
Memphis vs. Sacramento, 7 p.m. (Kings -3½, 173)
At Thomas & Mack
Phoenix vs. Dallas, 1:30 p.m. (Mavericks -1½, 167)
Minnesota vs. Denver, 3 p.m. (Nuggets -5, 175)
Portland vs. Boston, 5:30 p.m. (Blazers -1½, 160)
Philadelphia vs. San Antonio, 7:30 p.m. (Spurs -2, 175½)
*Lines courtesy of William Hill
TICKETS
Per session: $30 adults, $20 kids 12 and under
TV
ESPN, ESPN2, ESPNU, ESPN3 streaming, NBA TV
ROSTERS FOR TEAMS PLAYING TODAY
Atlanta Hawks
# Player POS Height
12 Taurean Prince F 6-8
95 DeAndre' Bembry G/F 6-6
20 John Collins F 6-10
2 Tyler Dorsey G 6-4
11 Alpha Kaba C 6-10
28 Isaia Cordinier G 6-5
3 Josh Magette G 6-1
8 Bryce Cotton G 6-0
0 Nate Britt G 6-1
16 Quincy Ford F 6-8
35 Richard Solomon F 6-11
26 Duje Dukon F 6-10
22 Trent Lockett G 6-5
50 Tyler Cavanaugh F 6-9
14 Winston Shepard F 6-8
33 Diamond Stone C 6-11
New Orleans Pelicans
# Player POS Height
5 Keith Benson C 6-11
10 Mashawn Chamberlain F 6-4
2 Quinn Cook G 6-2
9 Isaiah Cousins G 6-4
25 Jaleel Cousins C 6-11
27 Jordan Crawford G 6-5
13 Cheick Diallo F 6-9
15 Frank Jackson G 6-4
14 Peter Jok G 6-6
52 Jalen Jones G 6-7
34 Sanjay Lumpkin F 6-6
4 Jordan Mathews G 6-4
45 Royce O'Neale F 6-6
6 Axel Toupane G 6-7
1 James Young G 6-6
Phoenix Suns
# Player POS Height
50 Darion Atkins F 6-8
35 Dragan Bender F 7-1
0 Marquese Criss F 6-10
23 Shaquille Harrison G 6-4
30 Ike Iroegbu G 6-2
99 Josh Jackson F 6-8
55 Mike James G 6-1
10 Derrick Jones, Jr. G/F 6-7
18 Tre Mclean G/F 6-5
20 Chris Obekpa C 6-9
32 Davon Reed G 6-6
17 David Stockton G 5-11
45 Christian Wood F 6-11
Dallas Mavericks
# Player POS Height
1 Dennis Smith, Jr. G 6-3
8 Ding Yanyuhang F 6-7
9 Nicolas Brussino G/F 6-8
10 Dorian Finney-Smith F 6-8
11 Yogi Ferrell G 6-0
14 Josh Adams G 6-2
19 Corey Webster G 6-2
20 A.J. Hammons C 7-0
24 Torian Graham G 6-5
29 Carrick Felix G/F 6-6
33 Steven Speith G/F 6-6
55 Johnathan Motley F 6-10
Milwaukee Bucks
# Player POS Height
32 Tim Kempton C 6-9
24 Bronson Koenig G 6-3
10 JeQuan Lewis G 6-0
7 Thon Maker F 7-0
14 Jalen Moore F 6-8
0 Gary Payton II G 6-3
33 Achille Polonara F 6-8
41 Tyler Roberson F 6-8
1 Travis Trice II G 6-2
30 Reggie Upshaw Jr. F 6-7
20 Rashad Vaughn G 6-5
5 D.J. Wilson F 6-10
Brooklyn Nets
# Player POS Height
31 Jarrett Allen C 6-11
53 Nathan Boothe C 6-9
8 Spencer Dinwiddie G 6-6
34 Milton Doyle G 6-4
10 Archie Goodwin G 6-5
24 Rondae Hollis-Jefferson F 6-7
0 Prince Ibeh C 6-10
22 Caris LeVert G/F 6-7
9 Tahjere McCall G 6-5
4 J.J. Moore F 6-6
21 Kamari Murphy F 6-9
17 Vincent Poirier C 7-0
26 Rodney Pryor G 6-4
30 Jeremy Senglin G 6-2
15 Isaiah Whitehead G 6-4
42 Jacob Wiley F 6-8
Minnesota Timberwolves
# Player POS Height
3 V.J. Beachem F 6-8
30 Deonte Burton F 6-5
44 Charles Cooke G 6-5
25 Matt Costello F 6-9
34 Perry Ellis F 6-7
11 Jack Gibbs G 6-0
12 Amile Jefferson F 6-9
40 Moses Kingsley F 6-10
6 Marcus Paige G 6-1
24 Justin Patton C 6-11
10 Raphiael Putney G 6-10
31 Levi Randolph G 6-5
14 C.J. Williams G 6-5
Denver Nuggets
# Player POS Height
25 Malik Beasley G 6-5
8 Thomas Bropleh F 6-5
3 Robert Carter, Jr. F 6-9
12 Petr Cornelie C 6-11
1 Torrey Craig G/F 6-6
41 Juan Hernangomez F 6-8
22 Xavier Johnson F 6-7
20 Tyler Lydon F 6-10
13 Dallas Moore G 6-1
11 Monte Morris G 6-3
4 Nikola Radicevic G 6-5
23 Howard Sant-Roos G/F 6-7
30 Henry Sims F/C 6-10
6 David Walker G/F 6-6
Utah Jazz
# Player POS Height
21 Joel Bolomboy F/C 6-9
13 Tony Bradley C 6-10
26 Spencer Butterfield G 6-3
55 Mitchell Creek F 6-4
17 Eric Griffin G/F 6-8
42 Jonathan Holmes F 6-9
45 Donovan Mitchell G 6-3
22 Nathan Sobey G 6-3
43 James Southerland F 6-8
18 JP Tokoto G 6-6
16 Devondrick Walker G 6-5
31 Tyrone Wallace G 6-5
0 Nigel Williams-Goss G 6-3
30 Julian Wright C 6-8
Los Angeles Clippers
# Player POS Height
18 James Bell F 6-6
26 Anthony Brown F 6-7
15 Jawun Evans G 6-1
37 Isaiah Hicks F 6-8
10 Brice Johnson F 6-9
28 Jaron Johnson G 6-6
17 Kendall Marshall G 6-4
7 David Michineau G 6-3
19 Luke Nelson G 6-3
31 Hollis Thompson F 6-8
29 Shevon Thompson C 7-0
1 Sindarius Thornwell G 6-5
39 Jameel Warney F 6-7
27 Jamil Wilson F 6-7
38 Kyle Wiltjer F 6-10
Portland Trail Blazers
# Player POS Height
37 Jordan Adams G 6-5
26 Markel Brown G 6-3
44 Antonius Cleveland G 6-6
33 Zach Collins F/C 7-0
5 Pat Connaughton G 6-5
24 DeAndre Daniels F 6-9
2 Jorge Gutierrez G 6-3
28 RJ Hunter G 6-5
31 Nick Johnson G 6-3
10 Jake Layman F 6-9
9 Patrick Miller G 6-1
16 Josh Scott F 6-10
50 Caleb Swanigan F/C 6-9
34 Keith Benson C 6-11
Boston Celtics
# Player POS Height
45 Kadeem Allen G 6-3
52 Roscoe Allen F 6-9
26 Jabari Bird G 6-6
7 Jaylen Brown F 6-7
38 Perrin Buford G/F 6-6
9 Demetrius Jackson G 6-1
63 Landen Lucas F 6-10
51 Abdel Nader F 6-6
37 Semi Ojeleye F 6-7
28 Terran Petteway F 6-6
40 Scoochie Smith G 6-2
11 Jayson Tatum G 6-8
50 Trevor Thompson C 7-0
46 Scott Wood F 6-6
54 Ante Zizic C 6-11
Memphis Grizzlies
# Player POS Height
4 Wade Baldwin G 6-4
24 Dillon Brooks F 6-6
18 Ray Cowels G 6-4
3 Will Cummings G 6-2
23 Deyonta Davis F 6-11
21 William Howard F 6-8
32 Vincent Hunter F 6-8
1 Jarell Martin F 6-10
20 Jeremy Morgan G 6-5
10 Ivan Rabb F/C 6-10
22 Victor Rudd F 6-9
7 Wayne Selden G 6-5
2 Kobi Simmons G 6-1
12 Wes Washpun G 6-1
35 Amir Williams C 6-11
52 Rade Zagorac G/F 6-9
Sacramento Kings
# Player POS Height
50 Jack Cooley F 6-10
5 De'Aaron Fox G 6-3
20 Harry Giles F 6-10
18 Dominique Hawkins G 6-2
37 Reggie Hearn F 6-4
24 Buddy Hield G 6-4
25 Justin Jackson F 6-8
3 Skal Labissiere F/C 6-11
15 Frank Mason III G 6-0
19 Naz Mitrou-Long G 6-4
35 Luis Montero G 6-7
13 Georgios Papagiannis C 7-1
26 Scootie Randall G/F 6-6
23 Malachi Richardson G 6-6
29 JaKarr Sampson F 6-8
77 Phil Scrubb G 6-3
88 Eric Stuteville F/C 6-11
Philadelphia Sixers
# Player POS Height
30 Brandon Austin G/F 6-6
19 James Blackmon, Jr. G 6-4
43 Jonah Bolden F 6-10
27 Isaiah Briscoe G 6-3
17 Larry Drew G 6-2
7 Markelle Fultz G 6-4
31 Aaron Harrison G 6-6
51 Charles Jackson C 6-10
16 Furkan Korkmaz G 6-7
20 Timothe Luwawu-Cabarrot G/F 6-6
41 Isaiah Miles F 6-7
5 Alex Poythress F 6-7
35 Kaleb Tarczewski C 7-0
18 Melo Trimble G 6-3
San Antonio Spurs
# Player POS Height
43 Ben Bentil F 6-9
42 Davis Bertans F 6-10
15 Jaron Blossomgame F 6-7
19 Cleanthony Early F 6-8
11 Bryn Forbes G 6-3
22 Olivier Hanlan G 6-4
28 Livio Jean-Charles F 6-9
55 Cory Jefferson F 6-9
25 Cady Lalanne C 6-9
18 Jeff Ledbetter G 6-3
5 Dejounte Murray G 6-5
24 James Robinson G 6-3
4 Derrick White G 6-5
45 Shayne Whittington F 6-11