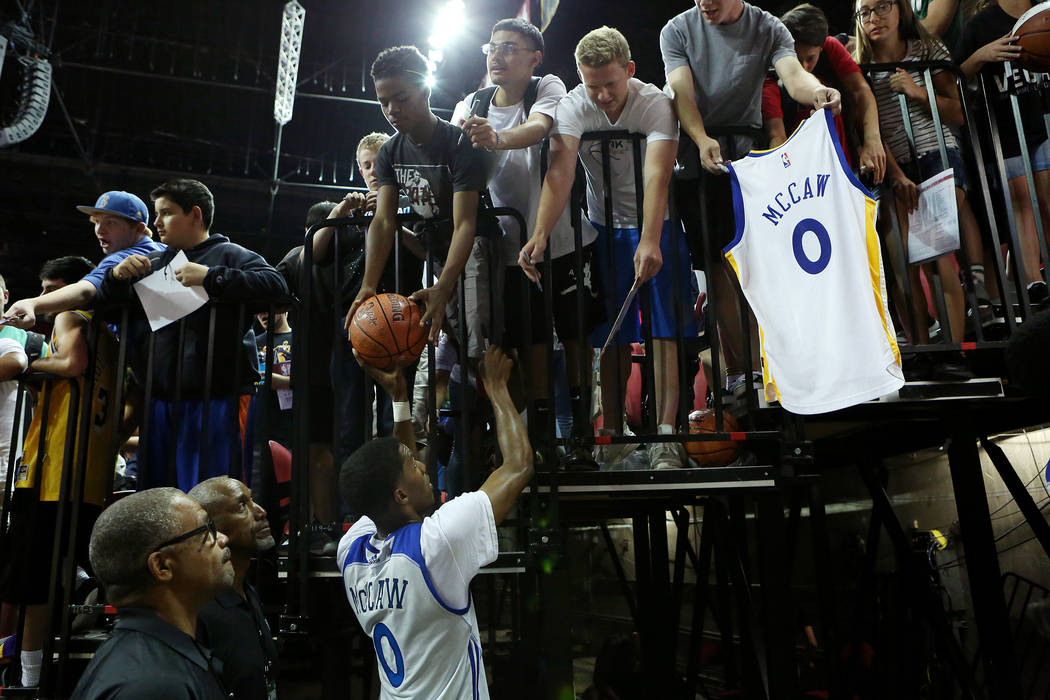 The fourth day of the 2017 NBA Summer League will feature eight games — four in the Thomas & Mack Center and four in the adjacent Cox Pavilion.
The 11-day competition will present 67 games in total. A record 24 teams will participate in the tournament-style format, which culminates with a championship game that will be televised by ESPN on July 17.
Each team will play three preliminary games before tournament play begins July 12. Each team is guaranteed at least five games during the event.
Game of the day
Los Angeles Lakers vs. Sacramento Kings — Lonzo Ball (No. 2 pick) and De'Aaron Fox (No. 5 pick) meet for the first time as professionals. Fox got the better of Ball last time the two met in the NCAA tournament, scoring 39 points on just 20 shots, in Kentucky's 86-75 win over UCLA in the Sweet 16. When asked about his mindset going into that game, Fox said: "(To) shut LaVar Ball up." Lonzo Ball, who had 10 points in the loss, was selected higher in last month's draft, and surely, Lavar will be at this one.
What to look for
— Lauri Markkanen scored a team-high 14 points in Chicago's 91-75 loss to the Dallas Mavericks on Saturday. How will the Arizona product play in his second game?
— The Miami Heat have a pair of big men in Bam Adebayo (Kentucky) and Zach Auguste (Notre Dame), who have played well thus far. Do they keep it going against the Washington Wizards?
— New Orleans' Cheick Diallo scored at least 20 points in each of his first two games and has been one of the Summer League's most impressive players. The 6-foot-9 forward will look to continue the trend against the Brooklyn Nets.
— Cleveland and Golden State play in a rematch of the NBA Finals. The Warriors probably still have the edge here with UNLV alum Patrick McCaw, who scored six points and played 11 minutes in the team's Game 5-clincher. In the Summer League on Saturday, McCaw dropped 25 points and nearly hit the game with a 3-pointer in the Warriors' loss to the Philadelphia 76ers.
Schedule/Latest lines*
Today
At Cox Pavilion
Atlanta vs. Chicago, 1 p.m. (Bulls -3, 165)
Brooklyn vs. New Orleans, 3 p.m. (Nets -4, 167½)
Denver vs. Toronto, 5 p.m. (Raptors -5, 169½)
Los Angeles Clippers vs. Milwaukee, 7 p.m. (Clippers -2½, 162½)
At Thomas & Mack
Miami vs. Washington, 1:30 p.m. (Wizards -2½, 163½)
Houston vs. Phoenix, 3 p.m. (Rockets -2, 175½)
Golden State vs. Cleveland, 5:30 p.m. (even, 173½)
Los Angeles Lakers vs. Sacramento, 7:30 p.m. (Lakers -2, 168)
*Lines courtesy of William Hill
Tickets
Per session: $30 adults, $20 kids 12 and under
TV
ESPN, ESPN2, ESPNU, ESPN3 streaming, NBA TV
Rosters for teams playing today
More NBA Summer League: Follow all of our NBA Summer League coverage online at reviewjournal.com/summerleague and @RJ_Sports on Twitter.