High-profile players sit in consolation day of Summer League
Updated July 13, 2018 - 7:59 pm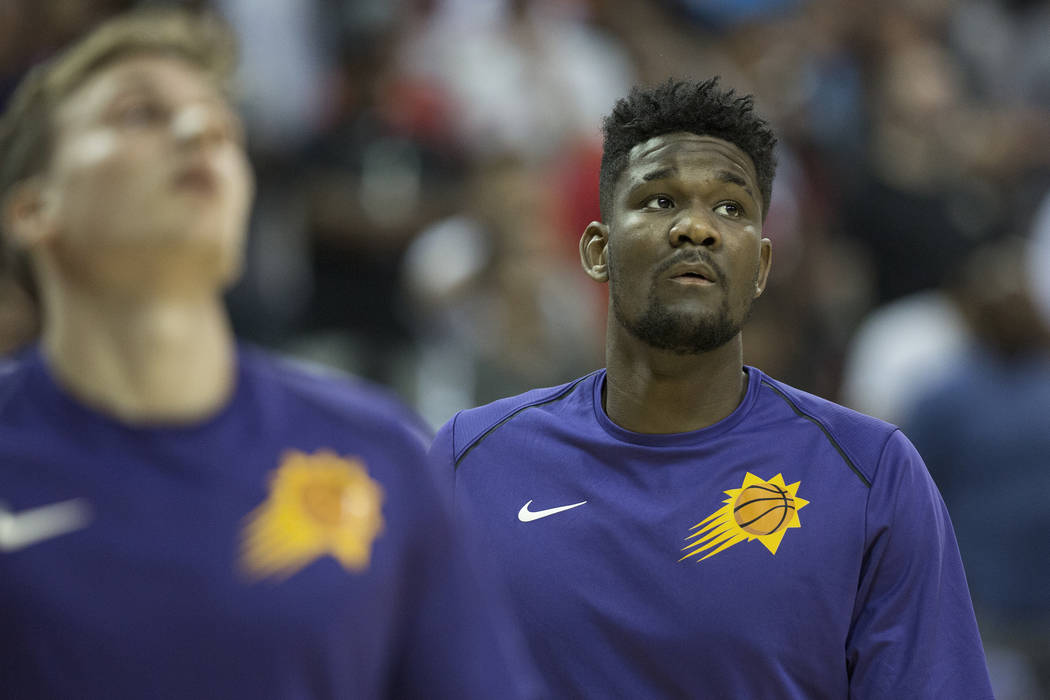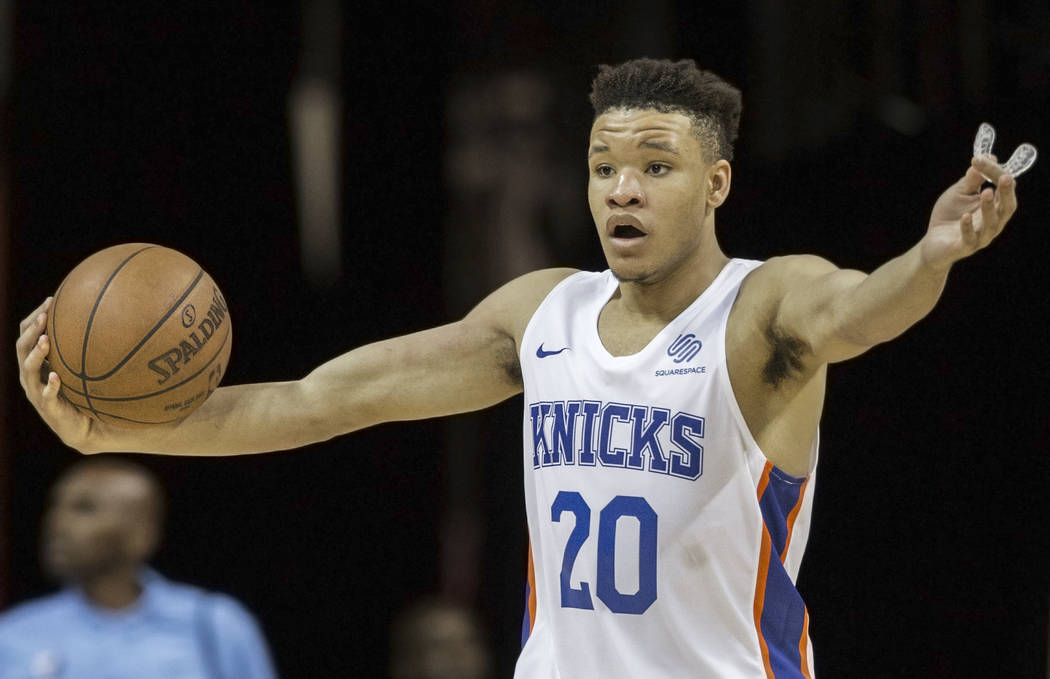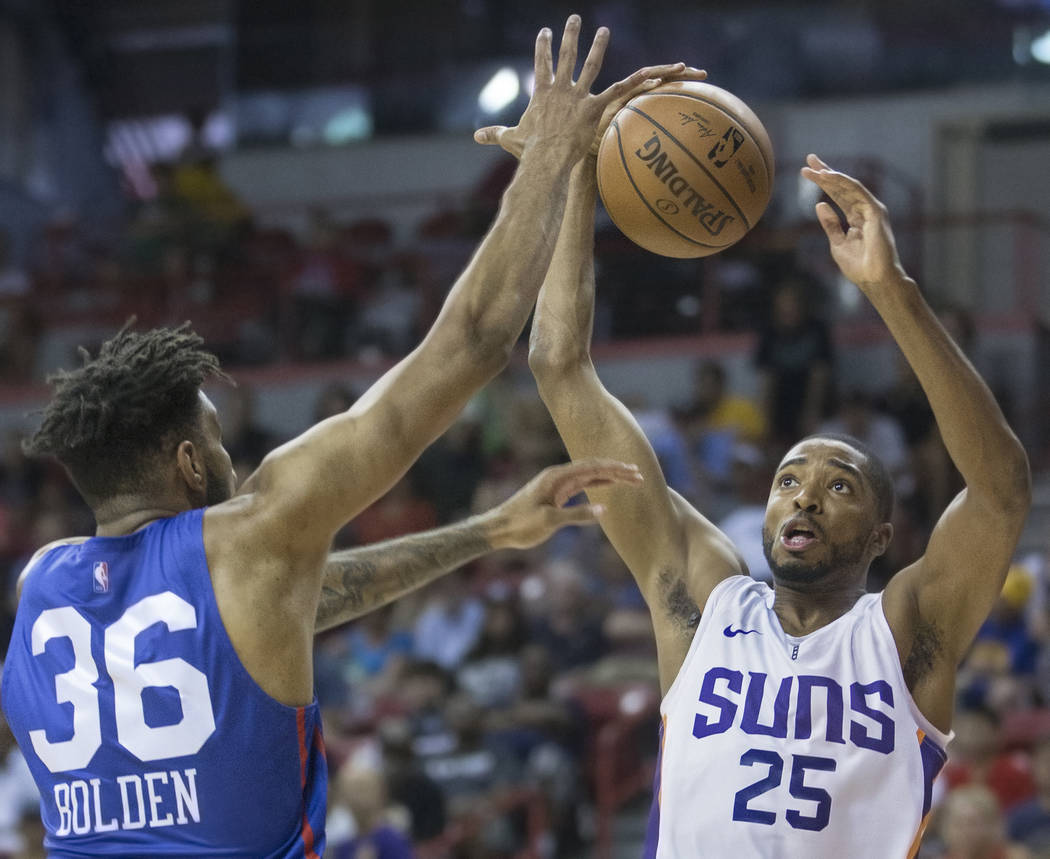 With Friday being consolation day at the NBA Summer League, most teams decided it best to rest the prospects who were selected in the first round of last month's draft.
That included players such as No. 1 overall selection Deandre Ayton of the Phoenix Suns.
Ayton said Suns coach Igor Kokoskov, who also oversaw the Summer League team, made the call on ending his play early in Las Vegas. The 7-foot 1-inch center averaged 14.5 points and 10.5 rebounds through four games.
"(Kokoskov) said, 'You showed us enough, and let the other guys show what they've got,'" Ayton said.
Another such player was Kevin Knox, the New York Knicks' No. 9 overall selection. He sat in the Knicks' 102-83 victory over the New Orleans Pelicans after averaging 21.3 points and 6.5 rebounds.
"I thought it was enough," Knicks coach David Fizdale said. "We've seen enough. I feel like he had gone, it must've been 11 or 12 days with one day off in there. A couple of those were two-a-days."
Also not playing Friday: No. 5 overall pick Trae Young (Atlanta Hawks), No. 8 Mo Bamba (Orlando Magic), No. 11 Shai Gilgeous-Alexander and No. 13 Jerome Robinson (both of the Los Angeles Clippers), No. 24 Aaron Holiday (Indiana Pacers) and No. 28 Jacob Evans (Golden State Warriors).
"It was kind of pointless for (Holiday) to play," Pacers Summer League coach Steve Gansey said. "We already saw good things from him. If he plays and he gets hurt, we don't want that.
"He's our draft pick, he's our guy so we want to take care of him and make sure he's healthy for veterans camp, because that's the next step here."
San Antonio Spurs first-rounder Lonnie Walker IV also did not play, though he appeared to suffer a leg injury. The Minnesota Timberwolves' Josh Okogie did not play with a finger sprain.
There was a general sense entering the day that most of the star power would be on the bench. So there was little coincidence that most of the veteran NBA standouts who showed up before Friday to see future teammates in action found other things to do.
Not every first-rounder, however, took the day off. No. 10 selection Mikal Bridges started for the Suns, and No. 15 pick Troy Brown Jr. played for the Washington Wizards.
"We have a culture of work and to me, it doesn't set the right precedent if we sit a player," Washington Summer League coach Ryan Richman said. "He's not in the rotation yet — not to say he won't be — but we have a lot of guys and a veteran team, and he needs to get more reps."
More NBA Summer League: Follow all of our NBA Summer League coverage online at reviewjournal.com/summerleague and @RJ_Sports on Twitter.
Contact Justin Emerson at jemerson@reviewjournal.com or (702) 387-2944. Follow @J15Emerson on Twitter. Contact Mark Anderson at manderson@reviewjournal.com. Follow @markanderson65 on Twitter.