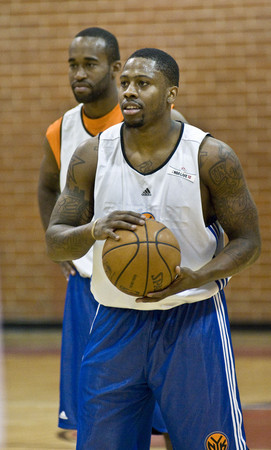 Wink Adams was right about two things: He knew he wasn't getting drafted last month and that he would stay in Las Vegas to play in the NBA Summer League.
The only thing he wasn't sure about was which team he would play for.
The former UNLV guard is on the New York Knicks' roster.
"That kind of shocked me," said Adams, who will be on the floor at 3 p.m. today when the Knicks face Memphis at Cox Pavilion. "I had worked out for Oklahoma City before the draft, and I thought they would put me on their summer league team. But when my agent (Noah Croom) told me I was going to the Knicks, it was like, 'Wow. The Knicks? Really?' "
Adams might have trouble finding playing time with New York this week. Rookie Toney Douglas is ahead of him on the depth chart, and Blake Ahearn might be too.
After practice Monday at Valley High School, Knicks summer league coach Phil Weber said there are priorities to address.
"We're still in the process of evaluating everything, but (Adams) has done a good job so far." Weber said. "He's made some nice plays. He's competed, and he belongs here."
Adams said he must take advantage of whatever minutes he receives this week and hope his play catches someone's eye.
"When I get in, I just have to make the most of the opportunity," he said. "I know they have guys they have to look at. I just want to run the team, make good decisions and show everyone I can play at this level."
Playing in Cox Pavilion could be to Adam's advantage.
"I wish we were playing in the Thomas & Mack, but I got a lot of good spots in the Cox," Adams said.
He said he has lost 15 pounds since UNLV's first-round loss to Kentucky in the National Invitation Tournament in March.
"I feel a lot quicker," Adams said. "This is my job now. You've got to eat right, get your rest and stay in shape."
Adams said no matter what happens this week, he's confident that he'll be playing basketball somewhere this fall.
"I'm back playing my actual position (point guard), and I feel comfortable on the court," he said. "I know something positive will come from this for me."
• OWNERS MEETING — The NBA's Board of Governors will have an executive board meeting today at the Palms.
Items to be discussed include the collective bargaining agreement as well as the salary cap for the 2009-10 and 2010-11 seasons.
Commissioner David Stern will preside over the meeting. Stern attended Monday's Clippers-Lakers game at the Thomas & Mack Center, his first summer league appearance in Las Vegas.
"It's great to see the summer league here have so much success," Stern said. "With everyone here, it's like the hot-stove league for basketball."
• TIMBERWOLVES SHOCKED — A team of NBA Development League players stunned the Minnesota Timberwolves, 96-91.
The D-League Select held a 10-point lead entering the fourth quarter and held off the Wolves.
Gary Forbes and Othyus Jeffers scored 20 points apiece for the D-Leaguers.
Minnesota's Wayne Ellington scored a game-high 22.
Contact reporter Steve Carp at scarp@reviewjournal.com or (702) 387-2907.