Kings hope Dave Joerger is finally the right coaching fit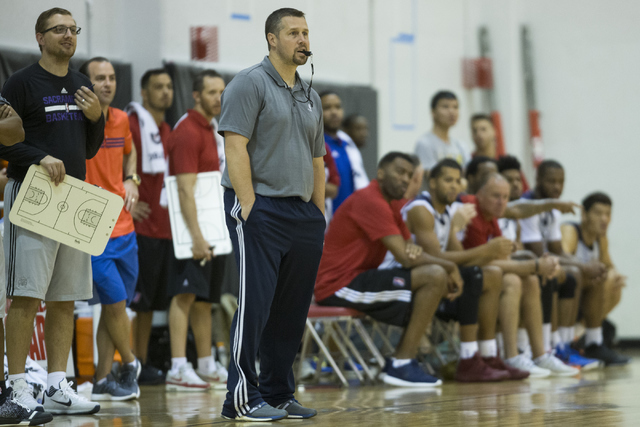 Dave Joerger has one of only 30 head coaching positions in the NBA, and he never has been more appreciative.
The 42-year-old spent three seasons as the Memphis Grizzlies' coach before an acrimonious breakup in May. But two days after he was fired, Sacramento gave him a four-year, $16 million deal, hoping he can lead the Kings to the playoffs for the first time since 2006.
The Kings finished third in the Pacific Division at 33-49 and 10th in the Western Conference last season.
"We're going to try to set some standards of excellence," Joerger said. "It's never about a number of wins. It's all about how you go about your business. That goes to professionalism and work ethic.
"We want to be defensive-minded. That's how I believe winning teams are built. It won't happen overnight, but we'll try to keep laying it down brick by brick."
The process starts Friday at Cox Pavilion when the Kings open play in the NBA Summer League at 7 p.m. against the Toronto Raptors. It's not unusual for an NBA head coach to be on the sidelines in the summer league in his first year with the team. David Blatt did it with the Cleveland Cavaliers, as did Fred Hoiberg last year with the Chicago Bulls.
"I want to get in the routine," Joerger said. "New trainer. New PR staff. There's a couple of new coaches we haven't worked together yet with. It's all about finding your role, finding your voice."
Joerger first gained exposure as an NBA coach in Las Vegas in the 2009 summer league. An assistant on Lionel Hollins' staff at the time, the Grizzlies went 5-0 with Joerger coaching the team.
Hollins' contract was not renewed after he led the Grizzlies to the conference finals in 2013, and Joerger was named his successor. He went 147-99 and made the playoffs all three seasons, including the conference semifinals in 2015 against eventual NBA champion Golden State.
But Joerger and management repeatedly clashed over player personnel decisions, among other things, eventually costing him his job.
He gets a fresh start in Sacramento. The Kings are moving into a new downtown arena, the $534.6 million, 17,500-seat Golden 1 Center. The roster has been overhauled again. It's a time for optimism for the Kings' loyal but frustrated fan base, and the hope is Joerger can connect with DeMarcus Cousins, the talented but enigmatic center who is unquestionably Sacramento's best player.
"We're going to try to have a relationship that's built on respect, on trust and on hard work, together," Joerger said. "I have his best interests at heart. He has to have the team's best interests at heart. We both want the same thing: to win."
Contact Steve Carp at scarp@reviewjournal.com or 702-387-2913. Follow on Twitter: @stevecarprj
NBA SUMMER LEAGUE
When: Friday-July 18
Where: Thomas & Mack Center, Cox Pavilion
Teams: Atlanta, Boston, Brooklyn, Chicago, Cleveland, Dallas, D-League Select, Denver, Golden State, Houston, Los Angeles Lakers, Memphis, Miami, Milwaukee, Minnesota, New Orleans, Philadelphia, Phoenix, Portland, Sacramento, San Antonio, Toronto, Utah, Washington
Tickets: (per session) $30 adults, $20 kids 12 and under
TV: ESPN, ESPN2, ESPNU, ESPN3 (streaming), NBA TV
FRIDAY'S SCHEDULE
At Cox Pavilion
Milwaukee vs. Cleveland, 3 p.m.
Atlanta vs. Houston, 5 p.m.
Sacramento vs. Toronto, 7 p.m.
At Thomas & Mack
D-League Select vs. Memphis, 3:30 p.m.
Minnesota vs. Denver, 5:30 p.m.
LA Lakers vs. New Orleans, 7:30 p.m.