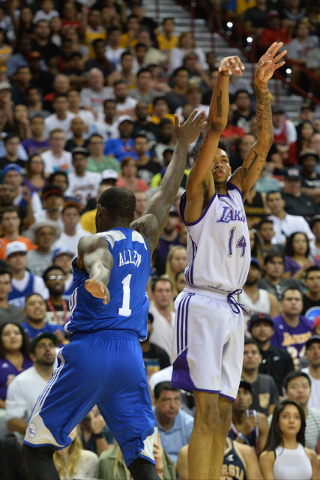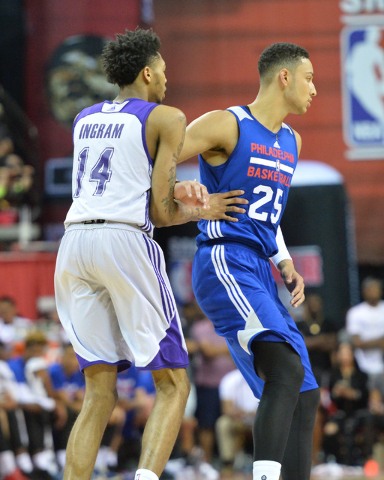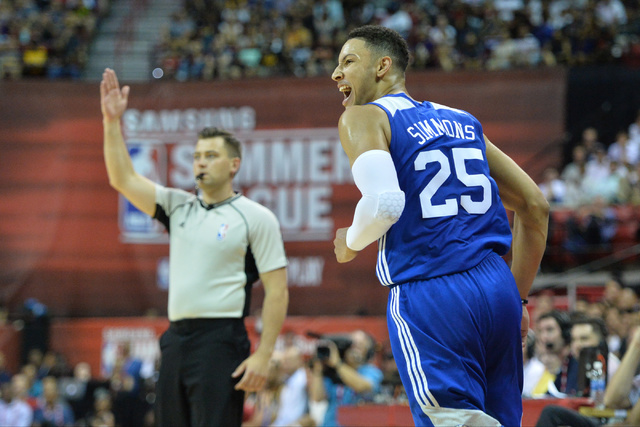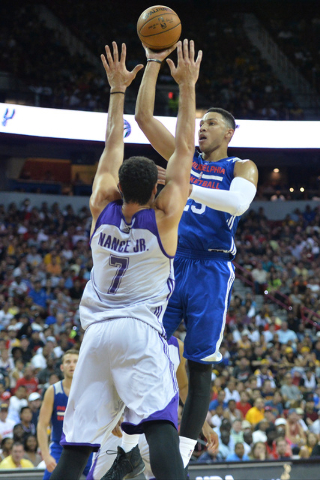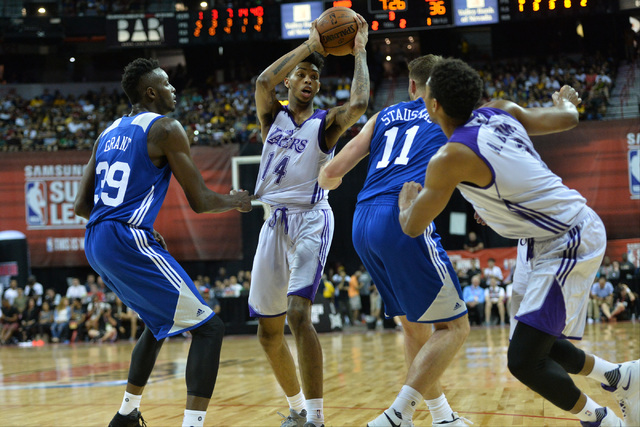 For all but the final 1.8 seconds, the focus in the sold-out Thomas & Mack Center was on two rookies.
But instead of taking center stage at the end, Ben Simmons, this year's No. 1 overall NBA Draft pick, and Brandon Ingram, the No. 2 pick, found themselves watching D'Angelo Russell.
The Los Angeles Lakers' second-year guard took Ingram's pass from beyond the 3-point arc and hit a shot as time was expiring to give the Lakers a 70-69 win over Simmons and the Philadelphia 76ers on Saturday in one of the more epic games in the 12-year history of the NBA Summer League in Las Vegas.
"Coach (Jesse Mermuys) drew up a great play," Russell said. "We ran that play in practice a few times. Executed it two times in a row, got what we wanted, and drew it up again and just finished. It was a great play. Great execution."
Ingram said it was a basketball play he had done hundreds of times.
"I just had faith," he said. "The game doesn't end until the clock is out. I just know D'Angelo is a good player, and he just knocked down a big shot."
Ingram and Simmons struggled for much of the game. At halftime, Ingram's offense amounted to one made free throw, and Simmons had only three points.
"It's a process," Simmons said. "I know people were making a big deal out of that (1 vs. 2), but I didn't worry about that. I was trying to win."
They finished with decent numbers. Ingram had seven points, four rebounds and three turnovers along with the one big assist in 28 minutes. Simmons played 31 minutes and finished with eight points, 10 rebounds, eight assists and seven turnovers.
"I need to get better at everything," said Simmons, clearly not satisfied with his stat line or that his team lost.
Lloyd Pierce, the Sixers' summer league coach, said he loved how Simmons played in a game that took on a playoff-like atmosphere down the stretch.
"Ben's going to learn from this," Pierce said. "I thought he did a lot of things well, and he was focused. He played hard. He battled. He was good with his teammates. I have no problem with what Ben did out there.
"He has things to work on, and he'll get better. I'd like to see him be more efficient, and to do that, he needs to make the efficient plays — when to shoot, when to pass."
The Lakers are looking for similar things from Ingram.
"We want him to compete every day he's out there," Lakers general manager Mitch Kupchak said. "He's a gifted player with great skills. We want him working in the gym throughout the summer, get stronger, get comfortable with our system and be ready to go when training camp opens (in October)."
Russell said of Ingram: "I think he just needed to slow down a little bit. He didn't make the shots he knows he can make. But I feel like after a few more games, he'll figure it out that he doesn't need his shots to fall to get himself going. He can get a block, a steal, a jump ball, anything to just get himself going. I feel like the sooner he realizes that, the better he will be."
The single-day attendance record of 12,472 — set last year when Russell's Lakers and Karl-Anthony Towns' Minnesota Timberwolves met — was shattered Saturday, as 16,208 attended the games, with the spotlight on Ingram and Simmons.
"There was a lot of hype coming into this game," Ingram said. "You're trying to get the jitters out and try to play the game, but I think there was a lot of energy in the building tonight."
Contact Steve Carp at scarp@reviewjournal.com or 702-387-2913. Follow on Twitter: @stevecarprj.