Liberty's Strawther joins club of Las Vegans drafted in 1st round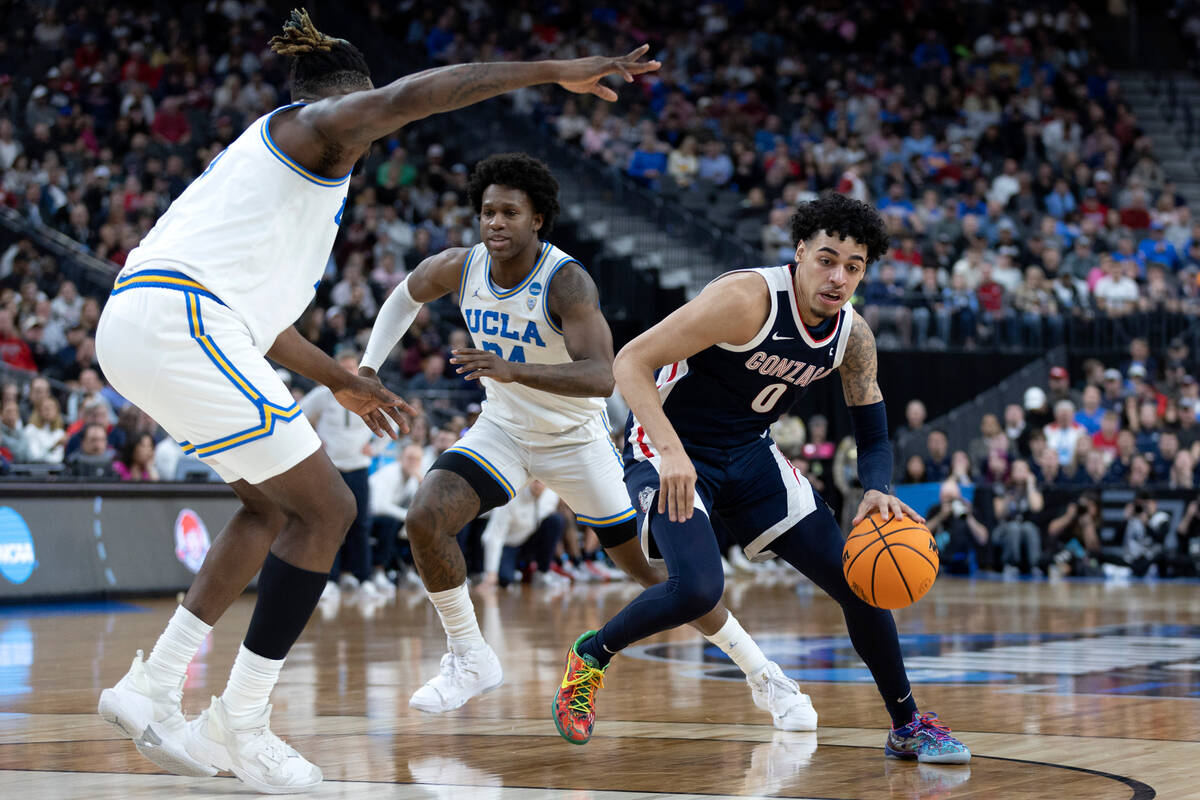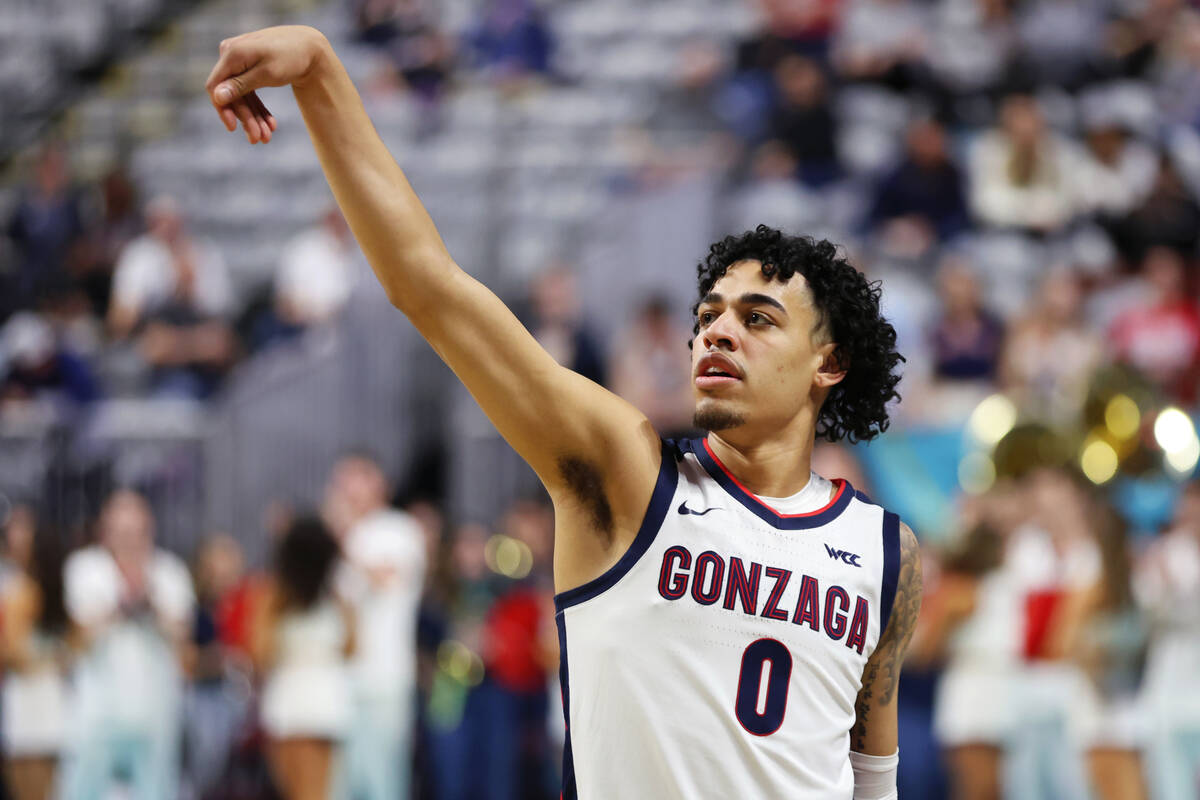 Every minute Thursday night felt like an hour for Liberty graduate Julian Strawther, who anxiously awaited his selection in the NBA draft inside Red Rock Resort at a private party thrown in his honor.
"It was the longest three hours of my life," the 6-foot-7-inch forward said Friday. "(But) once I finally heard my name, everything went out the window."
Well worth the wait.
Strawther was selected No. 29 overall by the Indiana Pacers before being rerouted to the NBA champion Denver Nuggets. The former Gonzaga standout is the seventh Las Vegas native to become a first-round NBA draft pick, joining Lionel Hollins (1975), Greg Anthony (1991), Marcus Banks (2003), Shabazz Muhammad (2013), Zach Collins (2017) and Troy Brown Jr. (2018).
He'll be in Denver on Monday for his introductory press conference before returning to Las Vegas for NBA Summer League, which will be held July 7-17 at the Thomas & Mack Center and Cox Pavilion.
"It's straight to work for me. Getting ready for Summer League" Strawther, 21, said. "To play at home again, I feel like I always get the opportunity to come back and play. It's super cool. And obviously I want to be in the best basketball mindset and best basketball shape that I can be in so I can perform."
Strawther's selection was powered in part by a stellar junior season for the Bulldogs, for whom he was a reserve during his freshman year of 2020-21 and a complementary player as a sophomore. That said, he averaged 11.8 points, 5.4 rebounds and shot 49.8 percent from the field — including 36.5 percent from 3-point range — as a sophomore to prompt preparation for the 2022 NBA draft.
But Strawther maintained his eligibility, opting to return for a junior season during which he'd be featured in Gonzaga's offense — averaging 15.2 points and 6.2 rebounds while converting 40.8 percent of his 3-point attempts.
Selection to the All-West Coast Conference first team and a game-winning 3-pointer against UCLA in the Sweet 16 at T-Mobile Arena capped his college career, preceding several weeks of rigorous draft preparation.
"Leading up to draft day, I didn't know too much (about where I'd get picked)," Strawther said. "Kind of just got to play the waiting game."
That for Strawther would include a party of 70 family members, friends and confidants — including Quincy Pondexter, the No. 26 pick in the 2010 NBA draft, seven years an NBA veteran and Strawther's mentor for the last decade.
"For him to just be as patient as he was at Gonzaga or earlier in his life and continue to work, I think he's going to carve out a great niche for himself in the NBA and be a heck of a player," said Pondexter, formerly Strawther's club basketball coach.
Strawther's 3-point shooting and cutting make him an ideal pick for the Nuggets, who feature the NBA's best player in former two-time MVP Nikola Jokic, a prodigious passer and dominant low- and high-post presence around which Denver's offense freely flows.
Strawther affirmed that he's "all about winning" and said he and the Nuggets are a "match made in heaven" with the way they prefer to play.
"His journey is going to be based off of winning. What he's done a great job of is he's been a winner everywhere he's gone," Pondexter said. "The pedigree that he had instilled in him from the time he was young, it just blends really well with an organization like the Nuggets."
Contact Sam Gordon at sgordon@reviewjournal.com. Follow @BySamGordon on Twitter.
First-round NBA draft picks from Las Vegas
Lionel Hollins — No. 6 overall, 1975
A North Las Vegas native and Rancho graduate, Hollins was drafted by the Portland Trail Blazers, for whom he played five of his 10 NBA seasons. The combo guard averaged 11.6 points and 4.5 assists, earning All-Star honors in Portland's championship season of 1976-77 and All-Defensive honors the ensuing two seasons.
Greg Anthony — No. 12 overall, 1991
Also a Rancho graduate, Anthony was selected by the New York Knicks and played 11 NBA seasons, operating mostly as a backup. He averaged career highs of 14.0 points and 6.9 assists for the Vancouver Grizzlies during the 1995-96 season and retired with career averages of 7.3 points and 4.0 assists.
Marcus Banks — No. 13 overall, 2003
The Boston Celtics picked the Cimarron-Memorial graduate, who played eight NBA seasons before calling it a career. His best season came in 2005-06, when he averaged 10 points and 3.8 assists for the Celtics and Minnesota Timberwolves — topping career marks of 5.9 points and 2.1 assists.
Shabazz Muhammad — No. 14 overall, 2013
Once the country's top high school recruit at Bishop Gorman, Muhammad was picked by the Minnesota Timberwolves, with whom he'd spend the majority of his five-year career. He averaged 13.5 points in 2013-14 and 10.5 points in 2015-16, last playing for the Milwaukee Bucks in 2017-18. He averaged 9.0 points and 2.8 rebounds for his career.
Zach Collins — No. 10 overall, 2017
The former Bishop Gorman big man was picked by Portland and battled a littany of injuries before signing in 2021 with the San Antonio Spurs. He mostly maintained his health last season and averaged 11.6 points and 6.4 rebounds. The 25-year-old has averaged 7.5 points and 4.8 rebounds for his six-year career.
Troy Brown Jr. — No. 15 overall, 2018
The Centennial graduate was drafted by the Washington Wizards and traded two years later to the Chicago Bulls before signing last summer with the Los Angeles Lakers. Brown started more than half the regular-season games and averaged 7.1 points and 4.1 rebounds and shot 38.1 percent from 3-point range, building on career marks of 6.6 points and 3.9 rebounds in five seasons.