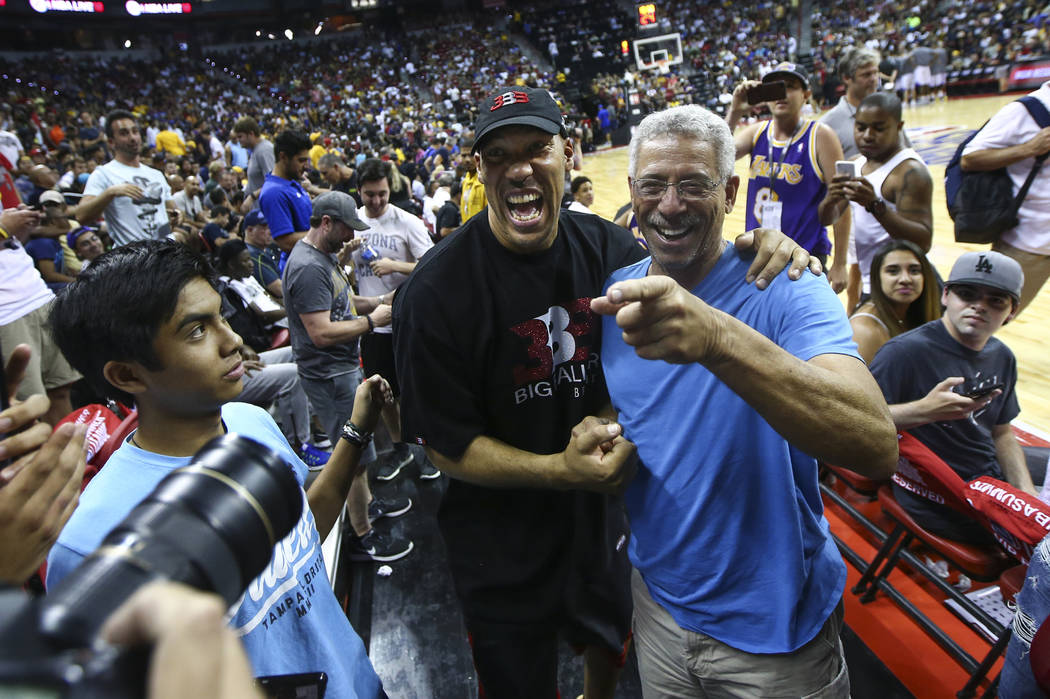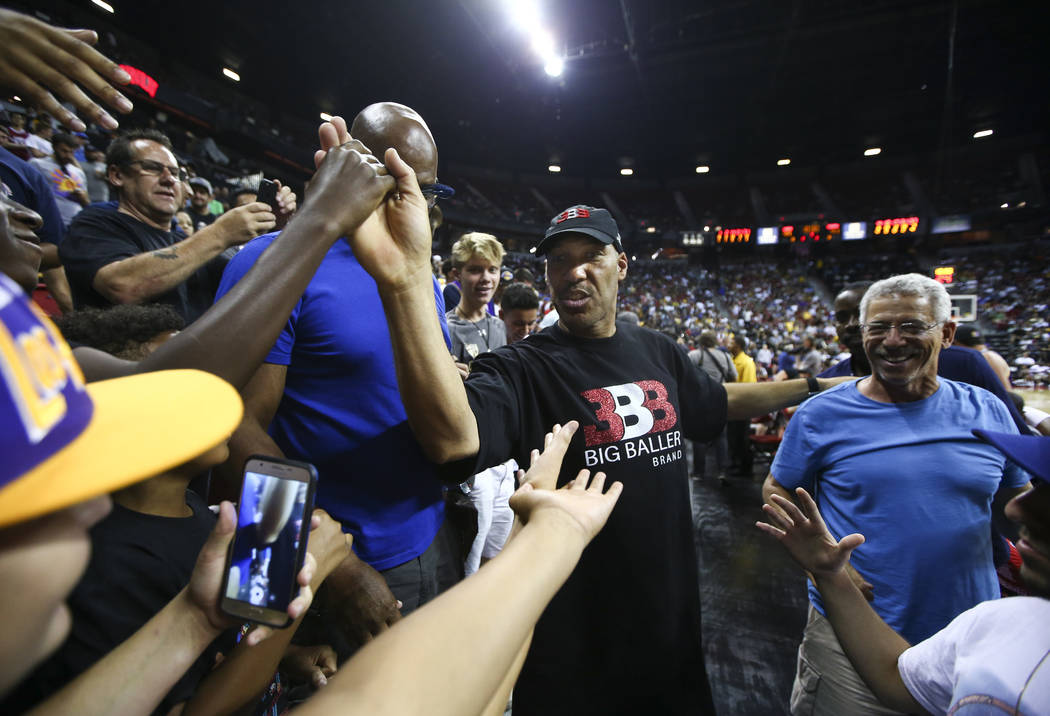 The fatheads were waved by a handful of fans, earning them time on the overhead video screens at the Thomas & Mack Center.
They weren't fatheads of any current or former Los Angeles Lakers players.
They were of LaVar Ball, father of Lakers rookie and No. 2 overall draft pick Lonzo Ball.
And neither were even in the building at the time.
They would arrive soon enough Friday, in time for the Lakers to lose to the Los Angeles Clippers 96-93 in overtime, and their presence was wildly cheered by the decidedly pro purple-and-gold announced crowd of 14,295.
"The Laker fans are coming home," LaVar said. "My boy is going to bring them out because it's excitement for the game. It's entertainment. My boy is going to entertain. He's been doing that all his life."
The father is about hype and hyperbole, and it's the son's job to prove there is substance to LaVar's many controversial statements. It's a lot to back up, you know that stuff about being Rookie of the Year.
Even Lakers team president Magic Johnson, who attended the game, got into the act recently when he said Lonzo's number would one day hang from the rafters.
First, he needs to prove he can get through an NBA season, and his NBA Summer League debut didn't go well. Lonzo made 2 of 15 shots and totaled five points.
"I just missed a lot of shots and we lost the game," Lonzo said. "I always play to win, and I didn't get the job done. I will be much better (Saturday) night."
The Lakers play the Boston Celtics at 5:30 p.m. Saturday at the Thomas & Mack.
Brandon Ingram was the Lakers' star who rose to the occasion, scoring 26 points, including a driving layup with 29.2 seconds remaining to send the game into overtime.
But there was a flash of brilliance from Lonzo at the beginning, an indication of what all the talk was about. While standing beyond the 3-point arc, he found Ingram for an alley-oop dunk.
"I've always said, 'Get them out of their chairs on the first play,'" LaVar said. "That's how he used to play with his brothers. You can hit a long 3-pointer or a dunk, either one."
Even though the night was a disappointment for Lakers fans and the man they hope brings the franchise back to its glory days, it was only the beginning. How it plays out is anyone's guess.
For certain, LaVar will continue to be a major story, at least in the short term. He took a seat in a riser not far from the court, and the crowd cheered loudly when they saw him. At halftime, LaVar made his way down by the court and high-fived fans and took selfies.
According to ESPN, he recently told Johnson he put himself out there for marketing reasons and not to believe the style over substance, and LaVar certainly has captured people's attention.
Now it's a matter of holding it, and whether he does won't be up to LaVar. It will be up to Lonzo.
He has to play better than he did Friday.
"He played his worst game ever, and the Lakers still almost won," LaVar said as he began to make his exit through the arena tunnel.
And soon he was gone, out of view.
But not for long.
Contact Mark Anderson at manderson@reviewjournal.com. Follow @markanderson65 on Twitter.