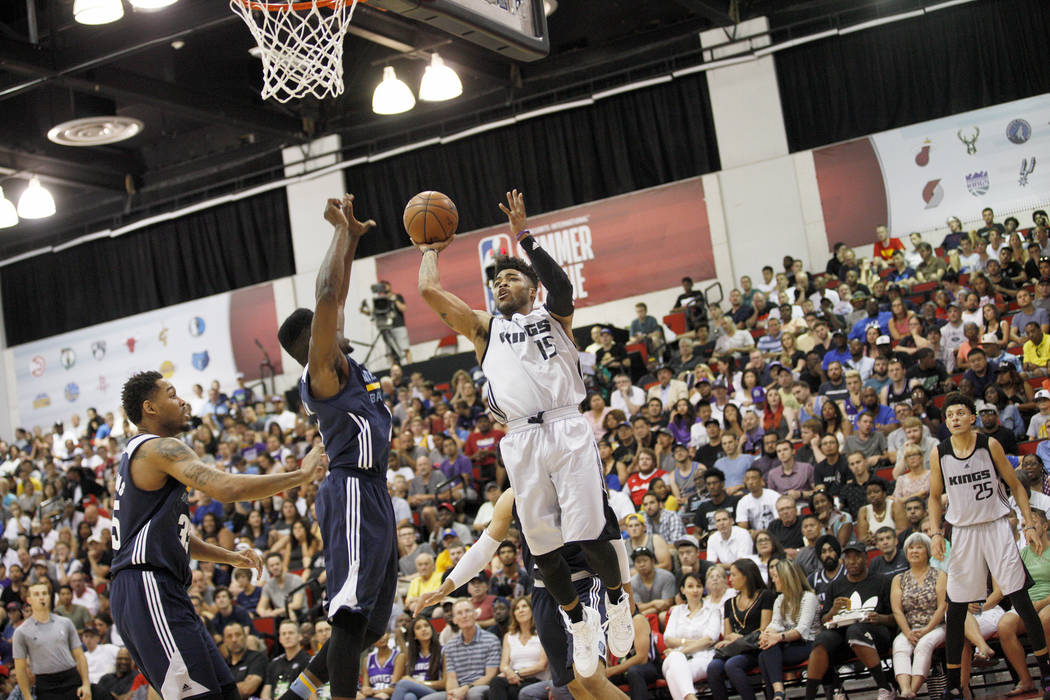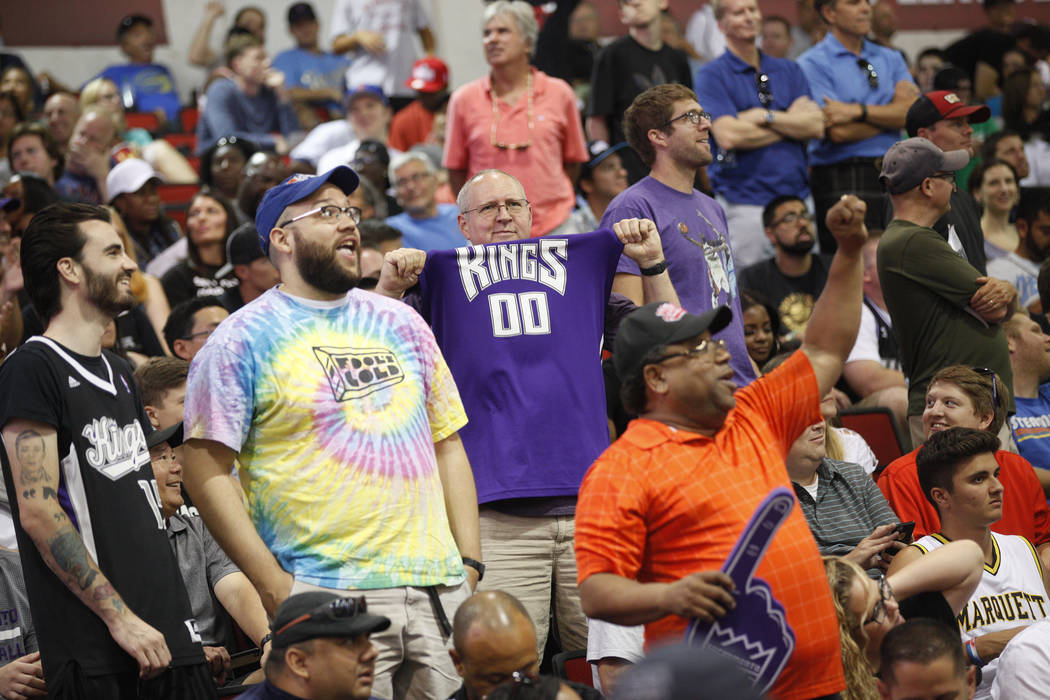 When Frank Mason III made his way through the crowd at a Final Four luncheon in April to accept the James A. Naismith Trophy, the former Kansas guard couldn't help but think of his bright and imminent future.
Mason had joined an exclusive fraternity, his name now etched alongside basketball giants Lew Alcindor, Larry Bird and Michael Jordan. Over the years, the award — given to college basketball's top player — has been caressed by 18 No. 1 overall draft picks and 10 future Hall of Famers.
But not one recipient in its 48-year history was selected outside the first round of the NBA draft.
Until Mason.
"I know I'm a lot better than the second round," said Mason, who went 34th overall to the Sacramento Kings in June. "But it's just the way it happened. No matter what opportunity I get, I just make the most of it."
And that's what Mason has done in the NBA Summer League. Through three games, the 5-foot-11-inch native of Petersburg, Virginia, is averaging 11.3 points, 4.0 rebounds and 3.3 assists while backing up prized rookie De'Aaron Fox, the No. 5 overall pick, and second-year sharpshooter Buddy Hield — a noticeable contrast for a player who led Kansas to the Elite Eight last season while averaging 20.9 points, 5.2 assists and 4.2 rebounds.
But it's back to square one for Mason, a 23-year-old whose crimson-and-blue '0' jersey is a wardrobe staple in Lawrence, Kansas. The Naismith and Wooden Awards — and his eight other player of the year trophies — are already starting to hold less weight these days. Mason knows that, and he's ready to work.
"Every level I've proved every critic wrong," Mason said. "Coming out of high school, they said I wouldn't get any minutes at Kansas. I wouldn't play. I got 15 minutes as a freshman. Sophomore year, started. Junior year, started. Senior year, started. Now that college is over, they're saying I won't make it in the NBA — I'm too small, not athletic enough."
Hield, a fellow Naismith Award winner and the sixth overall pick in 2016, isn't one of those critics. A former college Big 12 adversary at Oklahoma, Hield's teams went 1-5 against Mason in three years.
"He's capable (of producing in the NBA)," Hield said. "He's tough, and you can't teach that speed he's got. I like what he's been doing. He's been aggressive."
After scoring a combined 10 points and shooting 4-for-19 from the field in his first two Las Vegas outings, Mason broke out on Monday night. He showed explosiveness in getting to the rim, created open looks for his teammates and flashed the never-quit attitude Kansas fans have become accustomed to and will surely miss.
Mason finished with 24 points, six assists, five rebounds and two steals, and almost led the Kings back from a 28-point deficit in their 95-92 loss to the Los Angeles Lakers. And one fan — err, dad — took notice.
"He definitely belongs," Frank Mason Jr. said. "I think if he just continues to keep working and staying focused and keeps that chip on his shoulder, everything's going to be all right. … He's going to have a hell of an NBA career."
Jameer Nelson, the 2004 Naismith winner from Saint Joseph's University, battled some of the same questions Mason faces coming into the league. Because he also was undersized at 6 feet, Nelson became the lowest-drafted Naismith winner at 20th overall. Now he's preparing for his 14th NBA season.
Wayne Selden Jr., a former teammate of Mason's, knows what it takes to play in the NBA. He signed a guaranteed contract with the Memphis Grizzlies on July 1 and raved about his former backcourt mate after a summer league game.
"Toughest guy I've ever played with," Selden said. "There's something about him. Everybody's been telling him, 'No' for so long. He said he was going to win National Player of the Year before the year started. And he went out and did it. The guy's always faced up against odds, but he always comes out strong. I'm not worried about him."
But unlike the other Naismith finalists from last season — Lonzo Ball (UCLA), Caleb Swanigan (Purdue) and Josh Hart (Villanova), all of whom were first-round picks — Mason isn't considered a sure thing for playing time this season.
On that 80-degree day in Scottsdale, Arizona, while giving his Naismith speech, he thought he was a first-round talent who could compete at the highest level. Still does.
And he's ready to show everyone why.
"It's just who I am," Mason said. "I take a lot of pride in proving people wrong and just playing with a chip on my shoulder."
More NBA Summer League: Follow all of our NBA Summer League coverage online at reviewjournal.com/summerleague and @RJ_Sports on Twitter.
Contact reporter Ashton Ferguson at aferguson@reviewjournal.com or 702-383-0430. Follow @af_ferguson on Twitter.