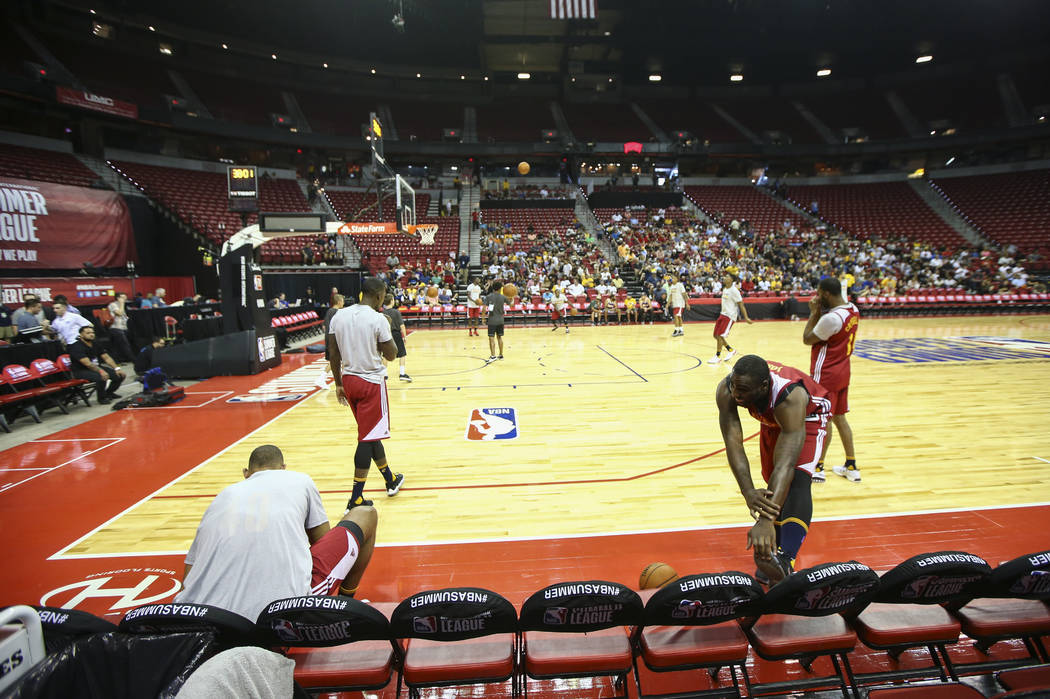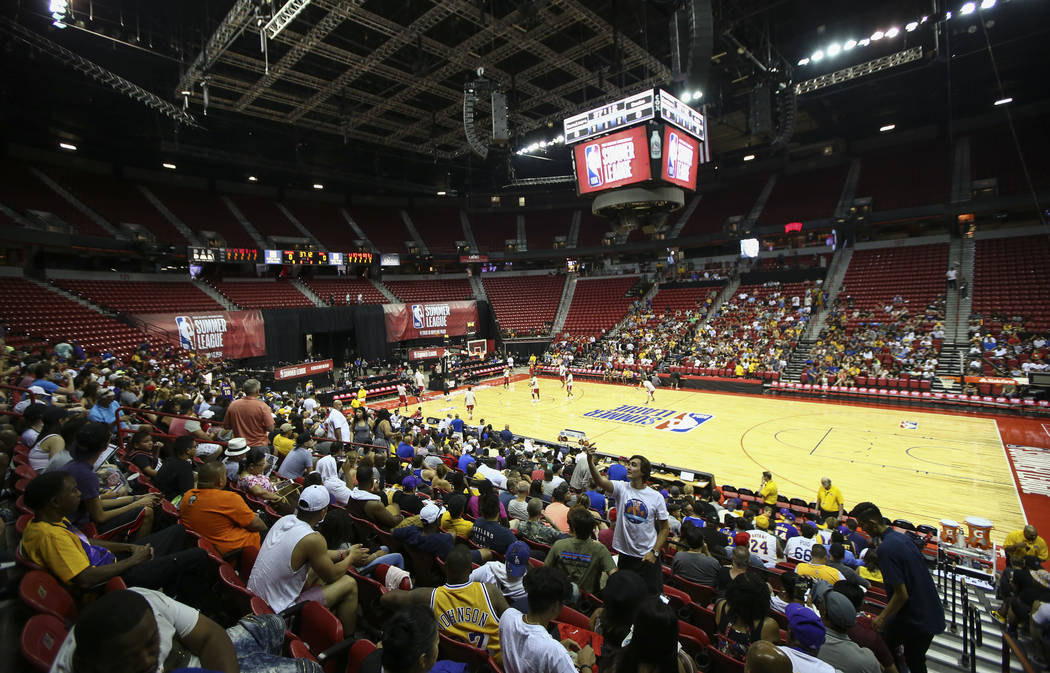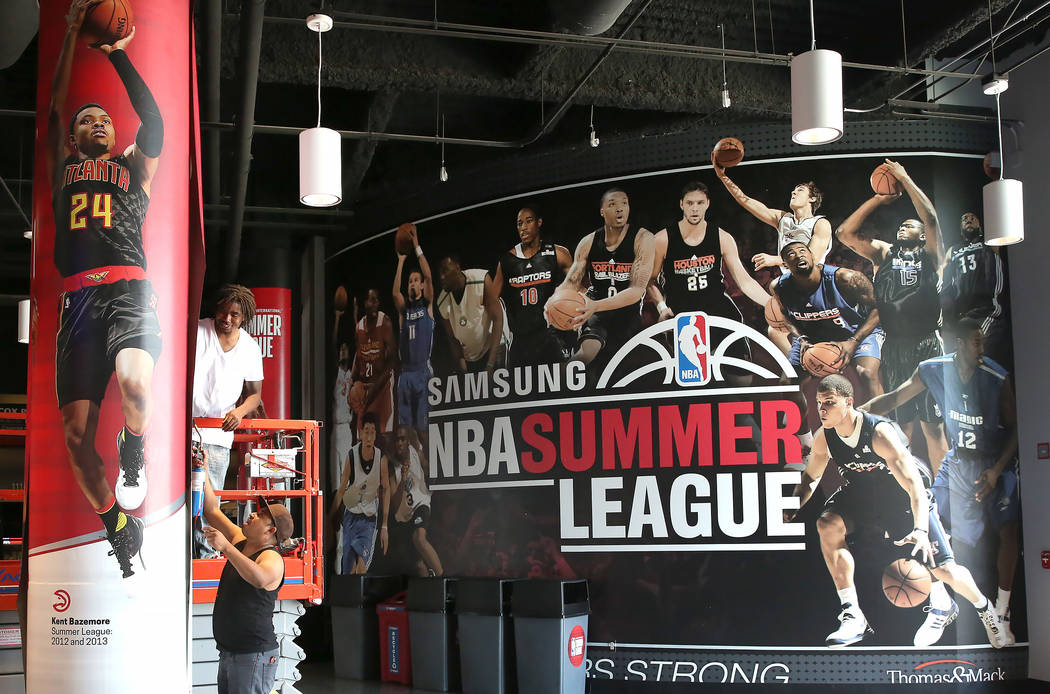 Friday's updates from the NBA Summer League at Thomas & Mack Center and Cox Pavilion.
9:45 p.m. Announced crowd of 14,295
Phoenix Suns guard Devin Booker was in attendance for the Suns-Sacramento Kings finale in the Thomas & Mack Center. The 70-point man was one of the 14,295 attendees on the day.
Minnesota Timberwolves coach Tom Thibodeau, Philadelphia Sixers No. 1 pick Markelle Fultz and Los Angeles Lakers general manager Rob Pelinka also were spotted in the crowd later in the day.
— Ashton Ferguson
8:11 p.m.: Clippers a thorn in side of Lakers
The crowd came to see Lonzo Ball and the Los Angeles Lakers, but Sindarius Thornwell and the L.A. Clippers had other ideas.
He scored 26 points, including seven points during a 35-second span in overtime, to beat the Lakers 96-93.
It was a tough night for Ball, who made just 2 of 15 shots and finished with five points.
— Mark Anderson
7:42 p.m.: Qi debuts for Houston
The Houston Rockets selected Zhou Qi in the second round of the 2016 NBA Draft, in part for his length and his mobility.
It was all on display at Cox Pavilion on Friday night.
Qi, who signed with the Rockets earlier this month after four yeatrs in China, made his American debut, and started against the Denver Nuggets.
The 7-foot-1 center altered shots on the defensive end, ran the floor and had a pair of dunks and a tip-in during the first half.
— Sam Gordon
6:17 p.m.: Zimmerman talks about new team
Former UNLV standout Stephen Zimmerman Jr. said he didn't know why the Orlando Magic released him on Tuesday, but was thrilled with the opportunity to play for the Milwaukee Bucks.
He didn't play in the Bucks' 82-53 loss to the Cleveland Cavaliers, saying he gone through just one shoot-around with the club. But Zimmerman said he hoped to receive more opportunities.
"I just got in not too long ago," Zimmerman said.
As for what the past few days have been like, Zimmerman said, "It's been a lot of mixed emotions, happy and sad. Obviously, it's not good getting waived, but I feel I'm in a great position right now to really show what I can do and playing in the Vegas Summer League, I've wanted to do that since I got drafted."
— Mark Anderson
I suppose things can get started now … #rjnow #nbasummer pic.twitter.com/6om6kW63XJ

— Ed Graney (@edgraney) July 8, 2017
5:55 p.m.: Brooklyn brings real squad to Vegas
Caris LeVert, Rondae Hollis-Jefferson and Isaiah Whitehead all got real minutes for the Brooklyn Nets last season.
A few more summer league minutes apparently don't hurt.
The trio all started on Friday night against the Atlanta Hawks and helped the Nets to a 42-31 halftime lead. All three players posted seven points in the first half. Archie Goodwin led Brooklyn with eight points in 12 minutes off the bench.
— Sam Gordon
5:48 p.m.: Hall of Fame coach Roy Williams here for North Carolina players
Three months after leading the Tar Heels to their sixth national championship — a 71-65 win over Gonzaga — Williams sat courtside in the opening game of the NBA Summer League to watch undrafted big man Kennedy Meeks in the Cox Pavilion.
Williams was pleased with what he saw, and said he plans on following his other eight players this week.
"I enjoy watching them," he said. "It's like watching my family play."
Meeks, a 6-foot-10 post, finished with 15 points and nine rebounds in the Toronto Raptors' 96-93 win over the New Orleans Pelicans.
"I thought he rebounded well and that's what is going to give him a better chance of staying in the league," Williams said. He was important to them. He did a nice job defensively — made a nice save, diving on the floor out of bounds.
"I always tell him, 'Rebound, rebound, rebound.' That's the best way to stay in the league."
Meeks shot 7 of 13 from the field in 17 minutes.
"Definitely tried to do the best I could and help my team in any way," Meeks said. "I know (Jakob Poeltl) went out and they needed me to come in the game and be an instant impact, so I tried to do the best I could. … I went undrafted, so I have a lot to work on."
With Nate Britt (Atlanta Hawks), Isaiah Hicks, Brice Johnson, Kendall Marshall (Los Angeles Clippers), Marcus Paige (Minnesota Timberwolves), Justin Jackson (Sacramento Kings), Tony Bradley and JP Tokoto (Utah Jazz) suiting up, North Carolina has one of the biggest showings here in Las Vegas.
— Ashton Ferguson
5:01 p.m.: No Zimmerman yet
Former UNLV player Stephen Zimmerman Jr. has not played through three quarters for the Milwaukee Bucks, who are playing the Cleveland Cavaliers at the Thomas & Mack Center.
Zimmerman was waived by the Orlando Magic on Tuesday after playing just one season.
The fact he hasn't played so far in this game can't be a good sign for his prospects with the Bucks, but maybe he will get more of a chance as the NBA Summer League goes on.
Also with the Bucks is former Rebel Rashad Vaughn, who had a team-high 12 points through three quarters. Ex-UNLV star and assistant coach Stacey Augmon also is on the bench for Milwaukee as an assistant.
— Mark Anderson
4:58 p.m.: Mayweather taking in the action
Boxing champion Floyd Mayweather Jr. arrived before the first game at the Thomas & Center, in time for the Cleveland Cavaliers to take on the Milwaukee Bucks.
He had a front-row seat for the action and was surrounded by members of his team.
— Mark Anderson
IT x TMT #NBASummer pic.twitter.com/GYhjJIK8l7

— NBA TV (@NBATV) July 7, 2017
4:30 p.m.: Team USA representing at Cox Pavilion
Jaleel Cousins, the younger brother of All-Star center DeMarcus Cousins is getting some run with the New Orleans Pelicans', and big bro is here taking in the action.
Cousins was spotted at Cox Pavilion alongside All-NBA wing DeMar Derozan, who is watching the Toronto Raptors' summer-league team square off agianst the Pelicans. The two played together with USA Basketball and helped the Americans win a gold medal in the 2016 Olympics in Rio de Janiero.
The younger Cousins has two points and a rebound in seven minutes of action, and New Orleans leads Toronto, 83-82, with 3:50 left in the fourth quarter.
— Sam Gordon
3:35 p.m.: National champs on hand in Cox Pavilion
Three months after leading North Carolina to a 71-65 win over Gonzaga in the NCAA championship, coach Roy Williams is on hand in the Cox Pavilion to watch big man Kennedy Meeks help the Toronto Raptors against the New Orleans Pelicans.
Raptors coach Dwane Casey and guard Norman Powell (UCLA) also are here.
Pelicans lead 42-36 with 4 minutes to go before halftime.
— Ashton Ferguson
2:46 p.m.: Saturday tickets sold out
Excitement is at an all-time time high as the NBA Summer League gets ready to tip off, with Saturday's action at the Thomas & Mack Center and Cox Pavilion already selling out. It is the first time a session has sold out ahead of time.
Fans with tickets are advised to arrive early.
That day will feature the NBA's most storied and intense rivalry when the Boston Celtics meet the Los Angeles Lakers at 5:30 p.m. at the Mack. It also will be an intriguing individual matchup with No. 2 overall pick Lonzo Ball of the Lakers facing No. 3 Jayson Tatum of the Boston Celtics.
Following that game, the Philadelphia 76ers will meet the Golden State Warriors. No. 1 overall pick Markelle Fultz will play for the Sixers, and UNLV product Patrick McCaw will suit up for the champion Warriors.
— Mark Anderson
2:50 p.m.: Former Rebels meet
The first game at the Thomas & Mack Center is 40 minutes from beginning, with the Milwaukee Bucks playing the Cleveland Cavaliers.
Two former Rebels will play for the Bucks — Rashad Vaughn and Stephen Zimmerman Jr.
Vaughn was taken No. 17 overall in the 2015 draft, and he is in Las Vegas with something to prove after averaging 14.3 minutes as a rookie and 11.2 last season. Zimmerman also is here to make a point after being waived by the Orlando Magic on Tuesday following his rookie season in which he spent most of the year in what now is the Gatorade League.
— Mark Anderson