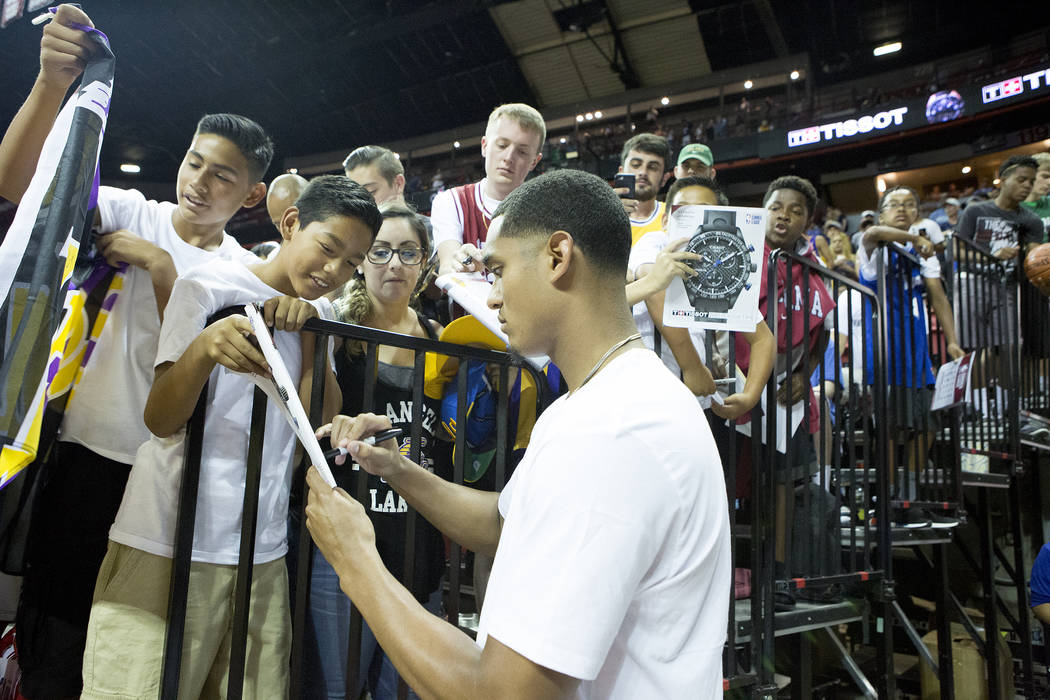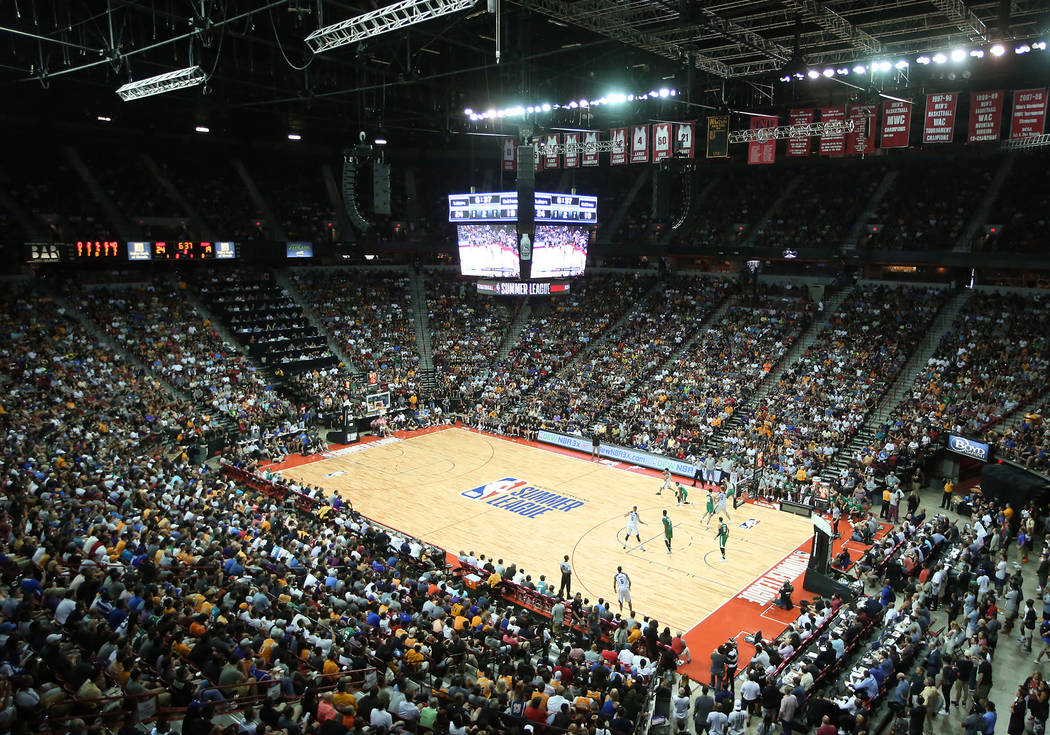 10:13 p.m. Top pick Markelle Fultz wheeled out
Markelle Fultz, the No. 1 overall pick in this year's draft, left the Thomas & Mack Center in a wheelchair, according to a Philadelphia Sixers team source.
Fultz suffered a left ankle sprain in the third quarter and left the game. He did not return.
"Just a left ankle sprain," said Summer League coach Lloyd Pierce. "That's all we've been told. We'll treat him accordingly and be as cautious as we can, making sure he's healthy."
When asked if Fultz would be shut down the remainder of the Summer League, Pierce responded: "Haven't heard anything."
Timothe Luwawu-Cabarrot, the 24th overall pick by the 76ers in the 2016 NBA draft, also went down in the third quarter with a facial injury. He received a couple stiches above his lip, the team said.
"He's looking in the mirror right now, trying to see if he still has a pretty face. That's all he's concerned about," Pierce joked. "But he looks to be in pretty good spirits."
8:49 p.m.: No. 1 pick Markelle Fultz leaves with injured ankle
The Philadelphia 76ers have had a terrible recent history with injuries, and suffered another tonight when No. 1 overall pick Markelle Fultz had to be helped to the locker room in the third quarter against the Golden State Warriors.
He reportedly sprained his left ankle.
In recent years, the Sixers also have lost young players Ben Simmons, Joel Embiid and Nerlens Noel.
The injuries have set back the Sixers' rebuilding plans, and a fan mockingly yelled, "Process" tonight. As in oft-used "trust the process" saying by Philly personnel.
— Mark Anderson
7:47 p.m.: James Harden, Chris Paul roll through for Rockets game
James Harden and Chris Paul strolled through Cox Arena, took their courstide seats and generated quite a hoopla in the process.
The all-star guards are here watching Houston's game against the Cleveland Cavaliers. Paul was traded to the Rockets last week.
Harden reportedly inked a four-year extension worth $170 million on Saturday.
Makes sense that he would celebrate in Las Vegas.
— Sam Gordon
7:45 p.m.: Miami's Zach Auguste celebrates birthday in style
Miami Heat big man Zach Auguste, a four-year Notre Dame player, celebrated his 24th birthday with a 75-74 win over the San Antonio Spurs in the Cox Pavilion.
Auguste finished with 17 points and nine boards after playing a team-high 34 minutes. He made 8 of 12 shots from the floor.
"I'm just fortunate to get another opportunity to start," Auguste said. "We came out here and competed. We didn't do too well in Orlando, so we wanted to come out here and play aggressive. And that's what we did."
When asked if he would celebrate his birthday at the J. Cole concert at the MGM Grand Garden on Saturday night, Auguste smiled.
"Nah, man, I've just got to recover," Auguste said. "It's about business. It's not about play, yet."
— Ashton Ferguson
7:27 p.m.: Tatum leads Celtics to win over Ball, Lakers
Jayson Tatum won an entertaining duel between Nos. 2 and 3 draft picks, and his Boston Celtics beat their heated rival, the Los Angeles Lakers, by a score of 86-81.
Tatum, the No. 3 pick, finished with 27 points and 11 rebounds. He ended the third quarter with a banked-in 30-footer, and then pointed to boxer Floyd Mayweather Jr., who was seated courtside.
Ball, taken No. 2 overall by the Lakers, didn't exactly struggle, registering a triple-double. He totaled 11 points, 11 rebounds and 11 assists.
— Mark Anderson
5:10 p.m.: Las Vegas' Collins, Williams-Goss struggle in debut
Zach Collins and Nigel Williams-Goss provided a formidable one-two punch at Gonzaga this past season, leading the Bulldogs to their first NCAA championship game.
In their Summer League debuts against one another, each struggled.
Collins, a 2016 Bishop Gorman grad, finished with 10 points and seven rebounds in 28 minutes for the Portland Trail Blazers. He was just 3-for-13 from the field, including 1-for-4 from the 3-point line.
Williams-Goss, who graduated Findlay Prep in 2013, had two points and two assists in 21 minutes for the Utah Jazz. He shot 1-for-6 from the floor.
The Trail Blazers defeated the Jazz, 72-63.
— Ashton Ferguson
4:12 p.m.: Clippers introduce Gallinari
New Clippers signee Danilo Gallinari said leaving the Denver Nuggets after seven seasons was difficult, but he was excited about the new opportunity in Los Angeles.
"One of the reasons why I chose LA was because of the opportunity we have here, so I know how to fit in," he said.
The Clippers acquired Gallinari in a three-team trade with Denver and the Atlanta Hawks.
"This is a guy we've been after for two years," said Doc Rivers, the Clippers coach and president of basketball operations. "I can't tell you how excited I am as a coach. One of the reasons we wanted him was his versatility. We think he can play the three and the four."
— Mark Anderson
2:35 p.m.: Rapper J. Cole sitting courtside for Mavericks-Bulls
Multi-platinum rapper J. Cole will be playing a concert tonight at the MGM Grand Garden.
He's watching a little basketball, first.
Cole sat courtside to watch the Dallas Mavericks play the Chicago Bulls at the Thomas & Mack Center on Saturday afternoon.
Dennis Smith Jr., Dallas' first-round draft pick, grew up in North Carolina and has developed a friendship with Cole, who was presumably on hand to watch Smith play.
Cole said "I'm here watching my mans play," and politely declined an interview request.
Smith was 2 for 9 from the field in the first half.
— Sam Gordon
2:08 p.m.: Lakers' Ingram out of NBA Summer League
Brandon Ingram's work is done after one game.
He suffered leg cramps late in Friday's 96-93 overtime loss to the Los Angeles Clippers, and the Lakers decided to err on the side of caution. Besides, they had seen enough after Ingram scored 26 points on 9-of-17 shooting.
The Lakers tweeted that Ingram probably will remain with the team in Las Vegas and continue to practice.
Brandon Ingram (leg cramping) will not play the remainder of Summer League.

He will likely remain with the team and continue to practice.

— Los Angeles Lakers (@Lakers) July 8, 2017
The club clearly values Ingram considering team president Magic Johnson said before the NBA draft he was the only player he wouldn't trade.
So today's 5:30 p.m. game against Boston loses a little bit of star power, but will still feature No. 2 overall pick Lonzo Ball of the Lakers against No. 3 Jayson Tatum of the Celtics.
— Mark Anderson
2:05 p.m.: Former UNLV assistant coach returns home
Glynn Cyprien, a former UNLV assistant coach, is the head coach of the Memphis Grizzlies' Summer League team.
From 1995-2000, Cyprien, 50, was an assistant under former Rebels coach Bill Bayno. At UNLV, he was key in recruiting future NBA players Tyrone Nesby, Keon Clark and Shawn Marion.
Cyprien was named head coach of the Memphis Hustle, the Grizzlies Developmental League affiliate, on May 30, 2017.
Memphis currently leads Washington 48-38 at halftime. Former Kansas star Wayne Selden looks like a man amongst boys here in the Cox Pavilion. He leads all scorers with 16 points on 6 of 10 shooting.
— Ashton Ferguson
12:45 p.m.: Findlay Prep, Gorman grads set to make NBA Summer League debuts
Dillon Brooks, a 2014 Findlay Prep grad who led Oregon to the Final Four in April, is warming up in the Cox Pavilion with the Memphis Grizzlies. He will be the first local to play Saturday when they face the Washington Wizards at 1 p.m. The 2017 Pac-12 Player of the Year was drafted by the Houston Rockets with the 45th pick on June 22, and then was immediately traded to the Grizzlies.
Ivan Rabb, who was selected 35th overall by the Orlando Magic and then traded to the Grizzlies, will miss the first three games with an ankle injury, according to the team's public relations.
Portland Trail Blazers big man Zach Collins, the 10th overall pick and a Bishop Gorman grad, and Utah's Nigel Williams-Goss (Findlay Prep) will meet each other in the 3 p.m. game in the Cox Pavilion. The two were teammates this past season with Gonzaga.
— Ashton Ferguson