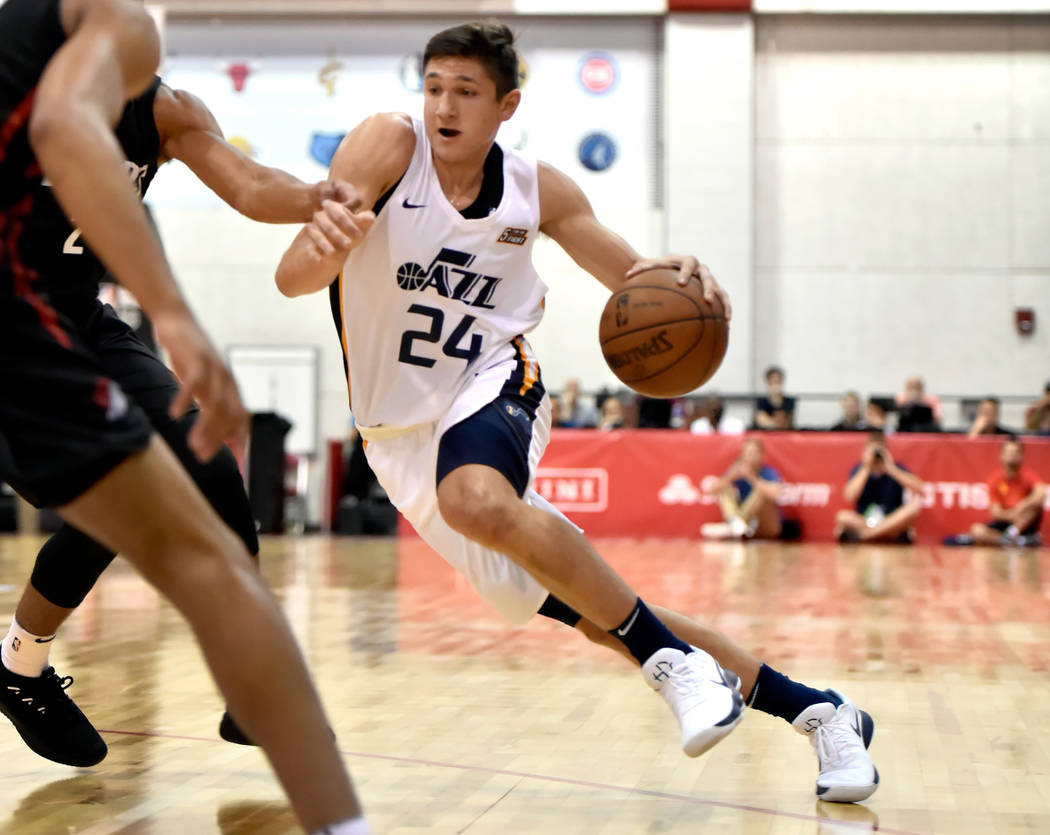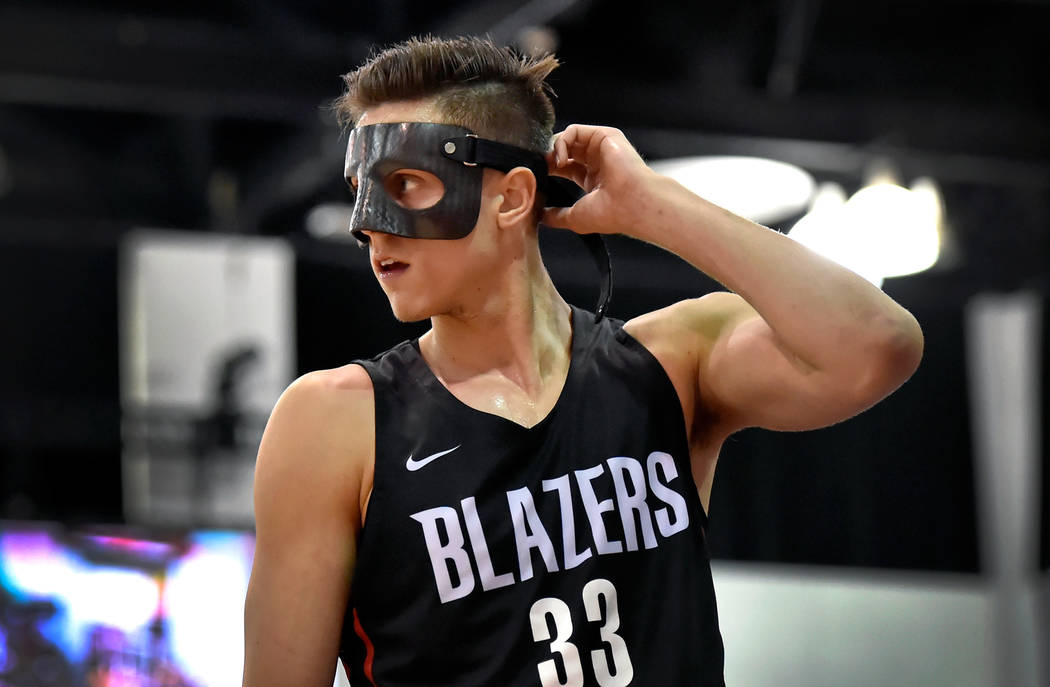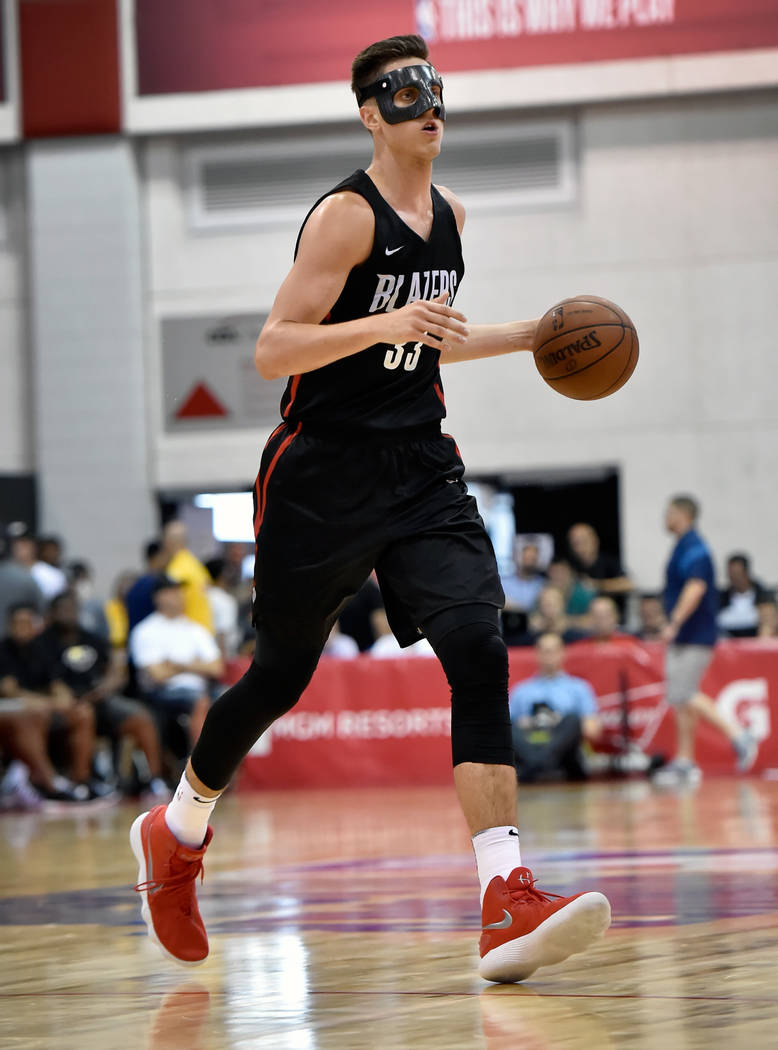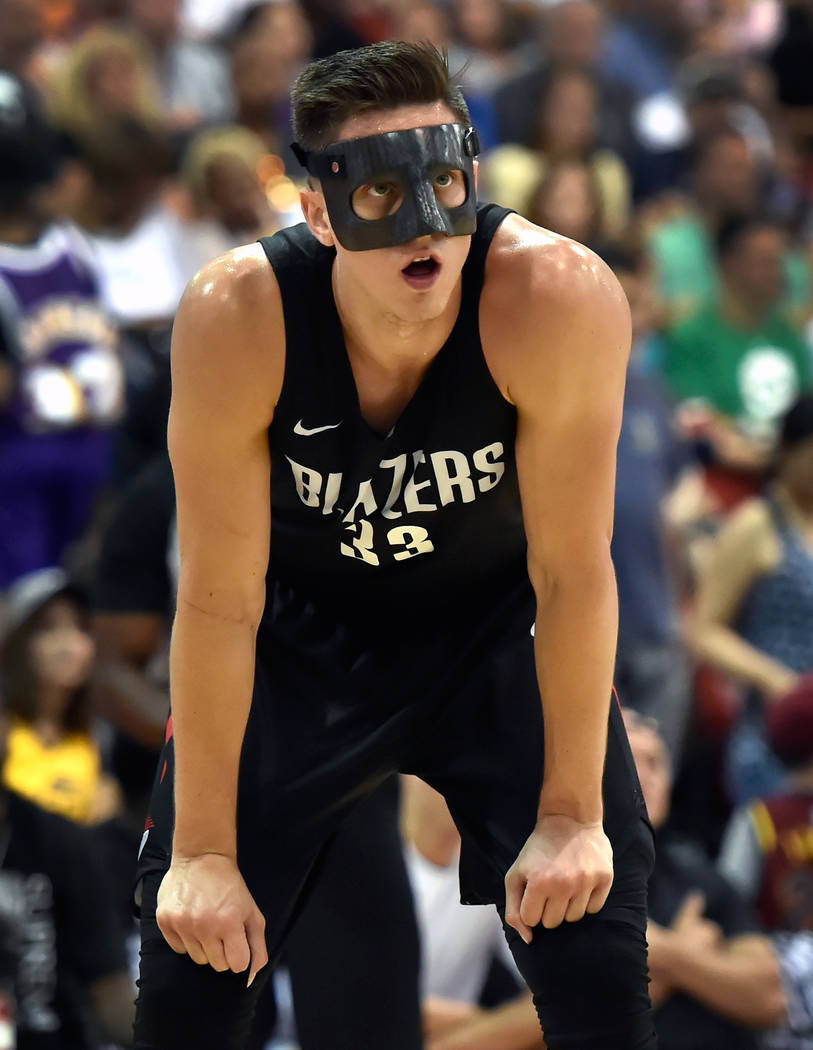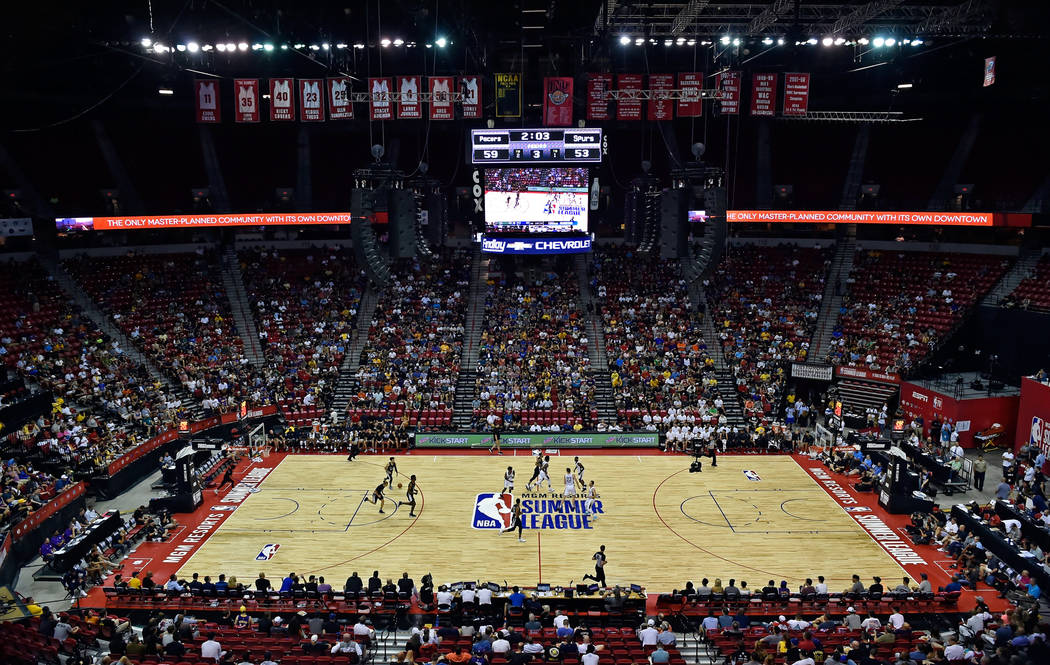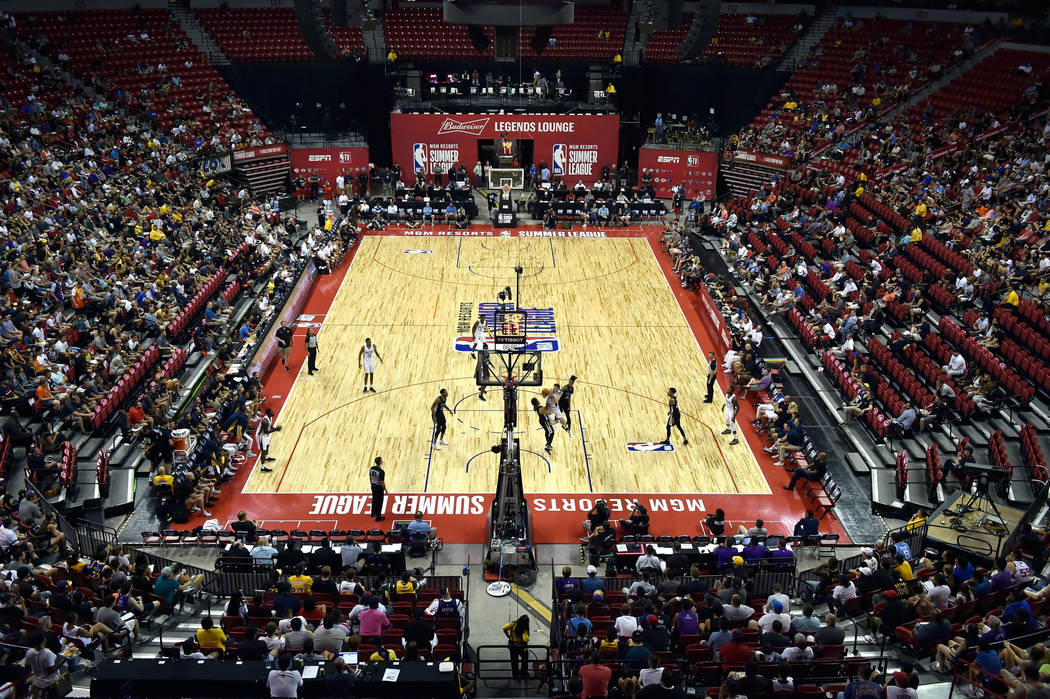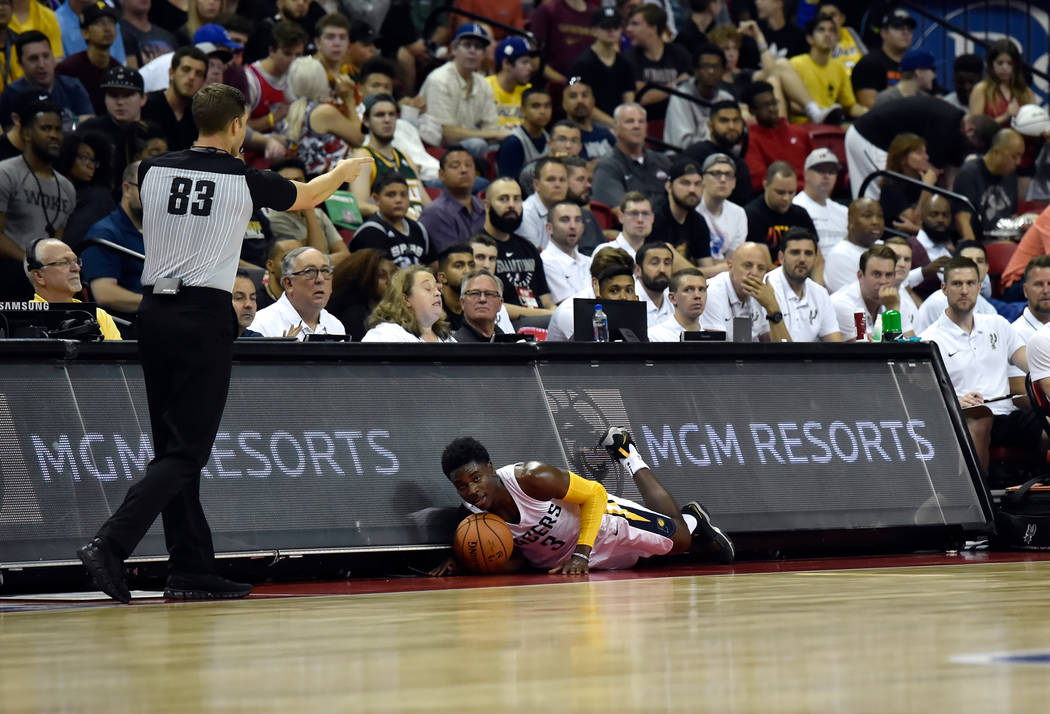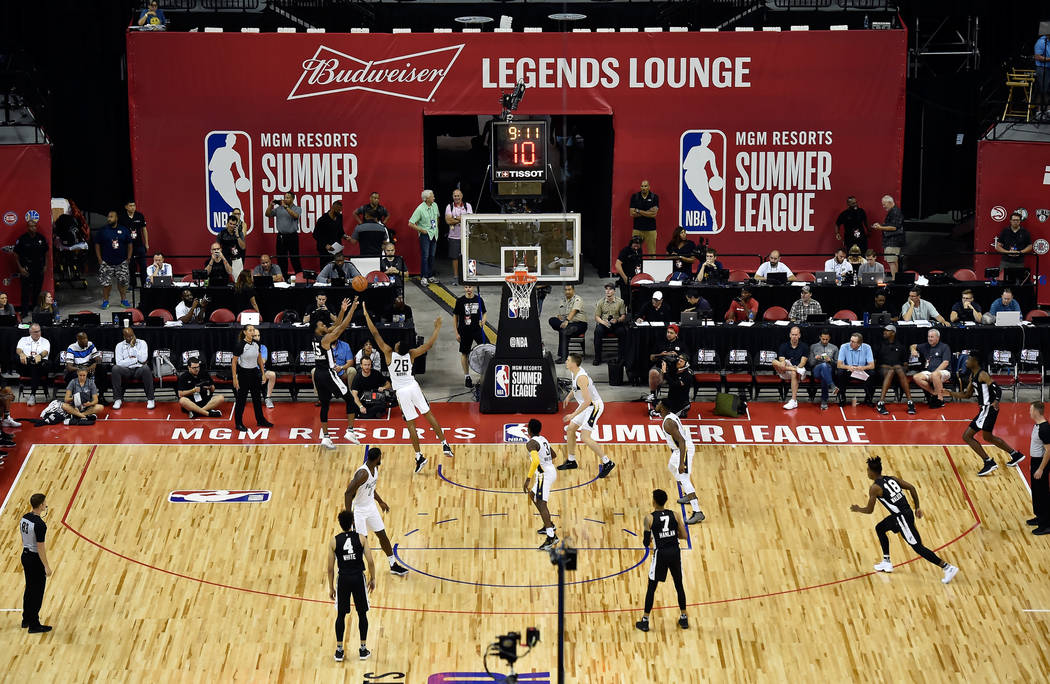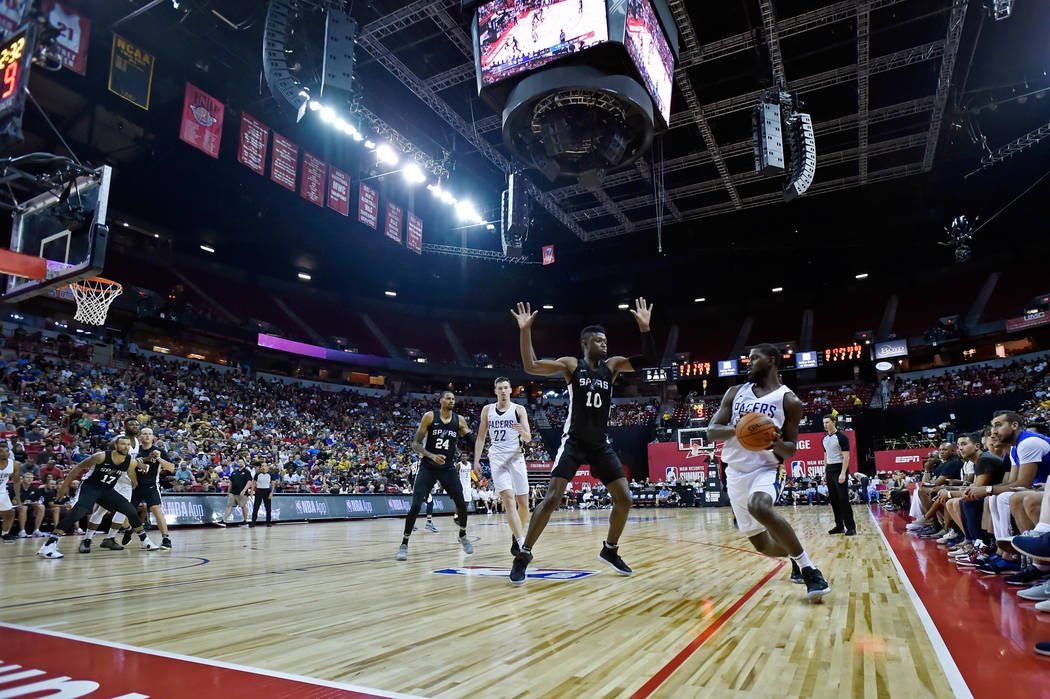 Review-Journal staff report live from the second day of NBA Summer League in Las Vegas. Here's what's been going on:
9:18 — Bagley hurt
Sacramento forward Marvin Bagley III reportedly suffered a tweak in his right hip flexor/groin in Saturday's game against the Suns, according to multiple reports. He is out Sunday against the Clippers and is considered doubtful for Tuesday's game against Memphis. He will have an MRI on Monday.
Bagley made his Las Vegas debut against the Suns, scoring 15 points.
Bagley was the second overall pick in June's draft.
— Justin Emerson
Marvin Bagley III suffered a tweak in his right hip flexor/groin. He'll have an MRI Monday. He's out tomorrow vs LAC, doubtful Tuesday vs Memphis

— Jason Jones (@mr_jasonjones) July 8, 2018
10:42 — Lakers ride Josh Hart to easy victory over the 76ers
Second-year guard Josh Hart scored 24 points to lead the Los Angeles Lakers to a 96-79 victory over the Philadelphia 76ers at the Thomas & Mack Center. Hart made 9 of 15 shots, including 4 of 8 3-pointers.
The game was largely decided at the 3-point line, where the Lakers made 14 of 31 shots and the Sixers just 3 of 29.
Zhaire Smith, who was drafted 16th this year by Phoenix and traded to Philadelphia, scored 16 points.
— Mark Anderson
9:48 — Robert Williams sits out Celtics' loss to Nuggets
The Boston Celtics held first-round draft Robert Williams out for their 82-69 loss to the Denver Nuggets at Cox Pavilion. Williams banged his left knee Friday against the Philadelphia 76ers and was sidelined with what the team called a contusion.
Denver took advantage of Williams' absence, with Malik Beasley scoring 19 points and Monte Morris 14.
Jabari Bird led the Celtics with 24 points.
— Mark Anderson
8:40 — Blakeney, Carter leads Bulls to victory over Cleveland
Antonio Blakeney made 10 of 19 shots and scored 25 points to lead the Chicago Bulls past the Cleveland Cavaliers 86-81 at the Thomas & Mack Center.
Bulls rookie Wendell Carter Jr., who went seventh in the draft, finished with 16 points and nine rebounds.
Cleveland's Ante Zizic had a double-double, going for 25 points and 11 rebounds. Teammate Collin Sexton, chosen eighth in last month's draft, scored 14 points.
— Mark Anderson
7:51 p.m. — Jackson entertains crowd in Grizzlies' win
Jaren Jackson Jr. tried to dunk on Henry Ellenson a few feet away from the restricted line. The Memphis Grizzlies center failed miserably but the crowd at Cox Pavilion enjoyed the attempt.
Jackson's athletic ability is a big reason why the Grizzlies took him fourth overall in last month's NBA draft out of Michigan State.
Here are the blocks #NBASummer https://t.co/1E6MlfC0yl

— Gilbert Manzano (@GManzano24) July 8, 2018
Grizzlies executives are probably patting themselves on the back after Jackson turned in another solid performance this summer.
Jackson had a statline of 12 points, eight rebounds and four blocks during the Grizzlies' 73-70 win over the Detroit Pistons.
Jackson had an incredible fourth-quarter sequence of back-to-back blocks that included a dive into press row.
— Gilbert Manzano
6:31 — Ayton's double-double powers Suns over Bagley, Kings
Score Round 1 of the battle between the top two picks of the 2018 draft to Deandre Ayton and Phoenix.
Ayton, the No. 1 overall pick, had 21 points and 11 rebounds to power the Suns to a 71-61 victory over the Kings at Thomas & Mack Center.
Marvin Bagley III, who went second in the draft, had 15 points and seven rebounds. Harry Giles led the Kings with 17 points.
Josh Jackson was the Suns' first-round choice last year, and made a name for himself with a monster block of Bagley. Jackson tracked Bagley and caught him from behind, slapping the ball away with authority and taking a moment to admire his handiwork.
Josh Jackson just welcomed Marvin Bagley to the league 😳#SCtop10 pic.twitter.com/gX9f000NQ3

— SportsCenter (@SportsCenter) July 8, 2018
Jackson finished with 10 points.
— Justin Emerson
5:50 p.m. — Thunder cruise versus Nets
The Oklahoma City Thunder had no problem with the Brooklyn Nets, cruising to a 90-76 win at Cox Pavilion.
Hamidou Diallo had a game-high 19 points for the Thunder. Theo Pinson led the Nets with 16 points.
Oklahoma City outrebounded Brooklyn 57-38.
— Gilbert Manzano
4:45 p.m. — No. 1 vs. No. 2
The Phoenix Suns and 2018 No. 1 overall pick tipped off against No. 2 pick Marvin Bagley III and the Sacramento Kings. The lower bowl of Thomas and & Mack Center was filled to the brim, and fans started filing into the upper deck.
— Justin Emerson
.@SacramentoKings and @Suns is underway at Thomas & Mack! #NBASummer pic.twitter.com/YOwma3OMwv

— Las Vegas RJ Sports (@RJ_Sports) July 7, 2018
4:40 p.m. — Derrick Jones Jr. happy to stay in Miami
Derrick Jones Jr. put on a show at the California Classic in Sacramento this week with otherworldly athletic plays.
Jones' summer dunking tour probably won't continue in Las Vegas but that's a good sign for the former UNLV standout. The Miami Heat want him healthy for the 2018-19 regular season.
On the eve before the California Classic, Jones signed a two-year contract with the Heat. He then went on to earn his training camp spot by leading the team in scoring with 21.3 points per game in the three outings in Northern California.
Jones didn't suit up Saturday for Miami's 110-84 loss to the New Orleans Pelicans at Cox Pavilion.
"I don't plan on being nowhere else," Jones said about the new deal with Miami. "It's the best place for me. I'm happy things worked out."
Jones has come a long way since going undrafted in 2016. His athleticism earned him an opportunity with the Phoenix Suns but didn't get much playing time.
Jones signed a two-way deal with the Heat in December and quickly showed improvement in the G-League.
The former NBA Dunk Contest competitor remains hopeful he can play on his former campus this summer.
"This is my school," Jones said. "I want to play here but need the OK from my coach first."
— Gilbert Manzano
4:35 — Trae Young's shooting struggles continue in loss to Knicks
There were concerns about Trae Young's shooting ability when the Atlanta Hawks acquired the No. 5 pick from the Dallas Mavericks at last month's draft.
And Young has done little to assuage those fears.
He made 12 of 52 shots in the Summer League in Salt Lake City, including 3 of 24 from 3-point range. And then in his debut in Las Vegas, a 91-89 loss to the New York Knicks, Young made 4 of 12 shots, including 3 of 9 on 3-pointers.
He did show some playmaking ability with 11 assists, which is something the Young and the Hawks can build upon.
— Mark Anderson
3:43 — Bluiett, Pelicans rout Heat
Trevon Bluiett turned in another 20-point performance to lead the New Orleans Pelicans to a 110-84 victory over the Miami Heat at Cox Pavilion.
Bluiett led all scorers with 26 points. The former Xavier standout had a game-high 24 points versus the Toronto Raptors on Friday at the Thomas & Mack Center.
Rashad Vaughn scored 11 points and recorded four assists for the Heat. He's one of three former UNLV players on the Miami roster, including Ike Nwamu and Derrick Jones Jr.
Jones, who recently signed a two-year contract with the Heat, did not play Saturday. His spot on the training camp roster is probably safe after dazzling at the California Classic in Sacramento this week.
— Gilbert Manzano
2:31 — Baldwin causes fireworks in Blazers' win
Wade Baldwin IV led all scorers with 20 points and was ejected in the fourth quarter as the Trail Blazers beat the Jazz at Cox Pavilion, 93-78.
Baldwin got tangled up with Utah guard Grayson Allen late in the game and was tossed for a "hostile act," in which he appeared to hit Allen in the face.
Wade Baldwin ejected for a 'hostile act' after hitting Grayson Allen in the face pic.twitter.com/QmkmBlRr03

— The Render (@TheRenderNBA) July 7, 2018
Baldwin played 26 minutes, and had five rebounds and three assists. Gary Trent Jr. scored 16 points for Portland, and Caled Swanigan had 13 rebounds and 11 points.
Allen's 16 points tied for the Jazz's team-high along with Georges Niang and Tony Bradley.
Former Bishop Gorman star Zach Collins had seven rebounds and five points for the Trail Blazers.
— Justin Emerson
2:16 — Leaf leads Pacers to 10-point win over Spurs
TJ Leaf scored 17 points to lead the Indiana Pacers to an 86-76 victory over the San Antonio Spurs at the Thomas & Mack Center.
Derrick White's 19 points topped all San Antonio scorers.
— Mark Anderson
2:03 — Anticipation building at Thomas & Mack
There is buzz inside the Thomas & Mack Center as the lower bowl is beginning to get full.
The top two picks in this year's draft, Deandre Ayton of the Phoenix Suns and Marvin Bagley III of the Sacramento Kings, face each other at 4:30 p.m. Later at 8:30 p.m., the Los Angeles Lakers go against the Philadelphia 76ers, and there is no shortage of purple and gold inside the building.
— Mark Anderson
The lower bowl is filling up at the Thomas & Mack Center. Top two draft picks face each other at 4:30 p.m. and the Lakers play at 8:30. #NBASummer pic.twitter.com/7qZpNF1e1i

— Mark Anderson (@markanderson65) July 7, 2018
12:49 — Stars in the building
The Summer League players in the Jazz-Trailblazers game at Cox had some talented eyes on them.
First-team All-NBA guard Damian Lillard of the Trail Blazers signed autographs at halftime. Sitting a few seats down from him was Utah's Rookie of the Year runner-up Donovan Mitchell.
Lillard averaged 26.9 points, 6.6 assists and 4.5 rebounds per game last season. Mitchell put up 20.5 points, 3.7 assists and 3.7 boards per game last year.
— Justin Emerson
First-team All-NBA guard Damian Lillard signing autographs at halftime of Blazers-Jazz #NBASummer pic.twitter.com/BuXX7a2xMh

— Justin Emerson (@J15Emerson) July 7, 2018
Last year's Rookie if the Year runner-up Donovan Mitchell here watching Jazz-Trailblazers rocking a throwback Karl Malone jersey #NBASummer pic.twitter.com/WCRn2RxNCi

— Justin Emerson (@J15Emerson) July 7, 2018
12:04 — Man in the mask
Portland Trailblazers center and former Bishop Gorman standout Zach Collins made his Summer League debut at Cox Pavilion wearing a protective mask. He had two blocks in the first three minutes of the game against the Utah Jazz.
— Justin Emerson
Former @BG_Basketball and current Trailblazers center Zach Collins rocking a mask in his #NBASummer debut pic.twitter.com/4oPtqaDn5y

— Justin Emerson (@J15Emerson) July 7, 2018
More NBA Summer League: Follow all of our NBA Summer League coverage online at reviewjournal.com/summerleague and @RJ_Sports on Twitter.