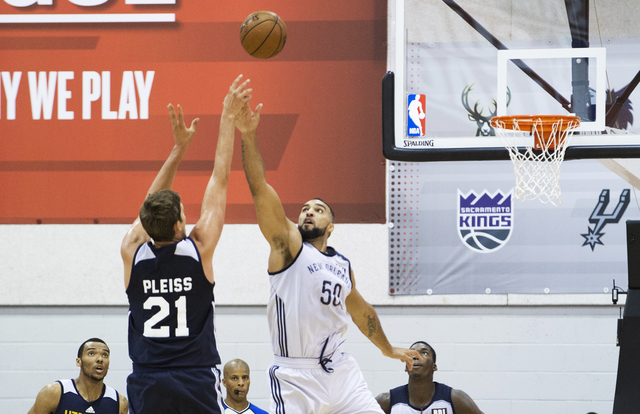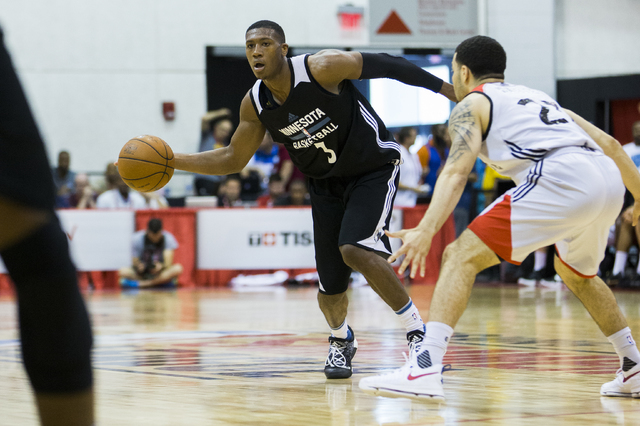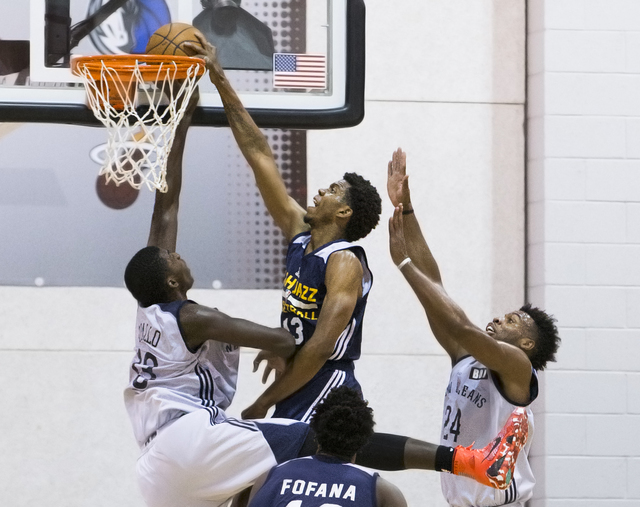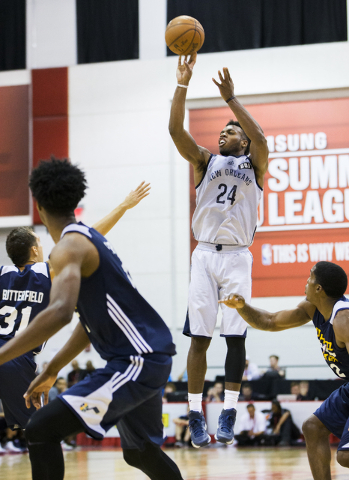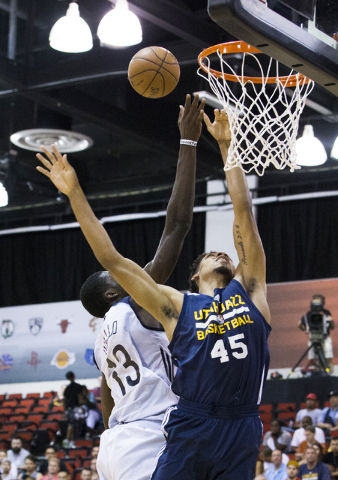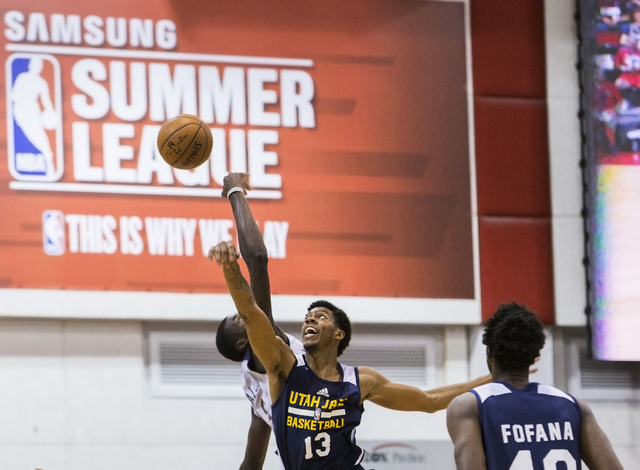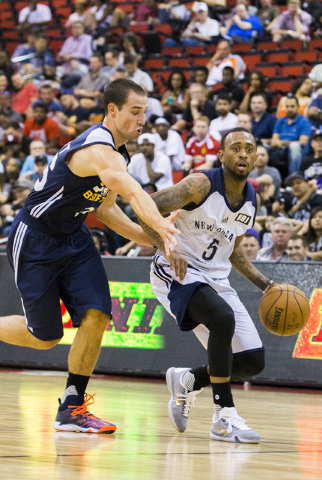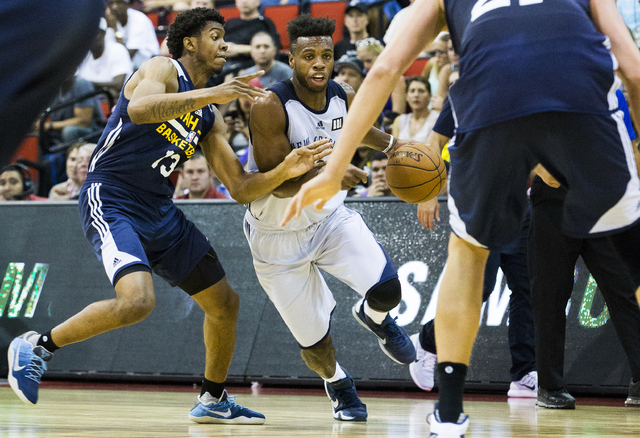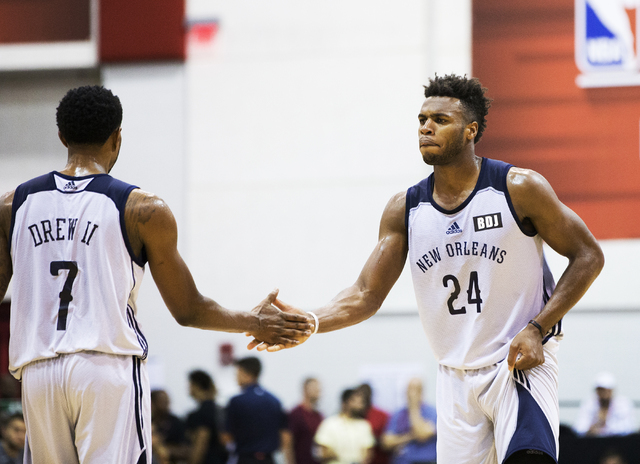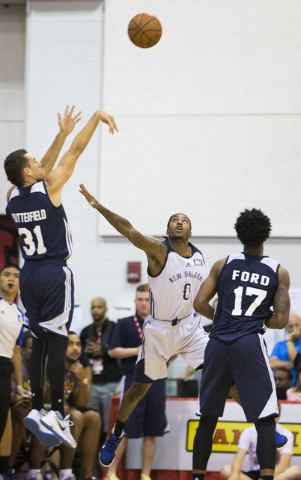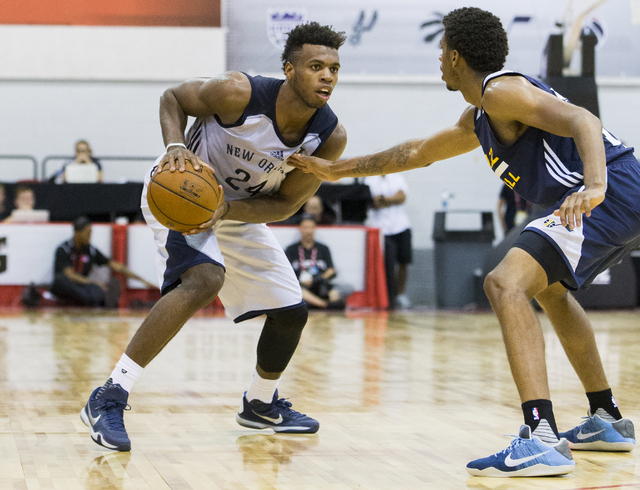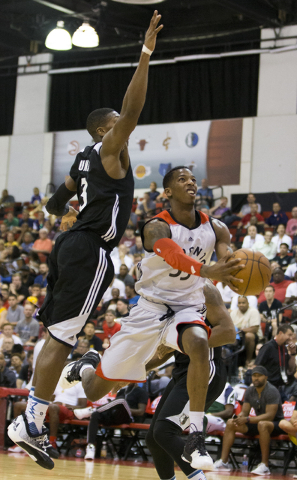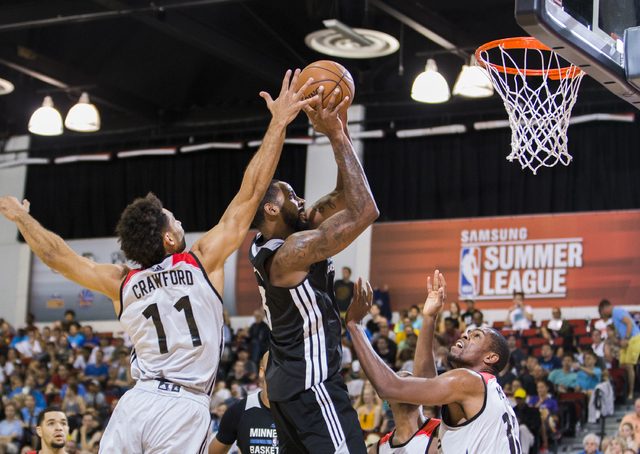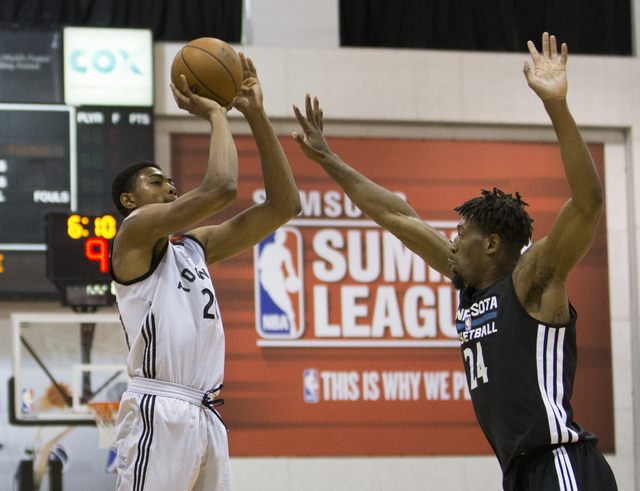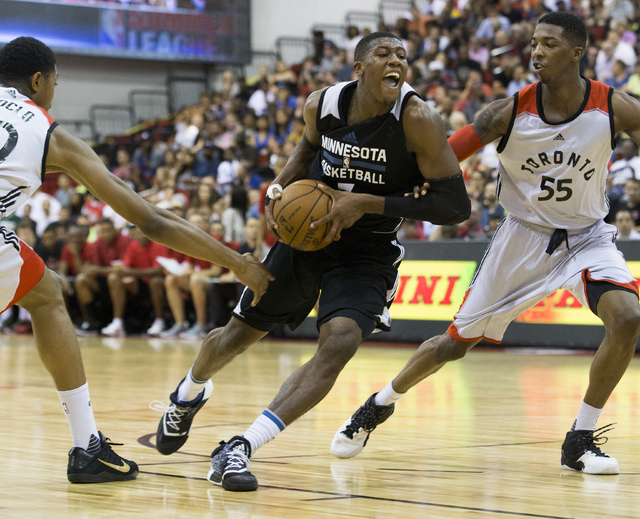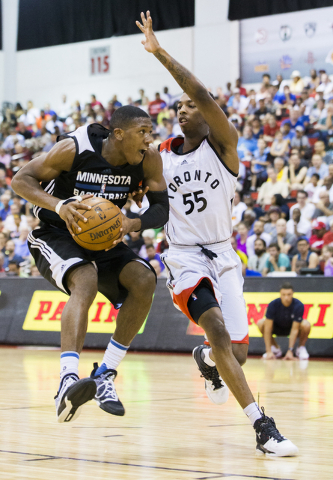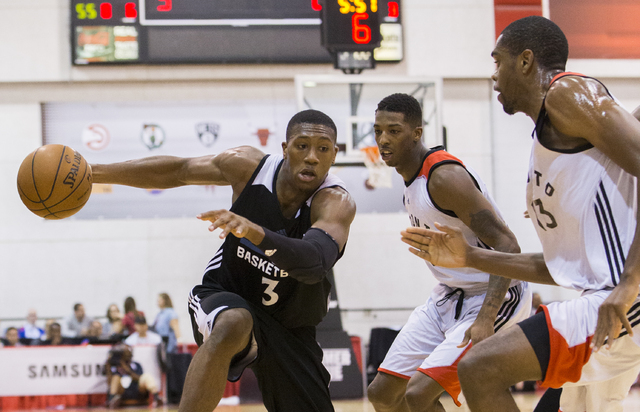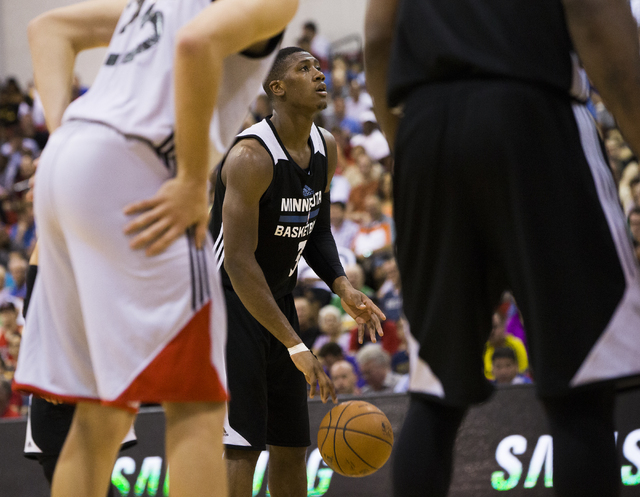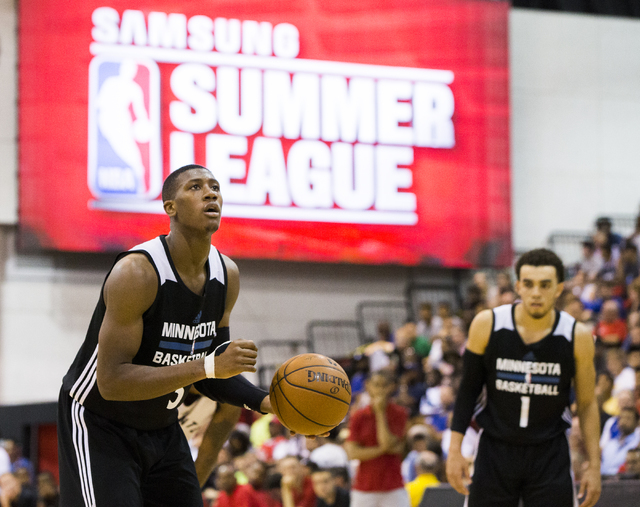 Sunday's games
■ Hawks 88, Wizards 80 — Bryce Cotton gave Atlanta a big lift off the bench, scoring a team-high 21 points as the Hawks improved to 2-0. Cotton, who played only 16 minutes, was 7 of 11 from the floor and 4 of 5 from the foul line. Washington (1-1) was led by former Findlay Prep player Kelly Oubre Jr. with 21 points. The Wizards struggled offensively, shooting just 41 percent from the field and made only 5 of 24 3-point attempts.
■ D-League Select 91, Bucks 86 — Jabril Trawick scored 15 points off the bench, including 8 of 10 free throws, as the D-Leaguers (1-1) notched their first win despite being outrebounded 48-30. Milwaukee (1-1) was led by former UNLV guard Rashad Vaughn with 24 points and Thon Maker had a double-double with 17 points and 17 rebounds.
■ Raptors 82, Timberwolves 80 — Delon Wright's driving layup with 5.2 seconds remaining sealed the win for Toronto (2-0) after Minnesota pulled within 80-78 with 28 seconds remaining. Norman Powell scored 16 of his game-high 29 points in the fourth quarter. Rookie guards Kris Dunn and Tyus Jones scored 21 and 18 points respectively for the Wolves.
■ Rockets 85, Kings 73 — Sacramento played better than its first game where it scored just 47 points. But the Kings (0-2) still shot below 40 percent as Houston (1-1) outscored them 47-32 over the final 20 minutes. Sam Dekker led the Rockets with 19 points while Malachi Richardson led the Kings with 20.
■ Jazz 79, Pelicans 72 — Utah improved to 1-1 after displaying a balanced attack that saw six players score in double figures. Rookie guard Tyrone Wallace led the Jazz with 15 points and Joel Bolomboy had a double-double with 13 points and 11 rebounds. Rookie guard Buddy Hield led New Orleans (0-2) with 21 points.
■ Bulls 83, 76ers 70 — Second-year center Christiano Felicio posted a double-double with 17 points and 10 rebounds and rookie Denzel Valentine added 12 points and six boards as Chicago improved to 2-0. Felicio was a perfect 8 of 8 from the floor and four of his 10 rebounds were off the offensive glass. The Sixers (0-2) were led by No. 1 overall draft pick Ben Simmons with 18 points.
■ Spurs 85, Trail Blazers 69 — The defending summer league champions improved to 2-0 as Kyle Anderson led San Antonio with 23 points. Jonathon Simmons added 17 for the Spurs, who limited Portland to just 36 percent shooting from the floor. Noah Vonleh led the Blazers with 16 points.
■ Suns 87, Celtics 74 — Devin Booker scored 24 points and dished out seven assists as Phoenix improved to 2-0. The Celtics were outscored 21-10 in the third quarter and were led by Jordan Mickey with 18 points.
Sunday's attendance
8,412. Total through three sessions 35,227 (11,742 avg.)
Star of the day
Toronto's Norman Powell is a streaky scorer and he showed that Sunday with 29 points, 16 of which came in the fourth quarter as Powell led the Raptors past Minnesota.
Local spotlight
Former UNLV forward Christian Wood bounced back Sunday with a solid effort off the bench for Philadelphia, scoring 13 points and grabbing six rebounds in 15 minutes in the 76ers' loss to Chicago. Wood was 1 of 6 from the floor and had just four points Saturday against the Los Angeles Lakers in his return to the Thomas & Mack Center.
Quotable
"It was about time I got a little rhythm. It was time to let loose. Now I can take it and run with it for the next game." — New Orleans Pelicans rookie guard Buddy Hield on his 21-point performance Sunday vs. Utah.
On the scene
Minnesota's Karl-Anthony Towns and Andrew Wiggins, the No. 1 draft picks of 2015 and 2014 respectively, showed up at Cox Pavilion to watch their future teammate, Kris Dunn, who was playing with the Timberwolves' summer league team.
Monday's schedule
At Cox Pavilion
Milwaukee vs. Memphis, 1 p.m.
Houston vs. D-League Select, 3 p.m.
Miami vs. Denver, 5 p.m.
Sacramento vs. New Orleans, 7 p.m.
At Thomas & Mack
Brooklyn vs. Atlanta, 1:30 p.m.
Toronto vs. Dallas, 3:30 p.m.
Cleveland vs. Minnesota, 5:30 p.m.
Golden State vs. LA Lakers, 7:30 p.m.
Compiled by Steve Carp/Las Vegas Review-Journal
RELATED
NBA Summer League Update Day 3: Vaughn gets back on track Sunday after rough Summer League opener