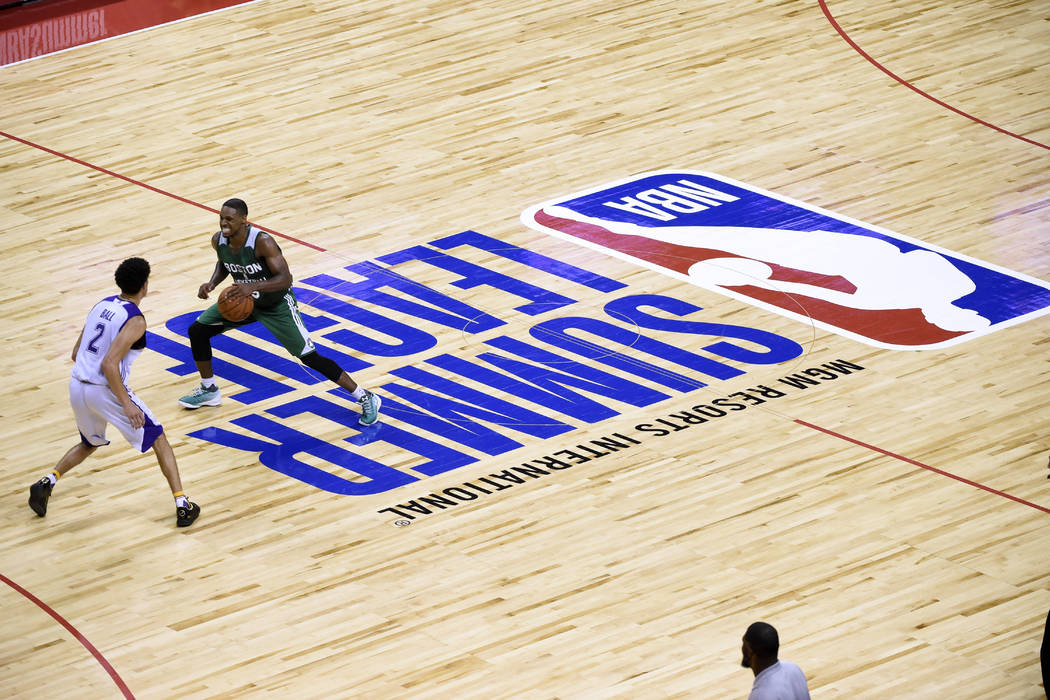 7:53 p.m.: Second-year big man Jakob Poeltl brings winning attitude to Raptors
Jakob Poeltl enjoyed team success with the Toronto Raptors in his first NBA Summer League last year.
He is starting to have individual success in year No. 2.
Poeltl, a Utah product, had 17 points and 10 rebounds as the Raptors secured their third consecutive win with an 82-81 victory over the Denver Nuggets in the Cox Pavilion.
"We're out there, five players — we're trying to play together as a team, move the ball," Poeltl said. "And I think we're doing a really good job of that. It's really everybody trying to show off their individual skills, but all in all, we've got to make sure we play as a team together."
The 7-footer, who was selected ninth overall in the 2016 draft, has been more aggressive under the basket this summer league and has showed off some low-post polish after playing sparingly in his first NBA season.
"I was trying, really, to work on new stuff," said Poeltl, who played 11.6 minutes per game last season. "Stuff I worked on throughout the summer."
But the most important thing to him are the wins. The Raptors went 4-1 and were knocked out by the Minnesota Timberwolves in the summer league quarterfinals last year.
Poeltl would like to go even farther this go-around.
"At the end of the day, that's what basketball is about — it's about winning the game," Poeltl said. "And it's no different here. It's about building winning habits. It's another great opportunity here to try and learn from this kind of stuff."
— Ashton Ferguson
6:26 p.m.: Josh Jackson piling up the points
Phoenix Suns' first-round pick Josh Jackson, the No. 4 overall selection, scored 20 points in today's 99-94 loss to Houston, raising his average to 17.7 through three NBA Summer League games.
"Coming out, especially the first game, I was nervous, but I learned that it's just another basketball game," Jackson said. "I just need to come out and be myself and just worry about the things I can control."
— Mark Anderson
5:07 p.m.: Quartet of technical fouls
Four technical fouls were called late in the third quarter of the Houston Rockets-Phoenix Suns game at the Thomas & Mack Center.
After Phoenix's Mike James was fouled hard on a drive, teammate Marquese Chriss came to his defense and went chest to chest with Houston's Troy Williams. Nothing really happened there, but for some reason the Rockets' Chinanu Onuaku shoved James, who had moved away from the other skirmish.
Officials took the easy way out and hit all four players with technicals. Or as public-address announcer Dick Calvert called them: "All offsetting."
— Mark Anderson
4:06 p.m.: Kings introduce veteran trio
The Sacramento Kings officially introduced new signees Vince Carter, Zach Randolph and George Hill to go with a young roster as the club tries to rebuild.
"I'm excited about them joining our team," Kings general manager Vlade Divac said. "We have a very young team. They're definitely going to help all those guys and help them compete."
Divac said that already has begun to happen with Carter taking a seat on the bench on Sunday night when the Kings played the Memphis Grizzlies.
"Our mentality is to win and find ways to win and teach the young guys how to win," Carter said. "That's what I intend to do. I'm sure these guys (Randolph and Hill) feel the same way. We want to continue to change the culture and continue to develop the winning ways."
— Mark Anderson
4:03 p.m.: Bulls lottery pick struggles from the floor
Chicago's Lauri Markkanen proved to be one of the deadliest long-range shooters in college basketball last year in his lone season at Arizona.
On Monday, the 7-footer was a little out of character in the opening game of the NBA Summer League.
Markkanen shot 1-for-13 from the field, including 0-for-10 from three, and finished with eight points in the Bulls' 75-55 loss to the Atlanta Hawks at the Cox Pavilion.
"Not worried about it," Markkanen said. "Those kind of days happen. Not often, but sometimes you just have them."
Markkanen, the No. 7 overall pick, shot 42.3 percent from three at Arizona last year, averaging 15.6 points per game. He wound up drawing comparisons to foreign-born player Dirk Nowitzki the entire season because of his offensive abilities.
But Markkanen, who was born in Finland, couldn't pinpoint what went wrong in his second Summer League game. He did, however, remain positive.
"Every single (shot) I had, they felt good," Markkanen said. "And I thought it was going in. So that's why I'm not too worried. Every one felt good. … I've worked on my game so much that I don't have any reason to get down on myself."
It wasn't all bad for Markkanen. He made 6 of 6 shots from the free-throw line, had nine rebounds and blocked four shots in 32 minutes on Monday. He also led the team with 14 points in his debut on Saturday.
A year after winning the Summer League title over the Minnesota Timberwolves, Chicago fell to 0-2.
— Ashton Ferguson
2:08 p.m.: No Lonzo tonight
The many Los Angeles Lakers fans filing into the Thomas & Mack Center to stake out their seats will be disappointed to know Lonzo Ball won't play tonight against the Sacramento Kings.
Lakers reporter Mike Trudell tweeted the Lakers will not only be without Ball (groin), but also Josh Hart (ankle) and Kyle Kuzma (cramps).
Not having Ball takes a lot of luster out of the matchup between the Lakers and Kings, specifically the expected duel with Sacramento No. 5 overall pick De'Aaron Fox and Ball, who went second overall.
Fox tweeted his disappointment with an emoji of someone slapping his forehead. He since has deleted that post
De'Aaron Fox's since-deleted tweet, presumably in reference to no rematch with Ball. pic.twitter.com/tnHVfOxAAw

— Tania Ganguli (@taniaganguli) July 10, 2017
— Mark Anderson
1:30 p.m.: Atlanta leads Chicago after first quarter
Forward DeAndre' Bembre, a first-round pick out of Saint Joseph's last year, leads all scorers with nine points as the Hawks lead the Bulls 16-15 after the first quarter in the opening game Monday in the Cox Pavilion.
Bembry played 5 of 10 minutes and went 3-for-4 from the field.
Lauri Markkanen, the No. 7 pick in this year's draft, is struggling out of the gates for the Bulls. The 7-footer from Arizona played the entire quarter and was 1-for-5 shooting.
Vince Carter and Grant Hill were spotted in the Cox Pavilion.
— Ashton Ferguson