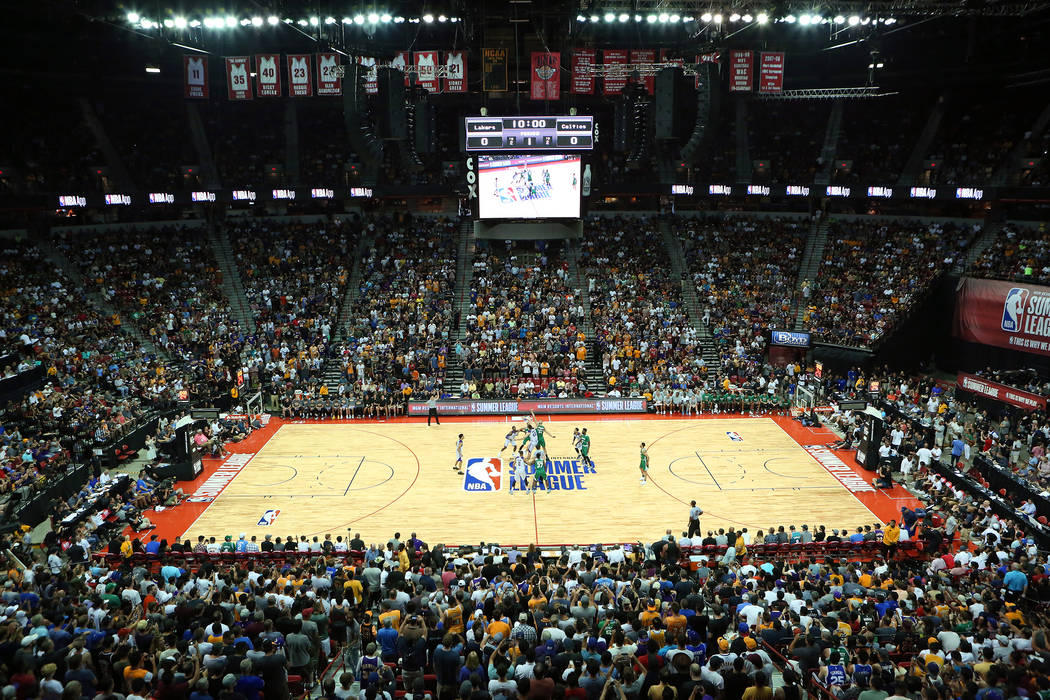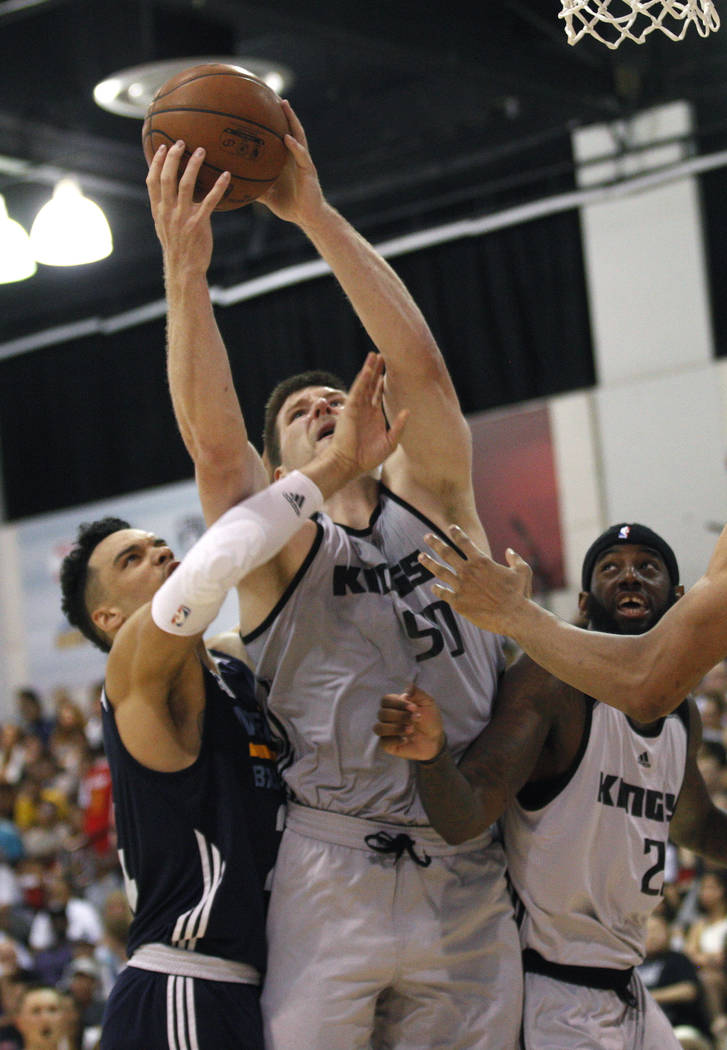 5:25 p.m.: Donovan Mitchell puts up highest point total
Utah guard Donovan Mitchell hasn't been shy in asserting himself on offense in this year's NBA Summer League.
On Tuesday, the 13th overall pick brought his total shot attempts up to 50.
After two games.
Mitchell shot 10-for-24, including 3-for-10 from beyond the arc, and finished with 37 points in an overtime loss to the Memphis Grizzlies on Tuesday. It was the highest point total in this year's Summer League.
Mitchell, who was a one-and-done at Louisville, scored 19 points on 26 shot attempts on Saturday.
The NBA Summer League record is 47 points by Anthony Morrow in 2009.
— Ashton Ferguson
4:41 p.m.: Dillon Brooks has something to prove
As a second-round pick with arugably first-round talent, Dillon Brooks is back in Las Vegas with a point to prove.
"I belong in the NBA," Brooks said. "I've been working so hard to be a part of the NBA. I'm here right now, and I'm not going to waste this chance."
Brooks, a Findlay Prep product who played last season at Oregon, made 9 of 11 shots and scored 24 points to lead the Memphis Grizzlies to an 84-81 overtime victory over the Utah Jazz.
This was a breakout game for Brooks, who had scored a total of 12 points in the first two Las Vegas summer league games.
"I was staying aggressive," Brooks said. "I had a couple of turnovers at the beginning of the game. I didn't let it discourage me. I just kept playing. My teammates were finding me and got me my shots."
Second-round picks are far from guaranteed of making an NBA roster, so a performance like this one was especially important.
If nothing else, being at the NBA Summer League is a learning experience for Brooks.
"It's been a great experience overall just learning the speed," Brooks said. "You're playing against the best at this level, and then you're going to another level and playing against the best again. It's always being ready to try to be consistent. We stress defense first and offense second."
— Mark Anderson
3:35 p.m.: Rookie big man Caleb Swanigan steps up for Blazers
Portland Trail Blazers big man and Bishop Gorman graduate Zach Collins left Tuesday's game against the San Antonio Spurs in the second quarter with a quad injury.
Fellow rookie Caleb Swanigan made up for his abscence. And then some.
Swanigan, who was selected by Portland with the No. 26 overall pick in last month's draft, had 19 points and 13 rebounds in the Trail Blazers' 99-85 loss to the spurs.
The 6-foot-9 big man is averaging 15.7 points and 11 rebounds through three summer-league games, and is not fazed by the physicality at the professional level.
"Nothing changes for me … Don't think about it too much," Swanigan said. "Nobody knows every play right now … There's no scheme really. Just got to go out there and compete."
Swanigan, the reigning Big Ten Player of the Year, has used his chiseled frame to muster rebounds away from bigger players.
He's also showcased a soft touch around the basket and some agility on the perimeter.
"The biggest thing is just trusting myself," he said. "I've been practicing forever."
— Sam Gordon
3:14 p.m. Bryn Forbes continues to feast
San Antonio guard Bryn Forbes was a scoring machine last week in the Utah Summer League.
The second-year Michigan State product hasn't stopped in Las Vegas.
Forbes scored a game-high 35 points in the Spurs' 99-85 win over the Portland Trail Blazers in the opening game of the NBA Summer League in the Cox Pavilion on Tuesday afternoon.
"The game's getting a little simpler," said Forbes, 23. "I've been learning a lot. I've tried to work on my game in all different ways — watching film, doing this, doing that. Trying to get better in all ways, and it makes the game a little easier. It really does."
Forbes, who went undrafted in the 2016 draft, is leading all scorers in Las Vegas with 29.3 points per game through three games. He also led the Utah Summer League with 21.3 points a game.
"In some ways, yeah," Forbes said of exceeding his own expectations. "I just didn't really know what to expect from myself, but I knew I put in a lot of work. … I worked my ass off the whole summer. Playing with a great team like this and a great coaching staff, they make it easy to play well."
After scoring 35 points, Forbes now has the two highest single-game point totals in this year's Summer League. He put up 36 points in a win against the Phoenix Suns on Sunday.
"I don't think there (will be) a fall off," said Forbes, who averaged 7.9 minutes in 36 games for the Spurs last year. "This is all the work I've been putting in."
— Ashton Ferguson
1:46 p.m. Pat Connaughton exits game with injury
Portland Trail Blazers second-year guard Pat Connaughton went down with a left hamstring injury midway through the second quarter in the first game of the NBA Summer League in the Cox Pavilion on Tuesday.
The Notre Dame alum did not re-enter.
San Antonio leads Portland 54-41 at the break. Spurs guard Bryn Forbes, who went undrafted out of Michigan State in the 2016 draft, leads all scorers with 18 points.
— Ashton Ferguson