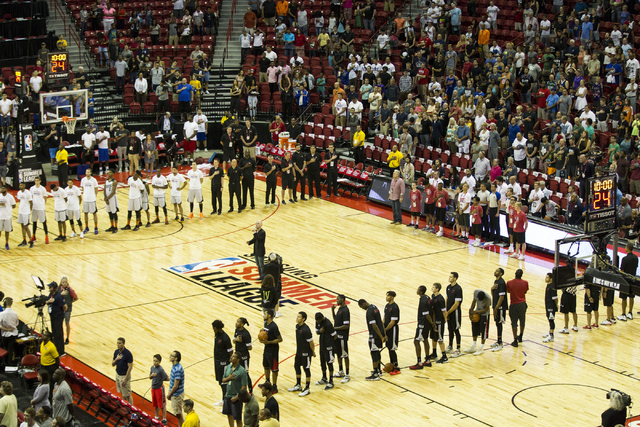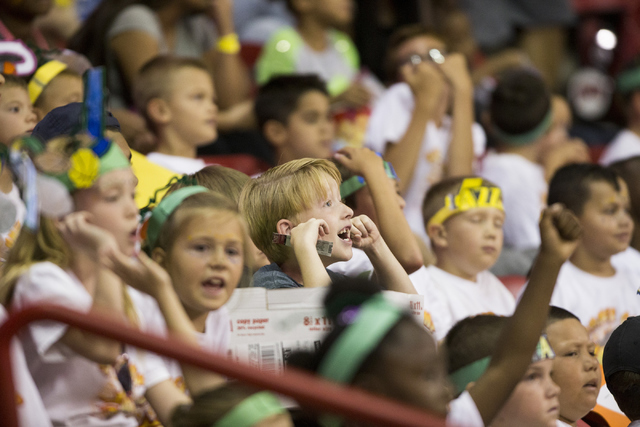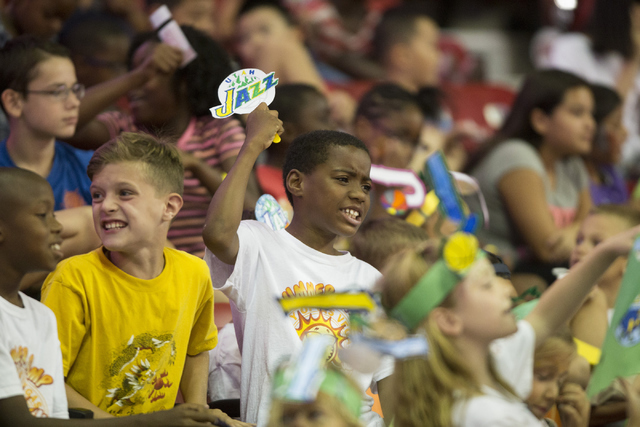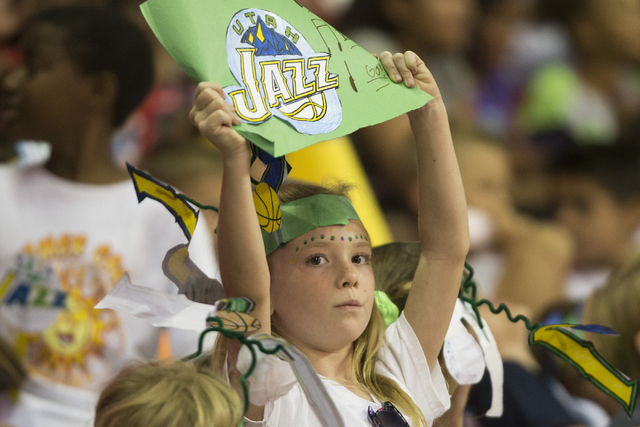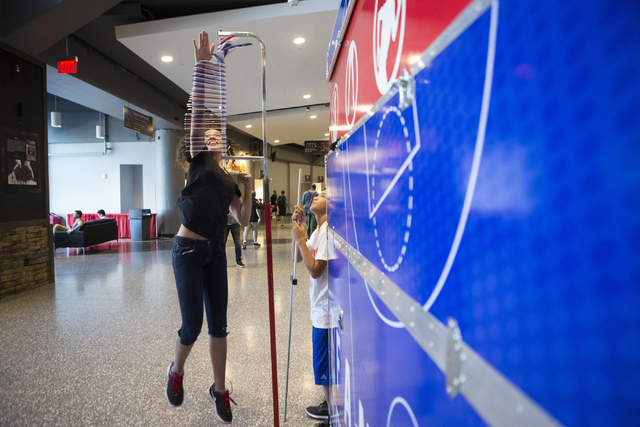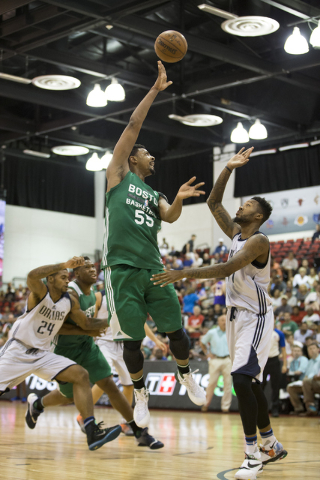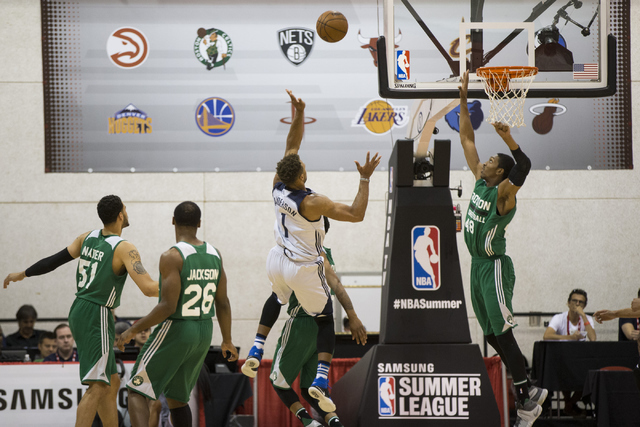 Tuesday's results
Wizards 87, Nets 85 — With time running out in a tie game, Wizards guard Jarell Eddie stole the ball from Nets forward Rondae Hollis Jefferson and drove the length of the court for a layup with less than a second left to lift Washington to a 87-85 win. Eddie and Findlay Prep product Kelly Oubre Jr. had 16 points apiece for the Wizards (2-1). Jefferson led the Nets (2-1) with 19 points and seven rebounds.
Heat 91, Suns 71 — In a game slowed by 69 fouls, Michael Carrera scored 16 points off the bench, Damion Lee had 13 points and Okaro White added 12 points and 12 rebounds for the Heat (2-1). Center Alan Williams had a summer league only triple-double for Phoenix (2-1) with 18 points, 10 rebounds and 10 fouls (the maximum allowed in the summer league). Williams also got fouled quite a bit, as he made 14 of 15 free throws.
Trail Blazers 92, Jazz 89, 2 OT — Pat Connaughton drained a 3-pointer on Portland's first possession of sudden death to give the Blazers (1-2) their first summer league victory. Connaughton made four 3s and finished with 19 points, CJ Fair had 20 points and Noah Vonleh added 10 points and 10 rebounds for Portland. Trey Lyles scored 30 points for Utah, including a tip-in of an intentionally missed free throw as time expired in the first overtime.
Celtics 88, Mavericks 82 — Jaylen Brown, the No. 3 overall pick in the 2016 NBA draft, had his best summer league game with 20 points, 10 rebounds and four steals, and the aggressive slasher made 12 of 17 free throws as Boston (1-2) won its first game. Terry Rozier, a 2015 first-round pick, had 26 points and made 14 of 18 free throws. Justin Anderson, the Mavericks' 2015 first-round pick, sank six 3-pointers and finished with 29 points and 11 rebounds for Dallas (1-2). Jonathan Gibson added 26 for the Mavs and is averaging 22.0 points.
Bulls 79, Spurs 76 — Jonathon Simmons led the Spurs (2-1) with 22 points but missed the first of two free throws that could have tied the game with 11 seconds left. Chicago second-year forward Bobby Portis had 18 points and eight rebounds, and 2016 first-round pick Denzel Valentine had 15 points on 5-for-18 shooting to help the Bulls (3-0) stay perfect in Las Vegas.
Warriors 85, 76ers 77 — Royce Oneale and Keifer Sykes scored 16 points apiece to lead Golden State (1-2) to its first summer league win, Ognjen Kuzmic added 12 points and 11 rebounds, and former UNLV star Pat McCaw had 11 points. No. 1 overall draft pick Ben Simmons had a few highlight passes and finished with eight points, eight rebounds, six assists and seven fouls for the 76ers (0-3), who were led by former UNLV player Chris Wood's 22 points.
Monday's attendance
8,217. Total through five sessions 55,411 (11,082 average)
Star of the day
Trey Lyles, Utah's second-year power forward, had 30 points and nine rebounds and scored on a tip-in at the first overtime buzzer to send the Jazz's game against Portland to sudden death. The 6-foot-10-inch Canadian was the 12th overall pick of the 2015 draft out of Kentucky.
Local spotlight
In a game featuring top overall draft pick Ben Simmons and former UNLV guard Patrick McCaw, a second-round pick, ex-Rebels big man Chris Wood shined the brightest, scoring 22 points on 8-for-12 shooting off the bench in Philadelphia's 85-77 loss to Golden State. The 6-foot-11-inch Wood wasn't drafted in 2015, but signed with the 76ers and appeared in 17 games last season. McCaw had 11 points for the Warriors.
Quotable
"I've never been a part of a sudden-death basketball game, but I wanted to make sure the first one I was a part of that we came out on top." — Blazers forward Pat Connaughton, after draining a game-winning 3-pointer on Portland's first possession of double overtime.
On the scene
Wizards All-Star guard John Wall and backcourt partner Bradley Beal signed autographs from their courtside seats at halftime of the Wizards-Nets game at Cox Pavilion, and Celtics president Danny Ainge and coach Brad Stevens watched the Boston-Dallas game.
Wednesday's games
At Cox Pavilion
#23 Sacramento vs. #10 Atlanta, 1 p.m.
#24 Minnesota vs. #9 San Antonio, 3 p.m.
#19 Boston vs. #14 Cleveland, 5 p.m.
#18 Milwaukee vs. #15 Dallas, 7 p.m.
At Thomas & Mack
#21 New Orleans vs. #12 Miami, 1:30 p.m.
#22 Philadelphia vs. #11 NBA D-League Select, 3:30 p.m.
#20 Portland vs. #13 Utah, 5:30 p.m.
#17 Houston vs. #16 Golden State, 7:30 p.m.