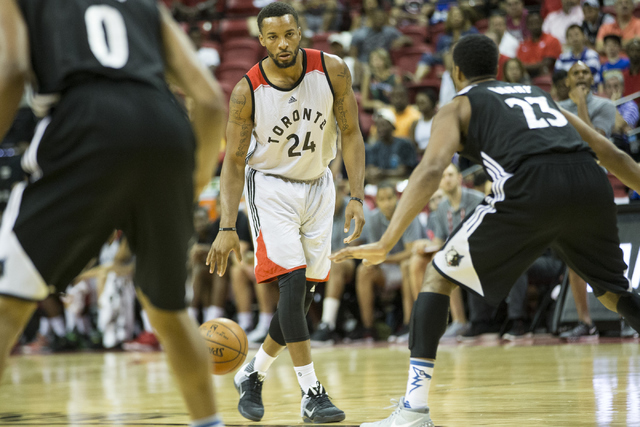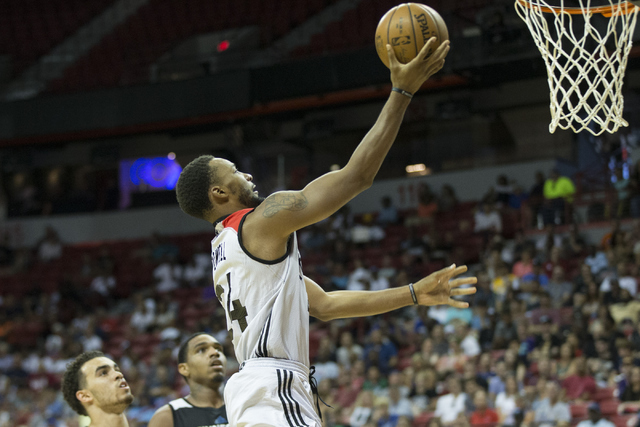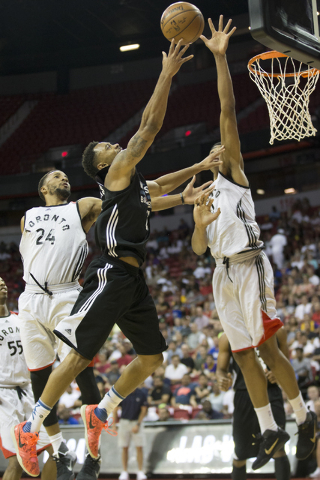 Saturday's results
■ Timberwolves 81, Raptors 79 — Tyus Jones' two free throws with four-tenths of a second remaining broke a 79-79 tie as Minnesota, the lowest remaining seed in the playoffs at No. 24, knocked off the top-seeded Raptors to reach the semifinals. Xavier Silas had five 3-pointers among his 22 points for Minnesota (3-3), and Jones scored 21 and Adreian Payne 19. Toronto, which finished 4-1, blew a 14-point third-quarter lead and had a tough day at the free-throw line (9 of 20). The Raptors were even worse on 3-pointers, hitting 4 of 23. Norman Powell led the Raptors with 17 points.
■ Suns 82, Nuggets 81 (OT) — In a battle of ex-Kentucky teammates, Phoenix's Tyler Ulis prevailed over Denver's Jamal Murray as Ulis nailed a 30-foot 3-pointer at the buzzer to put the Suns (4-1) into the semifinals. Murray's layup with 1.8 seconds left had broken a 79-79 tie. But the Suns advanced the ball to midcourt after a timeout and Ulis, one of the stars of the summer league, launched his winning shot as time expired to finish with 19 points. Ulis bailed out teammate Dragan Bender, who was fouled with four-tenths of a second left in regulation, but missed both free throws to send the game into overtime tied at 79-79. Troy Williams led Phoenix with 22 points and Alan Williams had 11 points and 16 rebounds. Murray led Denver (3-2) with 29 points.
■ Bulls 88, Wizards 85 — Rookie guard Denzel Valentine's two free throws with 6.6 remaining gave Chicago a three-point cushion and the Bulls (5-0) advanced to the semifinals after Washington's Jarell Eddie missed a tying 3-point attempt with 2.2 seconds left. The Wizards stayed close throughout and pulled within 86-85 on Eddie's 3-pointer with 8.7 seconds to go. But Valentine was fouled, made his free throws and the Bulls defended well enough on Washington's final possession. Bobby Portis led Chicago with 17 points and nine rebounds while Valentine had 14 points and 10 rebounds. Eddie had 22 points to lead Washington (3-2) and was 5 of 7 from 3-point range.
■ Cavaliers 91, Nets 83 (OT) — Cleveland outscored Brooklyn 8-0 in the extra two minutes to advance to the semifinals. Jordan McRae had 25 points to lead the Cavs (4-2). Sean Kilpatrick led the Nets (3-2) with 25. Brooklyn was caught and passed in the fourth quarter as Cleveland went on a 12-0 run in a 3:18 span for a 77-72 lead. The Nets fought back to tie it at 77-77 with 3:06 to play, and the teams traded leads until Isaiah Whitehead's free throw with 11.8 seconds left in regulation tied it at 83-83. McRae's contested 3-pointer at the end of regulation caromed off the rim.
Saturday's attendance
10,112. Total through nine sessions: 94,201 (10,467 average).
Star of the day
Tyler Ulis' 30-foot 3-pointer as time expired in overtime lifted Phoenix over Denver 82-81, as the Suns advanced to the semifinals. Ulis had 19 points and four assists in 35 minutes.
Local spotlight
It was a good week for Kelly Oubre Jr., the former Findlay Prep player and second-year forward for Washington. On Saturday, he scored 17 points in the Wizards' loss to Chicago. He averaged a team-leading 19.2 points per game over five games.
Quotable
"He was very tough to play against. He was long, strong and a great shot blocker and rebounder. For a guy who was such a fierce competitor, he was a very kind person. Everyone liked and respected Nate." — Toronto Raptors special advisor Wayne Embry on Hall of Fame center Nate Thurmond, who died Saturday at age 74 from leukemia.
On the scene
Clark County Commission chairman Steve Sisolak was at the Thomas & Mack on Saturday as the summer league held Military Appreciation Day. Sisolak distributed proclamations to several veterans who live in Las Vegas, and members of the Disabled Veterans Association presented the colors prior to the playing of the national anthem for the Washington-Chicago game.
Sunday's games
At Thomas & Mack Center
Semifinals
Minnesota vs. Phoenix, 3 p.m.
Chicago vs. Cleveland, 5 p.m.
Compiled by Steve Carp/Las Vegas Review-Journal